The gift of fun
Here are 10 presents that travelers can enjoy all year long.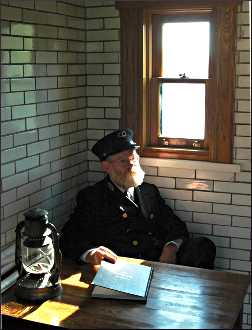 It's easy to give people more of the nice stuff they already have: sweaters, compact discs, fancy soaps.
But how about giving them a good time, instead? Memories, we've found, last much longer than material goods.
This season might be a good time to open some doors for family and friends by bestowing passes, kits, experiences and other gifts they can use year-round.
Here are 10 great gift ideas for people who like to travel — and you can buy everything online.
State-park passes
The best gift, we think, is to give someone a pass for the state they don't live in.
Wisconsin charges non-residents extra, so that makes its $38 state-parks pass something of a luxury for people in surrounding states.
The annual pass is only $25 for Minnesota state parks, which sell a handy gift card that comes in any amount and can be used for vehicle permits as well as campsites, cabins, rentals, greens fees, tours and gift-shop items.
In Michigan, out-of-state visitors pay $31.
Trail passes
Wisconsin requires a daily pass to use its bicycle and ski trails, and it's pesky to find a place to buy them. That makes the $25 annual trails pass a nice gift.
Minnesota doesn't charge bicyclists, but it does charge cross-country skiers. Give a $55 three-year Minnesota Ski Pass, and your happy recipient can ski worry-free for quite a while.
And if you know someone who likes to ski around the Twin Cities, you can give a Three Rivers Parks pass for $50, $75 for a couple.
Historical-society memberships
Wouldn't it be nice to waltz into your favorite fort or lighthouse any time you feel like it? And during the holidays, historical societies offer gift memberships at a discount.
Join the Minnesota Historical Society, and you get free admission to all the sites for a year. A membership for one and a guest is regularly $69.
It doesn't take long for a membership to pay for itself. Members also get discounts on classes, workshops and gift-store items.
The Wisconsin Historical Society family membership is regularly $85.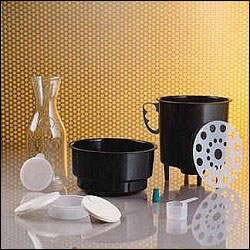 Coffee for travel
Is there a coffee snob on your list?
The one item that I never travel without is homemade cold-filtered coffee concentrate. I first tasted it at a B&B in Wisconsin, asked for the brewing kit for Christmas and haven't gone a day without it since.
It's great for travel (especially camping and backpacking), because 4 ounces, carried in a small Nalgene bottle, is enough to make two 10-ounce mugs, and it doesn't need to be refrigerated.
The coffee it makes is much richer than the regular kind, and much less bitter because it's never boiled. It has seriously improved my life — and made me a lot of friends when I've shared.
You could make it yourself, but that would be messy. I use the $39.95 Filtron kit, which includes a flask that holds 50 ounces, the amount of concentrate you'll get by steeping a pound of beans. Shipping is free through the end of the year.
If you don't want to make coffee concentrate, Trader Joe's sells it.
To take your coffee on the road, you'll also need a small hot pot to boil water; look for one with a built-in mug.
Thrills and fun experiences
A lot of people get to go skydiving, race-car driving and Segway-gliding thanks to half-price deals that made these things affordable to the average person.
You could buy a gift certificate for each experience, but gift certificates are tricky —just because you think something sounds fun doesn't mean the recipient will.
So why not buy a Groupon gift card ? That way, your money goes farther, and anyone who doesn't want a hot-air balloon ride can use your dime to go out to eat or get a massage instead. Living Social sells gift cards, too.
Magazines
I've always liked magazines because they arrive all year long.
Lake Superior magazine out of Duluth has a good finger on the pulse of the region, and a $24.95 annual subscription includes the annual Travel Guide, essential for anyone planning a Circle Tour.
And if you know someone who likes to travel to Chicago, a $12 subscription to Chicago magazine will keep 'em up on the latest news about restaurants, sports, shopping and the arts.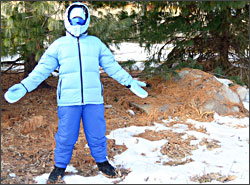 Warm clothes
If you want someone to have warm and fuzzy feelings about you, buy something that will keep her (or him) warm when temperatures drop.
A mere $8 buys a pair of wool socks, but if you have $250, go for the moosehide mukluks. If you have a medium-size budget, you can get a set of Thermaskin long underwear from Lands' End for $59, but they're often 30 or 40 percent off.
For a buying guide, see Staying snug in winter.
Packable and reusable dishes
At motel breakfast buffets, most of us have been disgusted by the trash cans overflowing with Styrofoam and plastic. You can end the waste, on your end, anyway, by traveling with reusable dishes from ReUseIt.com.
You can also buy them at any camping or outdoors store.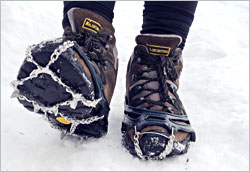 Outdoors gear
You can go crazy in this category, spending hundreds on skis, snowshoes and snowboards.
But everyone does more walking than skiing or snowshoeing, so buy something that will keep your friend or sweetie upright in slippery conditions.
A pair of good ice cleats means you can hike without worry. They're not cheap, so they make a good gift.
We like Kahtoola Microspikes, about $55. There's nothing micro about them, which is why they work so well.
For more, see Walking on ice.
Guidebooks
There are great books for every kind of destination and every type of recreation.
But if you know someone who loves wildflowers and road trips, buy a guide to Minnesota or Wisconsin state natural areas. All of these low-profile preserves protect something special, often rare plants.
You really need maps to find them, and you can download them online, but it's handier to keep the books in the glove compartment.
" A Guide to Minnesota's Scientific and Natural Areas " is $14.95 and describes all of the SNAs.
"Wisconsin, Naturally" includes a statewide map and descriptions for 150 Wisconsin SNAs. It's $15 plus $3 shipping.
You'll also benefit by having DeLorme Atlas & Gazetteers, super-detailed maps of each state. In fact, I never go anywhere without them. They're $19.95 and available at bookstores, sporting goods stores and Target.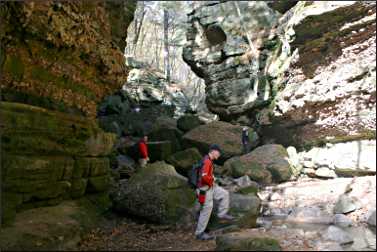 Conservation-group memberships
If you're buying a gift for someone who has everything and wants to give some back, consider a membership in one of the organizations that preserve our natural spaces.
The Nature Conservancy has chapters in every state and owns many of the state natural areas we can visit. You can buy a gift membership, which comes with a quarterly magazine, for as little as $10.
The Trust for Public Land plays a critical role in preserving irreplaceable pieces of land for the public — it buys them and holds them until governmental units can afford them.
Example: The harbor-front park in Grand Marais, Minn. You can donate in any amount.
In Minnesota, the Parks & Trails Council of Minnesota has had a hand in creating, protecting and augmenting many state parks, including Afton, Whitewater and Split Rock. A membership of $25 or more includes a subscription to the quarterly Minnesota Trails magazine.
There are many land trusts and conservancies in every state. For more, see A present to the future.
Last updated on December 30, 2016