Milwaukee at Christmas
During the holidays, this city shimmers like Cinderella.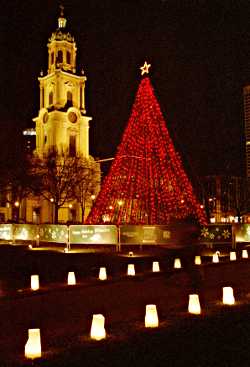 No one ever accused Milwaukee of being flashy.
Best known for tractors, motorcycles and beer, it's a meat-and-potatoes kind of town, stolid and practical like the Germans who built it.
It's not what you'd call a trendy destination. And yet every time I go there, I have a great time.
The ugly duckling has turned into a swan. Consider its landmarks ‐ a bright-white "wing," whose graceful unfurling draws sightseers to the Milwaukee Art Museum, and the sliding roof of Miller Park, which tucks itself in to a musical fanfare after Brewers games.
And at night, this gray lady has a face that lights up like a kid in a candy shop.
One December, my husband and I arrived in Milwaukee's Third Ward just as Christmas celebrations were getting under way. Red and green rockets exploded over Catalano Square, showering us with slivers of light, and draft horses pulled carriages through the streets.
Once an Irish neighborhood, the Third Ward turned into a working-class Italian neighborhood after an 1892 fire wiped out 16 square blocks.
Shops, restaurants, theaters and museums now fill the neighborhood, which adjoins downtown, and developers are turning the cream-brick warehouses into condos and lofts. It's also the home of the Milwaukee Public Market, the local version of Seattle's Pike Place Market.
From the square, we walked to the Broadway Theatre Center and bought tickets to Skylight Opera Theatre's "The Christmas Schooner."
In the Cabot Theatre, we felt as if we were inside a Faberge egg, seated above a little main stage in one of three galleries adorned with sconces and trompe l'oeil woodwork, under a sky filled with angels and cherubim.
Then we were transported to Christmas Eve 1881, in the home of one of the German "Christmas-tree ship" captains who braved Lake Michigan in winter to deliver evergreens to nostalgic German immigrants in Chicago.
It's set in Manistique, Mich., but as the family sang "O Tannenbaum," and received a visit from the can-rattling Mummers, it seemed like Milwaukee, where Germans arrived first and sank deep roots.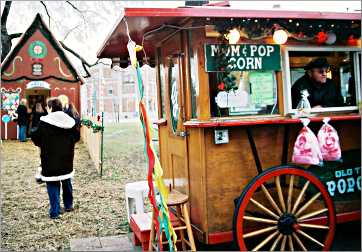 From the theater, we walked over to one of three dozen Third Ward restaurants, this one with exposed cream-brick walls, long banquettes and a wood-burning fireplace stretched behind a glass garage door.
Next to us, 12 fashion-merchandising students from New York City told us they'd had a "New York-quality dinner."
Our inn, the County Clare, was on the other side of downtown, not far from the lakefront bluff. A Celtic-folk trio was playing in the Irish pub, where we ate corned-beef hash the next morning as the staff trimmed a Christmas tree.
From there, we drove across the Milwaukee River to Old World Third Street. It's the remnant of the old German downtown, and its shops and turreted landmark restaurant, Mader's, are repositories of Old World flavors.
At Usinger's Famous Sausage, a line of customers waited patiently under turn-of-the-century murals of happy elves chasing cattle and pigs. Banners in German read, "Ham, sausage and pig stomach delight every German," and "Yankees and French also love these German things."
Pig stomach doesn't sound delightful, but it's the favorite dish of former German Chancellor Helmut Kohl, who visited Milwaukee in 1996 with former President Bill Clinton, who called it "America's most German-American city."
We stocked up on European-style cheeses at the Wisconsin Cheese Mart. And at the Spice House, we bought Ecuadorean peppercorns, saffron and tiny tubs of veal and seafood demiglace.
Across the river, we spied new townhouses, each with a dock, and the former Blatz brewery, advertising "gracious living" in apartments; as in Chicago and Minneapolis, empty-nesters from the suburbs are flocking back downtown.
On the west edge of downtown, we toured the gabled Pabst Mansion, an 1892 Flemish Renaissance Revival near the campus of Marquette University. Once, Wisconsin Avenue was lined with mansions, and over time, they were torn down.
Even Captain Frederick Pabst's house, the home of Milwaukee's archbishops from 1908 to 1975, came within 10 days of being torn down for a parking lot.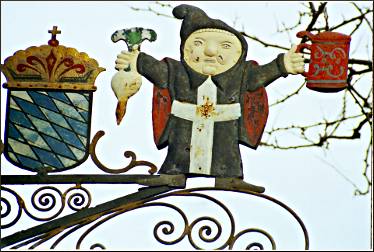 It was decorated for the holidays, its intricate woodwork festooned with red-velvet ribbons, frosted roses and gilded pinecones. During the 1890s, Pabst became the world's largest producer of lager beer, though Schlitz, Blatz and Miller also contributed to the town's reputation as the beer capital of the world.
Today, only Miller remains, bought in 2002 by South African Breweries, which merged with Coors and became SABMiller, then MillerCoors.
From the Pabst Mansion, we went downtown and split a sampler of German delicacies at one of the city's famous German restaurants.
Skaters were circling the rink in Red Arrow Park, and the streets were filled with people, going to see "A Christmas Carol" at the Pabst Theater and the Milwaukee Symphony Orchestra at the Marcus Center.
Milwaukee is prettiest at night, when spotlights bathe the copper cupolas, domes and gables atop downtown roofs and lights twinkle on pedestrian bridges across the river.
It's at its best during the Holiday Lights Festival, when holiday figures shine in Pere Marquette Park, buildings are strung with lights and luminaries line sidewalks.
From downtown, we headed north along Lake Drive, hugging Lake Michigan as we drove up to Shorewood and Whitefish Bay, where Captain Pabst opened the Whitefish Bay Resort in 1889.
Our route, popular with sightseers since horse-and-buggy days, was lined with brick and half-timbered mansions, some as big as hotels.
Long ago, Milwaukee's prospects rivaled Chicago's. But Chicago became the great city, and Milwaukee, locals say, has had an inferiority complex ever since.
But today, Milwaukee has all the big-city attractions, but none of the pretension or high prices. You can drive there, park for nothing and walk everywhere, from river to lake. It's gemütlich — pleasant, cozy, easygoing.
It is what it is — and for a tourist, that's a pleasure.
Trip Tips: Milwaukee at Christmas
Getting around: It's fairly easy to park for free, though downtown spaces fill up at night.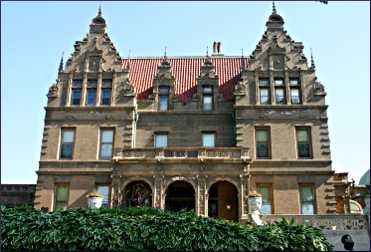 2022 events: Nov. 17-Jan. 1, Holiday Lights Festival. Nov. 18-20, Holiday Folk Fair International. Dec. 2, Christmas in the Ward.
Jingle Bus tours: From Thursdays to Sundays 6-9 p.m. from Nov. 18 to Dec. 30, this 40-minute narrated tour of downtown landmarks and light displays leaves from The Avenue, 275 W. Wisconsin Ave. Book tours in advance, $5.
Holiday shows: Check listings at the Milwaukee Repertory Theater, Skylight Music Theatre, the First Stage Children's Theater and the Marcus Center.
Accommodations: Near the river and Pere Marquette Park, the art-filled Saint Kate Arts Hotel on Kilbourn Avenue is between the Pabst Theater and the modern Marcus Center for the Performing Arts. It includes Aria restaurant and Arc Theatre.
In the old German area on Old World Third Street, the Aloft Hotel is close to the Riverwalk and the Bradley Center.
For more, see Party in Milwaukee.
Dining: The Milwaukee Public Market has nearly everything you'd want to pick up and eat — pastries, cheeses, sushi, fruit, soups, sandwiches, candies — and it's all on mouthwatering display. It's at the edge of downtown on Water Street, walking distance of the Historic Third Ward and its many cafes and restaurants.
On Old World Third Street, Mader's is a great place for lunch, when prices are much reduced, 414-271-3377.
Milwaukee Art Museum: The brise soleil opens at 10 a.m., closes and opens at noon, then closes at 5 p.m.
Pabst Mansion : This gabled Flemish Renaissance Revival was built in 1892, during a time known in Milwaukee as "the Pabst Decade."
The house is decorated for Christmas. In 2022, Twilight Tours with live music are available Thursdays-Sundays from Nov. 25 to Jan. 6. Glühwein and hot pecan whiskey cider are available for purchase. Father Christmas will visit on Sunday afternoons from Nov. 27 to Dec. 18; buy tickets in advance.
The Charles Allis Art Museum and Villa Terrace Decorative Arts museum also are decorated for the holidays.
Ice-skating: It's free in Red Arrow Park, across from the Marcus Center, if you bring your own skates; you can also rent them. The warming house has a gas fireplace and a Starbuck's.
Nightlife: For concerts and plays at the Pabst, check at 414-286-3663. The Marcus Center presents touring Broadway shows and is the home of a  symphony, ballet, opera, theater and children's theater.
Brewery tours: For details, see Mad about brew.
Information: Milwaukee tourism, 800-554-1448.
Last updated on November 5, 2021