Duluth's Skyline Parkway
High above Lake Superior, a scenic boulevard was the city's first playground.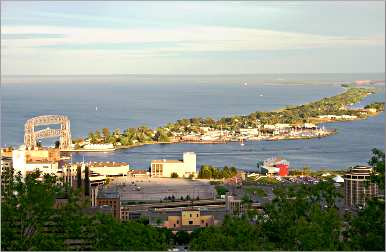 It's a hot Saturday in Duluth, and it seems as if every tourist in town is on Canal Park.
But a few have found their way to a quieter spot, on Amity Creek above downtown.
Just off Skyline Parkway, some 10-year-olds are having a great time climbing rocks and splashing in a pool beside a waterfall, thanks to a mother who went to college in Duluth. She's brought her daughter's soccer team to play and cool off between tournament games.
"We come here whenever we come to Duluth," she said. "The kids love it, and the dog, too. We've got pictures of them in front of that waterfall since they were 2."
Once, Canal Park was a gritty industrial zone, and it was Skyline Parkway that drew the tourists.
First conceived in 1875 by William Rogers, later the first president of the city park board, it occupies a natural terrace that once was the beach of Glacial Lake Duluth, 500 feet above modern-day Lake Superior.
"It is the most wonderful opportunity for city parking which I know of in any country," said visiting landscape engineer Olaf Benson, who planned much of Chicago's Lincoln Park.
"The fact that there exists, in the very heart of the city, such a groundwork for a park system is really phenomenal. Other cities have had to create their parks. Duluth has hers ready-made."
Originally, Skyline Parkway was only part of a system that was to include wooded ravine parks linking it to a long lakeshore boulevard. Many of the ravines became parks, but more than a century passed before the lakeshore stretch was completed as the pedestrian Lakewalk.
The first stretch of Skyline Parkway was finished in 1891, between Chester Creek and Miller Creek, and quickly became a popular destination for Sunday tallyho parties, wagon caravans of tourists and citizens who came to picnic and admire the sweeping views.
To the east, Duluth pioneer Samuel Snively began working on Seven Bridges Road in 1899, eventually connecting Lester Park to Skyline Parkway across Hawk Ridge.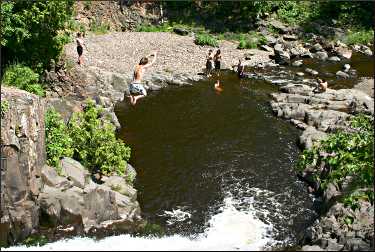 To the west, the parkway was extended to Thompson Hill and, after Snively became mayor in 1921, around Bardon's Peak to Becks Road.
Today, Skyline Parkway stretches 25 miles across the brow of Duluth. It's still beloved by locals but largely ignored by tourists, except for the bird-watchers who descend on Hawk Ridge in fall.
Yet, the picnicking, hiking and all-round exploring on this stretch is among the best in Minnesota, especially in the dog days of summer.
Cooling off in the creek
On that warm day in June, the busiest part of the parkway was wooded Seven Bridges Road, which follows Amity Creek as it plunges toward the Lester River in Lester Park.
Near the first bridge, at The Deeps, cliff jumpers launched themselves into a pool at the base of a waterfall. One boy climbed halfway up a white pine and jumped from there.
Others watched from the smooth rhyolite ledge along the pool or swam in the tannin-tinted water, their limbs gleaming gold and yellow.
A pack of younger boys came running up the creek and started jumping from a lower shelf, joined in the water by a Newfoundland chasing sticks. Older folks sat in a creekside gazebo or watched from a wood bridge.
On the road, the seven bridges of basalt and bluestone, capped with pink granite, recently were restored.
Just below the sixth bridge, there's another favorite swimming spot where the creek tumbles into a shallow pool, then down a slide into a pool that has a little gravel beach.
At the end of Seven Bridges Road, the parkway swings toward Hawk Ridge, where the sign "Watch for Peds" has been changed to "Watch for Reds," as in the red-tailed hawks whose migration in fall migration draws thousands of spectators.
From Hawk Ridge, signs lead motorists along city streets and past the University of Minnesota-Duluth. The oldest section of the parkway starts at Chester Park.
The park was a longtime ski-jumping destination until the 1926 wood jump known as Big Chester was removed in 2014.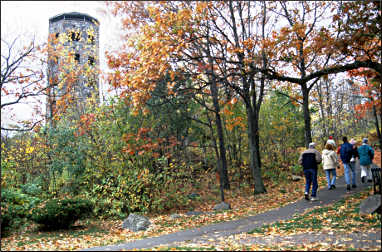 Across from the park, a 2½-mile hiking trail descends into a ravine lined with white pine and aspen; it's one of many creekside trails that fan out from the parkway.
Spectacular views
It's solid panorama from then on, and motorists can stop to watch boat traffic from the parking lot of copper-topped First United Methodist Church.
After Skyline Parkway crosses Mesaba Avenue, dipping down to Ninth Street, there are pullouts and wide spots on the road, each affording a spectacular view. There are spectacular houses, too; at 501 W. Skyline Parkway, a 1900 house studded with boulders is the house everyone in Duluth wants.
At its midpoint, Skyline Parkway passes Twin Ponds, a favorite swimming hole for young children because its waters, the result of impounding Buckingham Creek, are the warmest in town.
Enger Park is just beyond, off Hank Jensen Road. In summer, there's nearly always a wedding or reception swirling around the stone pavilion and beautifully landscaped grounds, donated by Norwegian immigrant Bert Enger, who went "from common laborer to merchant prince," according to a plaque on Enger Tower.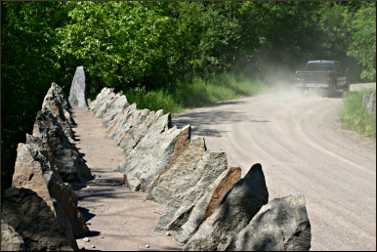 The 60-foot bluestone tower, dedicated in 1939 by Crown Prince Olav of Norway and rededicated in 2011 by King Harald, is one of Duluth's best-known landmarks.
From the top, it gives visitors a wind-whipped, 360-degree view.
Beyond the gardens, amid drifts of wildflowers, a pavilion perched on rock affords yet another spectacular view.
From the Enger Park Golf Course, the parkway continues over U.S. 53 to the 1895 Oneota Cemetery and on to Thompson Hill, where the information center has its own view of the lake and bay.
Signs point over Interstate 35 to Spirit Mountain, where the parkway becomes bumpy blacktop, then gravel after it passes the ski resort.
At Stewart Creek, a 1920s bridge lined with shark's-teeth rows of granite is on the National Register of Historic Places. The creek itself is a designated trout stream; paths follow it and give hikers a good view of the arched bridge overhead.
Just beyond is the Magney-Snively Ski Trail parking lot, now a trailhead for the Superior Hiking Trail.
The trail winds west from Spirit Mountain to Bardon's Peak, Ely's Peak and up to Jay Cooke State Park, partially following an old section of Skyline Parkway that opened in 1928 but rarely was used.
For more, see Hiking in Duluth.
The current Skyline Parkway goes on to Bardon's Peak, a ceremonial site for the Ojibwe, who consider the Spirit Mountain area sacred.
Sitting above the road on rock outcroppings, visitors can see everything from the St. Louis River to Lake Superior, including the Oliver Bridge, the former site of the giant U.S. Steel plant.
The company town of Morgan Park, named for tycoon J.P. Morgan, is directly below.
When I was at Bardon's Peak, I chatted with Mike Johnson of Duluth, who was relaxing after a day's work and picking out familiar landmarks. He grew up near Skyline Parkway, he said, between Enger Park and Chester Park, and he knew its history.
"They wanted to make a place where they could go out and ride their horses on Sunday," he said. "They realized what a prize they had with all the overlooks, and they wanted the people of Duluth to be able to go out and relax on Sunday, too. It's pretty neat, actually."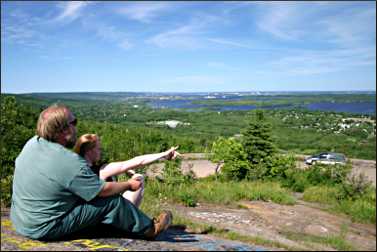 Getting there: It's about 2¼ hours from the Twin Cities. To start at the western end, get off I-35 at the Midway Road exit and turn right; it's three miles to the beginning of Skyline Parkway. From there, it's 2½ miles to Bardon's Peak.
The eastern end starts in Lester Park, from Superior Street at 61st Avenue; turn left onto Occidental Boulevard, which quickly turns into Seven Bridges Road.
The parkway also can be reached from Thompson Hill (take the Spirit Mountain exit); the Information Center there is a good place to pick up directions and information.
When to go: On July 4, Skyline Parkway is a fantastic place to watch fireworks away from the crowds of Bayfront Festival Park.
In summer, go for picnics and swimming; in fall, for hiking and bird-watching.
In fall, Hawk Ridge is crowded with bird watchers, and that section is blocked to cars.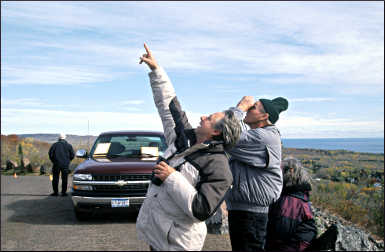 In winter, the sections west of the Magney-Snively Trailhead and east of Hawk Ridge are closed.
Navigating: Here's a PDF of the map.
Parts of Skyline Parkway use other streets; it's a good idea to pick up a city map. There are two tricky bits. Driving west from Hawk Ridge, follow the signs from Glenwood Street to Snively Road and Woodland Avenue.
Turn right on St. Marie Street, which skirts the University of Minnesota-Duluth and turns into Junction Avenue. Turn right on Kent Road, which ends in a street marked East Skyline Parkway. To continue west, turn right.
The other tricky bit is at Mesaba Avenue, at First United Methodist Church ("the Coppertop"). Coming from the east, turn left onto Mesaba and, two blocks later, right onto Ninth Street, which becomes Skyline Parkway.
If coming from the west, turn left up the hill, then right at the Coppertop.
Lodging: There are 14 treehouse-like Mountain Villas on Spirit Mountain. There's a campground across the road.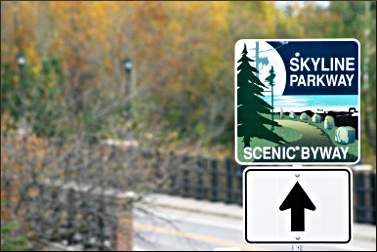 Dining: At Sara's Table/Chester Creek Cafe has a deck with a view of the lake; from the Chester Bowl, drive down Chester Park Drive, turn left on East Eight Street and drive three blocks to 19th Avenue.
Dishes are traditional with a modern twist, such as pan-seared salmon with pumpkin risotto and sauteed red chard, plus steaks, pastas and vegetarian dishes. It also has a cozy coffee nook with a fireplace and a good bakery.
Picnicking: Among the best spots with a view are the rock outcroppings of Enger Park (the pavilion is nearby in case of rain) and Bardon's Peak, both surrounded by wildflowers.
For families, Chester Park, which has a playground, is ideal; on a hot day, older kids will like the shallow pools below the sixth bridge on Amity Creek.
Hiking trails: Many great trails fan out from Skyline Parkway, including the well-marked hike in Lester Park and trail in Chester Park. At the western end, the challenging Mission Creek loop follows a part of Skyline Parkway that no longer is open to traffic.
For maps, contact the Department of Parks and Recreation, 218-723-3337.
For more, see Walking in Duluth and Hiking in Duluth.
Planning a trip: For places to stay and eat, plus sightseeing attractions and festivals, see Duluth 101.
Last updated on August 6, 2015