Chicago at Christmas
During the holidays, this glittering, festive town becomes the City of Broad Smiles.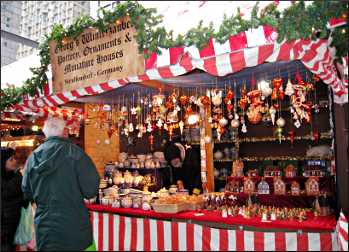 Visiting Chicago during the holidays, I'm always bowled over by how merry everyone is.
Can it be . . . Chicago Nice? It's either that or pixie dust.
Chicago is an exciting place to be any time, but at Christmas, it pulls out the stops. The Magnificent Mile sparkles. Ice skaters do pirouettes in Millennium Park. There are free concerts everywhere.
The first year I went, I headed for the Museum of Science and Industry and its "Christmas Around the World" exhibit of 50 trees, each decorated by a different Chicago cultural group.
The Scots had used gold-wrapped crackers, the Slovenes glazed bread hearts, and the Swedes had covered their tree with straw stars; each tree was a window into the soul of a country.
Dusk was falling as I arrived at the Christkindlmarket in Daley Plaza. I expected it to be only a pale copy of the open-air Christ-child fairs held in German squares for 500 years, but it turned out to be lifted wholesale from the old country.
There were 35 timber lodges, many manned by German vendors with German wares, right down to the fresh stollen and sausages made locally from recipes and ingredients brought from Germany, where people know how to celebrate Christmas.
I walked from kiosk to kiosk, looking at glass ornaments from Lauscha and hand-carved nutcrackers and toys from the Erzgebirge, inhaling the aroma of warm sugared almonds sold in cones.
I watched the steady stream of people at the Glühwein stand and asked proprietor Marian Zeh if Americans liked the hot spiced wine.
"No, most people don't like it, it's too salt and pepper," she said. Highly spiced? "Yes, and too alkoholisch," she said. I bought one anyway, along with its ceramic mug; it was delicious.
One Berlin-born Chicagoan, Eva Esposito, was buying an armful of multilayered Baumkuchen, "like pound cake, only better."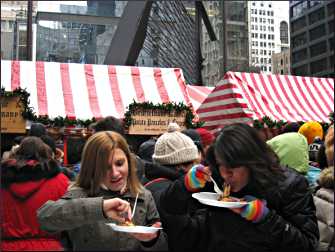 "This is really beautiful," she said. "It brings back memories, after being here 40 years. And it's nice to speak German for a change."
The next day, I walked through the Gold Coast and up Oak Street, with its boutiques: Hermes. Prada. Jimmy Choo and Wolford, where I splurged on a pair of black-and-gold Austrian hose, perfect for holiday parties.
At the end of Oak, Michigan Avenue's Magnificent Mile began. I walked past the stone Gothic Fourth Presbyterian, a beautiful church that offers free noontime concerts every Friday, to the castellated Water Tower, circled by horse-drawn carriages and red trolley buses.
The next time I visited Chicago over Christmas, I read on the plane about the Apollo Chorus, which has been performing Handel's "Messiah" in Chicago since 1879.
As soon as we arrived at our hotel, I went online and saw it would be performing that afternoon a few blocks away, in the Faberge-egg Orchestra Hall on Michigan Avenue. What luck!
We bought tickets and settled in, but were puzzled when we saw the tiny orchestra and read in the program that the soprano was . . . a student? But then the huge chorus stood up with a whoosh, as if jet-propelled, and suddenly we were hearing "Messiah" in gorgeous surround-sound.
Young soprano Amanda Majeski had a huge voice, muscular yet demure, and the impassioned chorus filled every molecule of that hall with soaring music. So much for the grumbling.
It was the most emotional rendering we'd ever heard; every great "Messiah" will make you weep, and this one did.
Then we made the rounds of our favorite museums, the Shedd Aquarium and the Art Institute. At Water Tower Place, we ate at Foodlife, a  maze of kiosks that each sells a different kind of food.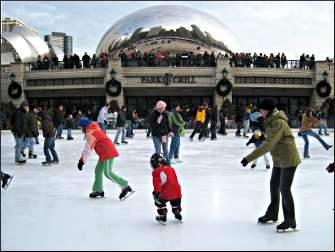 The Christkindlmarket was much more crowded than I'd remembered, and more expensive. The famous Kathe Wohlfahrt of Rothenburg, Germany, has a permanent shop there, filled with baskets of glittering glass ornaments, but the prices were too steep for me.
Instead, I went to a vendor from Rossdorf, Germany, and bought a hand-painted pewter ornament. My husband bought $40 worth of German chocolates, cookies and hard candies, long-lost childhood favorites, at the Sweet Castle lodge.
We had just enough time before our plane left on Monday to run to the Leonidas shop, where we bought many ribboned boxes of chocolates shipped in from Belgium.
At Christmas, Chicago is a sweet place. I can't wait to restock — not just the goodies, but also the memories.
Trip Tips: Chicago at Christmas
Getting there: If your town is served by Southwest Airlines, it's easiest to fly into Midway Airport and take the Orange train downtown. Amtrak and the Megabus can be good options. If you drive yourself, parking is very expensive.
Spending money: For tips, see Cheap Chicago. If you want a hotel deal, the week before Christmas, when all the business travelers are at home, is an excellent time to visit.
Taking children: For tips, see Chicago with kids.
2023 events: Nov. 17-Dec. 24, Christkindlmarket at Daley Plaza. Nov. 17-Dec. 31, Christkindlmarket at Wrigleyville. Nov. 17-Jan. 7, ZooLights at the Lincoln Park Zoo. Nov. 18, Magnificent Mile Lights Festival. Dec. 7-10, One of a Kind market at the Merchandise Mart.
Dance-Along Nutcracker: This free annual event is at the Chicago Cultural Center, across from Millennium Park. There's always something going on at this 1897 neoclassical former library, which has two spectacular stained-glass domes and is known as The People's Palace.
Handel's "Messiah": In 2023, the Apollo Chorus performs it Dec. 9 at Holy Name Cathedral on State Street and Dec. 10 at Alice Millar Chapel in Evanston.
Other performances: "A Christmas Carol" at the Goodman Theatre and Joffrey Ballets' "Nutcracker" at the Lyric Opera House.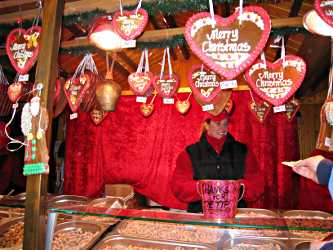 Museum of Science and Industry: The beloved " Christmas Around the World" exhibit celebrates 82 years in 2023. On weekends, ethnic ensembles perform all day.
Shopping: Hard-core shoppers should hit town the first full weekend in December for the annual One of a Kind fine-arts sale at the Merchandise Mart.
The big retailers — Bloomingdale's, Neiman Marcus, Saks, Tiffany, Pottery Barn — are on the Magnificent Mile. For more exclusive designer goods, shop on Oak Street.
Try to get to the Christkindlmarket early in the day; it can get uncomfortably crowded, especially on weekends.
The Museum Shop at the Art Institute on Michigan Avenue has a excellent variety of goods. On the river by the Michigan Avenue bridge, the Design Store of the Chicago Architecture Foundation has a huge selection of beautifully designed gifts.
Millennium Park: On the skating ribbon in Maggie Daley Park, ice-skating is free-$5 with your own skates; skate rental is $16-$22. Capacity is limited, so reserve in advance (and save $2 on rental).
There's a Holiday Sing-Along on Fridays at 6-7 p.m. at Cloud Gate.
Navy Pier: Light Up the Lake includes light sculptures, indoor ice skating, kiddie train rides and Santa's Merry Main Street. Tickets are required and include a ride on the Centennial Wheel.
Accommodations: Hotel rooms are most expensive the week after Thanksgiving, when 55,000 members of the Radiological Society of North America are in town, and cheapest the week before Christmas.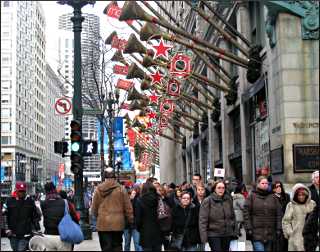 I like to stay in the Loop, near the river, Millennium Park and the Chicago Cultural Center. My favorite hotel, the Club Quarters on Wacker, is half a block off Michigan overlooking the Chicago River. Try to get a tower room.
The high-rise Royal Sonesta Chicago Riverfront is next door and also has good views. The Hotel Monaco is just around the corner on Wabash; it's stylish and has very comfy beds, but it's close to the El, where trains squeak as they make a turn, so stay in one of the upper floors.
Two historic hotels are a little farther south in the Loop. The Palmer House Hilton is on Monroe between Wabash and State, and the 1910 Blackstone is on Michigan, three blocks south of the Art Institute.
There are also several hostels with lower-priced rooms. For more, see Where to stay in Chicago.
Dining: The Gage, a popular and convivial restaurant and pub, is on Michigan Avenue between Orchestra Hall and the Cultural Center. Reserve in advance, 312-372-4243.
There are many inexpensive but good spots on Michigan between the Art Institute and the river, including Caffe Baci, Cosi and the Corner Bakery.
Of course, there's also good German food at Christkindlmarket: potato pancakes, brats and strudel.
Information: Chicago tourism, 877-244-2246. The Cultural Center, on Michigan Avenue across from Millennium Park, has the latest information and makes a good first stop.
Last updated on December 6, 2021