Foot to the floor in Elkhart Lake
In this eastern Wisconsin resort town, unleash your inner speed demon.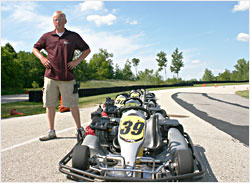 Thanks to the last glacier, Elkhart Lake is amply endowed with curves -just the kind of curves a race-car driver appreciates.
In 1949, the old lake-resort town was struggling. Then millionaire sportsman Jim Kimberly, scion of the Kimberly-Clark paper fortune in Neenah, began looking for a local place to race his cars.
He and three buddies, including Fred Wacker of the prominent Chicago family, chartered a plane and circled the forested kettle moraine west of Sheboygan. They found exactly what they were looking for in the undulating curves and swells of the roads around Elkhart Lake.
They're asphalt ribbons draped over piles of glacial rubble, creating a roller coaster for drivers-and a set of hard turns that tested, and sometimes bested, their skill.
The first race in 1950 drew 5,000 spectators, and Elkhart Lake knew it had a winner.
"The town was looking for a way to revive tourism after the war, and this kind of fell into their hands," says John Calhoun, president of Historic Race Circuits of Elkhart Lake.
Races also were held in 1951 and 1952. Then, during a race in upstate New York, Fred Wacker's Allard clipped a group of spectators, killing a 7-year-old boy. That was the end of racing on public roads in America.
But racing returned to Elkhart Lake in 1955, when the Road America course was built. And now anyone can get a taste of speed.
Built on farmland that was even hillier than the original course, the wooded, 640-acre complex-it calls itself the "National Park of Speed"-includes a four-mile race course with 14 turns and 160 feet of elevation change.
There's a grandstand, but spectators can watch from any spot, getting around by foot, bicycle or golf cart. When there isn't a race, they can cruise on the course themselves, either fast, with a professional driver in a pace car, or slowly, in their own cars.
Road America also has an .8-mile go-kart course that's built into a hillside and has more than 50 feet of elevation change-call it the anti-oval.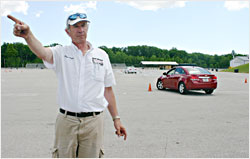 This isn't your kids' karting. If you think you're not interested in the sport of racing, just try it. But be careful-many of today's professional race-car drivers got hooked on this very course.
I got to drive it during a media tour. But before we students could go fast, we had to learn how to stop fast, by practicing maneuvers taught in Road America's driving schools.
We practiced threshold braking with each other in the car, but to learn skid control, we rode with instructor Jeff Huber, who teaches teen drivers and jokes, "I'm addicted to danger."
It's a completely alien act to gun a car to 25 mph and keep your foot off the brake as you career around a half-moon of cones, and Huber had to keep shouting, "Give it gas!" and "Foot to the floor!" But once we decided we weren't going to die, we followed orders.
Then we had to control the resulting spin, which was terrifying. Fail, and you do a 360. But if you keep your eyes trained on where you want to go and your hands moving fast on the steering wheel, you'll shimmy to a stop right in front of the goal, a green cone.
"Whew, that was a rush," said another student. "I feel giddy."
On the way to the slalom course, we got to cruise the four-mile race track, and I was lucky to ride along with instructor Duck Waddle, who's been racing on it since 1959 and knows the twists of the course better than anyone.
He drove it as gracefully as an ice skater, hugging the inside of curves, then floating to the outside, always aiming for the white line that separates the track from the rumble strips.
"The straighter you can keep the car, the faster you can go," he said. "On this track, you try to go a second faster each lap; if you try to gain two seconds, you crash."
Again, the key was to keep your eyes focused on where you want to go.
"The farther ahead you look, the slower things come at you," Waddle said. "On the last stretch, you aim for the scoreboard."
An 8-foot wire fence lines the course to keep out deer; in 2006, one ran in front of a Brazilian racer, who hit it and then was hit when the deer flew into his cockpit (the racer survived).
"The fence also keeps cars from bouncing out," Waddle said.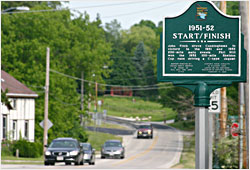 On the slalom course, we gunned a Chevy Cruze and a VW GTI as fast as we could around a series of swerves and hard turns. Then we tried to drive the "champagne slalom" the same way except smoother, since a tennis ball was rolling around a frisbee affixed to our hoods.
When our timidity had worn off and we were used to roaring engines and squealing brakes, we headed for the karting course, where a new set of beaming, sunburned instructors awaited us.
"The greater the radius, the greater the speed," said track assistant Don Taft. Waddle said it better: "Outside, inside, outside."
"Let the kart go; you don't want to fight it," Huber said. "Brake when you're on the straightaway, then accelerate into the curve. And remember to breathe."
We put on giant full-face helmets and climbed into our stripped-down hot rods, fuel tanks between our knees and feet on steel bars-one for brakes, one for gas. Huber led at a sedate pace, then took off on the "F" shaped, half-mile course, disappearing in an instant.
That's when I discovered my inner speed demon, because I took off, too, cornering like Waddle had told me to and flooring it on the straightaway to as close to 45 mph as I could get.
Pretty soon, I lapped two drivers, then another two, and I kept going until Huber zoomed up on my left before the final lap, raised his hand to signal "I'm slower" (right!), then let me zip into the pit in the first position.
I was competing more with myself than the others, trying to figure out how to shave seconds and literally cut corners, but at the finish, the others looked at me strangely.
"You!" sputtered one of them. "Did you see me spin out behind you and into the grass?"
Umm, no-the big helmets allow almost no peripheral vision. "Were you scared?" I asked.
He looked at me. "Well, I didn't feel good watching your bumper disappearing around the bend."
We weren't the first to find that racing is pure exhilaration. The instructors seemed to be having the times of their lives, too.
"Come on the weekend, when it's really rocking," Huber said. "The party never stops."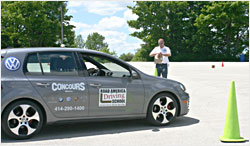 Want to see how it works? Here's Duck Waddle driving the race course in his 1963 hand-built Bobsy.
There are three vintage-car and two motorcycle race weekends, a weekend apiece for NASCAR and the American Le Mans series and two for the Sports Car Club of America.
You can spend all day and night at Road America, which has camping and food concessions on race weekends, or you can spend time in Elkhart Lake, which is on the shores of Wisconsin's fourth-deepest natural lake and has been a resort town since the 1860s.
It started as a destination for wealthy families from Chicago, but by the 1920s, every resort had a casino, and prostitution was common. Gambling was stopped in 1945, and by the late 1940s, the three grand resorts on the north end of the lake were fading.
"Racing kicked off the revival of Elkhart Lake as a resort destination," John Calhoun said. "It really became a more wholesome place after that."
The old 6½-mile race circuit still is there, with plaques that mark such landmarks as Brigg's Bend, where racer Steven Briggs lost control of his Jaguar, and Dickens' Ditch, where Ted Boynton flew into a patch of blueberries and poison ivy.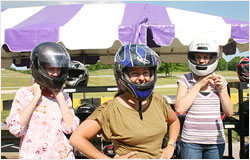 Noting an electronic speed indicator on the course, I asked Calhoun if people are tempted to speed on it.
"Yes, I can speak from personal experience-people are still tempted," he said with a smile. "They're fun roads to drive."
The Elkhart Lake Chamber of Commerce sponsored this visit.
Trip Tips: Racing in Elkhart Lake
Getting there : Elkhart Lake, pop. 1,000, is 25 miles northwest of Sheboygan and Kohler.
For more about those areas, see Sights of Sheboygan and Kohler's luxuries.
For more about Elkhart Lake, see Thrills and hills in Elkhart Lake.
Events : Racing events include the Spring Vintage Weekend in May, the Concours d'Elegance in July and the Vintage Festival the weekend after Labor Day, sponsored by the Vintage Sports Car Drivers Association.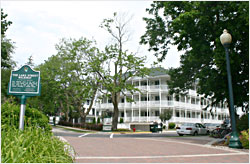 Historic race circuit : It's fun to drive the course used in 1950-52 and stop to read the historic signs. Pick up a map at the information center downtown.
Road America : Public karting is available on many race weekends.
Groups of four or more can arrange private programs for three hours to a half day with the racing fleet of karts, which can go up to 60 mph. Call 800-365-7223.
All-day high-performance driving schools teach braking, cornering and acceleration. There are also teen and winter-driving schools.
There are several ways visitors can drive the course, including two laps in a pace car with a professional driver and three guided, slow-speed laps in your own passenger car.
Races include motorcycles, sports cars and vintage cars. Admissions vary, but they're much cheaper when bought in advance, and children 12 and younger always are free.
Food is sold onsite by 13 non-profit churches and service clubs, and guests can bring their own food and beverages.
They can also bring bicycles to ride to various viewing spots, or rent a golf cart. Pets are allowed but strongly discouraged.
Accommodations : Three large, Victorian-style resorts, all on the north end of the lake, provide a variety of luxurious rooms, suites and condos: the Osthoff, Siebken's and the Shore Club.
Summer is prime time; in the off season, watch for specials.
There's camping at Marsh Park and in nearby Kettle Moraine State Forest, and the nearby town of Plymouth has budget lodgings.
Dining : Elkhart Lake has an unusually large number of excellent restaurants, including the Paddock Club and Lake Street Cafe downtown.
Information : Elkhart Lake tourism, 877-355-4278.
Last updated on January 19, 2022