Duluth rocks!
With a pizza train, bike path and beaches lined with boulders, this is a great town for kids.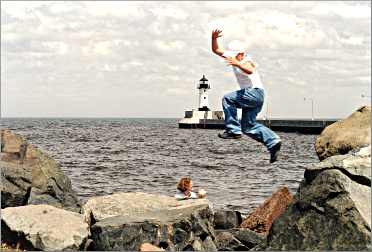 In Duluth, you can lead a child to water — but just try leading her away.
"Mom, it'd be worth moving to Duluth just so we could go to this beach a lot," said my daughter Madeleine, jumping from rock to rock at Brighton Beach at Kitchi Gammi Park.
Duluth is one of the best places in Minnesota to take children. On Canal Park, the lineup of tourist attractions can keep a family entertained for days.
There's the Great Lakes Aquarium, a skating and bicycle path, a playground, a giant ore boat to tour and freighters to watch going under the Aerial Lift Bridge.
There are tour boats to ride around the harbor and, nearby, a railroad depot with trains to ride along the lake.
As parents discover, Duluth rocks for other reasons, too.
From the tip of Park Point to Brighton Beach, on the edge of town, Duluth's waterfront is lined by endlessly entertaining rocks — rocks to climb on, to skip in the lake, to hunt through for agates and fossils.
Their pull is magnetic: No matter what else we did, soon I heard, "Let's go climb on the rocks."
Our first stop was the Lake Superior Maritime Visitor Center, where we saw the Canadian freighter Laurentien slipping out of the canal.
The sonorous horns, the clanging bells on the lifting bridge, the screech of gulls and the lapping of waves create an air of excitement on Canal Park that makes it hard to leave.
Still, we drove over the bridge onto Park Point, leaving the car at the airport to walk along the Park Point Trail, where Madeleine and Peter "snowboarded" down a sand dune on their feet and played on a beach covered with bleached driftwood.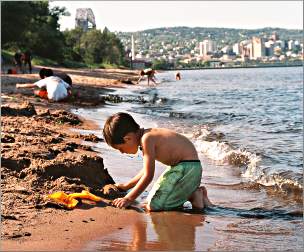 Then we headed over to the depot to catch the North Shore Scenic Railroad's Pizza Train. In a 1950s Budd Car, which has a built-in engine, we trundled along the Lakewalk, earning smiles and waves from walkers.
At the edge of town, we stopped to take on hot pepperoni and sausage pizzas, delivered to us in our seats with cold cans of pop.
After the train turned around in Knife River, we went to the front and watched for deer with two little girls, whom the engineer urged to help blow the whistle every time a "W" sign popped up before intersections.
We thought we'd missed the nightly s'mores roast on the Inn on Lake Superior's lakefront patio, but there were still plenty of Hershey bars and marshmallows when we got back.
The next morning, Madeleine borrowed a sturdy bike and, with me and Peter on in-line skates, set off along the eight-mile Lakewalk.
There were lots of pebble beaches, but the kids waited until we got back to Canal Park's jagged basalt boulders to play mountaineer and chase ladybugs.
Next, we walked over the Minnesota Slip Bridge to the Great Lakes Aquarium. There was a lot to see: the scowling trout in the Baptism River habitat, the giant sturgeon in the Isle Royale habitat, which Madeleine thought were sharks — "No? Oh, well, they're cool anyway" — and the river otters: "If you think Peter is hyper, watch these guys."
At the Isle Royale tank, we watched divers hand-feed the slow-moving bottom-feeders. As the quicker trout tried to intercept the food, the sturgeons' mouths popped out like nozzles, sucking it down to the teeth in their throats.
After holding some crayfish and creating a miniature sandstorm, we walked back to the lakefront and had lunch at Dewitt-Seitz Marketplace.
We bought sweets at Hepzibah's candy store, whose wares made Peter so excited that he offered to buy the shop for $8 million.
We only had time to do one more thing, so the kids decided they wanted to head back to Brighton Beach to play on the rocks.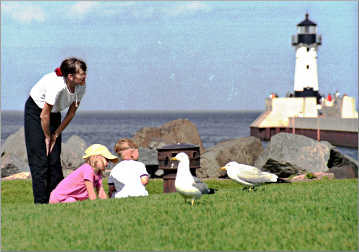 There was an astonishing amount of sibling agreement on our trip — basically, they liked everything. It could be that Duluth is a parent's kind of town, too.
Trip Tips: Duluth with kids
Where to stay and eat: Reserve early for summer and for fall weekends. In winter and spring, check for deals.
For details on planning a visit, see Duluth 101.
You'll need to plan ahead in summer, when hotels fill up for nearly every weekend. Don't even try to get a room for Grandma's Marathon weekend in mid-June.
Great Lakes Aquarium: It's open daily. Admission is $20 adults and $16 for children 3-17.
Train excursions: The 2½-hour Pizza Party Express train of the North Shore Scenic Railroad goes to the Sucker River, halfway to Two Harbors at 6 p.m. Wednesdays-Saturdays; reservations required. It's $34, $22 for children 3-13.
The railroad also offers many other excursions.
The Lake Superior & Mississippi Railroad, run by train-buff volunteers, travels along the St. Louis River for 90-minute, 12-mile round-trip tours at 10:30 a.m. and 1:30 p.m. on weekends. Fare is $20, $10 for children 4-17.
It leaves from the Waabizheshikana/Western Waterfront Trail parking lot at Grand Avenue and 71st Avenue West, across from the Lake Superior Zoo.
For more about things to do in west Duluth and St. Louis Bay, see Duluth's other waterfront.
Playgrounds: Playfront Park at Bayfront Festival Park is Duluth's largest playground. The Bayfront Family Center lends out rec equipment — frisbee golf, kites, volleyball sets, kickballs, croquet sets — Monday through Thursday from 11 a.m. to 7 p.m. Parking is free for two hours, except during large events.
Lester Park also has a playground.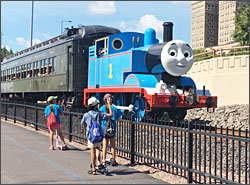 Beaches: Brighton Beach, or Kitchi Gammi Park, is at the end of the Lakewalk on the east edge of Duluth, just past the Lester River. It's a great place to picnic, look for agates and sunbathe. It's lined with slippery rocks, not sand, so few people swim.
There are good swimming holes in the Lester River in Lester Park and in Amity Creek along Seven Bridges Road. For more, see Swimming holes of Duluth.
Or cross the Aerial Lift Bridge and drive to the Park Point Recreation Area, which starts at 43rd Street and has a beach house with restrooms. For more, see Dunes of Duluth.
Boat watching: The free Lake Superior Maritime Visitor Center gives daily programs and pier history walks in summer. For boat arrival and departure times, check Harbor Lookout.
For more, see Boat watching in Duluth.
Harbor cruises: From the Duluth dock, across the slip bridge from Canal Park, the Vista Fleet gives narrated cruises from early May through October.
The Depot: Downtown, the Depot houses the Duluth Children's Museum, Lake Superior Museum of Transportation (including old locomotives), Duluth Art Institute and St. Louis Country Historical Society.
Timber Twister: On Spirit Mountain, a 3,200-foot elevated track with hairpin curves takes riders in cars on a six-minute ride at up to 26 mph. Children who are at least 48 inches tall and 8 years old can ride alone; younger children who are at least 3 can ride with someone 16 years or older.
Information: For more about outdoor recreation and sightseeing, see Duluth stories.
Last updated on January 15, 2022