Following the tall ships
Sloops and schooners still sail on Lake Michigan and Lake Superior.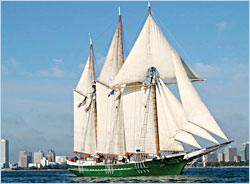 On the Great Lakes, everyone loves to see a multi-masted schooner, white sails flapping in the breeze.
They're always the favorite guests at festivals, especially on Lake Superior, which usually sees only freighters.
On Lake Michigan, these magnificent replicas of 19th-century schooners and sloops are more common, offering tours and day sails from their homes when they're not appearing at festivals.
Most of the tall ships are non-profit and devoted to teaching early American history and training future sailors. Many offer passage between ports as they sail to festivals.
Grand Traverse Bay in Traverse City is home to several tall ships, two of them owned by the non-profit Maritime Heritage Alliance.
Its workhorse is the Madeline, a 92-foot twin-masted wooden replica of an 1840s commercial schooner.
Day sails and tours
The Madeline was built to be authentic to the era, so she doesn't meet Coast Guard requirements to sell tours or cruises. But she makes frequent appearances at festivals, sailed by Maritime Heritage Alliance volunteers.
They also offer complimentary heritage and community sails of Grand Traverse Bay on both the Madeline and the 39-foot Champion, an 1870s-style single-masted cutter. The boats dock on the west edge of Traverse City .
Also at the alliance's Traverse City dock: the 114-foot Manitou, a replica of a 19th-century cargo schooner that offers public sails and also is a floating bed-and-breakfast.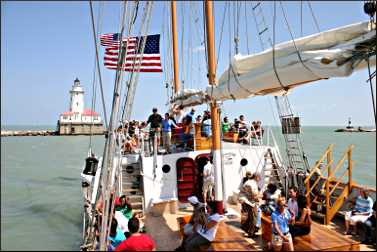 It's operated by the Traverse Tall Ship Co., which gives two-hour day sails and evening sails with picnic.
It also offers ice-cream, wine-tasting and entertainment cruises and four-day theme sails. For overnight guests, the evening sail is included.
Just up the shore in Suttons Bay, the Inland Seas Education Association includes the 31-foot sloop Liberty, a replica of a 1905 Maine fishing vessel, and the 77-foot schooner Inland Seas, which offers three-hour Great Lakes Discovery Sails around Grand Traverse Bay.
In the southwest Michigan town of South Haven, the 101-foot Friends Good Will, a replica of an 1810 square-topsail sloop, sails Lake Michigan from the Michigan Maritime Museum.
It offers afternoon and sunset cruises from late May through September.
In the Door County town of Sister Bay, the 65-foot two-masted schooner Edith M. Becker, the former Appledore III, offers cruises on Lake Michigan's Green Bay.
For more, see At sea in Door County.
In Milwaukee, the Denis Sullivan is part of Discovery World at Pier Wisconsin. It's a 137-foot replica of a three-masted 19th-century schooner, inspired by the Moonlight, a schooner that was known as the fastest on the Great Lakes between 1874 and 1885, when it was under command of Capt. Denis Sullivan.
Grandson Jere Sullivan sits on the board of Pier Wisconsin, which built it for educational purposes.
Deck tours and day sails are given in summer. It also offers overnight sailings up the coast, during which passengers help the crew.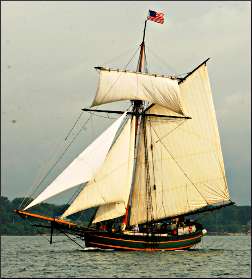 In Chicago, the 148-foot four-masted topsail schooner Windy offers six or more sailings a day with themes, including pirates, maritime history and fireworks.
In Kenosha, the 77-foot two-masted topsail schooner Red Witch, a replica of a 19th-century Great Lakes working schooner, sails from Kenosha Harbor or Southport Marina, depending on weather conditions.
On Lake Huron, the 85-foot, two-masted schooner Appledore IV and V offer a variety of day and dinner sails from its base in Bay City on Saginaw Bay in Lower Michigan.
The boat, owned and operated by the nonprofit BaySail, also offer overnight voyages that teach seamanship to youths.
Frequent guests
Some tall ships make frequent appearances in the Great Lakes, including the 198-foot U.S. Brig Niagara of Erie, Pa., and 157-foot privateer Pride of Baltimore II, replicas of War of 1812 battleships; and the privateer Lynx, a replica of a Maryland schooner that fought on America's behalf in the War of 1812.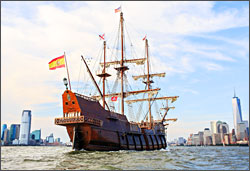 The 65-foot Niña, a replica of the Portuguese caravel that Columbus sailed to the New World, and its sister ship, the 85-foot Pinta, sometimes make appearances at towns along the Mississippi River .
They're operated by the Columbus Foundation of the British Virgin Islands.
Tall ships festivals
Every three years, the non-profit sail-training organization Tall Ships America brings its Tall Ships Challenge festival to the Great Lakes, to promote sail training for youths and adults.
In 2022, the only official stop in the western Great Lakes is Two Harbors, Minn., whch is holding a Festival of Sail Aug. 4-7. Visiting ships include the Spanish galleon Nao Trinidad and the Canadian schooner St. Lawrence II as well as the U.S. Brig Niagara and the Pride of Baltimore II.
But Marquette, Mich., has engaged several of the ships for a Festival of Sail Aug. 12-14, including the Nao Trinidad, Niagara and Pride of Baltimore.
The Tall Ships Challenge festivals usually include one ship from Europe and several from the East Coast and Canada, as well as Great Lakes schooners. Many of the ships offer day sails from each port, and some take on paying adult sail-trainees to sail from one festival to the next; check the websites of each ship for opportunities.
The festivals are expensive for cities to host, so not every city participates every time. In 2019, the Tall Ships Challenge included stops in Bay City, Green Bay and Kenosha, as well as larger U.S. and Canadian ports on the eastern Great Lakes, including Cleveland, Buffalo and Toronto.
Planning a Great Lakes trip
Be sure to sail on a boat or catch a festival if you're planning a Circle Tour of Lake Michigan.
For details, see Circling Lake Michigan.
For a Circle Tour of Lake Superior, see Circling Superior.
Last updated on February 2, 2022