At sea in Door County
From Sister Bay, a tall ship and a double decker take tourists for a ride.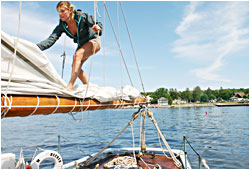 There's a lot of water in Wisconsin, but only one place that's surrounded by it: the northern Door Peninsula.
It's really an island, since the Sturgeon Bay Ship Canal connects Lake Michigan to the slightly more tranquil waters of Green Bay. From there, the peninsula is lined by beaches, limestone cliffs, lighthouses and picturesque villages.
All of the views are good, but the best are from a boat.
You can rent a kayak or take a double-decker launch tour. Or you can catch a ride on the Edith M. Becker, a 65-foot two-masted schooner that has sailed around the world but now is at home in Sister Bay.
Formerly known as the Appledore III, the wooden boat has a romantic past, and captain Peder Nelson loves to tell about it.
Named for Appledore Island in the Isle of Shoals, on the New Hampshire-Maine border, it was built by Herb and Doris Smith in 1984.
"When Herb was a kid, he sailed out one day with a man named Skipper Day — isn't that a great name? — and he saw a girl standing in the door of a lobsterman's shack on the island," Nelson says. "When he dated Doris years later, he realized that was her."
Shortly after Herb and Doris finished the Appledore III — "Doris caulked every seam," he said — they put their two small children on the boat and took off for a 1½-year trip around the globe, their second.
They wrote books about their voyages, and built more boats: the steel-hulled Appledore IV, which now gives Lake Huron cruises out of Bay City, Mich., and the Appledore V, which operates out of Key West.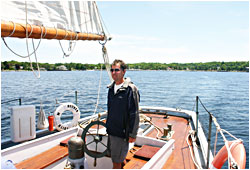 Nelson was captain of the 86-foot Appledore II in Key West when he bought her mothballed sister, renovated the boat and sailed it down the St. Lawrence Seaway to Sister Bay in August 2011, with Hurricane Irene nipping at his heels.
He renamed it for his great-grandmother, another survivor who grew up in Sister Bay.
"When she was 6 years old, she came from Germany in a wooden schooner with cholera aboard," he said. "They were throwing bodies overboard, but she survived. That was the 1880s, and she lived into her 90s, so I was able to know her."
On a fine breezy day in late June, Nelson set off from Sister Bay with a crew of two other certified captains he'd picked up in Key West, Noah Waldman and Kelsey Haas.
Once out of the harbor, they hoisted the sails and caught the wind, but Nelson kept the motor running so we could cover more ground.
"I run a fine line between boring people to death and terrifying them," he joked.
Heading south, he pointed out the Sister Islands and the shoals where the schooner Meridian went down in 1873, a site beloved by divers and bass fishermen.
It was a busy day on the bay. Smaller sailboats glided by, and a speed boat flung a parasailer high into the sky.
As we passed Ephraim's Eagle Harbor on the way to Peninsula State Park, he showed us the notches on the headlands that mark the water line after the last ice age.
Limestone juts from the sides of these wooded bluffs, which were clear-cut in his great-grandmother's day, Nelson said. Then barges would back up to the bluffs, blast off the stone and carry it to Chicago.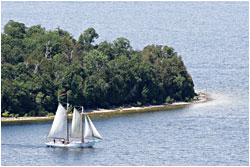 Now, people come from Chicago and other cities to build stone mansions on the reforested bluff.
There's more space available on the 149-passenger double-decker launch from Shoreline Cruises, which also offers trips south to Eagle Bluff and north to Death's Door.
Trip Trip: Door County cruises from Sister Bay
Buy tickets at the kiosk on the Sister Bay marina.
Edith M. Becker: Sail Door County offers cruises on the two-masted tall ship as well as the 40-foot sloop Passage North.
Wind dictates which direction the boats take, either south toward Fish Creek or north toward Ellison Bay.
Sister Bay Scenic Boat Tours: The double-decker tour boat offers narrated trips south to Peninsula State Park and Eagle Bluff Lighthouse as well as trips north to Death's Door. It also offers sunset tours with live music and swimming expeditions.
For more, see Outdoors in Door County and 10 splurges in Door County.
Last updated on February 20, 2018