Swedes in the Upper Midwest
From the old country, they brought a love of celebration and summer.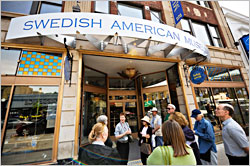 When the summer solstice arrives, nobody celebrates more than the Swedes.
They put wreaths of flowers on their heads, dance around a vine-draped pole and sing the praises of long, sunny days.
They're like everyone else in the northland, except they eat more pickled herring.
Midsommar is the most beloved Swedish holiday, and it's celebrated everywhere Swedes settled, especially the Chicago area, Minneapolis and the St. Croix River Valley of Minnesota.
Besides music and dancing around the majstang , or Maypole, there will be Dala horse-carving, smörgåsbord, straw goats, thin pepparkakor ginger cookies and, perhaps, some ABBA songs. And a lot of adorable, towheaded little girls in embroidered dresses, of course.
Why they came
Much like immigrants from Norway, Swedes were pushed out of the old country by class snobbery, religious rigidity and a shortage of farm land and jobs.
Newly arrived Swedes were considered the "good" immigrants, especially young Swedish women, who easily found jobs as housemaids in middle- and upper-class households.
Men worked as farmers and lumberjacks. Many men from the impoverished southern province of Småland, from which many immigrants came, were skilled iron workers.
Perhaps the best-known destination for Swedes is Minnesota's Chisago County, where Swedish settlers found "a rich and stoneless Småland."
Their letters home started a boom that eventually gave Chisago County the largest concentration of Swedes outside Sweden. In 1947, they drew Swedish writer Vilhelm Moberg, who came to the area to research a quartet of historical novels.
The novels became hugely popular in Sweden, and busloads of Swedes still come to Chisago County to see pioneer-era landmarks mentioned in the book.
They range from Scandia to Taylors Falls and Lindström, where signs mark public buildings in both Swedish and English and the water tower is an enameled coffeepot that proclaims "Valkommen till Lindström."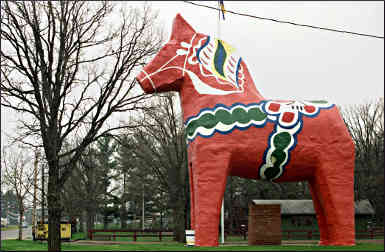 Festivals
Some festivals include Norwegian and Danish traditions, although the three countries have historic enmities. Norway was dominated by Denmark until 1814 and by Sweden until 1905.
During World War II, neutral Sweden exported iron ore to Germany and gave Nazi forces access to Norwegian ports. For celebration purposes, however, history stopped at the time of Swedish immigration to the United States, which peaked between 1870 and 1900.
June, Midsommarfest in Chicago. In the Andersonville neighborhood, around the Swedish American Museum.
June, Midsommar Celebration in Minneapolis. At the American Swedish Institute.
June, Midsummer Fest at Norskedalen Heritage Center in Coon Valley, Wis., southeast of La Crosse.
June, Swedish Day in Geneva, Ill. In Good Templar Park.
June, Midsommar Dag in Scandia, Minn. At Gammelgården Museum.
June, Midsommar Music Festival in Bishop Hill, Ill.
June, Fyr Bal Festival in Ephraim, Wis., in Door County.
June, Swedish Days in Geneva, Ill.
June, Midwest Viking Festival and Scandinavian Hjemkomst Festival at the Hjemkomst Center in Moorhead, Minn.
June, Svenskarnas Dag in Minneapolis. At Minnehaha Park.
July, Karl Oskar Days in Lindstrom, Minn., in the Chisago Lakes area.
July, Nordic Fest in Decorah, Iowa. For more, see Nordic nirvana.
September, Scandinavian Day in South Elgin, Ill. In Vasa Park on the Fox River.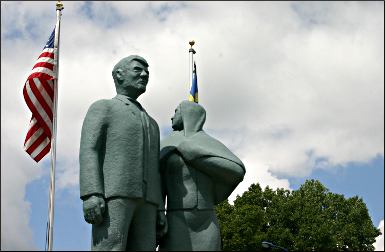 Heritage sites
Swedish American Museum in Chicago . Many Swedes settled in the Andersonville neighborhood north of Wrigley Field, and there are still thriving remnants, especially purveyors of Old World delicacies: the Swedish Bakery,  Wikstrom's Specialty Foods and Svea Restaurant, all along Clark Street.
The museum is the hub of the neighborhood and holds exhibits, classes, workshops and events. It also includes a genealogy center and a museum shop.
American Swedish Institute in Minneapolis . This castle-like stone mansion in south Minneapolis was built between 1903 and 1908 as a home for Swan Turnblad, publisher of the Svenska Amerikanska Posten.
In 1929, the Turnblad family donated the mansion, the newspaper and its office building to the American Institute for Swedish Literature, Art and Science.
Now called the American Swedish Institute, it offers tours and holds exhibitions workshops, lectures and festivals year-round. It also include the FIKA cafe and a lovely museum shop.
Other Minneapolis destinations: Ingebretsen's gift shop and deli on Lake Street and, of course, IKEA, across from the Mall of America in Bloomington. There are also IKEAs in the Chicago suburbs of Bolingbrook and Schaumburg.
Gammelgarden Museum in Scandia, Minn . On 11 acres near the St. Croix River, just over the Chisago County border, this Swedish heritage museum gives tours from May through the third weekend in October.
Its name means "small old farm" in Swedish, and it includes five pioneer Swedish buildings, including an 1856 log church and 1868 parsonage.
It offers Swedish classes and holds many special events, including Midsommar Dag in June and Lucia Dag on the second Sunday in December.
Bishop Hill in northwest Illinois . This hamlet, fifty miles southeast of the Quad Cities, is a state historic site and national landmark village. Settled in 1846 by Swedes seeking religious freedom, it was a communal society before disbanding in 1861.
Today, much like Iowa's Amana Colonies, it's geared toward tourists, with shops and galleries selling gifts, artisan goods and imports.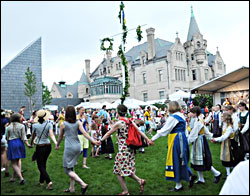 The Henry County Museum is open daily from May through October, and several restored colony buildings also hold exhibits and host classes and workshops.
Swedish towns
Lindström in Minnesota's Chisago County . This is the hub for four Swedish towns along the U.S. 8 corridor, also known as the Vilhelm Moberg Commemorative Trail.
The Swedish author Vilhelm Moberg came here in 1948 to research his wildly popular "Emigrants" novels. At the edge of Lindstroöm, statues depict his fictional characters: stoic Karl Oskar, looking forward, and homesick Kristina, looking back.
The self-guided Swedish Circle tour includes the statues, the house where Moberg stayed, historic churches and other heritage sites around Chisago County. Guides can be picked up at the Chisago Lakes Chamber of Commerce on Lindström's main street, 12631 Lake Blvd., 651-257-1177.
For more, see Sweden in Minnesota.
Mora in east-central Minnesota . Fifty miles north of Lindstrom, Swedes settled on land near the south shores of Mille Lacs Lake. Mora is the home of a 25-foot Dala horse, the symbol of the Dalarna province of Sweden, and a small Swedish bell tower.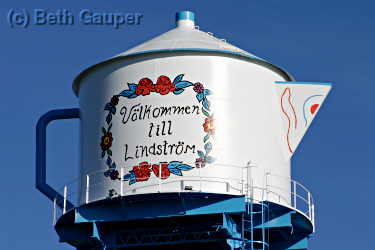 Named for Mora, Sweden, its sister city, Mora is best-known for its annual Vasaloppet ski race. It's an American version of the 90-kilometer Swedish Vasaloppet, held since 1922 between the towns of Mora and Salen.
Geneva, west of Chicago. This affluent suburb on the Fox River was settled partly by Swedes and celebrates two different Swedish Days, one large and tourist-oriented and one smaller and more traditional.
The second Swedish Day, celebrated since 1911, is in Good Templar Park, where there's a full-scale replica of a ninth-century Viking ship. Built in Norway in 1892, it sailed to Chicago to be an attraction at the 1893 World's Columbian Exposition.
It's open for guided tours during festivals and on the third Saturday afternoons of the month between April and October.
Stockholm, along the Mississippi River in western Wisconsin . This tiny village on Lake Pepin, population 66, is a favorite day trip for Twin Citians for its bluff-side scenery, cafes and shops, including an outpost of Ingrebretsen's.
It was founded in 1854 by 200 emigrants from the impoverished village of Bjurtjärn in Varmland province. The small town museum holds a few historical exhibits.
For more, see Destination: Stockholm.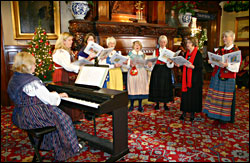 Door Peninsula in Wisconsin . Before it became a tourist magnet, this peninsula in Lake Michigan was the home of many fishermen and other homesteaders from Scandinavia.
The Swedish contingent is most notably represented at Al Johnson's Swedish Restaurant in Sister Bay.
Language and culture
At Concordia Language Villages near the northern Minnesota town of Bemidji,  the Sjölunden campus hosts immersion camps for youths as well as a spring Swedish Family Fun Weekend.
The campus includes a weaving studio and traditional Swedish boathouse.
Read
"Swedes in Wisconsin," by Frederick Hale (Wisconsin Historical Society Press).
"Swedes in Minnesota," by Anne Gillespie Lewis (Minnesota Historical Society Press).
"Swedish American Landmarks," by Alan H. Winquist (Swedish Council of America).
Last updated on January 20, 2022