Homes for the holidays
For Christmas tours, historic mansions up the ante on opulence.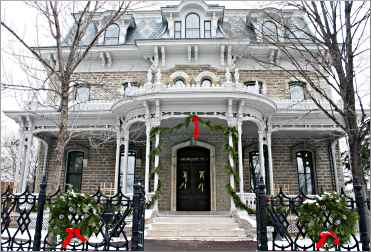 Two centuries ago, Minnesota and Wisconsin were ripe for the picking.
Iron ore lay under forests of tall white pine, fertile farmland lay under prairie grasses, and rivers teeming with beaver led to the Great Lakes and the Atlantic Ocean.
It all turned into money when ambitious men arrived, gathering up the goodies like kids on Halloween. They logged, they mined, they traded and they shipped.
The men who made the biggest fortunes did it all, plowing their first round of profits into railroads, land and banking.
Then, they built houses.
In Minnesota, the two richest men built the two biggest houses. James J. Hill, who started as a clerk on the St. Paul levee, was a railroad baron but also dabbled in mining, shipping, banking and milling.
Chester Congdon, a pastor's son who was a teacher before he began practicing law, had an uncanny eye for opportunity and speculated in timber, iron ore, apples and copper.
Congdon's counterpart across the harbor in Superior, Wis., was Martin Pattison, whose 1891 home was the Twin Ports' first grand mansion.
Pattison, a lumber baron who made even more money mining iron ore he discovered himself in the Vermilion Range near Ely, Minn., later was found to have abandoned a wife and children in Michigan and changed his name.
The lifestyles of yesteryear's rich and famous are just as interesting as those of today, and usually more so. The people are gone, but the houses tell the stories.
These magnificent houses were places where their owners could impress clients and make even more money, and they also served as investments in the days before the stock market.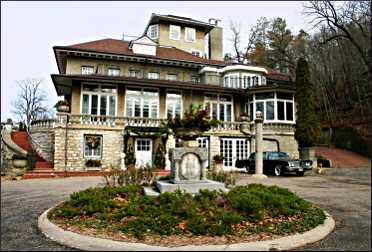 On a hill overlooking downtown St. Paul, James J. Hill built a 36,000-square-foot Romanesque mansion of red sandstone, bristling with chimneys for 22 fireplaces.
On the shore of Lake Superior in Duluth, Chester Congdon built a 39-room Jacobean brick castle, filled with intricately carved woodwork of fumed oak, Circassian walnut and acid-distressed cypress, with furniture to match.
Lumber barons built houses from Superior to Dubuque. Pioneering physicians built a manse in Rochester, and a beer magnate built a Germanic palace in Milwaukee.
Now open to the public, these homes contain luxuries to an almost dizzying degree: ceilings covered in 22-carat gold, walls covered with silk, fireplaces of onyx and marble, silver chandeliers that took a servant an entire day to polish.
During the holidays, all of this opulence will be gilded with an eye-popping array of velvet ribbons, frosted roses, silver balls, golden garlands and, of course, decorated trees.
Below are some of the most notable grand mansions that offer holiday tours in 2022.
Minnesota
Mayowood, Rochester : Old-fashioned Christmas tours at the 38-room, four-story 1911 home built by Dr. Charles H. Mayo are given Nov. 4 through Dec. 18 in 2022.
Cost is $25, $10 for children 3-12, including light refreshments. Online reservations are required; call 507-282-9447.
For more about house and area, see Rah Rah Rochester.
Alexander Ramsey House, St. Paul: The 1872 Second Empire house of Minnesota's first territorial governor, later U.S. senator and secretary of war, is decorated for A Victorian Christmas. Decorations feature many Ramsey family heirlooms, including ornaments on the parlor tree.
Traditionally, tours start after Thanksgiving and continue to the end of December. Admission is $12, $8 for children 6-17. However, the house is closed in 2022.
James J. Hill House, St. Paul: In this 1891 Summit Avenue mansion, costumed actors portraying servants enact humorous vignettes about the family and staff.
Holidays on the Hill tours are given Nov. 25 through Dec. 31. Buy tickets in advance, $18. 651-297-2555.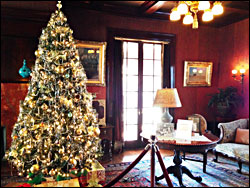 Glensheen, Duluth: The 1908 mansion on Lake Superior decorates for Christmas from Nov. 18 to Jan. 8 and offers self-guided holiday tours at the regular price, $20, $8 for children 6-17.
Guided Candlelight Christmas tours are given on Fridays and Saturdays between Nov. 25 and Dec. 31, $25, $13 for youths 6-17.
Staff in period costume will be stationed around the 39-room home, whose decorations include 25 Christmas trees. Outdoors, the free Spirit of the Lights display is lighted Dec. 19-23, 26 and 31 and Jan. 1.
For more, see Duluth's grand mansion.
Musser and Weyerhaeuser mansions in Little Falls: Christmas at the Mansions tours are Nov. 25-Dec. 4 at these neighboring homes, in which every room is decorated.
The homes, on a bluff overlooking the Mississippi River, were designed by Clarence Johnston and built in 1898 for two scions of lumber barons. Charles Weyerhaeuser and Richard "Drew" Musser were called the Pine Tree Bachelors for the company founded by their fathers, but both eventually married.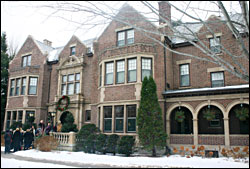 When the company closed in 1920, Weyerhaeuser and his wife moved to St. Paul's Summit Avenue and sold their house to the Mussers for a nickel. The Mussers stayed in Little Falls and continued to be active in the community.
Tours of the mansions, which operate as Linden Hill Historical Event Center, include music, cider and cookies.
Cost is $15, $5 for youths 12-17. Overnight group lodging is available in the Musser Mansion.
Governor's residence in St. Paul: At 1006 Summit Ave., the 1912 English Tudor residence of the Minnesota governor traditionally holds holiday tours  in early December.
Tours of the public areas of the 20-room house are self-guided, but docents are available to answer questions, and musicians perform. The tour is free, but bring food for Second Harvest Heartland food shelf.
For more about Summit Avenue, see Street of dreams.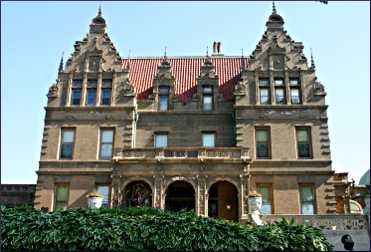 Wisconsin
Fairlawn, Superior: This 42-room Queen Anne house facing Barker's Island on the harbor was the first grand residence in the Twin Ports when Martin Pattison built it in 1891.
After his death, his wife donated it for use as an orphanage, and an upstairs exhibit contains an exhibit about the children who lived there.
Traditionally "A Fairlawn Christmas" tours are given from late November through New Year's, $12, $6 for children 6-17.
For more about the area, see Duluth's twin in Wisconsin.
Pabst Mansion, Milwaukee: This gabled Flemish Renaissance Revival was built in 1892, during a time known in Milwaukee as "the Pabst Decade."
It's decorated for the holidays. In 2022, Twilight Tours with live music are available Thursdays-Sundays from Nov. 25 to Jan. 6. Glühwein and hot pecan whiskey cider are available for purchase. Father Christmas will visit on Sunday afternoons from Nov. 27 to Dec. 18; buy tickets in advance.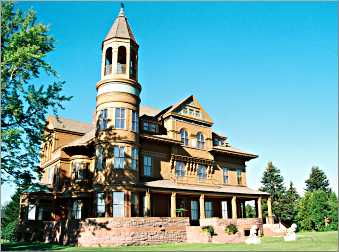 The Charles Allis Art Museum, a 1911 English Tudor built by the first president of the Allis-Chalmers Co., and the Villa Terrace Decorative Arts museum, an Italian Renaissance villa built in 1923, also are decorated for the holidays.
For more, see Milwaukee at Christmas.
Governor's Mansion in Madison: The governor and first lady of Wisconsin open their 1921 Classic Revival home for free tours that feature music and trees decorated with Wisconsin themes.
In 2022, they're noon to 2 p.m. on Dec. 6, 8, 15 and 20, and 10 a.m. to noon on Dec. 10 and 17.
Register in advance, and guests are asked to bring a non-perishable food item or children's book to be donated.
The 16,000-foot, 34-room mansion is on four acres on Lake Mendota, at 99 Cambridge Road. 608-246-5501.
Iowa
Salisbury House in Des Moines: This 42-room Tudor-style mansion, modeled after the 15th-century King's House in Salisbury, England, was built between 1923 and 1928 for cosmetics magnate Carl Weeks.
The annual Holly & Ivy Tour, Dec. 2-3 in 2022, also includes two decorated private homes. Tickets are $25.
Last updated on November 5, 2021