15 great bicycle trails to ride in spring
On a bike, get out to see what's new in the countryside or city.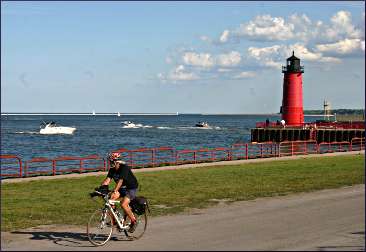 In spring, everything moves so fast you need wheels to see it all.
Two wheels are perfect, because bicycle trails are little nature corridors in spring. Warblers zoom back and forth, nabbing twigs for nests, and wildflowers bloom on sunny edges.
You'll also want to check out new trails and see what's new along favorite trails.
Here are some of the best to ride in spring.
For more, see Bicycling in Minnesota, Bicycling in Wisconsin and Bicycling in Iowa.
Hank Aaron State Trail in Milwaukee. Now you can ride this 12-mile trail all the way from Discovery World on the Lake Michigan lakefront to Miller Park, State Fair Park and the Oak Leaf Trail at the county line.
From there, the seven-mile New Berlin Trail takes bicyclists to Waukesha, where they can use city streets to connect with the Glacial Drumlin State Trail and ride to the edge of Madison, if they want to.
The Friends of the Hank Aaron State Trail tell you more.
For more about the Oak Leaf Trail, see Bicycling along Lake Michigan.
Elroy-Sparta State Trail between Elroy and Sparta. This 32-mile trail through the Kickapoo River Valley, part of a 103½-mile trail system, is lined by blooms in spring (it's also a prime spot to find morels).
For more, see Cycling in coulee country.
Stower Seven Lakes State Trail between Dresser and Amery. This 14-mile trail in the western part of the state passes seven lakes. It had a great variety of wildflowers in fall, so we're guessing it does in spring, too.
For more, see Savoring the Seven Lakes.
Wild Goose State Trail from Fond du Lac to Juneau. This 34-mile trail skirts the western edge of Horicon Marsh, which is bird central during spring migration.
If you go during the Horicon Marsh Bird Festival in May, you can watch bird-banding and join all kinds of hikes and tours by boat or bus.
For more, see Life on Horicon Marsh.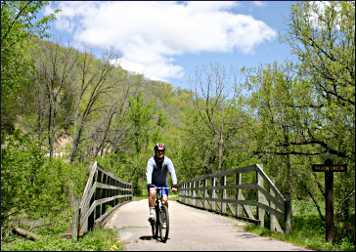 Grand Rounds in Minneapolis.
This national scenic byway includes 50 miles of bicycle trails around the lakes and along Minnehaha Creek and the Mississippi River.
The scenery is great year-round, but this time of year, your destination is the fabulous Eloise Butler Wildflower Garden in Wirth Park, just off the trail.
Great River Ridge State Trail from Plainview to Eyota. It's fun to ride this 13-mile paved trail — and then go see the bluebells in nearby Carley State Park and the full array in Whitewater State Park. Peak shows should be around Mother's Day.
Root River State Trail from Fountain to Houston. The bluff country through which this 42-mile trail runs is a hot spot in spring, famous for trout-fishing, wildflowers and morel mushrooms-we've even spotted a few ourselves while riding the trail!
And lilacs line the trail between Whalan and Lanesboro. For more, see Bicycling in bluff country.
Shooting Star State Trail from Leroy to Adams. This 15-mile trail near the Iowa border follows the Shooting Star Scenic Byway.
Shooting stars are our favorite spring wildflower, but we saw masses of bluebells when we rode it one May. The eastern half, which goes through Lake Louise State Park, is most scenic.
Wapsi-Great Western Line from Riceville to the Minnesota border. If you ride Minnesota's Shooting Star, it's only seven miles west to this 18-mile trail along the Wapsipinicon River valley.
Raccoon River Valley Trail from Jefferson to Clive. The farmland on this 56-mile trail west of Des Moines is so ridiculously fertile that weeds grow through the asphalt. The 16 miles from Adel to Linden are very scenic.
From Clive, the Clive Greenbelt Trail takes bicyclists into the Central Iowa Trail Network.
Cedar Valley Lakes Trails around Cedar Falls and Waterloo. A wide green belt surrounds the Cedar River in these towns, and 120 paved miles of trails run through it.
They connect to parks and also the 52-mile Cedar Valley Nature Trail from Evansdale to Hiawatha, just north of Cedar Rapids.
Heritage Trail from Sageville to Dyersville. The easternmost 12 miles of this 26-mile crushed-limestone trail near Dubuque run through the serene Little Maquoketa River valley.
From the west trailhead, it's an easy ride to the Field of Dreams baseball field/movie site in Dyersville.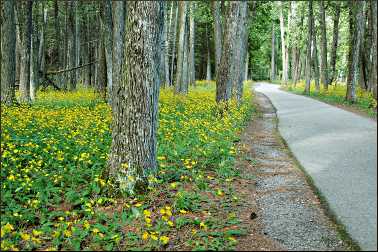 Illinois
I&M Canal State Trail from Joliet to LaSalle. This 61½-mile crushed limestone trail follows the Illinois River. It's a national heritage corridor, part of the national parks.
Try the 14-mile stretch between LaSalle and Ottawa. Near Utica, make a detour to see Starved Rock State Park, which is full of wildflowers.
Lakefront Trail in Chicago. This paved 18-mile path along Lake Michigan stretches from the north end of Lincoln Park to Jackson Park in the south. On hot days in summer, so many people flock to the beaches you may have a hard time negotiating the crowds.
Mackinac Island. Bicycles and horses are the only conveyances on this island in the Mackinac Straits, and scenic paths criss-cross the island.
When we rode it in June, the lilacs were past prime, but a carpet of European hawkweed covered the forest floor. Down on the lakeshore path, duck into the Lake Shore Nature Trail to look for wildflowers; on the other side of the island, check the British Landing Nature Trail.
Sleeping Bear Heritage Trail from Empire through Port Oneida. This paved, 17-mile trail goes right through Sleeping Bear Dunes National Lakeshore.
Last updated on March 23, 2021