Grand sand
Along Lake Michigan, the Sleeping Bear Dunes are a playground for all ages.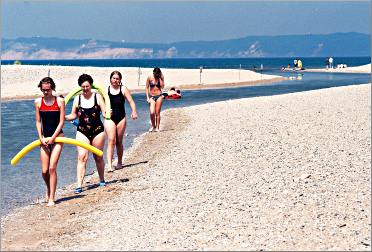 One Great Lake east of Superior, there's another North Shore.
It doesn't have any craggy points or sheer palisades, and there are no agates waiting to be found. It has no waterfalls, and not a scrap of basalt; in fact, there's nothing volcanic about it.
But this north shore, on the leeward side of Lake Michigan, has something Minnesota's beautiful North Shore on Lake Superior doesn't have: Sand, lots and lots of sand.
In fact, it's nothing but a big, squashy pile of sand, deposited by the last glacier and continually whipped into new shapes by the same nor'westers that skip right over the North Shore.
They cross the Upper Peninsula, pick up speed over Lake Michigan and slap the northwest tip of lower Michigan along a coastline the Ojibwe likened to a reclining bear, with two islands just offshore that represent her cubs.
This coastline is Sleeping Bear Dunes National Lakeshore, a 35-mile-long playground lined with something else that's scarce on Lake Superior: Swimming beaches.
Not only is this stretch lined with beautiful beaches — it's been called "America's hidden Riviera" — but the Lake Michigan beaches often are connected by sandbar to small inland lakes, giving swimmers a choice of warm or cold water.
I came across this area, part of the world's longest stretch of freshwater dunes, while driving around the top half of Lake Michigan and, another year, while making the entire Circle Tour.
In many ways, this lake is Superior's friendlier sister, nearly devoid of rocks and easing toward land over long, shallow beaches.
This congeniality doesn't extend to ships, however. The Manitou Passage, the stretch between the national lakeshore and South Manitou and North Manitou Island, holds hundreds of shipwrecks and now is an underwater preserve.
Today, freighters still can be seen on the horizon, heading toward the Straits of Mackinac. Ferries take day hikers and campers out to the two islands.
They were created, according to Ojibwe legend, by two cubs that, with their mother, fled a forest fire in Wisconsin but tired just short of the Michigan shore and drowned as their mother waited atop a bluff.
Tourists fill the area in the summer, though many more gravitate to the multiple attractions of Traverse City and Petoskey.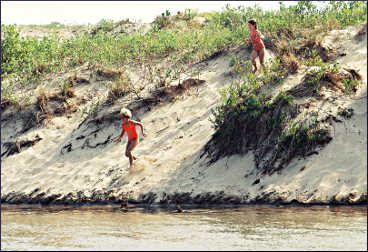 Sleeping Bear is for more outdoorsy types, people who think floating down a river into Lake Michigan or climbing a 150-foot wall of sand is the height of fun. For those who love sun, sand, sea and sweeping views, this is the place.
We tried to take in the highlights of the area, and wherever we went, we picked up hints about the best things to do. Here are enough of them to fill most of a week.
Float the Platte River
We canoed from the highway to the river's mouth, and it was pleasant to paddle through Loon Lake and along a twisting channel lined by clusters of yellow flag. However, canoe rental and shuttle for the two-hour float is way overpriced, considering it's only a 2½-mile drive to the take-out point.
Next time, we'd bring our own tube or raft and float the mile from El Dorado Landing to the last stretch of river, where the real fun is.
At Platte River Point, the river winds around a grassy picnic area at the end of the Lake Michigan Road. Small dunes rise on the other side of the shallow river, and small children love to run up the dunes and then back down into the crystal-clear, warm water.
My children adored the river's mouth farther down, where they flirted with cold tentacles of Lake Michigan water and spent hours skipping the flat stones sprinkled on the sandy bottom.
Bird-watchers can look for the piping plover, an endangered shorebird whose nearby nesting areas are protected by wire mesh.
When you're ready to go, simply walk the mile back to your car. If you do canoe or kayak, go early or late in the day, when you're more likely to see wildlife.
Do the Dune Climb
Everyone has to climb the 150-foot dune that seems to rise out of nowhere on the west shore of Glen Lake, whose blue surface becomes part of the lovely panorama people enjoy at the top.
Small children in particular love this climb — "It's like the desert!" exclaimed the little boy climbing next to me — and so do big children, once they get started.
"It's so peaceful up here," said my daughter, who scampered up the dune and planted herself like a little Buddha on a patch of dune grass. "Now I'm here, I don't want to leave."
Climbing is best early or late in the day, when slanting shadows make the dune especially beautiful.
Wear shoes (the sand is hot) and bring water; climbing in sand takes some effort. It's easiest just after a rain, when you can climb barefoot.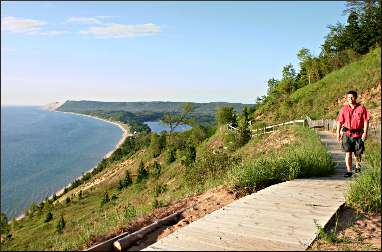 Walk to Empire from the 450 Dune
Hanging out at the Lake Michigan overlook off the 7½-mile Pierce Stocking Scenic Drive, I ran into a group of teen-agers from a YMCA camp. They were getting ready to descend the 450-foot dune, their young leader told me, and spend the day playing along the lake and walking to Empire.
Later, standing on the boardwalk of the Empire Bluff Trail and looking north, I could clearly see the 450, the strip of sand at its feet and the rooftops of Empire.
I realized what a fun day that would make if you had two cars: Play, walk, wade and wind up with an ice-cream cone in Empire, a former logging village named for a schooner that became icebound there in 1865.
Some people decide to run down the 450 Dune and then climb back. That's a bad idea, especially for children. Both times I've been there, I've seen exhausted families struggling to get back up the steep dune.
Hike
The Empire Bluff Trail is most popular; it's only 1½ miles round-trip and leads to a boardwalk with a sweeping view of the lake and northern dunes (to get to the trailhead, take Michigan 22 south of Empire 1.6 miles to Wilco Road, or follow Lake Street out of Empire, a canopied, curving lane that leads straight to the trailhead).
Of course, the park has many other trails, including the Cottonwood, a 1½-mile nature loop off Pierce Stocking drive; the two-mile loops of the Old Indian Trail, west of the Platte River; and the 2½-mile Pyramid Point Trail at the northern tip of the park.
Swim in the sun
Great beaches are everywhere, but some, such as the national park's Lake Michigan/North Bar Lake beaches, are more fabulous than others.
On the "ocean" side it looks just like Florida without the condos, and if sunbathers want to take a dip in warmer waters, they just cross a little sandbar to swim in the Caribbean-blue North Bar Lake, ringed by dunes and woods.
It doesn't have any amenities other than a latrine, however, and the washboard roads leading to it are a pain (nearly two miles north of Empire, turn left onto Voice Road, then right on Bar Road).
The Lake Michigan/South Bar Lake beach, a stone's throw from downtown Empire, is a lot easier to get to, and the people-watching is great.
Besides big-lake and small-lake beaches, it has basketball and volleyball courts, an old-fashioned playground and a picturesque little lighthouse, a memorial to a local fisherman who always wanted a light to guide him home.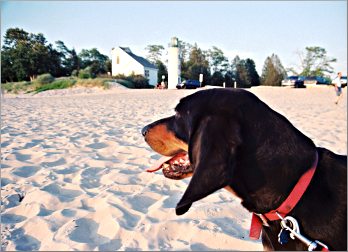 On the Leelanau Peninsula, Leland has a gorgeous Lake Michigan beach (turn left on Cedar, just before downtown), and on Grand Traverse Bay, Northport has a nice municipal beach in the lee of the marina; this one is especially good for smaller children.
Explore the Leelanau Peninsula
We spent one day driving around the Leelanau, which is not an Ojibwe or Ottawa word but the invention of Henry Schoolcraft, the Indian agent/scholar who also came up with Itasca. Considered the little finger of the lower Michigan "mitten," it forms the west shore of Grand Traverse Bay.
It's undulating because of drumlins, oval hills filled with glacial rubble, and covered with vineyards and cherry orchards.
On the Lake Michigan side, the island ferries leave from Leland's Historic Fishtown, a collection of weathered gray fishing shanties that now house T-shirt and candy shops.
Shops, cafés and shiny Mercedes fill the little downtown; we headed instead for the Village Green, where we had a picnic in the shade of a giant maple.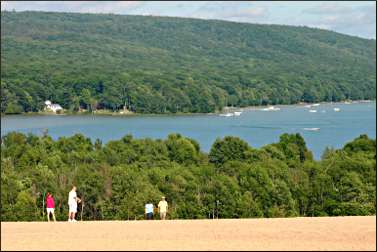 Farther on, Northport is less gentrified. Within two minutes, we spotted a used-book store, an ice-cream parlor, a grocery and a beach — "It's the jackpot!" said my son.
Later, on the way back from visiting Grand Traverse Lighthouse at the tip of the peninsula, we stopped again in Northport and had root-beer floats and blueberry pie.
Visit the islands
North Manitou is a wilderness area frequented by campers; there's no ferry pickup until the next day once they're dropped off. South Manitou, however, has an 1871 lighthouse, a grove of giant cedars, the visible wreck of the Francisco Morazan and ranger talks that cover island history.
The ferry service takes tourists to both islands. Call Manitou Island Transit at 231-256-9061.
Watch the sun set
There's nothing more pleasant than a stroll along Empire's beach late in the day. When I was there, I stopped to chat with Grace Dickinson, who grew up in the area while her parents ran the weekly Leelanau Enterprise and told me a group of locals comes every night to sit on a driftwood log and watch the sun set.
That night, however, the log was empty, probably due to a big meeting that night on the village's future, Dickinson said.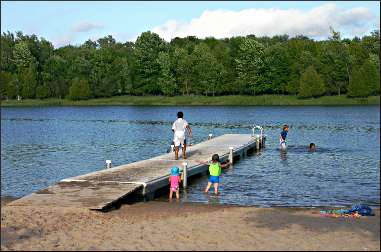 Like every other beautiful place, the unpretentious little village is under siege by developers; already, there's an exclusive community just up the hill from the beach, with a road marked "Private."
"There's urban sprawl," she said. "Cottages are being mowed down and big houses are going up."
Discovering the Sleeping Bear Dunes is a windfall for those who love sun, sea and sand. But those shifting winds keep blowing.
Trip Tips: Sleeping Bear Dunes National Lakeshore
Getting there : Travelers from the west must go around or over Lake Michigan. The easiest way is via the S.S. Badger car ferry between Manitowoc, Wis., and Ludington, Mich.
When to go : Summer is the best time for water play, though July and August is most crowded. Late June may be the best time; when we were there, the weather was perfect and there were lodging vacancies even on the weekend.
In late September and early October, the beech-maple forest bursts into color, and throngs of coho and king salmon swim up the Platte River to spawn.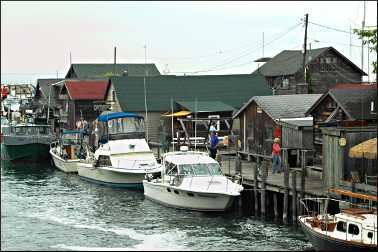 Sleeping Bear Dunes National Lakeshore: The visitors center is in Empire, behind the Amoco; check for daily programs, which include dune walks, photography excursions and shipwreck-rescue reenactments. Park pass is $15 and is valid for seven days. 231-326-5134.
Accommodations : Four miles north of Empire, Maple Lane Resort has attractive rooms, kitchenettes and apartments just outside the national park. It's a half-block from Glen Lake, but it has a deck and dock on the lake guests can use, along with canoes and rowboats. 231-334-3413.
In Empire, the Lakeshore Inn is a block from the national-park visitors center. It's a two-story motel with tidy rooms, some with mini-fridges and microwaves, 231-326-5145.
In Glen Arbor, the more upscale part of the area, there are many cabins, cottages and condos for rent; for a list, call 231-334-3238.
Camping : The national park includes campsites at D.H. Day campground near Glen Haven; on South Manitou and North Manitou; and near the Platte River, which has showers. Some sites can be reserved.
The Empire Township campground is three miles inland and has showers, 231-326-5285.
Circle Tour of Lake Michigan : For more, see Circling Lake Michigan, Planning a Circle Tour of Lake Michigan and Lake Michigan's greatest hits.
For more about family travel, see Lake Michigan with kids.
Last updated on June 30, 2021