Tours on two wheels
On organized weekend bike trips, it's easy to go along for the ride.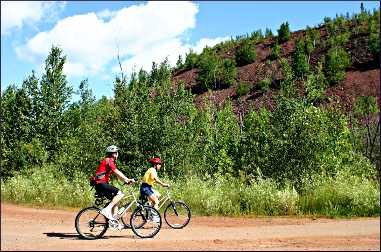 If you like to ride bikes and you live in the western Great Lakes, you've lucked out.
This is a bike-crazy part of the country. Michigan and Minnesota rank No. 1 and 2 for miles of rails converted to trails.
Wisconsin pioneered rail trails and for years was the top state, but it has slipped to fourth place, with No. 3 now taken by Pennsylvania. Illinois and Iowa once rounded out the Top 6 but have been supplanted by New York and Washington state.
Wisconsin's Elroy-Sparta State Trail sparked the boom in bicycle tourism in 1967; when surrounding towns and counties saw all the tourists who came to ride it, they built their own trails. We also can ride on thousands of miles of quiet country roads, built so dairy farmers could get their milk to market.
Now hundreds of bike tours show off the trails and the towns they go through. Nearly every tour ends with music and a picnic and offers non-stop goodies at rest stops.
On the Lake Wobegon Trail, the Caramel Roll Ride matches the calories in a freshly baked pastry to the calories burned in an hour of riding ("Coincidence? Think again").
And some towns really take advantage of what they've got. On the Tour de Pepin, riders who only want to go halfway around Lake Pepin, a wide spot in the Mississippi, get to return by paddlewheeler.
The main attraction of these tours is not only that they're fun, but they're easy. Signs mark every turn, sag wagons pick up tired riders and mechanics fix flats. There's nothing to do but pedal, enjoy the scenery and chat with fellow riders.
Below are some of the best and most scenic weekend and day tours in 2023.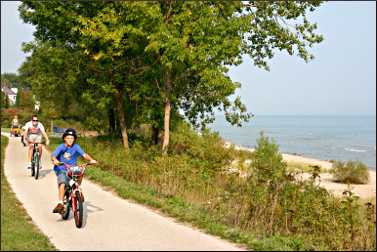 For longer rides, see Sightseeing by bike.
For trails on which you can organize your own trips, see Bicycling in Minnesota, Bicycling in Wisconsin and other Bicycling stories.
Sign up early to save. Most rides allow same-day registration, but some rides cut off registration a month or more in advance.
Most day tours charge $50-$80, which includes sag wagons, mechanical support, food and, often, a T-shirt. Weekend tours include camping and return by motorcoach.
They're all non-profit, and most raise money for good causes. Fees nearly always are discounted for advance registrations and for families, children and teams.
Some rides limit the number of riders, and some benefit rides require fund-raising. Helmets are required.
May 20, Zoo-De-Mackinac from Harbor Springs, Mich. This 51-mile ride along Lake Michigan starts at Boyne Highlands Resort, stops for lunch at the famous Legs Inn in Cross Village, continues to Mackinaw City for a finish party, then goes on to Mackinac Island for more parties.
May 28, Chippewa Valley Century Ride from Chippewa Falls, Wis . This ride from Irvine Park heads north along the Chippewa and Flambeau rivers, past lakes Wissota and Holcombe and across the Ice Age National Scenic Trail, ending with beer and a brat feed. Routes are 35, 50, 75 or 100 miles.
June 3, Tour de Pepin from Lake City, Minn. This ride around Lake Pepin, a wide spot on the Mississippi River in southeast Minnesota, has four routes: 32, 44 or 50 miles to Stockholm, Wis., with return by paddlewheeler; 73 miles around Lake Pepin; and 100 miles, Lake Pepin plus a countryside loop.
Cost includes a Friday night pasta feed in Hok-Si-La Park (a good place to camp). For more, see A spin around Lake Pepin.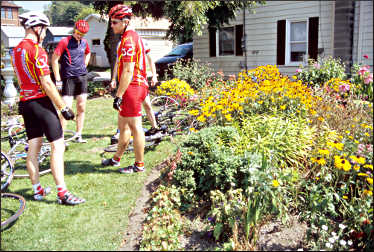 June 4, Ride for the Arts in Milwaukee. This ride from the Lake Michigan lakefront to Cudahy uses 794 and crosses the Hoan Bridge for routes of 5 to 50 miles.
June, Tour of the Mississippi River Valley from Bettendorf, Iowa. Hosted by the Quad Cities Bicycle Club since 1978, TOMRV includes two rides from and back to Bettendorf.
June 10-11, MS 150 from Proctor near Duluth, Minn. This ride, which benefits the Minnesota chapter of the National MS Society, starts in Proctor and goes to the St. Paul suburb of White Bear Lake, with an overnight in Hinckley.
June 10, Caramel Roll Ride from Albany, Minn. This ride on the paved Lake Wobegon Trail in central Minnesota features freshly baked caramel rolls that have 360 calories, which is what the trail association estimates is what a 170-pound adult burns in an hour of riding.
For more about the trail, see Bicycling to Lake Wobegon.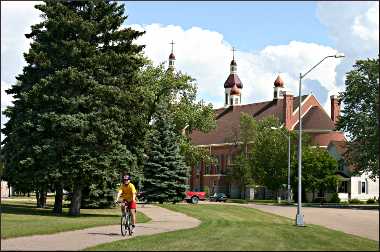 June 16-17, Le Tour de Shore from Chicago to New Buffalo, Mich. This ride from Millennium Park follows the Lake Michigan shoreline for 96 miles, with an overnight at Indiana Dunes State Park. Riders are bused back to Chicago. It benefits Maywood Fine Arts in Illinois.
June 17, Minnesota Ironman from Shakopee, Minn. Minnesota's oldest bike ride follows the Minnesota River, with routes of 37, 65 or 100 miles in the southwest corner of the metro area. It benefits Free Bikes 4 Kidz.
June 17, BACooN Ride from Waukee, Iowa. This bacon-themed 72-mile ride starts just west of Des Moines and follows the paved Raccoon River Valley Trail.
June 17, Peninsula Century Spring Classic from Baileys Harbor, Wis. Ride the bucolic county roads of Door County on routes of 25, 50, 62 or 100 miles.
In the sanctuary, orchids should be blooming; for more, see Spring in Door County.
June 17, Shooting Star Trail Ride from LeRoy, Minn. This southern Minnesota ride will cross the border and include Iowa's Wapsi-Great Western Trail on routes of 20, 40, 60 or 80 miles.
June 17, Fat Tire Tour of Milwaukee. The original crawl through Milwaukee celebrates its 39th year with a meandering, 25-mile-max ride. Usually, it starts at Best Place, the old Pabst Brewery hospitality room, and includes stops at Lakefront Brewery and Wolski's Tavern.
Costumes are encouraged. It's a benefit for the Wisconsin Bike Fed.
June 17, Bike Bemidji: Loop the Lake Festival.
This 17-mile ride around Lake Bemidji in northern Minnesota includes music and food at five or six rest stops. Nice Ride bikes are available for rental.
June 17, Horribly Hilly Hundreds from Blue Mounds, Wis. This ride through the unglaciated Wisconsin River valley west of Madison isn't for novices. Routes are 100, 150 or 200 kilometers and make a loop through Barneveld, Mazomanie and Black Earth.
Only 1,300 riders are allowed on "the toughest one-day challenge ride in the Midwest." The ride fills by lottery.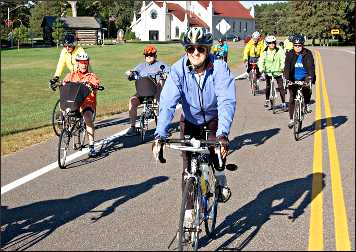 June 24, Superior Vistas from Washburn, Wis. A family-friendly ride through the Bayfield Peninsula of Wisconsin, with vistas of Lake Superior.
There are loops of 13, 19, 34, 52, or 70 miles plus a century and a 40-mile route to Cornucopia and back. It benefits the Friends of Lake Superior Nordic Trails and the Washburn Cultural Center.
July 9, Tour of Saints from St. Joseph, Minn . This loop through the St. Cloud area west of the Twin Cities starts at the College of St. Benedict and winds past St. John's University. Routes are 18, 35 and 50 miles.
July 22-23, Scenic Shore 150 from Mequon, Wis. This ride follows Lake Michigan from Mequon, just north of Milwaukee, to Potowatomi State Park in Sturgeon Bay, with an overnight in Manitowoc.
The route includes three trails, the Interurban from Mequon to Belgium and the Mariners and Rawley Point trails between Manitowoc and Point Beach State Forest. The ride benefits the Leukemia & Lymphoma Society.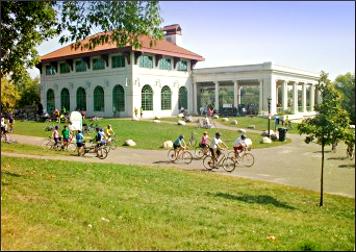 July 29-31, CowaLUNGa from Gurnee, Ill. This ride heads from the northern Chicago suburb of Gurnee to Hubertus through Wisconsin's kettle moraine, with overnights in Williams Bay on Geneva Lake and Whitewater.
Riders can bicycle one, two or three days, with mileages of 18, 65, 130 or 190 miles. It benefits the Respiratory Health Association of Metropolitan Chicago.
Aug. 5, Great River Energy-Mesabi Trail Tour from Ely, Minn. There three out-and-back rides of 12, 30 or 50 miles.
For more about the trail, see Rolling through the Iron Range.
Aug. 5, Tour de Tonka in the western suburbs of Minneapolis. Ride one of five routes around Lake Minnetonka, from 16 to 100 miles.
Aug. 12, The Courage Ride from Iowa City, Iowa. This ride starts at Big Grove Brewery and goes through the Amish and Mennonite countryside south of Iowa City on routes of 5, 18, 36, 70 and 100 miles.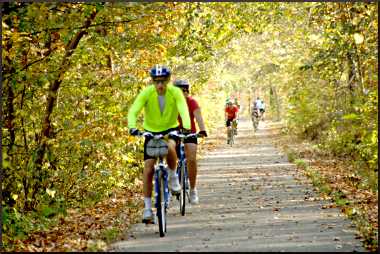 Aug. 20, The Wright Ride in Oak Park, Ill. Ride through Frank Lloyd Wright's old stomping grounds on routes of 10, 30, 50 or 68 miles.
For more, see Wright in Oak Park.
Aug. 17-20,Bicycling Around Minnesota (BAM) Tour from Lanesboro, Minn. This ride in southeast Minnesota includes overnights in Rushford, La Crescent and Houston and uses the Root River State Trail and back roads. It fills quickly.
Aug. 19, Gitchi-Gami Trail Ride from Gooseberry Falls State Park north of Two Harbors, Minn . This ride on the scenic North Shore includes three routes, 28 and 37 miles mostly on the paved Gitchi-Gami State Trail and back, and 37 and and 55 miles on the trail and hilly county roads.
Aug. 19, Fat Tire Tour in Green Bay. This offshoot of the famously unconventional Milwaukee tour starts at Ned Kelly's Pub and meanders through town, stopping at bars and breweries.
Aug.19-20, Ride Across Wisconsin. This 235-mile ride, a fundraiser for the Wisconsin Bicycle Fed, goes from La Crosse on the Mississippi to Milwaukee on Lake Michigan, with various options.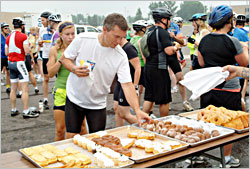 Aug. 19-20, Bike Van Buren from Keosauqua, Iowa. In the southeast tip of the state, this ride takes two loops through the 11 historic Villages of Van Buren, along the Historic Hills Scenic Byway.
Riders can do the 64-mile Saturday loop, the 49-mile Sunday loop or both.
Aug. 27, Ride the Drive in Madison. Ride, walk or skate along Lake Monona to multiple parks for family activities, parades, food and music.
Sept. 3, Bike the Drive in Chicago. This ride gives bicyclists a golden opportunity to ride on a car-free Lake Shore Drive. Routes are 15 or 30 miles, and there's a post-ride festival in Grant Park. This is a holiday weekend, so hotel rates should be fairly low.
For more, see Chicago by bicycle.
Sept. 9, Caramel Apple Ride from Sauk Centre, Minn. There are three  out-and-back routes of 18, 27 and 38 miles on the Lake Wobegon Trail.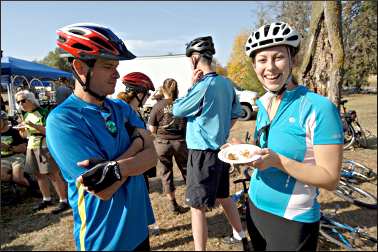 Sept. 9, SepTimber Ride from Eagle River, Wis. In northern Wisconsin lakes country, routes of 28, 37 and 60 miles start at Tribute Brewing in Eagle River and stop at Three Lakes Winery at roughly the halfway point.
Sept. 9, Northfield Rotary Bike Tour in Northfield, Minn. Formerly known as the Jesse James Days tour, this ride, traverses the rolling countryside south of town on various routes; the century uses part of the Sakatah State Trail from Faribault.
Sept. 10, St. Paul Classic Bike Tour in St. Paul. Ride a 15-, 30- or 45-mile route along the Mississippi, lakes Como and Phalen and St. Paul parkways, starting and ending at the University of St. Thomas and punctuated by food and live music. Most of the route is car-free.
Register early for discounts.
Sept. 10, Door County Century from Sturgeon Bay, Wis. This ride from John Miles Park/Door County Fairgrounds through the picturesque Door Peninsula includes routes of 30, 50, 70 or 100 miles.
Sept. 16, Ride the Ridges from Winona, Minn. Tour the scenic bluffs of southeast Minnesota on routes of 18, 43, 65 or 106 miles.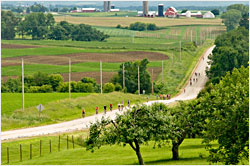 Sept. 23, Headwaters 100 from Park Rapids, Minn. There are routes of 45, 75 and 100 miles; the last two reach Itasca State Park and return partly on the Heartland State Trail.
Oct. 7, Apple Affair Bike Tour from Galesville, Wis. This ride is part of a fun festival in this pretty town up the bluff from Trempealeau. It's self-guided and free, with 35-, 55- and 73-mile routes.
Oct. 8, Mankato River Ramble from Mankato, Minn. This ride from Land of Memories Park has separate loops of 12, 26 and 42 miles. The 26-mile route is the Pie Run, with a pie stop at the Rapidan Dam Cafe.
Rest stops at Minneopa State Park, Rapidan Dam and Minnemishinona Falls include treats and live music. Register early for discounts.
More rides
For details on other rides, see the calendars at BikeIowa, the Bicycle Federation of Wisconsin, the League of Michigan Cyclists and Ride Illinois.
Last updated on December 15, 2021