Historic boathouses of Minocqua
In a Wisconsin resort town, the wealthy built playrooms on water.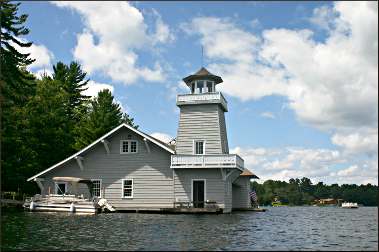 In Minocqua, you have to get in a boat to go on a historic home tour.
In the first part of the 20th century, captains of industry streamed to this village in northeast Wisconsin, called the Island City because it is nearly surrounded by Lake Minocqua.
Their estates are hidden in the trees, but the boathouses were built over water, fanciful structures with gables, balconies, towers and turrets.
They were the rec rooms of the rich: the Listerine heir, the matriarch of a lumber fortune, a banking scion who became known as the Man in the Iron Lung and the great-uncle of Elizabeth Taylor, who vacationed there in her youth.
I found many of the historic boathouses while paddling along the shoreline in a kayak, sharing the lake with hundreds of speedboats, waverunners and pontoons but also loons and bald eagles.
I started out from the north bay of Lake Minocqua in a touring kayak rented from Chequamegon Adventure Co. and carried across the highway to the dock.
From there, I hugged the north shoreline, across from the beach at Torpy Park, and saw a white boathouse that was part of an estate owned by Stafford "Casey" Lambert, the heir to a St. Louis pharmaceutical fortune built on Listerine.
Lambert was an aviator and engineer and first built the boathouse as a hangar, said local historian Elcy Brooks.
"He was quite a daredevil pilot," she added. "He also had a car that you could drive right off the dock and keep going. He used to fire a cannon every day at 6 just to let everyone know it was 6."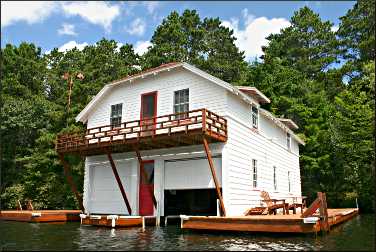 With his friend Howard Young, a St. Louis art dealer and investor who owned a home nearby, he often entertained Dwight Eisenhower, before and during his presidency. Eisenhower, like Young's niece Elizabeth Taylor, was an enthusiastic musky fisherman.
From the north bay, I paddled under the long trestle bridge that carries bicyclists and joggers south on the Bearskin State Trail.
I'd forgotten a map, but I couldn't resist checking out a passage off to the right, under a shorter bridge. Through the branches of a willow tree, I saw a red-and-white boathouse with a second-floor balcony on what I later learned was Lake Kawaguesaga.
It was "Grandma" Heinemann's 1920s boathouse, built from a Wausau lumber and banking fortune. The second floor was a bedroom/playroom for her children.
Now owned by another family, the boathouse bears the respectful Sanskrit greeting Namaste on its side.
Farther down the lake, I joined four Chicago women in whitewater kayaks who planned to portage around the Kawaguesaga dam to the Tomahawk River. They invited me to join them, but I headed back for Lake Minocqua.
It was a warm, sunny Sunday, and powerboats zoomed around like gnats. A few times I wondered if they were going to broadside my boat, but they always veered away in time.
The loons were handling the traffic, and so did I. The next boathouse I saw was built in 1908 with a "lighthouse" tower, right across the lake from the Min-Aqua Bats bleachers and downtown.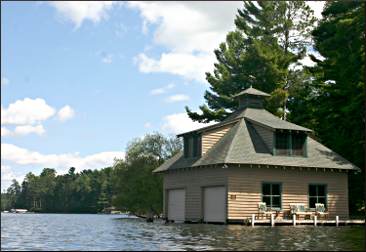 It was the estate of Fred Snite, the son of a Chicago financier who contracted poliomyelitis on a trip to China. He had to spend the rest of his life in an iron lung, but he lived with spirit; Brooks remembers him watching movies at the local theater on a specially built platform, from a mirror.
Today, the boathouse is part of The Beacons condo resort and is the dock for the Minocqua Pontoon Cruises, which take passengers past many of the other boathouses.
My next stop was a Craftsman-style beauty, with dormers on all four sides of a peaked roof with a cupola and weather vane topped by a fish. It's one of three Lake Minocqua boathouses on the National Register of Historic Places and nine in Oneida County.
Farther down, I saw a red boathouse with a lighthouse-style tower; a plaque identified it as Coy's Eagle's Nest. It was framed by tall white pines; it's striking how many there are on the shores of Lake Minocqua.
I passed the Coachlite Resort, started in 1920 as Warner's Circle Pines and the last traditional resort where ordinary folks could rent a cottage on the water. Its managers were enjoying the afternoon from its long dock.
"People want to keep it just the way it is," said Jane Teresinski, who also owns one of the cabins.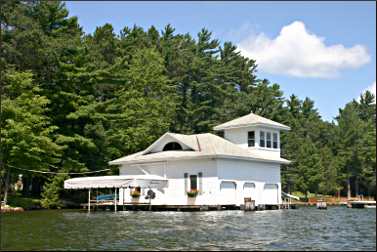 There were more boathouses on the water, many like cottages atop boat parking. None can be rebuilt if they burn, and they can't be expanded, but they can be maintained.
One looked like a northwoods Swiss chalet, with lattice railings and window boxes filled with geraniums. Along with another forest-green boathouse just down the shore, it was connected to the shore by a raised walkway.
I saw more loons, and a juvenile bald eagle flew right over my bow. As I paddled around a small wooded island, I saw two adult eagles flying in tandem, making figure eights in the air between the shore and island.
Later, it was just one, carving endless loops over the island.
Then I passed back under the U.S. 51 bridge that connects the Island City to the mainland, then under the trestle bridge and back to the north bay.
Next time, I'll go on a weekday, when it's quieter. Still, it was fun to be part of the go-go boating scene for which Minocqua is renowned.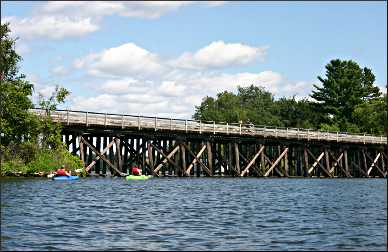 Trip Tips: Minocqua by water
Getting there: Minocqua is a little over an hour north of Wausau on U.S. 51. It's about four hours from the Twin Cities and seven hours from Chicago.
When to go: July and August are very busy, especially on weekends. Fall is quieter and lodging rates go down, except for the weekend of Beef-a-Rama in September.
For more, see Summer in Minocqua.
Kayak rental and tours: Just north of downtown on Wisconsin 51, Chequamegon Adventure Co. rents kayaks and canoes.
On a busy summer weekend, get a sea kayak, which handles waves best. Bring plenty of water.
The company also rents stand-up paddleboards and bicycles for use on the Bearskin State Trail, which starts downtown. 715-356-1618.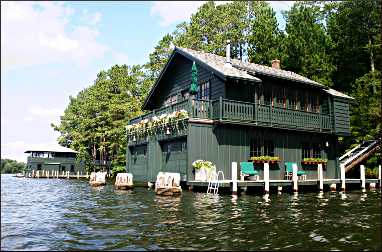 Boat tours: The Beacons hosts Minocqua Pontoon Cruises, which operates from mid-May to mid-October. 715-892-7777.
Swimming: You can swim from the beach in Torpy Park, on the north edge of downtown. There are bathrooms in a historic stone pavilion.
Where to stay: All of the lodgings below are on Lake Minocqua and have docks from which guests can launch boats.
Coachlite Resort is on the south side of Lake Minocqua, a short bike ride from downtown. Only the Quincy Cabin remains for vacation rental.
The Beacons, which has a historic boathouse, is a condo resort on an attractive wooded setting. It's directly across from downtown but not within walking distance.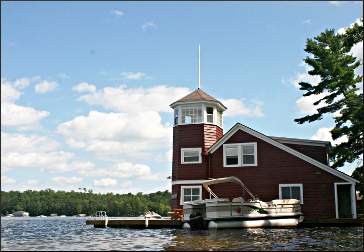 The Pointe is a condo resort on a wooded hill directly across the bridge from downtown. Farther down the road from the Pointe and the Beacons, Nitschke's Northern Resort includes small brick cottages and a sand beach on an open point.
The Aqua Aire, a nice mom-and-pop motel, is across the road from Torpy Park on the north edge of downtown.
Dining: The Thirsty Whale is built over the water on the south side of downtown, one on either side of the Aqua Bowl. The Min-Aqua Bats water-ski team performs there Sundays, Wednesdays and Fridays from mid-June to mid-August.
On the north side of downtown, next to Torpy Park, Minocqua Brewing Company is in a 1927 former Masonic lodge overlooking the lake.
Details: For more, see Summer in Minocqua.
Winter in Minocqua: It's a great place to go cross-country skiing. For more, see Minocqua's white magic.
Gangsters in Minocqua: For more about the area in the 1920 and '30s, see Chasing gangsters in Wisconsin.
Last updated on January 28, 2020