Swinging through northern Wisconsin: Hayward
From Spooner to Cable, golfers bag bargains and as much challenge as they can handle.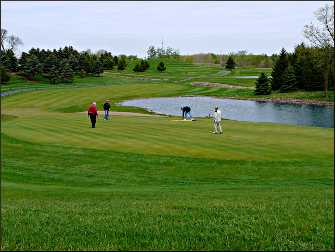 For more than a century, the woods and waters of northern Wisconsin meant nothing but hard work for European settlers, who eked out a living there by trapping and logging.
It was only after the turn of the 20th century that folks in the south decided they could have a lot of fun up in the woods. So they left their offices and factories and headed north by the thousands.
Thus began the transformation from harvest to tourism.
If you look at a map of Wisconsin, the prime playground stretches from Hayward in the west to Minocqua in the east, sitting atop the " con " in Wis con sin like a furry caterpillar.
That stretch is dotted with deep lakes and shallow flowages that produce log-sized muskies, as well as dozens of golf courses that are capable of producing equally huge 18-hole scores.
In Hayward, where there still is animosity over losing the "Musky Capital of the World" trademark to Boulder Junction, near Minocqua, a group of course owners has decided that Hayward is entitled to be the Golf Capital of Wisconsin.
We are going to look at some traditional as well as championship courses that stretch from Rice Lake in the south to Cable in the north. For someone lodged in Hayward, they're all within an hour's drive and offer substantial diversity in style and design.
Starting in Rice Lake
The farthest south, in Rice Lake , is Turtleback. Located on the outside of the Rice Lake bypass, the course has had several incarnations since its opening as a nine-holer in the 1920s.
What once was the Hi-Dale course became the Rice Lake Golf Club in 1960, expanded to 18 holes in 1980 and in 1999 again was updated and renamed Turtleback.
Sporting a fancy clubhouse with a big-city-style sports bar and a spiffy event and conference center, the course can hold its own with any within a few hundred miles.
Bent grass stretches from tee to green with enough water and sand to keep your mind from wandering. Standing high on the 13th tee, you look downhill to the turtle-shaped green that gives the course its name.
Unlike many courses in this part of the state, you are not intimidated by the encroaching forest primeval, so you can use all the clubs in your bag.
Turtleback's length can be comfortable for most players, with tees ranging from red at 5,210 yards to black at 6,618.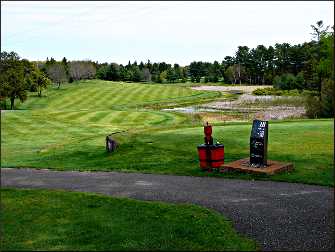 A bit to the north and east in Sarona is Butternut Hills Golf Club. Butternut Hills  was carved out of the Marshall family farm, and the barn still serves as the clubhouse.
The back tees play at a leisurely 5,600 yards, and there are a few ponds spotted here and there. But for a low-pressure, low-price experience, this is a nice option.
A bit farther east, just outside of Birchwood , is Tagalong Golf and Resort.
Built in 1922 by lumber heir Frank Stout for family and friends, Tagalong allegedly was patterned after the renowned St. Andrews course in Scotland, and the grasses and construction crew were carted over to keep everything authentic.
One could be picky about the resemblance to the Old Course, but then you might not be paying proper attention to what is a very nice course in its own right.
Less than 6,400 yards from the back tees, the course protects itself through the use of narrow bent grass fairways with long, links-style wispy rough. Some of the fairways are split into smaller targets with rough between, as well as sporting hollowed "grass bunkers."
The Tagalong complex is a mishmash of condos, meeting facilities, hotel rooms and restaurants to go along with the golf, all perched on the shores of Red Cedar Lake. The whole thing looks as if it would be a nice self-contained northern option for retirees who winter in the South.
A class act in Spooner
Flip-flopping back to the west and Spooner , the Spooner Golf Club is member-owned.
The family-course designation adds two more sets of kid-sized tee markers on each hole, so the 10-year-old can come out to play with mom and dad and have her own score card.
The course is pretty nice, too. Impeccably maintained at 6,400 yards, the Tom Vardon-designed layout has a classic style that dates back to 1930.
The 18th hole, a 408-yard par four, has been chosen as one of Wisconsin's Great Eighteen, even though the members refused to play it during the 1950s because they thought it was too hard.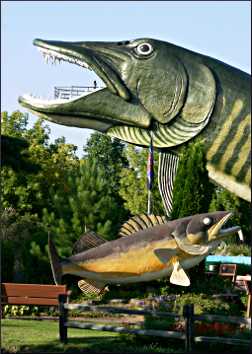 Heading for Hayward
In Hayward, the Hayward Golf Club also is a PGA Family Course.
The course was first built on the Hayward city line in 1924 as a member-owned golf and tennis club. After some changes in ownership, the Hayward Civic Club took over.
The club acquired land across the road for a second nine, and in 1998, Ken Killian redesigned the original nine to match the style and rolling topography of the newer nine.
With poa-grass fairways, there is a bounce in every step as you work your way around the layout, which measures 6,700 yards from the back tees.
The original "in-town" nine (now the back nine) plays its way through a residential neighborhood, but there is no fear of broken windows, as most of the holes are internal.
The mature trees and new grading give the feel of some of the classic big-city country clubs. The newer nine plays more open and has a fresher championship style.
Hayward Golf consistently is rated as one of the best in the state and is popular among the locals as well as seasonal residents. It's been named a Top 100 Good Value by Golf Digest magazine.
Across town is the Pete Dye-designed Big Fish Golf Club. Dye, best known for the Stadium Course at TPC Sawgrass in Florida, was able to combine a flat half-links course with a rolling half-woods course.
The result is two nines that could not be more different from each other, but it makes for very entertaining golf.
Big Fish is a big course at more than 7,200 yards from the back tees. It has been ranked as the seventh-best public course in Wisconsin and in 2005 was named one of Golf Digest's best new courses.
If you aren't familiar with links-style courses, you will be taken aback as you drive through the farm-like front nine to the clubhouse. You will wonder what all the fuss is about.
Once on the course, however, you will begin to appreciate why links golf can be very challenging fun. By the time you finish the ninth hole, you will have figured out how to deal with the long dry rough and the grouped bunkers.
But by then, it is too late.
The back nine is carved through rolling woodland, with a mature forest separated by perfectly groomed fairways. It is more like you would expect from a course in this area, but better than most.
On to Cable
Twenty miles to the north, near Cable , Lakewoods Resort on Lake Namekagon got into the golf business in the mid-1990s when it built Forest Ridges Course with local course designer Joel Goldstrand. The course is carved out of native forest with ponds and wetlands galore.
Some of the holes have views of Lake Namekagon to the north, but the star holes are a very impressive collection of par threes.
Holes No. 7 and 13 have knee-knocking carries from tee to green over areas that have been untouched by human beings since the Ojibwe lived nearby. No. 13 was selected as one of Wisconsin's "Great 18."
A couple of the fairways are sloped away from the natural curve of the hole, which forces a shaped shot that may not be the strength of the everyday golfer. But the woods near the fairways have been brushed and cleared, so you have a chance of a recovery shot if you stray.
With the five par threes and par 71 total, the course plays short at 6,062 yards from the back tees, but the slope of 137 will offer plenty of golf for all players.
While you're there, visit the resort for a look at its wall of fame, which gives a pictorial history of the area.
Telemark Golf Course, also near Cable, offers an inexpensive big-course option. The course features a relatively flat front nine with a back nine that more resembles the local ski hill.
Telemark Lodge, in sight of the golf clubhouse, is a separate operation and has opened and closed, plagued by financial difficulties.
The folks who own Telemark also own the nine-hole Spider Lake Golf Resort, which is 40 miles away by paved road or about eight miles on a woodsy stretch of gravel.
Other nine-hole courses in the area include Barker Lake Golf Course Legend. A Scottish links-style course allegedly built by one of those Chicago gangsters, it sits on the shores of Barker Lake, about 25 miles east of Hayward.
Trip Tips: Golfing around the Hayward Lakes in Wisconsin
For lodging, dining and sightseeing around Hayward, see Unwinding in Hayward and Hayward's lumberjacks.
For mountain biking in the area, see On a roll in Hayward and Cable. For travel in fall, see High color in Cable. For places to stay, see Classic Wisconsin lodges.
For golfing farther east, see Swinging through northern Wisconsin: Minocqua.
Best Bets
Here are our picks for the best golfing in northwest Wisconsin.
Best places to golf
Turtleback, Rice Lake
Hayward Golf Club, Hayward
Big Fish, Hayward
Spooner Golf Club, Spooner
Most intimidating tee shot
Hole 13, Lakewood's Forest Ridges, Cable
Hole 7, Lakewood's Forest Ridges, Cable
Best value
Hayward Golf Club, Hayward
Turtleback, Rice Lake
Last updated on May 5, 2018