Classic Wisconsin lodges
In the north woods, golden oldies recall a vanished era.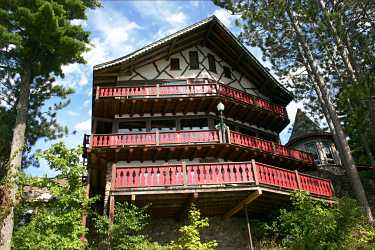 In the north woods, only the passage of time creates a classic.
There's nothing like the feel of a vintage lodge. Whatever it comes from — the burnished logs hewed by ax, the hearths made of stones picked from local fields, the faint fragrance of aged pine and cedar — it can't be ordered from the local furniture store.
Once, the north woods of Wisconsin were full of lodges. The first were built as fishing camps, after loggers left in the 1890s, and guests were affluent sportsmen who arrived by rail.
Then roads were built in the 1920s, automobiles became more affordable and families began to arrive in droves.
The next four decades were the golden age of lake resorts.
In the '20s and '30s, many northern Wisconsin resorts were patronized by gangsters from Chicago, whose flamboyant behavior provided locals with a rich vein of lore.
In the late '40s and '50s, the burgeoning middle class made resorts with housekeeping cabins popular.
But their numbers are shrinking fast as lakeshore property values go through the roof and aging resort owners sell to people who tear down the cottages to build one "cabin."
Today, only a few classic lodges survive to give us a glimpse of a golden era.
Trip Tips: Classic Wisconsin lodges
Garmisch USA near Cable. This 1927 resort in northwest Wisconsin is only eight miles down the road from the former Telemark Resort — also inspired by the village of Garmisch in the Bavarian Alps, where its founder, the late Tony Wise, was stationed as a GI in postwar Germany.
The Germanic romanticism of Garmisch USA, however, is borrowed not from the ski slopes but from medieval hunting lodges. The two-story great room features an iron chandelier, suits of armor and strings of muskie, foxes, stags, bobcats and ducks.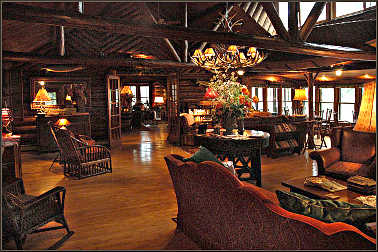 There are seven lodge rooms, six with fireplaces; a suite; and cottages of various sizes, including the five-bedroom, five-bath Castle. An equally atmospheric restaurant specializes in German dishes and has a great view of the lake.
For more about the area, see High color in Cable.
Spider Lake Lodge near Hayward. This log lodge on Spider Lake was built in 1923 by Chicago auto mechanic Ted Moody and an Ojibwe carpenter. In Chicago, Moody had worked as a mechanic at a garage that serviced Al Capone's cars; Capone's 1925 former retreat is nearby, in Couderay.
Today, the handsomely restored lodge's atmosphere is intentionally quiet. A full breakfast is served. It has seven rooms and suites, each sleeping two, plus two cabins and a carriage house.
For more about the area, see Unwinding in Hayward.
Bent's Camp near Land O' Lakes. Near the Michigan border, this lodge began life in 1896 as a camp for sportsmen, brought over from the railroad landing in a wooden scow called the Tar Baby.
A log restaurant was built in 1906, with interior walls covered by thick squares of birch bark held in place by cedar strips.
Today, it's one of the north woods' most treasured spots. In the bar, old photos illustrate the resort's early history and a fire crackles in the stone fireplace.
In the restaurant, diners sit in a room lined with paned windows overlooking Mamie Lake or in the wood-paneled big room under the gaze of a giant stag head.
There are two cabins open in winter, patronized by snowmobilers.
Voss' Birchwood Lodge in Manitowish Waters. This gracious resort on a bay of Spider Lake figured heavily in the 1934 shootout at nearby Little Bohemia Lodge, where John Dillinger was staying — its owners, Henry and Ruth Voss, called the FBI on him, and the agents staged their raid there.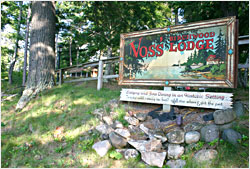 The Vosses founded the resort in 1910, and today it's run by their granddaughter and great-grandson. Guests stay in 20 cabins and six lodge rooms, open from Memorial Day weekend through early October.
There's a restaurant and small bar in the atmospheric 1924 lodge, and the Old Settler's Inn on the highway serves lunch. If you stop by, be sure to see the historic wooden footbridge that crosses the bay.
For more about the gangster era, see Chasing gangsters in Wisconsin.
Inn at Pinewood near Eagle River. This nine-bedroom, 10-bath lodge, on the shore of private Carpenter Lake, was built in 1934 as a hunting and fishing lodge.
It became a youth camp in 1969, a college-prep academy in 1974, a B&B in 1991 and a whole-house vacation rental in 2017. Today, each era contributes to its highly distinctive look.
On its sprawling main floor, part of it made of old barn planks, there's a big white wolf, an old trap and a lynx with a grouse in its mouth, from its hunting-lodge days.
From the youth-camp days, there's a vintage electronic shuffleboard game, dart board and giant chess set. From the B&B era, there are antiques.
It's a good spot for a group, because the main level has many areas where people can congregate.
Coon's Franklin Lodge near Arbor Vitae. This genteel resort on Trout Lake is the closest Wisconsin gets to a Gatsby-era lake resort. People who love the classic north-woods look will swoon over its log lodge and 30 cabins, surrounded by white pine and cedar.
Reached by a long, unpaved road, Coon's is perhaps the last American Plan-only resort in the state; all guests are served three meals a day in the octagonal log dining room.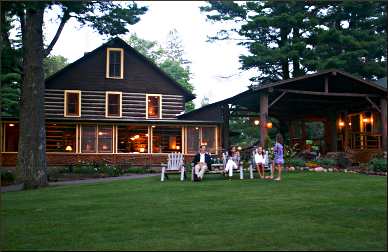 All of the cabins have screened porches and fireplaces. The resort is open from the first weekend of June through Labor Day, and early- and late-season rates are discounted.
Only week-long reservations are accepted, unless there's a last-minute cancellation.
For more about the area, see Summer in Minocqua.
Red Crown Lodge near Arbor Vitae. This elegant resort on Trout Lake was established in 1922 by Standard Oil as a corporate retreat.
In 2001, a Madison developer bought it and opened it for all groups, including family reunions; it rents to just one group at a time. The Trout Lake Golf Club is nearby, and dining is in the Main Lodge.
Last updated on February 20, 2020