Relishing winter in Duluth
In this sporty town, you can ski and then see a ballet or Broadway show, all within city limits.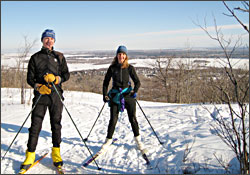 When it's not cold or snowy enough in Duluth, the natives start to grumble.
This Minnesota port on Lake Superior loves winter, though it's not for weaklings.
The breezes that earned it the nickname "Air-Conditioned City" will chill your bones in winter, and if you don't keep moving, you'll wind up as stiff as the bronze sculptures along the lake.
But in winter, nobody goes to Duluth to sit around.
Duluth is built on a hillside with lots of wooded ravines cut by creeks. The town has turned the ravines into parks that are perfect for skiing, boarding, tubing, skating, snowshoeing — you name it.
As soon as there's enough snow, the city grooms 67 kilometers of cross-country ski trails in five parks plus Spirit Mountain, and there are another 15 kilometers at Snowflake Nordic Center.
Spirit Mountain has 22 downhill runs and Minnesota's second-longest vertical drop, plus six lanes of snow tubing, a zipline and an alpine coaster.
In the middle of town, there's more modest alpine skiing plus a speed-skating rink at the Chester Bowl, which once had five ski jumps, including 115-foot Big Chester, at one time largest in the world.
Snowshoers like the 43 miles of Superior Hiking Trail that cut across Duluth, roughly parallel with Skyline Parkway and the Duluth Traverse, a magnet for fat-tire bikers. And there's free ice skating at Bayfront Park and a dozen other rinks.
In West Duluth, climbers scale columns of ice at Quarry Park, just below the Brewer Park section of the Superior Hiking Trail.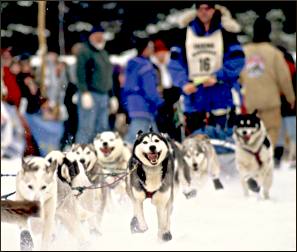 The best thing? Everything's right in town, never far from a cappuccino or craft beer.
Winter also is high season for nightlife, and you can go highbrow or lowbrow. At DECC auditorium on the harbor, see a concert by the Duluth Superior Symphony Orchestra or Minnesota Ballet.
We've been to Duluth many times in winter. Once, a friend and I went up on a Thursday to get midweek rates at Spirit Mountain, which has long, undulating slopes and a spectacular view of St. Louis Bay and Canal Park.
My favorite run was the Timber Cruiser, a mile-long intermediate run that winds to and fro through trees. My friend tried out the black-diamond Gandy Dancer and Bear Claw, while I practiced turns on the long, extra-wide Four Pipe.
We also saw a show at Renegade Theater Company, shopped at DeWitt-Seitz Marketplace on Canal Park and had dinner and wine flights at Bellisio's, under a wrap-around mural of the Italian countryside that made winter seem far away.
One January, we rented a lakeside cottage on Park Point and got to town in time to ski the lighted trails at Lester Park.
The next day, we skied at wilder Magney-Snively Park, on the opposite end of town, stopping to admire panoramic views of St. Louis Bay from Ely Peak and Bardon Peak. Then we skied the gentler loops at Hartley Nature Center, in the center of town.
We shopped on Superior Street, drank craft beer at Fitger's Brewhouse, walked on the dunes outside our cottage and warmed up with mochas.
One November, we skied at Snowflake Nordic Center and stayed at Fitger's Inn in the old brewery complex, where we listened to live music and shopped.
And one March, we got to Duluth just ahead of a blizzard and woke up to 20 inches of new snow and 70 mph winds.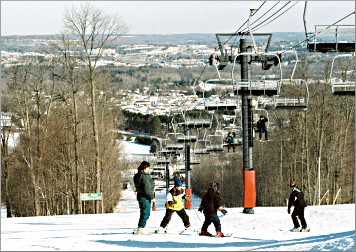 Amazingly, the city plowed the streets right away and we were able to ski in Lester Park that afternoon, following the tracks of other skiers. By Sunday afternoon, city groomers had reached the Piedmont trails, and we were able to ski on fresh corduroy.
As one of the handmade wooden signs along the trails put it, "What could be better?"
Trip Tips: Winter in Duluth, Minnesota
2023 events: Jan. 27-28, Lake Superior Ice Festival in Superior. Jan. 29, start of the John Beargrease Sled-Dog Marathon. Feb. 4, Duluth Ice & Mixed Fest in Quarry Park. Feb. 4, Cold Front festival in Bayfront Festival Park.
Downhill skiing: Spirit Mountain has 22 runs and a vertical drop of 700 feet, the second-longest in Minnesota after Lutsen Mountains on the North Shore, which has a 1,088-foot drop.
There's also an Adventure Park with snow tubing, a zipline and an alpine slide.
In the middle of town, there's inexpensive neighborhood skiing at the Chester Bowl.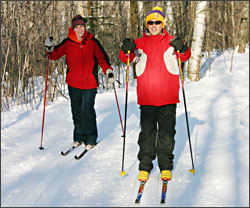 Cross-country skiing: There are groomed trails in Lester Park, Piedmont, Hartley Park, Magney-Snively Park, Spirit Mountain and Chester Park. You'll need a Minnesota Ski Pass, $10 a day, $25 a year.
There are another 15 kilometers at the privately run Snowflake Nordic Center (and another 28 across the St. Louis River in Superior Municipal Forest).
From the Grand Avenue Nordic Center at the foot of Spirit Mountain, there's snow-making on a growing trail network.
For more, see Cross-country in Duluth.
Snowshoeing: The first 43 miles of the Superior Hiking Trail cross the city. It's great for snowshoeing shortly after a snowfall, but it quickly gets packed down.
Large Magney-Snively Park, just west of Spirit Mountain on Skyline Parkway, is a good place to snowshoe.
Fat-tire biking: You can ride on the Duluth Traverse trail across town and through parks.
Rental gear: Hartley Nature Center rents cross-country skis and snowshoes, as do Continental Ski at East First Street and 13th Avenue, 218-728-4466, and Ski Hut at East Fourth Street and 11th Avenue, 218-724-8525.
Both colleges rent fat-tire bikes and also skis, snowshoes and ice-climbing and winter camping gear: UMD's Outdoor Program, 218-726-6134, and Outdoor Pursuits at St. Scholastica, 218-723-6165.
Dog-sledding: Half an hour north of Duluth, Endurance Kennels offers rides behind a team, and for a little more (it's worth it), you can drive the team yourself.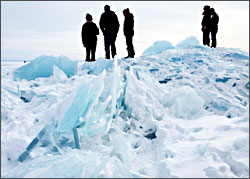 Ice climbing: Quarry Park in West Duluth is available for climbing, and the Duluth Climbers Coalition offers clinics at the annual Duluth Ice & Mixed Fest.
Ice skating: Skating is free at Bayfront Park on the Harbor and a dozen other rinks.
Accommodations: Many motels, hotels and inns offer discounted Spirit Mountain lift tickets to guests.
The treehouse-like Mountain Villas are right on Spirit Mountain.
On Canal Park, the Inn on Lake Superior has a rooftop hot tub.
For an overview of hotels, dining and other trip-planning basics, see Duluth 101.
Dining: In winter, it's easy to get a table at restaurants on Canal Park, unlike summer. For more, see Where to eat in Duluth.
Nightlife: Check to see what's going on at the Duluth Playhouse, Renegade Theater Company and DECC Auditorium on the harbor.
For more, check the calendar at Perfect Duluth Day.
Details: See Duluth stories.
Last updated on January 19, 2022