Germans in the Upper Midwest
Many of our most-loved traditions arrived with emigrants from Germany.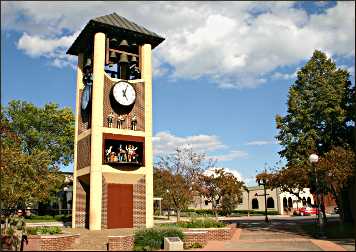 It's hard to imagine life without the Germans.
When they crossed the ocean, they brought hot dogs, potato salad and beer gardens. Thanks to them, we have kindergartens, Christmas trees and fairy tales.
Their traditions now are woven into the fabric of Upper Midwest life. To paraphrase the words of John F. Kennedy, we are all Germans.
Germans are fun folks-at least, they like a party. Thanks to them, we have Oktoberfests all fall, Christkindl markets over the holidays and, to welcome spring, Maifests.
That's when young women dance around May poles and everyone gets to eat strudel and drink Maibock beer. In Iowa's Amana Colonies, Maifest is the traditional first weekend in May.
Near Milwaukee in Germantown, it's the third weekend. In Chicago, it's the last weekend.
Germans are by far the largest group in Wisconsin, land of beer and brats. There, 44 percent of residents reported Germany ancestry in the 2000 census. In Iowa, it's 40 percent.
Minnesota does have the nation's highest concentrations of Norwegians and Swedes. But it, too, is predominantly German-way German.
There, 38 percent of Minnesotans reported German ancestry. The next-largest groups were Norwegians, 17 percent; Irish, 12 percent; and Swedes, 10 percent.
In Illinois and Michigan, only 20 percent report German ancestry, but that's still the largest ethnic group.
Throw a dart at a map, and you'll hit a town full of Germans.
Why they came
In 1848, a wave of rebellions broke out against the autocratic princes and barons who ruled Germany, which was not a country but a loose collection of near-feudal states.
After the revolts were suppressed, many of their middle-class organizers fled to America.
Their arrival coincided with the signing of Indian treaties that opened the best farmland to settlers.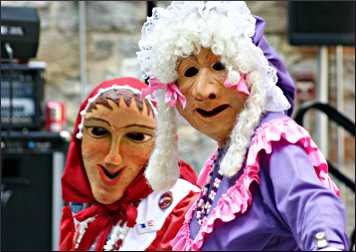 It was good timing for both the Germans and the state, said the late Madison historian Richard Zeitlin, author of "Germans in Wisconsin."
"The state was lucky because the German people had the skills and cultural values that fit with the values of the times," he said.
"They had long-term vision. They were there to make something more than it was. It was a fertile land, just waiting for a hard-working people to come and put down roots and transform it."
But many of the new immigrants were urban, and they weren't all poor when they arrived.
Calling themselves "freethinkers," they had a passion for education, equality and clean government. In Milwaukee, they formed so many social and cultural clubs the city became known as "the German Athens."
In nearby Watertown, a freethinker started the nation's first kindergarten in 1856.
That same year, a group of Turners, freethinkers who promoted physical fitness, settled New Ulm in Minnesota; for decades, the town's library and high school was at Turner Hall.
In Milwaukee, freethinking Germans sent a Socialist to the U.S. Congress in 1910, and a Socialist was mayor from 1916 to 1960, with an eight-year break in the 1940s.
Called "sewer socialism" because it promoted the orderly delivery of services to all citizens, their approach to politics exists even today in Wisconsin and Minnesota, said historian Zeitlin, though not solely because of the Germans.
"That progressive viewpoint was not an American viewpoint; it was strongly European," he said.
"Clean government, government involved in improving the life of the community-those things were considered forward thinking, and that resonated with Germans and Norwegians. What you got was an alliance of these two immigrant groups."
Mainly, the Germans wanted to have a good life. Unlike the more puritanical Yankees, they liked to get out and about on Sundays, gathering with family and friends over food and drink. They enjoyed their beer-and they liked a party.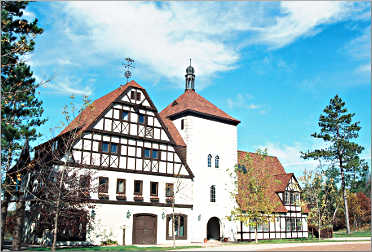 Over the years, the stereotypical German has become a beer-bellied goof in a furry green hat, bobbing up and down and flapping his elbows to oompah music.
Germans not only gave us "The Little Chicken Dance," but they also invented kitsch, from garden gnomes to cuckoo clocks and Wayne Newton crooning "Danke Schoen."
But we forgive them; for one thing, we couldn't have a festival without their beer, bratwurst and polka bands. And secretly, we love it all.
German towns
Around here, there are many ways to get in touch with your inner German. Certain towns are bastions of Teutonic culture. Along Lake Michigan, from Milwaukee to Sheboygan, it's hard to find anything that wasn't influenced by the Germans.
Sheboygan calls itself the bratwurst capital of the nation. In nearby Elkhart Lake , immigrants from Germany built grand lakeside resorts.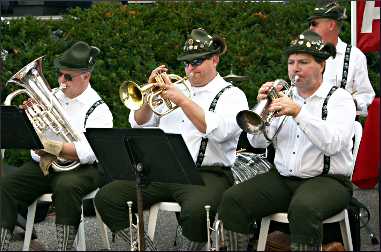 In Milwaukee , tourists go to Old World Third Street to buy smoked sausages at Usinger's and have a meal in heavily Teutonic Mader's restaurant. German Fest, held on the lakefront in July, is the largest German celebration in North America.
In western Minnesota, heavy concentrations of Germans settled in the fertile farmland between the Minnesota and Mississippi river valleys, where towns bear the names New Germany, Hamburg, Cologne and New Munich.
And at the junction of the Minnesota and Cottonwood rivers, a group of German workingmen and Turners bought land and established the town of New Ulm .
Along with schools and churches, they took time in 1897 to put up a 32-foot copper statue of the Alemannic warrior Hermann, who routed the Romans from the Teutoburg Forest in 9 A.D.
His hillside throne is part of the New Ulm tourist route, as is Domeier's German Store, the Glockenspiel downtown and Schell's Brewery, the second-oldest family-owned brewery in the nation and likely the most picturesque.
In eastern Iowa, a group of devout German Inspirationists formed a communal society in 1855, pooling their resources and adhering faithfully to Scripture. The name they gave their settlement, Amana , comes from the Bible and means "remain true."
They dropped the communal system in 1932 but retained their language and traditions. Today, restaurants in the seven Amana Colonies still serve meals family-style, and Millstream Brewery makes its beers according to old German purity laws.
The skills Amana workers developed-they were known for weaving, woodcrafting and wine-making-ts residents now use to draw tourists to the many shops and artisan studios.
Festivals
When it comes to a party, Germans know how to take a good idea and run with it-but you don't need to be German to join in.
They're everywhere, but  they include: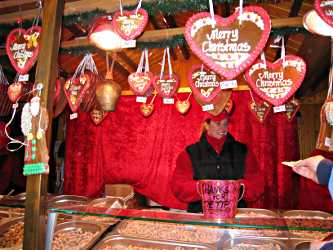 May : Maifest in Amana, Iowa.; Maifest in Germantown, Wis., and Maifest in the Lincoln Square neighborhood of Chicago.
July : Bavarian Blast in New Ulm, Minn., and German Fest in Milwaukee.
September : Gemuetlichkeit Days in Jefferson, Wis.
September-October : Oktoberfest celebrations can be found everywhere. For more, see Toasting Oktoberfest.
November-December : Christkindlmarkets have become very popular. For more, see Old World Christmas markets.
Language and culture
German was the first language taught at Concordia Language Villages, an immersion camp started in 1961 by an elementary-education professor at the Moorhead college who saw how quickly children of U.S. servicemen in Germany picked up the language.
Today, the Waldsee campus on a lake near Bemidji hosts immersion camps for youth all summer and weekend camps for adults and families.
For more, see Language camp for adults and Going abroad in Bemidji.
In St. Paul, the Germanic-American Institute is an active association of native Germans as well as people of German ancestry.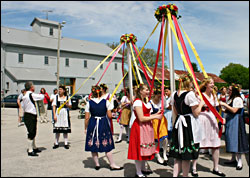 It offers its 1,400 members language classes, lectures, trips, cultural groups and dinners, and it frequently opens its house on Summit Avenue to the public for festivities, including Deutscher Tag in June.
In Madison, Wis., the Max Kade Institute for German-American Studies at University of Wisconsin offers lectures and workshops to the public.
In Davenport, Iowa, the German American Heritage Center offers classes, talks and events and includes the permanent, interactive exhibit "The German Immigrant Experience" as well as rotating exhibits.
In the countryside near Dodgeville, in southwestern Wisconsin, Folklore Village presents ethnic workshops, concerts and festivities, including the lighting of a candlelit German Christmas tree in December.
Heritage sites
At Old World Wisconsin, the nation's largest outdoor museum of rural life, three German homesteads from around Wisconsin have been moved to the sprawling site just southwest of Milwaukee and reconstructed.
In the summer, interpreters take visitors back to the years 1860, 1875 and 1880, explaining how immigrants observed Old World traditions and adopted new ones. A restaurant occupies the Clausing Barn, an octagonal barn built by a German immigrant in 1897.
Near Milwaukee in Germantown, the Dheinsville Settlement includes original half-timbered buildings.
In the west-central Iowa town of Manning, Hausbarn Heritage Park includes a handsome 1660 half-timbered brick house/barn brought over from the northern German state of Schleswig-Holstein and reassembled with a roof thatched with reeds grown near the Baltic Sea.
Last updated on April 26, 2019