Old World Christmas markets
Local versions of the traditional German Christkindlmarkt are a hit during the holidays.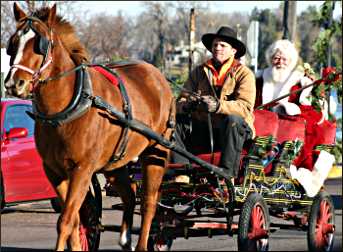 For 500 years, Germans have done their holiday shopping at open-air Christmas markets in town squares.
Named for the Christ child, the markets traditionally start on the first Sunday of Advent, with shoppers warming up with hot spiced wine while browsing at garland-draped timber kiosks.
It's a tradition worth importing, and that's what Chicago did in 1996 with its Christkindlmarket, where two-thirds of the vendors come from Germany.
It's become more popular every year, and now many other towns-from the shores of Lake Minnetonka in Minnesota to the downtowns of both Twin Cities and many towns along Lake Michigan-have adopted the tradition and started markets of their own.
Many include parades, especially the traditional children's lantern procession. There's always live music from bands and choirs, and you can usually count on getting a cup of warm Glühwein to sip and a cone of sugared almonds to munch while shopping.
Here are the main markets in 2023.
Nov. 17-Dec. 24, Christkindlmarket in Chicago. This is the most authentic market, with many German vendors bringing over Old World toys, ornaments and sweets to sell in their timber booths in Daley Plaza.
Food also is authentic-currywurst, potato pancakes, soft pretzels -with ingredients often brought from Germany.
The marked can be quite crowded, so try to go in the morning. There's a Children's Lantern Parade in early December and there are musical performances and/or visits from the Christkind nearly every day.
For more, see Chicago at Christmas.
Nov. 17-Dec. 31, Christkindlmarket Wrigleyville in Chicago. This North Side satellite of the Daley Plaza Christkindlmarket features ice-skating, wreath-making, music and Santa's Workshop as well as holiday vendors.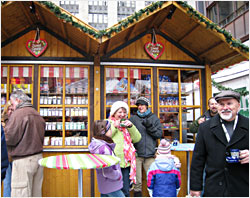 Nov. 18, 24-25 and Dec. 1-2, 8-9 and 15-16, Holiday Kerstmarkt in Holland, Mich. This open-air European Christmas Market at the Eighth Street Market Place includes 18 timber booths offering Dutch imports, folk art, hand-knit apparel and other gifts. The Sinterklaas procession will be 6:15 p.m. on Dec. 2.
Nov. 24-26, Christkindlsmarkt in Excelsior, Minn. In this Minneapolis suburb on Lake Minnetonka, choirs and bands play for shoppers at a traditional German open-air Christmas market in Excelsior Commons park on Lake Minnetonka.
It begins with a grand parade at 10 a.m. Friday, with a children's lantern parade at 5 p.m. Saturday, followed by a concert. There will be rides on the NorthPole Trolley, a heated KinderWorld and Alaskan reindeer to pet.
For more about Excelsior, see Cruising around Excelsior.
Nov. 24-26 and Dec. 1-3 and 8-10, Door County Christkindlmarkt in Sister Bay, Wis. This new market is held south of town on the grounds of the historical society's Corner of the Past Museum, a former pioneer homestead.
It features local vendors and artisans, live music and German food served inside a large barn.
Nov. 24-26, German Christmas Market in Oconomowoc, Wis. This downtown market features vendors in outdoor huts as well as tents for music, German food, gingerbread-decorating and a beer garden.
Nov. 24-26 and Dec. 1-3, 8-10 and 15-17, Chris Kringle Market in Ottawa, Ill. This town on the Illinois River kicks off its festival with a parade at 6 p.m. Nov. 25, followed by fireworks.
Along with the market, there will also be carriage rides, holiday movies at the Roxy Theater, crafts, a children's train, Santa's House and Christmas Around the World displays where children can get their passports stamped.
Nov. 24-25 and Dec. 1-2, 8-9 and 15-16, Kriskindlmarkt in Sparta, Wis. This outdoor market on Mueller Square and Water Street downtown includes horse-drawn wagon rides, carolers and live music.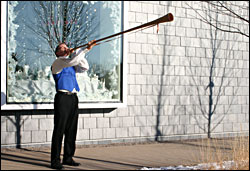 Nov. 24-26 and Dec. 1-3, 8-10 and 15-17, European Christmas Market in St. Paul. This downtown Christkindlmarkt outside Union Depot features choirs, dancers, hot mulled wine, holiday beers, European-inspired food and artisan goods.
Special activities include visits from Krampus and Santa, sled-dog team rides and reindeer petting; check the schedule.
Nov. 30-Dec. 3, Christkindlmarket in Des Moines. This market is held in Principal Park on the rivers downtown. In addition to vendors and food, there will be many performances by choirs, bands, fiddlers, carolers and dance troupes.
Dec. 1-10, Old World Christmas Market at the Osthoff Resort in Elkhart Lake, Wis. This eastern Wisconsin market, held in a heated tent, features very good prices as well as ambiance, and some vendors come over from Germany.
Admission is $7. For details, see Old World Christmas at the Osthoff.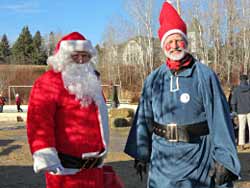 Dec. 2-3, Julmarknad at the Swedish American Museum in Chicago. The Andersonville museum features a handicrafts fair with traditional Swedish food and entertainment.
Dec. 2-3, Julmarknad at the American Swedish Institute in Minneapolis. The courtyard market at this castle-like mansion will feature a bonfire, warm glögg, handmade artisan goods, family activities and visits with Tomte, the Swedish Christmas elf.
Dec. 2-3, Julebyen in Knife River, Minn. This Norwegian Christmas market on Lake Superior, between Duluth and Two Harbors, features indoor and outdoor markets, music, children's activities, skating, Norwegian food and visits from Santa and elves.
On both days, take the train from the Duluth Depot to Knife River and back for $20, $10 for children 3-13. It leaves at 9:30 a.m. The adult fare includes a train ride to visit a grouchy troll under a bridge in Troll Canyon (other visitors pay $10, $4 for children 4-12).
For more great places to shop during the holidays, see Shopping towns stories.
Last updated on January 20, 2022