Power shopping in southwest Wisconsin
On a late-fall foray, six bargain hunters find treasure amid scenery.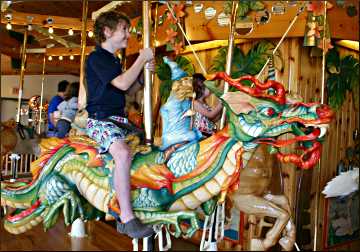 Down comforters, to nestle all snug on a bed. Fleece stockings, to wear with care. Bowlsful of jelly, and a shop full of toys.
These visions were enough to draw six Minnesota women toward the rolling folds of southwest Wisconsin, holiday lists in hand. Until that trip, my friends and I never had thought of ourselves as power shoppers.
"Wow, I've never done this before," marveled my friend Mary, looking on as three of us tried futilely to close the lid of the bulging car-top carrier. "I've heard about women who do this."
We came, we saw, we bought-enough to fill every inch of a minivan and a Yakima Space Booster, too.
Our first stop was LARK Toys, along the Mississippi south of Wabasha. This nifty little complex is the home of a magnificent hand-carved carousel, where we hopped atop dragons and flamingos.
Shopping with the Amish in Cashton
Watching for eagles, we continued down Minnesota 61 and across the I-90 bridge to Cashton, deep in the coulee country east of La Crosse. Old Order Amish began moving to these rocky valleys and ridges in 1966. To supplement their farm incomes, they began selling jellies, candy, quilts and wood furniture to "the English."
The tourists, however, had a hard time finding Amish farms on the winding roads and often asked neighbor Kathy Kuderer for directions. So Kuderer opened a shop selling Amish goods, and then began to lead tours of farms owned by Amish friends.
"I try to keep the tours on a very personal, respectful level," she says. "I don't want them to feel, 'Here come the tourists, we're on display.' "
From the first farm, we bought cashew crunch-just butter, sugar and nuts, but so addictive-from young women in muslin bonnets, toiling in a toasty-warm kitchen.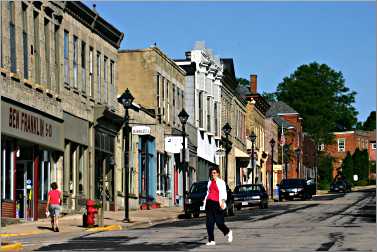 At the second, we bought wooden spoons and puzzles carved by a grandfather of one of the young women, who patiently showed us how they worked.
At Uriah Herschberger's wood shop, Becky wanted an ingenious three-in-one child's desk, high chair and rocker, but knew we didn't have room to carry it home, so she settled for a collapsible wooden fruit basket.
In one home, a bed was piled with lovely, hand-stitched quilts, but we took home only quilted potholders, a child's apron and a vivid red rug.
In between stops, Kuderer told us how the Amish make do without such comforts as electricity, central heat or plumbing, according to the strict dictates of their order.
"This is how they've chosen to live — 'To be in this world, but not of the world,' " she said. "It's very simple, very plain, very humble."
We were running out of time, so we had to bypass Spring Green, where dozens of artisans have set up shop. In Mineral Point, we stayed at the Brewery Creek Inn, a renovated 1854 limestone warehouse.
The next morning, after walks on the Cheese Country State Trail, just down the street, we hit the Bargain Nook on High Street. It's one of five non-profit resale shops to which Land's End, based in nearby Dodgeville, donates its returned catalog goods.
As we started looking, Sue Cimino of Lake Delton, Wis., was finishing her shopping, and she was flushed with success. Not only had she found some great deals — lambs-wool sweaters, silk long underwear, a down coat, clogs, a fleece jacket — but it was her birthday, so she got an extra discount.
"This is so much fun," she said, eyes sparkling. "It's the best birthday present ever. You can't find a better deal in the universe."
We filled bags with our buys: a child's parka, sets of women's silk long underwear, wool-felt clogs. I wanted an enormous $245 rolling suitcases, $10 with a pull-out handle that didn't work, but my friends just shook their heads — no room in the van.
And we made a serious dent in our Christmas lists across the street at the Johnston Gallery, buying hand-dipped candles, earrings, art-glass coasters. At Brewery Pottery Studio, we bought bowls, trays and low, patterned vases.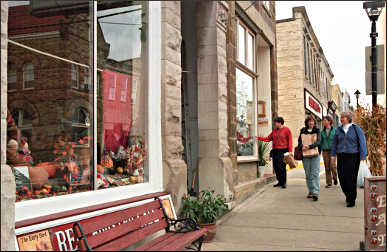 Mineral Point is full of interesting shops and galleries, and we wished we'd had more time to explore them.
After a lunch of Cornish pasties at the Red Rooster Café, we moved on to Bargain Nook No. 2 in Darlington, 15 miles south of Mineral Point. While I bought khakis and fleece socks, Mary ducked into the antiques store next door and bought a porcelain rice cup to use as a votive.
At the office of Yellowstone Lake State Park, where we stopped to hike, she bought a half-price T-shirt for her son.
"So have we made a stop where we haven't bought anything?" Becky asked.
In the picturesque Swiss town of New Glarus, we stocked up beer from the New Glarus Brewing Co., which doesn't distribute in Minnesota. The Belgian Red, made with Door County cherries, was requested by several husbands.
On Sunday morning, after walks and runs along the Sugar River State Trail, we bought Swiss pastries at the New Glarus Bakery and German Advent calendars at the Maple Leaf Cheese and Chocolate Haus, then headed toward home.
But we had one last stop — the Shoe Box in Black Earth, known not so much for bargain-basement prices as for its huge variety of sizes and styles. At 11 a.m. Sunday, every spot in the parking lot was full, and the store — "Voted Madison's favorite shoe store!" — was packed.
In our allotted 25 minutes, I managed to find half-price Asics running shoes. Becky, who wears narrow sizes, found half-price Clarks clogs and fleece socks.
"I like to have more time to spend in a place like that," she said wistfully, as our friends hustled us into the van for the trip back.
At home, gathering up our many purchases, we looked just like bag ladies. But then, so does St. Nick.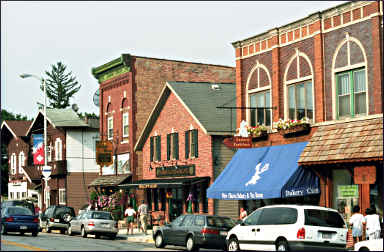 Trip Tips: Shopping in southwest Wisconsin
LARK Toys in Kellogg, Minn.: It's along Minnesota 61, six miles south of Wabasha; watch for the sign.
For more about the area, see All eyes on Wabasha.
Down a Country Road Amish tours: Kathy Kuderer rides along with visitors on tours. They start at her shop, Down a Country Road, two miles east of Cashton on Wisconsin 33. 608-654-5318.
For more about the area, see Valleys of Vernon County.
Bargain Nooks: There are stores in Mineral Point, Darlington, Spring Green, Platteville and Mount Horeb, open daily. Stock and prices vary from store to store, and a few of the Land's End goods are used, flawed or damaged.
Profits benefit the Mineral Point-based Hodan Center, which provides services for adults with developmental disabilities.
The Shoe Box: It's in Black Earth, at the junction of Wisconsin 78 and U.S. 14. There's also an outlet store at the corner of U.S. 12 and Wisconsin 33 in Baraboo.
Accommodations: Brewery Creek Inn in Mineral Point has five classy rooms, four with tiled gas fireplace and double whirlpool, three with sleeper sofas. A restaurant and brewpub is on the first floor.
For more about the area, see Beauty in Mineral Point.
Chalet Landshaus in New Glarus has attractive rooms, some with whirlpools and some with three or four beds, including a large breakfast. It also has a pool, hot tub, sauna and steam room.
For more about New Glarus, see Swiss at heart.
Last updated on November 23, 2020