Camping in the Twin Cities
For many, a lake vacation is a hop, skip and jump from home.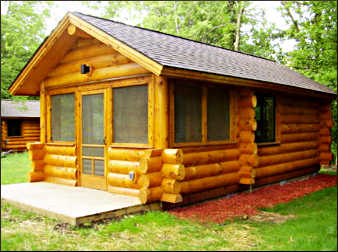 Not all of the beach camping in the Upper Midwest is in a state park or even in the countryside.
In the suburbs around the Twin Cities, county park systems and park reserves offer wooded campsites and camper cabins. Many are near lakes or rivers, and others are close to bicycle trails or golf courses.
They're a great deal for visitors and also for locals who want to save gas money and travel time.
Western suburbs
West of Minneapolis, Three Rivers Park District offers camping and camper cabins on lakes in three park reserves. They can be reserved up to one year in advance.
The campsites at Baker Park Reserve in Maple Plain, near the beach on Lake Independence, are most popular.
The campground includes five camper cabins with screened porches; three sleep six and two are accessible and sleeps five. They're $80, plus a $7.50 reservation fee.
Baker has showers and electrical hookups, but the 204 campsites make it very busy on weekends - "like a little city," said one reservation agent. The park includes Baker National Golf Course, which has an 18-hole championship course and a nine-hole executive course.
Baker also includes the Outdoor Learning Center, where groups of up to eight can rent one of eight rustic log cabins during annual family weekends that include naturalist programs.
The cabins and a nearby log lodge with modern restrooms and an institutional kitchen also can be rented together up to a year in advance.
Elm Creek Park Reserve in Maple Grove has two camper cabins. One is accessible and sleeps five; the other sleeps six. Cost is $80 plus the $7.50 reservation fee.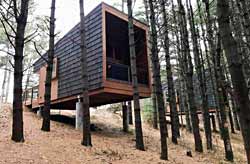 Tent campers might prefer the rustic 57-site Lake Auburn campground at Carver Park Reserve in Victoria, which is connected by the Lake Minnetonka Regional  Trail to the lakeside village of Excelsior.
Excelsior has many shops and restaurants, and the bicycle trail continues east to Hopkins, connecting with the rest of the Twin Cities trails.
For more, see Bicycling through the Minneapolis suburbs.
Cleary Lake Park Reserve in Prior Lake has just five rustic sites at the Red Pine Hike-In Family Campground. It's a busier park and includes the nine-hole Cleary Lake Golf Course.
For camping farther west of the Twin Cities, see Camping in Kandiyohi.
Eastern suburbs
On the St. Paul side of the metro area, Washington County offers campgrounds in Lake Elmo Park Reserve in the town of Lake Elmo, east of St. Paul, and St. Croix Bluffs Regional Park, overlooking the St. Croix River south of Afton.
Campsites are available from late April to late October. Online reservations open in early January.
Weekend reservations must include a Saturday nights, and there's a two-night minimum, three nights on holidays.
Southern suburbs
Dakota County offers campgrounds in Lebanon Hills Regional Park in Eagan, not far from the Minnesota Zoo, and Lake Byllesby Regional Park on Lake Byllesby Reservoir, just west of Cannon Falls.
Campgrounds are open from late April through early October. Reservations open in early March.
Between Farmington and Empire, the county also offers 10 camper cabins in Whitetail Woods Regional Park. Five of the cabins sleep six and are partially elevated in the pines, giving them a treehouse-like feel. Cost is $95 per night, plus an $8 reservation fee.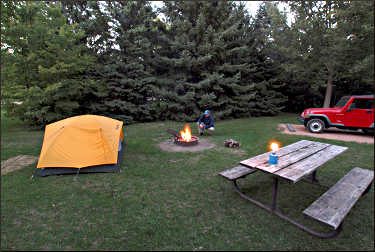 Northern suburbs
Anoka County Parks offers tent, RV and cabin camping in Bunker Hills Regional Park in Coon Rapids, near Bunker Beach Water Park and Bunker Park Stable.
It also offers camping in Rice Creek Chain of Lakes Regional Park Reserve in Lino Lakes, near Wargo Nature Center and Chomonix Golf Course.
Reservations open the first business day of January. Call Bunker Hills at 763-862-4970 and Rice Creek at 651-426-7564 or reserve online.
It also offers first-come, first-served canoe camping in Rum River North County Park and Rum River Central Regional Park.
State parks within an hour
Many state parks are near the Twin Cities. East of St. Paul, there's camping and four camper cabins in William O'Brien State Park in Marine on St. Croix. To the south, there's camping and four camper cabins and two yurts at Afton State Park in Afton.
Both parks are on the St. Croix River.
Just across the Wisconsin border near Hudson, there's camping in Willow River State Park.
West of the Twin Cities, there's camping in Minnesota Valley State Recreation Area along the Minnesota River, in an area popular for bird-watching.
Northwest of the Twin Cities, just of I-94, there's camping and three camper cabins at Lake Maria State Park, near Monticello.
For more about reserving campsites in state parks, see Camping in state parks.
For more about camper cabins, see A roof in the woods.
Last updated on January 4, 2022