Getting away from mosquitoes
In the bluffs of southeast Minnesota, breathe a sigh of relief.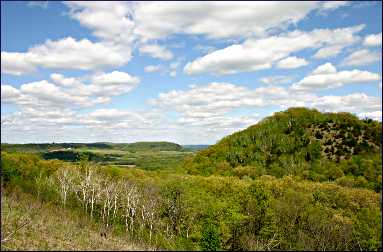 Had it with mosquitoes? Head for southeast Minnesota.
That's karst country, where porous limestone lies just under the surface and rain sinks into fast-moving underground streams that are chilled to 48 degrees when they run through the many cave systems.
Trout like it, but mosquitoes don't. There's no standing water, so there's nowhere for them to breed.
That makes camping virtually mosquito-free at Forestville/Mystery Cave State Park near Preston, Whitewater State Park near St. Charles and Beaver Creek Valley State Park near Caledonia.
At Forestville, Deb Erickson says people used to camping on Minnesota's North Shore are pleasantly surprised and often ask why there are so few mosquitoes.
"All the parks are like that in southeast Minnesota," she says. "It's kind of strange, but very wonderful."
There are plenty of private and municipal campgrounds, too; Sylvan Park and the Riverview campground in Lanesboro are choice spots.
Campsites in Minnesota state parks can be made 120 days in advance, on the phone or on-line.
What to do when you get there? Tour Mystery Cave and Niagara Cave near Harmony, especially on a hot day.
Bicycle on the Root River State Trail between Fountain and Houston or go tubing or paddling. Tour Amish farms or visit Historic Forestville near Preston.
For more about the area, including northeast Iowa, see our Bluff Land stories.
Last updated on June 21, 2019