One in 1,000
Somewhere in lakes country, there's a resort with your name on it. Here's how to find it.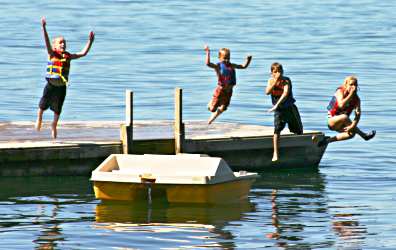 After many years of traveling around this region, I can answer nearly every travel question except one: "Can you give me the name of a good lake resort?"
I wish I could, but no. Only you know what you consider a good lake resort.
Staying at a north-woods lake resort is not like staying at a Marriott. There may be chipmunks living under your cabin, and fish that nibble your legs when you wade. Squealing children may run past your window while you're trying to read.
You may find these things alarming. For you, there are resorts with all-day children's programs, pools, and new townhouse units on manicured grounds.
Or, you may think chipmunks are cute, adore the sounds of children at play and be happy to commune with crappies. You'll probably do just fine in a classic knotty-pine cabin surrounded by trees.
Each of the resorts in Minnesota and Wisconsin is one of a kind, and you may not know if you'll click at a resort until you stay there. But there's definitely one for you — you just have to look.
And for those who remember childhood stays at cabins with ratty brown carpets and needlelike showers, there's good news: They've had a face lift.
Things have changed since the 1950s, when resort amenities rarely included more than bait and tackle, a fish-cleaning shed, docks and, perhaps, a playground for the kids.
Today, some resorts offer so many activities that guests may not find time to fish, and so many luxuries - satellite TV, whirlpools, WiFi — they won't know they've left home.
Other resorts, while mindful of modern preferences, have drawn the line.
"We still want them to feel like they're in the woods at our cabins, so we don't want them to feel like condos," says Sue Harris, who runs Eagle Nest Lodge on a bay of Minnesota's Lake Winnibigoshish.
"We'll add things to make them nicer, but we don't want them to get too nice, know what I mean?" She laughed.
Eagle Nest is one of the few 1920s fishing resorts that still cater to serious fishermen and also have a strong family atmosphere. Harris and her husband, Bryan, have installed a  playground, a water trampoline and a full-time naturalist who organizes several activities a day, such as hobo hikes and hillside tube slides.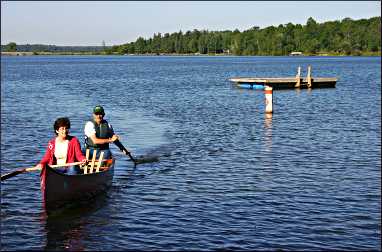 "People like feeling they can be entertained while they're here, but to tell you the truth, they don't all use those programs, either," she says. "We really emphasize the lake, the enjoyment of the woods, promoting quiet."
So do you want quiet times or tee times? Canoeing or NASCAR races?
Think about what really makes you happy — and if that means not having to cook, or getting lots of time away from the kids, be honest and go for it.
Then, follow these steps.
Pick the area that suits you
Traditional lake resorts have been disappearing fast, cut up and sold for private vacation homes. But there are still more than a thousand in the north woods of Minnesota and Wisconsin.
If you have no idea how to pick one, first narrow your search by choosing a lakes area. Each has the basics - lakes, golf courses, shopping.
Beyond that, each caters to a different kind of vacationer. It all depends on what kind of relaxing you plan to do.
For a detailed guide to Minnesota's lakes areas, see The Minnesota resort of your dreams.
For a detailed guide to Wisconsin's lakes areas, see The Wisconsin resort of your dreams.
To read about one family's ideal resort, see A week at the lake.
Decide how much you can spend
Most resorts offer the basics - housekeeping cabins, a lodge, a sandy beach, a playground and use of canoes and paddleboats.
For many families, that's all that's required for a wonderful vacation. At these resorts, expect to pay at least $1,000 for an updated, two-bedroom cabin and $2,000 for a three-bedroom in peak season.
At bigger resorts that offer all the extras - a nine-hole golf course, tennis courts, restaurants, a pool and whirlpool, supervised children's programs  — add a thousand more.
Decide when you want to go
The weather is most reliable from late June to mid-August, which is peak season and books up fastest. It's not too late to find a cabin for those times, though selection will be limited.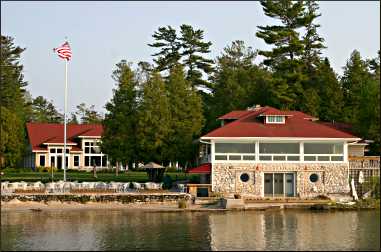 But there's plenty of room in early June or late August, and nearly every resort offers substantial discounts for those weeks.
In addition, most lake resorts offer Memorial Day and Labor Day weekend specials - often, four nights for the price of three  — and many offer 10 days for the price of seven the week before and including Labor Day.
If you do go early in the season, and you have kids, book at a resort with a heated pool.
Though a week's rental still is the standard in peak season, more and more resorts are offering partial weeks, often called "mini-vacations."
Consider the kids
If you have a toddler, pick a resort with a big, sandy beach that slopes gradually into the water. Elementary-age children enjoy resorts that offer a simple but fun daily activity, such as scavenger hunts, minnow races and sandcastle contests.
Teens will want an area where they can congregate with other teens, such as a game room or a pool. And make sure there's not a bar — nothing kills a family atmosphere faster.
Collect information
Using the Internet doesn't really save time, but it will net you a whole lot of good information.
(One tip: The word "modern" usually means only that the cabin has up-to-date plumbing, heating and appliances. The words "newly built" or "recently remodeled" are more specific.)
Get the visitors guide for your chosen region and start comparing ads and websites, which often list Internet specials.
Consult the staff at regional tourism bureaus; they can't recommend resorts, but they can give you names if you're specific about what you want.
Explore Minnesota lists more than 750 resorts "located on a lake or river," and you can select other amenities, too. For more help, contact a travel counselor online or at 888-868-7476, 651-296-5029 in the Twin Cities or internationally.
The Congress of Minnesota Resorts lists family-run, mostly smaller resorts.
Travel Wisconsin lists more than 500 resorts "on water," and you can pick other amenities, too. For help, call 800-432-8747.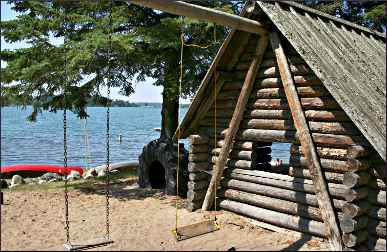 Ask questions
Once you've used the Internet to select a few possibilities, pick up the telephone !
The personality of the owners dictates the atmosphere of the resort, so you need to make personal contact.
"The more information they can give me, the more I can tell them if it's going to be a good fit," says resort owner Stacy Fay.
Ask if it's the kind of informal resort where children can run around, or if it caters more to couples who keep to themselves.
Ask if there's much drinking, or if many guests or nearby cabin owners like to use wave-runners. Ask if the beach is weedy.
Ask if there's a big family group that dominates the place during the week you're considering. If so, ask if they're friendly; striking up acquaintances that may last from year to year is one of the best parts of resort life.
Describe what you're looking for, and ask whether the owners think you'd be comfortable at their resort. If a certain resort isn't for you, nearly every owner will tell you so.
Don't hold back; chat away.
"We want people to be happy when they're here," Fay says. "That just makes our job easier."
When to reserve
You can always find a place at a good resort, even at the last minute.
But if you're looking for a cabin at a small, traditional lake resort, try to reserve up to a year in advance. At the best resorts, nearly every family reserves their cabin for the following year before they leave.
That means only a few are available. So the best time to reserve a cabin is the Monday after the week you want to go the following year.
If you'd like to bring your extended family, and you need more than one cabin, try to reserve at least two years in advance. For more, see Planning a family reunion.
Last updated on June 13, 2019