The Wisconsin resort of your dreams
Here's where to look for the perfect place on a lake.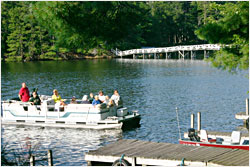 In summer, there's no better vacation than a week at the lake. Lazy afternoons on the beach, boat rides, marshmallow roasts, catching a string of sunnies — these are memories families savor for decades.
But if you don't have a family cabin, where do you go?
Wisconsin has more than 15,000 lakes, about the same number as Minnesota, plus shoreline on two Great Lakes.
Each of its lakes regions has the basics — fishing, boating, golf and shopping. Beyond that, each is geared to a different kind of vacationer.
Because of the Chicago influence, many vacation areas cater to big-city tastes, with big condo resorts and lots of amenities. But traditional mom-and-pop lake resorts are all over-it's just harder to find them.
Here's where to look for the perfect place for you.
The best-known lake-resort area in Wisconsin is Door County or, more specifically, the Door Peninsula on Lake Michigan.
Over the years, it's acquired more and more of the amenities its many big-city visitors have at home — art galleries, boutiques, bistros, wineries, theater and classical music.
They draw attention away from the water, but anyone who cares to look will find plenty of beaches and boating on the peninsula's 250 miles of shoreline.
There's plenty of waterfront lodgings and still a few classic lake resorts, including on Europe and Kangaroo lakes.
If you like a place with lots to do, or you're coming with a big group and you want something for everyone, this is your place.
In the northeast part of the state, the Minocqua area is Wisconsin's equivalent of Minnesota's Brainerd Lakes.
It's always drawn prominent guests-business tycoons, politicians, movie stars, gangsters — and it has a busy vacation atmosphere with lots to do: water-ski shows, lumberjack shows, a wildlife park, mini-golf.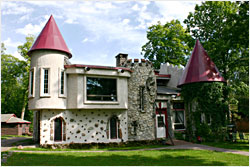 Modern condo resorts surround the town, but there are many smaller resorts on surrounding lakes, including historic Coons' Franklin Lodge, one of the last all-inclusive resorts.
Minocqua also attracts bicyclists and paddlers, who come for the chain of lakes and Bearskin State Trail.
And campers love Northern Highland-American Legion State Forest. It takes up most of the forest between Minocqua and the resort town of Boulder Junction, which wrested the title Musky Capital of the World from Hayward.
If the Minocqua area is too busy for you, head west to the Ojibwe cultural capital of Lac du Flambeau.
Or keep going north on U.S. 51 to Manitowish Waters, a sleepy little resort community that wasn't so sleepy in 1934, when the FBI tried to ambush John Dillinger and Baby Face Nelson at Little Bohemia.
It still has a few classic resorts, including Voss' Birchwood Lodge, which also figured in the debacle, part of Wisconsin's extensive gangster lore.
Keep driving, and you'll reach Mercer, famous for its giant loon and as the gateway of the pristine Turtle-Flambeau Scenic Waters Area, a wilderness area for paddlers and fishermen.
Head east from Minocqua and you'll come to Eagle River. The two areas, straddling Vilas and Oneida counties, have one of the world's densest concentrations of lakes, more than a thousand per county.
Eagle River calls itself the Snowmobiling Capital of the World and is best known for its winter sports. But it also has plenty of lake resorts and the lovely Three Eagle Trail, which links it to Three Lakes.
To the south in Oneida County, Rhinelander not only has dozens of lakes (and resorts) but also the Wisconsin River and the wilderness Willow Flowage.
In 1912, the Plum Lake Golf Club near Sayner became the first of many golf courses in the north woods.
On the other side of Wisconsin's north woods, Hayward always has been a lakes destination and drew its share of Chicago gangsters, most notably Al Capone.
It has many resorts, is known for record muskies from the Chippewa Flowage and is the nation's lumberjack capital.
Along with Cable, it's also famous for its cross-country ski culture and for its extensive network of mountain-biking trails.
To the north, Bayfield and Madeline Island are popular destinations on Lake Superior, gateway to the Apostle Islands National Lakeshore.
The woods around the small towns to the south — Solon Springs, Spooner, Siren — contain many traditional mom-and-pop resorts and a lot of bargain courses for golfers.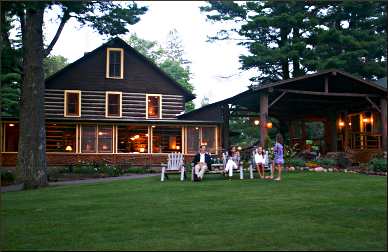 Heading south, we find bigger resorts and lots of attractions, signs of the big-city influence.
The mammoth vacation area of Wisconsin Dells is exactly halfway between the Twin Cities and Chicago, making it a very convenient place for a family reunion.
There are lots of big condo resorts, but very few with classic cabins, and it only has one lake — Lake Delton, an impoundment of the Wisconsin River.
Still, it has a few dozen waterfront lodgings. And of course, there are acres of water in pools and water parks.
From the Dells, the last glacier swung northward toward Door County, scraping out kettle lakes as it went. Green Lake is the state's deepest natural lake, and an hour to the east, Elkhart Lake is fourth-deepest.
Both towns have small but appealing villages, Green Lake with a still-operating historic opera house and Elkhart Lake with fine restaurants and Roadamerica, a world-class car-racing course.
The mom-and-pop resorts nearly are gone, but both lakes have big resorts with spas and conference centers, and Elkhart Lake still has two grand old resorts from the 1880s. And each is less than three hours from Chicago.
And what's just an hour and a half from Chicago? Lake Geneva, beloved by Wrigleys and Schwinns and nearly everyone else from that big city.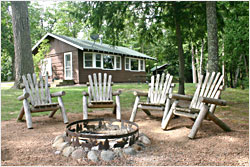 There's just one big resort on Geneva Lake and one mom-and-pop resort with cabins. But there are many other places that are walking distance to the municipal beach.
A lot of city folks would love to find a cabin in southeast Wisconsin, and once, there were quite a few lake resorts, especially on the kettle lakes around Oconomowoc and Pewaukee.
But their proximity to Milwaukee and Chicago made the land too valuable, and nearly all were sold to make way for vacation homes. Many can be rented, so if you're looking for a lake break, try renting a vacation house.
More lake resorts
If you're still looking, go to Travel Wisconsin's resort directory, which shows hundreds of lake resorts if you filter for "on water."
You also can type in an area if you have one in mind. For example, if you also type in "Hayward" and "within 25 miles," you'll get 85 resorts.
You also can choose from a menu of amenities you'd like the resort to have, including "pets welcome."
For more about historic resorts, see Classic Wisconsin lodges.
For more about choosing a lake resort, see A week at the lake.
For more about lake resorts in Minnesota, see The Minnesota resort of your dreams.
Last updated on July 13, 2021