The Minnesota resort of your dreams
Here's where to look for the perfect place on a lake.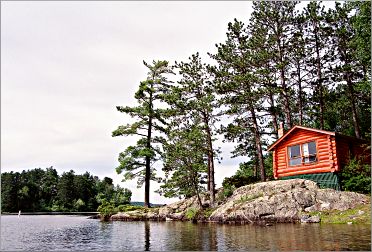 In Minnesota, it's devilishly hard to find the lake resort that's right for you.
Everyone wants the "best" resort. But asking the state tourism folks to tell you which one is best is like asking a baker to pick out his best pastry: They're all, of course, the best.
You can't ask your friends. They can tell you only which resort they go to, and that one may be too luxurious/too rustic or not kid-friendly/too family-oriented for you.
Finding your family's lakeside soul mate — that resort to which you'll return year after year, that your children will think is the best place in the world — is hard work.
It's not unlike dating; the right one is out there, but only you can find it.
For a detailed how-to guide to choosing a lake resort, see One in 1,000.
But the first thing you have to do is narrow your search and decide where you want to vacation. Each lakes region has the basics - fishing, golf, shopping — and is near bike trails and casinos. Beyond that, each is geared to a different kind of vacationer.
The best-known area in Minnesota is the Brainerd Lakes. Its grand lodges always have drawn prominent guests: gangsters, governors, business tycoons and now golfers, who come for its brand-name courses. It has the state's largest resorts, with services that appeal to affluent guests.
This is where the yachts and speedboats play, and if you don't like the buzz of personal watercraft, try to find a quiet resort on a small lake.
There still are a few mom-and-pop resorts, and the busy village of Nisswa has old-fashioned souvenir shops and turtle races. Bicyclists can hop onto the Paul Bunyan State Trail and ride all the way through Walker to Bemidji.
Just to the north, the Whitefish Chain feels tucked away but is quite affluent and very popular with boaters.
Park Rapids is the gateway to Itasca State Park and the western trailhead of the Heartland State Trail, which connects with the Paul Bunyan in Minnesota's longest trail system.
It's an old-fashioned resort town with plenty of shopping and a very nice variety of family resorts on medium-size lakes.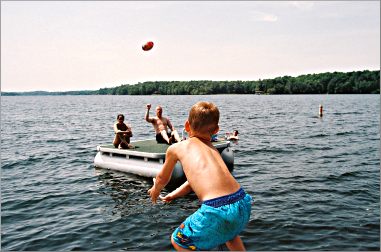 On the other end of the Heartland Trail, Walker is on the shores of Leech Lake, the state's third-largest lake. It's a longtime fishing stronghold, and the downtown is full of galleries and boutiques. Lately, it's become a fine-dining destination.
Bemidji, a college town, is just north of Itasca State Park and has a nice mix of resorts. There's a lot to do, so if you're not sure how much peace and serenity you want, this is a good destination.
In town, there's a professional summer theater, good restaurants and shops. Right on Lake Bemidji, there are resorts, a golf course, a state park with an excellent naturalist program and the northern trailhead of the Paul Bunyan State Trail.
The famous statues of Paul Bunyan and Babe, which started the giant-mascot fad in 1937, are in the town and still a required photo stop.
The Grand Rapids area is known for serious fishing and moderate-priced family resorts and is the western trailhead for the challenging Mesabi Trail. The attractions of the Iron Range are just to the east.
Just south of the Canadian border, the Voyageurs National Park area has lots of water begging to be explored by motorboat, tour boat, houseboat or canoe. Tourists who don't have their own boats can hop onto one of the national park's tour boats for a narrated excursion.
To the west, Lake of the Woods is renowned for fishing. To the east, Lake Vermilion sometimes is called the Lake Minnetonka of the North, for its 1,200-mile shoreline and many bays, but also because it has heavy boat traffic and includes the estates of many wealthy people.
It's also the home of the new Lake Vermilion-Soudan Underground Mine State Park. It has a variety of resorts and would make a good base for people who want to visit both the bear sanctuary in Orr and the wolf and bear centers in Ely.
Ely is a magnet for canoeists, being near the Boundary Waters Canoe Area Wilderness, and guests at some resorts can paddle right into the wilderness.
It's also the home of the International Wolf Center and North American Bear Center and has fine galleries and restaurants.
To the east, but linked only by obscure forest roads, the Gunflint Trail is the other big jumping-off spot for the Boundary Waters. It's lined with luxury and traditional resorts from which guests can take day trips into the BWCA.
It doesn't have a town, a golf course or a bike trail, but if you really want to get away, and maybe see a moose, this is the place to go.
The North Shore begins at the east end of the Gunflint Trail and has been Minnesota's favorite vacation spot since 1924, when the highway was built.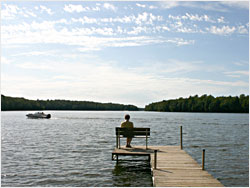 It's problematic as a place for a family lake vacation — you can't swim in the lake, and parents have to watch small children like a hawk on the rocky shoreline — but it has lots of good places to stay and the best hiking and scenery in the state.
The area around Mille Lacs is a fishing haven with traditional resorts.
Just to the west, the Cuyuna Lakes area has paddling, fishing and mountain biking around the lovely mine-pit lakes of Cuyuna Country State Recreation Area, which some call a miniature Boundary Waters. Its main town, Crosby, is known for its antiques stores.
Alexandria, right off I-94, is the big resort area that's closest to the Twin Cities. It's known for golf, speedboats and NASCAR races, and it has a variety of resorts on outlying lakes.
You won't see a lot of pine trees here on the edge of the prairie, but it has a professional summer theater, and it's on the Central Lakes Trail, part of a bicycle-trail system that stretches from Fergus Falls nearly to St. Cloud.
Otter Tail County is just to the north and has more lakes and more giant roadside mascots than any other county in Minnesota. Along with Detroit Lakes, it's known for small, traditional resorts and a rolling forest-meets-prairie terrain that lends itself to bird-watching.
The closest lakes region by distance is the Kandiyohi lakes region around Spicer. It has traditional resorts and also county-run lake campgrounds that are much like resorts.
Don't miss the Friday-night performances of the Little Crow Water Ski Team in New London, which feel like a blast from the past.
More lake resorts
If you're still looking, go to Explore Minnesota's resort directory, which shows more than 750 resorts if you check the box for "on a lake or river," and more than 550 if you also filter for "swimming beach."
You also can type in an area if you have one in mind. For example, if you also type in "Park Rapids" and "within 25 miles," you'll get 50 resorts.
You also can choose from a menu of amenities you'd like the resort to have, including "pets allowed."
For more about historic resorts, see Classic Minnesota lodges.
For more about choosing a lake resort, see A week at the lake.
For more about lake resorts in Wisconsin, see The Wisconsin resort of your dreams.
Last updated on July 13, 2021