10 splurges in Door County
If you've been pinching pennies, here are some fun ways to reward yourself.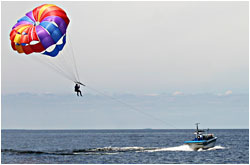 Door County isn't known as a budget destination. But this popular peninsula in Lake Michigan is like everywhere else — you can spend a lot if you want, but you don't have to.
We've already told you how to find deals on places to stay in Door County. Why did we go looking? Because sometimes, we like to do the rich man-poor man routine — that is, pinch pennies in one place so you can treat yourself in another.
And in Door County, there are so many good ways to treat yourself.
Here are 10 great ways to splurge in Wisconsin's playground.
Guided kayak tour for two on Lake Michigan or Green Bay. Tours from Door County Kayak Tours start at $69.
The most popular destinations are the caves around Whitefish Dunes State Park and Cave Point County Park on the Lake Michigan side and the bluffs around Peninsula State Park on the Green Bay side.
Half-day pontoon boat rental from Sturgeon Bay. Rentals start at $135 from Door County Boat Rental. Operators at marinas farther up the peninsula also offer pontoon rentals, but they're more expensive.
Parasailing for two from Ephraim. It's $65-$105 per person with Wisconsin Water Wings, depending on the height and length of the ride.
Half-hour sunset carriage ride for two in Ephraim. It's $55 from Mayberry's Carriage Rides. Ephraim is famous for its sunsets, and people gather each night along its waterfront.
Cooking class for two in Ellison Bay. It's $130 at the Savory Spoon, including samples of five courses. Classes have themes, such as Paris Bistro, Flavors of the World and Asian Flair.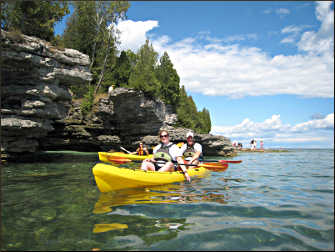 A cruise on a tall ship from Sister Bay. Two-hour sails on the 65-foot schooner Edith M. Becker are $45-$59. Wind dictates direction, either along the coast toward Ephraim or to Ellison Bay.
For more, see At sea in Door County.
Treetop canopy zipline tours. In Baileys Harbor, Lakeshore Adventures offers a five-stage ziplining tour, $69.
Off-road Segway tours. In the northern half of the peninsula, go on a ride through fields, orchards, parks and headlands with Off Road Segway Adventures, based in Sister Bay. Tours are one to two hours and cost $65-$80.
Three-course meal for two at a fancy restaurant. The Waterfront in Sister Bay and Wickman House in Ellison Bay are popular special-occasion restaurants, as is Alexander's in Fish Creek.
Cheap treats
If you can't afford a high-end splurge, you still can have a lot of fun. For nightlife, catch a first-run movie at Skyway Drive-in near Fish Creek-tickets for two are only $19.
You can tour the many wineries for little or nothing, and lighthouses for a few dollars.
Visits to all of the town and county parks and beaches are free, and you can hike and bike for nothing.
For more, see Outdoors in Door County.
Last updated on January 26, 2022