Outdoors in Door County
Beaches, bays and forests are keys to this lovely peninsula.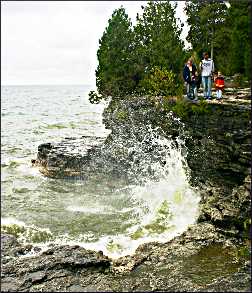 Fish boils, cherry pie, chic shops and a nonstop stream of tourists.
Yes, that's Door County, all right. But so is this:
Secluded beaches of fine white sand. Estuaries lined with herons. Hiking and bicycle trails winding through sun-dappled cedar forests.
Like Minnesota's rugged North Shore, Wisconsin's Door Peninsula was settled by hardy Scandinavian fishermen and loggers.
This shore, however, is closer to big cities, which have been sending up vacationing hordes for a century. During the summer, the hubbub can seem overwhelming.
But there are good reasons so many people come to Door County. The towns are irresistibly picturesque: Fish Creek, which has so many shops the streets are perfumed by potpourri.
Ephraim, where the waterfront is lined by old-fashioned white-frame hotels and steepled churches. Sister Bay, with its pretty waterfront park and gazebo.
Tourists taper off between Ellison Bay and Gills Rock, at the "tip of the thumb."
In Gills Rock, life revolves around Hedgehog Harbor, home of fishing boats and the ferries that take tourists to Washington Island and from there to Rock Island.
The northern end of the peninsula is less busy, with quiet forests and swimming either from placid beaches on the Green Bay side or more dramatic ones on Lake Michigan.
There are hiking trails in five state parks, and the bicycling is superb — on pastoral county roads through the interior, along the lightly traveled lake side, in Peninsula State Park and on quiet Washington Island.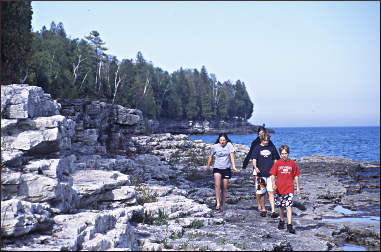 Of course, there's swimming from the many beaches, and boating from the marinas.
The evenings, too, are made to be spent outdoors — under the stars at a performance of the Northern Sky Theatre, surrounded by the pines of Peninsula State Park, or walking through the grounds of the Peninsula Players, whose murky cedar forest, strung with colored lights, looks like a set for "A Midsummer Night's Dream."
On the Door Peninsula, there are endless opportunities to revel in the great outdoors.
Parks
In addition to the state parks — Potawatomi, on the headlands of Sturgeon Bay; Whitefish Dunes, just north of Sturgeon Bay on Lake Michigan; Peninsula, on Green Bay between Fish Creek and Ephraim; Newport, Wisconsin's only designated wilderness park; and Rock Island — there are gorgeous county parks and state natural areas.
Cave Point County Park, just north of Whitefish Dunes, is the best known for its craggy, wave-splashed cliffs.
The rustic Door Bluff Headlands County Park, north of Ellison Bay, has a spectacular view of Hedgehog Harbor over Green Bay.
Ellison Bluff County Park west of Ellison Bay also has a view from the top of 100-foot limestone bluffs.
Hiking
All of the state parks have great trails. On the 3.6-mile Tower Trail in Potawatomi State Park, hike along the bay on the first part of the Ice Age National Scenic Trail.
Whitefish Dunes has trails through a variety of landforms; try the 2.4-mile Red Trail. In Peninsula State Park, the two-mile Eagle Trail follows the bluffs; add the three-mile Skyline Trail for more views.
At Rock Island State Park, hike to Pottawatomie Lighthouse and around the island on the 5.2-mile Thordarson Loop.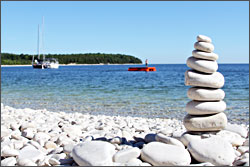 For solitude and occasional Lake Michigan views, hike the seven-mile Europe Bay Trail or three-mile Hotz loop in Newport State Park.
Near Baileys Harbor, Ridges Sanctuary has stunning trails that cross a series of sand ridges and wetland strips called swales, lined with rare wildflowers.
In the Mink River Estuary just east of Ellison Bay, Nature Conservancy trails lead into the estuary from each side. From County Road P/Mink River Road, watch for a green-and-yellow sign marking a small parking lot.
From there, it's a beautiful hour-long walk through a corridor of cedar and along a forest floor turned bright yellow by the fall leaves of ferns and baby maples.
There are also 28 state natural areas in Door County, which are maintained by the parks but have no services besides trails.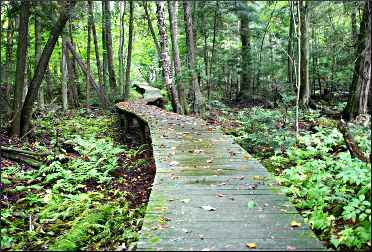 Near Ridges Sanctuary off Ridges Road in Baileys Harbor, across from the house with fire number 1981, a short drive leads to the trails of Toft Point Natural Area, where the family of environmentalist Emma Toft once ran a fishing camp.
One of the best hikes for a drizzly (or very hot) day is Logan Creek south of Jacksonport, where a canopy of cedar, hemlock and balsam fir protects hikers on two miles of trails. They're beautiful, with long, winding boardwalks that cross hummocky areas.
These trails are owned by Ridges Sanctuary, which charges a trail fee that also is good for the preserve itself in Baileys Harbor. From Jacksonport, take Wisconsin 57 2½ miles south to Loritz Road and go a quarter mile south. The natural area is on the west side of Clark Lake.
Bicycling
The Door is made for bicycling. For a short trip, ride the 9½-mile Sunset Trail through Peninsula State Park.
For a lovely 36-mile sightseeing tour, ride from Ephraim on County Road Q across the peninsula to Cana Island Lighthouse and Ridges Sanctuary near Baileys Harbor, then back on County Road F to Fish Creek and through Peninsula State Park and past Eagle Bluff Lighthouse to Ephraim.
For a 25-mile ride that takes in the best sights of the "tip of the thumb," start in Ellison Bay and take Garrett Bay Road to Hedgehog Harbor, just short of Porte des Morts, or Death's Door.
Cottage Road leads to Gills Rock and joins Wisconsin 42, which ends at the ferry landing in Northport. From there, Porte des Morts Road leads to Park Lane, which leads to Weborg Park, a tiny park atop a rocky beach that's fun to explore.
Heading west, take Park Drive to Timberline Drive and south to Europe Bay Road.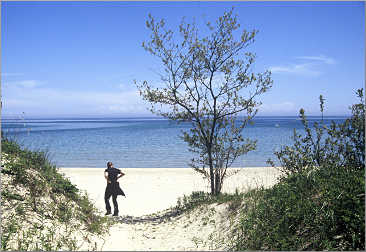 From there, a bicyclist has three options: east to Europe Bay beach, south on Newport Drive to the east trailhead leading to the Mink River or west to Wisconsin 42, in which case you'll turn right on Badger Road, left on Birchwood Road and return to Ellison Bay on Garrett Bay Road.
Swimming
It's best in late summer, when Lake Michigan warms up. Try the long, pine-fringed crescent of Europe Bay at Newport State Park.
There are beautiful beaches at Rock Island State Park, and if you like to camp, that's the place to be.
There are also nice beaches at the town parks in Egg Harbor, Fish Creek, Ephraim, Sister Bay and Ellison Bay.
Peninsula State Park has a sand beach on Nicolet Bay with a snack bar, kayak rentals, playground and volleyball nets.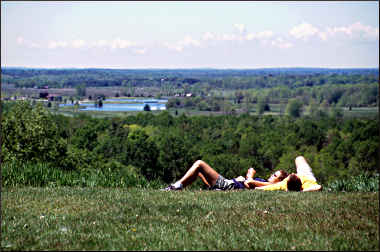 On the Lake Michigan side, Whitefish Dunes has colder water but plenty of sand and nature trails.
Kayaking
One of the best paddling tours is through the Mink River Estuary, a Nature Conservancy preserve. It's one of the most pristine freshwater estuaries in the nation, and its marshy shores are lined by herons and egrets.
Door County Adventure Center rents kayaks and offers kayak tours from Rowleys Bay Resort, southeast of Ellison Bay on the Lake Michigan side.
For paddling on Green Bay, it also rents kayaks in Egg Harbor. In Ephraim, Bay Shore Outdoors Store rents kayaks and offers daily guided kayak tours around the peninsula.
Trip Tips: Outdoors in Door County
When to go: In late May and early June, see the rare wildflowers at Ridges Sanctuary near Baileys Harbor and at the 28 state natural areas in Door County.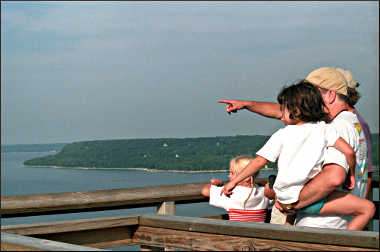 For more, see Spring in Door County.
July, the first three weeks of August and October weekends are hectic. Reserve far in advance.
Hotel rates start to go down in mid-August, and weekdays in September and October are very pleasant and not too busy.
For more, see Fall in Door County.
Accommodations: For a list, see Where to stay in Door County.
Camping: Newport State Park, Wisconsin's only wilderness park, has some rustic sites that are walk-in but gorgeous: Backpack Sites 14 and 16, on Lake Michigan and a stone's throw from Europe Lake.
For more conventional camping, try Peninsula State Park, where sites are the state's most coveted.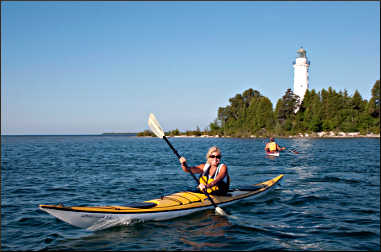 The park is almost like a resort; it includes beaches, bicycle trails, a professional theater and a golf course, and it's adjacent to shopping and restaurants in Fish Creek and Ephraim.
The cost of a daily vehicle permit here is higher than in other state parks: $10 for residents, $13 non-residents. However, you can visit more than one park with it.
In Sturgeon Bay, Potawatomi State Park on Green Bay also is a good place to camp.
For more about Sturgeon Bay, see The door to Door County.
Rock Island State Park has campsites on lovely beaches, but access requires two ferry crossings.
For more about Rock Island, see Wisconsin's Icelandic outpost.
As at all Wisconsin state-park sites, sites can be reserved up to 11 months in advance at 888-947-2757.
Nightlife: Northern Sky Theater performs in an amphitheater in Peninsula State Park in summer and at the indoor Gould Theater.
Peninsula Players perform in a theater on the shores of Green Bay near Fish Creek.
For more, see Arts in Door County.
Last updated on July 13, 2021