Sister Bay in Door County
Near the top of the peninsula, this town snares tourists with its beautiful beach and marina.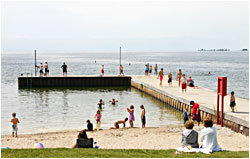 Sister Bay is all about the water. And Swedish pancakes. And goats.
It's a tourist town, with one of its biggest draws the goats grazing on the roof of Al Johnson's Swedish Restaurant, placed there after a 1969 National Geographic story drew a flood of vacationers.
But Sister Bay also is where the locals go, because not only can you get ice cream and T-shirts there, but also groceries and socks.
Tourist towns to the south — Egg Harbor, Fish Creek, Ephraim — have peeled off most travelers by the time the highway reaches Sister Bay. To the north and east lie vestiges of the old-time Door, in Gills Rock and Rowleys Bay.
Sister Bay is the last real town, and the one that gives visitors the best reasons to hang out on the water.
Some tourists don't notice that Door County is made up of a series of towns. It  can be hard to tell, especially on the Green Bay side of the peninsula, because of the non-stop stream of ice-cream parlors, wineries and gift shops.
All of the towns also have lovely beaches and parks. But each town has a different personality, and each has attractions that set it apart from the others.
So . . . what makes Sister Bay special?
The goats
Like it or not, Sister Bay has become known as "that place with goats on the roof." Of course, there's a story.
It seems that the late Al Johnson, who founded his restaurant in 1948, could appreciate a good gag gift. He got one every year on his birthday from his friend Wink Larson, and one year it was a goat.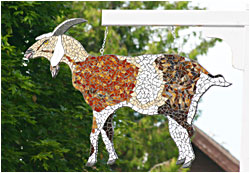 Oscar the goat went up on the restaurant's sod roof in 1973, tourists loved him, and the rest is history. Now, there's a goat cam so visitors can follow the real goats, and art goats that hang from signposts in summer.
In June, there's a Goat Parade. It ends with a festival next to the restaurant, featuring music, games and a Swedish pancake-eating contest.
The waterfront
Sister Bay's Waterfront Park is the largest public waterfront in Door County, with 600 feet of sand beach plus a playground, swimming/fishing pier and performance stage. There's also plenty of grassy lawn for families to spread out on.
You can rent sit-on kayaks and paddleboards in the park from Bay Shore Outfitters, whose store is along the highway, and get lessons, too.
The marina
Next to the beach, you can buy tickets for a cruise on a schooner or launch. The two-masted schooner Edith M. Becker offers two-hour daily sails, and Shoreline Scenic Cruises offers sunset excursions and daily trips south toward Ephraim and north toward Ellison Bay.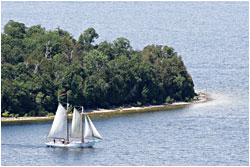 You can also rent pontoon boats, speed boats and jet skis to ride around the bay and the Sister Islands, for which the town was named.
The supermarket
Not every tourist can afford to eat out for every meal. If you're one of them, you'll find the peninsula's largest grocery store, a Piggly Wiggly, up the hill from the main drag (turn just before you enter town from the south).
There are a lot of other shops in the adjacent Country Walk complex. Some are aimed at tourists and some are for locals.
Sister Bay was the first town on the peninsula to install water and sewer, cementing its status as a place for year-round residents. The town also has the largest library.
The farm market
Just north of town, Seaquist's Orchard is one of the largest in Door County, and its Farm Market overflows with baked goods, jams, juices, sauces and a lot of free samples.
You'll find freshly made doughnuts, cherry cider coolers, berry pies, chocolate cherry bars and jars of chocolate amaretto sauce with cherries and pecans. Bring a cooler, if you want to take some home.
Seaquist's holds a Cherry Festival on the last Saturday in July and Apple Festival on the second Saturday in October.
It's especially fun to visit in fall, when there's a hay-bale maze and a festival atmosphere.
The off-road Segway tours
Most Segway tours poke along on flat, paved city sidewalks that anyone could walk or bike on any time.
Not Off Road Segway Adventures. Their guides take customers on a narrated tour through the fields, orchards, parks and headlands around Sister Bay, complete with hills and wildlife.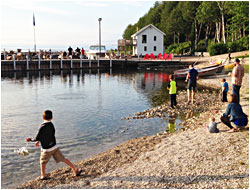 Trip Tips: Sister Bay in Door County
Getting there: It adjoins Ephraim on the south and is 80 miles from Green Bay.
2023 events: Aug. 12, Door County Festival of Fine Arts. Labor Day weekend, Marina Fest. Oct. 13-15, Fall Fest. Nov. 24-26 and Dec. 1-3 and 8-10, Door County Christkindlmarkt.
From late June through Labor Day, free concerts are held at the Waterfront Park stage at 6 p.m. Wednesdays, and movies at dusk on some Sundays.
Accommodations: The new Dörr Hotel features contemporary design in the heart of the village.
Scandinavian Lodge is an attractive three-story condo resort on Highway 57, a half-mile from downtown, and includes indoor-outdoor pools and tennis courts. Guests have use of mountain bikes.
On the south side of town, the beautifully landscaped Village View Motel is close to everything and a budget option. The Sister Bay Inn (formerly the Voyager Inn), half a mile from the junction of 42 and 57, has a pretty back yard and a lot of amenities.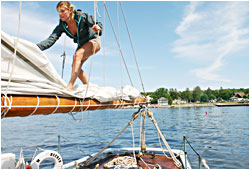 Church Hill Inn and Birchwood Lodge are on the hill above downtown. East of downtown, Pheasant Park Resort has suites with kitchens. Coachlite Inn is on the highway south of town.
On the north end of town, Liberty Lodge has a classic look and modern rooms.
For details, see Where to stay in Door County.
Dining: In winter, some restaurants are closed or have limited hours; check in advance.
Downtown, Chop serves steak and seafood and has a patio. It's closed Sundays except on holiday weekends.
Also downtown, Grasse's Grill specializes in fresh food from local vendors, including sandwiches, salads and homemade desserts.
Across the road from the town information center, Lure specializes in seafood and has a garden patio with waterfall.
On the north end of downtown, facing the bay, the Waterfront is a long-time favorite for special occasions. The menu changes nightly and includes fish, steak, lamb and pasta.
Information: Sister Bay tourism, 920-854-2812.
For more about the area, see Door County 101.
For more about other towns, see Egg Harbor, Fish Creek and Baileys Harbor stories.
Last updated on January 20, 2022