Road trip: Seeking covered bridges
Some are old and some are new, but they all inspire nostalgia for the past.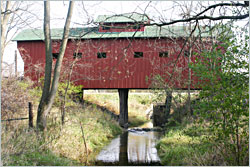 The more hectic life becomes, the more we love covered bridges.
They evoke a powerful sense of nostalgia for slower-paced times. Literally slower: On Minnesota's last span, a sign reads, "$10 Fine for Driving Faster Than a Walk Across This Bridge."
Only a few original bridges remain, but others have been reconstructed or built from scratch, often from salvaged timber. Many of the new covered bridges are over bicycle trails.
Why were bridges covered? Generally, because roofs protected wooden decking from the elements.
But they also were used in areas where farmers needed to drive cattle across the bridge: Cattle were more willing to enter a bridge that looked like a barn door than a flat, open-air bridge.
Seeking out covered bridges makes a fun excursion on a weekend. Here's where to find them.
Wisconsin
Wisconsin once had more than 40 covered bridges, but the lattice-truss bridge on the north edge of Cedarburg, just north of Milwaukee, is the only one that remains. It was built in 1876 and spans Cedar Creek.
The local arts guild holds a Covered Bridge Studio Tour the second weekend in October, with more than 50 artists in the area opening their studios.
Fifteen miles east of Fifield, deep in the north woods, the Smith Rapids Covered Bridge spans the South Fork of the Flambeau River just off Wisconsin 70 on 13-mile Rustic Road 105.
It was built in 1991 in the style patented by architect Ithiel Town in 1820 and 1835 as Town's lattice truss. There's a campground on one end.
Five miles southwest of Fort Atkinson, a very pretty covered bridge that features a roof with a caboose-style cupola spans a tiny creek that flows from the southeast corner of Lake Koshkonong.
It was built in 2000 with century-old barn timbers, mostly for the benefit of bicyclists on the Glacial River Trail, which parallels Wisconsin 26. Like many covered bridges, it's popular as a photography spot for wedding parties.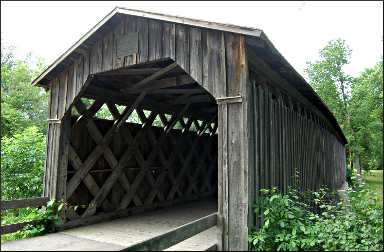 Three miles north of Brodhead in southern Wisconsin, a replica of the Clarence covered bridge was built over Norwegian Creek on the Sugar River State Trail in 1984.
The original crossed the Sugar River two miles south of Brodhead, which celebrates Covered Bridge Days in early August.
In Elroy, an open lattice truss bridge crosses the Baraboo River at the end of the Omaha Trail. It was built for the state's sesquicentennial in 1998.
Not far from Lake Michigan, the town of Mishicot had a 1925 concrete bridge over the East Twin River. But in 1995, when the DOT said its Rockway Bridge no longer was safe for traffic, it turned it into a covered walking bridge.
Pedestrians have other pretty little bridges. Waterfall-watchers will find one over the Amnicon River in Amnicon Falls State Park in the northwest corner of the state, and bird-watchers have one in the Kickapoo Valley Reserve near La Farge.
There's also a privately owned covered bridge across the Crystal River near Waupaca, along County Road K in Little Hope.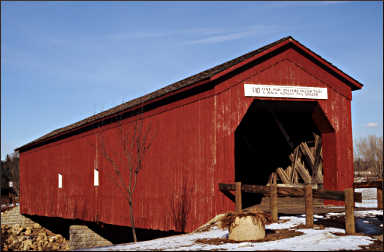 Minnesota
The only remaining covered bridge in Minnesota spans the Zumbro River in Zumbrota, between Cannon Falls and Rochester off U.S. 52. Finished in 1873, it uses Ithiel Town's patented lattice truss pattern.
The sign at the entrance reads "$10 Fine for Driving Faster Than a Walk Across This Bridge."
It's now part of Covered Bridge Park, and children like to sled from it down a hill. Here's a charming YouTube video about the bridge, built because locals were "trying to create a little bit of New England out here in Minnesota."
Two covered bridges have been built for bicyclists. In central Minnesota, a 12-mile spur of the Lake Wobegon Trail heads north to Holdingford, where a bridge crosses the Two Rivers River.
Holdingford, which built the bridge in 2008, now calls itself "Gateway to Lake Wobegon."
And south of Red Wing, there's a small bridge crossing Hay Creek on the Goodhue Pioneer State Trail, which eventually will connect Red Wing to Zumbrota and its covered bridge.
Iowa
The covered bridges of Madison County, half an hour southwest of Des Moines, were immortalized in Robert James Waller's novel "The Bridges of Madison County" and the film of the same name.
The county county once had 19 bridges, but just six remain. Five are original and were built between 1870 and 1884. The 1883 Cedar Bridge was destroyed by an arsonist in 2002 and replaced, but it was hit again by an arsonist in 2017.
Winterset, the county seat, holds the Madison County Covered Bridge Festival in mid-October. Festivities include guided bus tours of the bridges.
Visitors also can see the bridges on their own or with a step-on guide, $50 for a two-hour tour.
Northern Illinois
North of Princeton on the the Illinois River Road National Scenic Byway, the 1863 Red Covered Bridge over Big Bureau Creek is one of five original covered bridges in Illinois.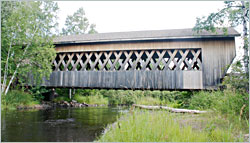 On this bridge, a sign on each end reads, "Five dollars fine . . . for leading any beast faster than a walk on or across this bridge."
The bridge is in City County Park on Illinois 26, just north of I-80.
A mile west of Princeton, the Captain Swift Covered Bridge over Big Bureau Creek was built of wood in 2006. It's open to traffic and is the only two-lane covered bridge in Illinois.
Ninety miles to the southwest, the Wolf Covered Bridge is 15 miles southeast of Galesburg, just east of the tiny hamlet of Gilson. The 1874 bridge was destroyed by fire in 1994 and replaced in 1999.
The bridge is a stop on the Knox County Scenic Drive, held the first two full weekends of October.
Thirty miles west of Galesburg, the 1866 Oquawka Wagon Bridge is along the Mississippi River two miles south of Oquawka. It was washed away by a flood in 1982, but reconstructed with most of its original timbers.
Two bridges are in south-central Illinois. The 1880 Sugar Creek Covered Bridge is just south of Springfield, off historic Route 66. South of Shelbyville, the 1868 Thompson Mill Covered Bridge crosses the Kaskaskia River.
Across the Mississippi River from Ste. Genevieve, Mo., the Mary's River Covered Bridge was built in 1854 in the bluffs east of Chester.
Western Michigan
On the 34½-mile Kal-Haven Trail from Kalamazoo, there's a covered bridge near the western trailhead, in South Haven.
Last updated on February 10, 2022