Where to stay in Door County
This tourist playground has a dizzying array of resorts, cottages, motels and inns — everything but chains.everything but chains.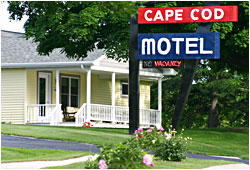 If you think it's expensive to stay in Wisconsin's Door County, you haven't looked very hard.
In early June, rates can be low, cheaper than a Super 8. And even on weekends in July and August, you can find something not too expensive if you book in advance.
The Door Peninsula's breezy beaches are the place to be when the rest of the region is sweltering. During one early June heat wave, temperatures there were 20 to 40 degrees lower, and lodging rates were low, too — I got three motel nights for the price of two.
That was a great value, but so was the campsite surrounded by cedars and the condo-resort studio with fireplace, whirlpool and balcony.
Many would-be visitors to Door County are overwhelmed by the choices, and no wonder. There are no Marriotts, but dozens of family-run motels. There are dozens more condo complexes and B&Bs, but only a few traditional lake resorts.
Because there are so many places to stay, proprietors are acutely aware that if their lodgings don't measure up, tourists will go elsewhere.
This ensures a high level of professionalism on the peninsula, including in the small mom-and-pop motels in which many people hesitate to stay in elsewhere.
Of the 32 lodgings I toured on a June trip, 31 were perfectly pleasant (and the other had just changed managers).
The little motels seemed a particularly good deal; all of the ones I saw had clean, tidy rooms on grounds that almost always featured shade trees, hanging baskets of flowers and beds of perennials.
Here's a guide to finding a great place to stay in Door County.
But first, a guide to help you decide where to stay — Egg Harbor, Fish Creek, Sister Bay, Baileys Harbor? Each village has a different character, and it's fun to visit them all.
You don't want to spend all your time getting in and out of the car, so try to stay where you can walk or bike to shops, restaurants and beaches.
For details, see Door County 101.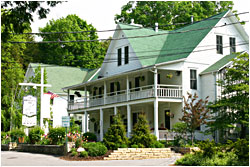 When to go
The waters of Lake Michigan keep the peninsula cooler than the rest of Wisconsin in spring and early summer and warmer in fall.
You can get great lodging rates in May and the first two weeks of June, when the lilacs are blooming but there's not much going on.
In July and the first half of August, every village has free outdoor concerts, and there's a lot going on — festivals, naturalist hikes, plays, tours. Lodging rates are highest then, and generally the same midweek as on weekends.
Rates start to go down the third week of August, when schoolchildren have to return home. In September, which most locals think is the best month in Door County, the weather is good but the crowds are gone.
The first three weekends of October are very crowded, with Ephraim's Townline Art Fair, Egg Harbor's Pumpkin Patch Festival and Sister Bay's Fall Festival.
If you don't care about catching a festival, midweek is a good time to come in fall.
For more, see Spring in Door County, Fall in Door County and Outdoors in Door County.
Looking for a room
From home, look over websites and call owners if you have questions.
When you're in the area and you see a place you like, stop and look it over — the staff will be happy to let you see a room if one is vacant.
Lodgings on the water and with views of water cost most. If you want to save money, remember that you can stay off the water but spend your days at the many public beaches and waterfront parks. There are also many public tennis courts.
Reserving
If you can go in May, June, late August or September, especially midweek, check websites for an inn that offers a good deal. Some inns are good values in some time periods but not as good in others. Room tax adds 5.5 percent.
Except for holiday and high-season weekends and the first three weekends in October, you can arrive without a reservation and ask for help at visitor centers. However, it's not a good idea, beecause you may not get the type of lodgings or the price you want.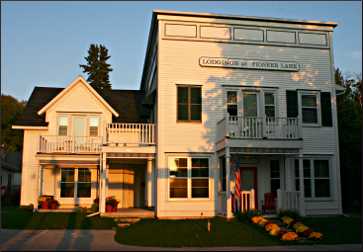 It's always best to reserve in advance — by phone, if you're picky or demanding. Owners don't want unhappy guests and will tell you if their place isn't right for you.
Below are the lodgings I visited that offer a good value and/or are among the few available of their type.
Of course, these are only a small fraction of the places available. There's a particularly large supply of newer condo resorts, which tend to have a fairly generic upscale decor and standard set of amenities.
You'll find more good places to stay listed at the Door County tourism site, which allows you to search by town as well as type of lodging desired.
It also shows lodgings where pets are allowed and rooms are available for the disabled.
Mom-and-pop motels
Nearly every Door County motel room offers cable, a refrigerator and a pair of chairs on a shaded walkway; many also have a microwave and offer morning coffee and sweet rolls.
Some rooms have WiFi, flat-screen TVs and private balconies or patios. Decor may be a little dated, but most proprietors continually are updating their rooms to appeal to modern tastes. If you like, you can ask for a room that's been recently renovated.
Like B&Bs, they have the advantage of being operated by their owners.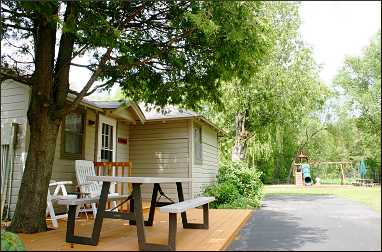 Village View Motel in Sister Bay. This motel, tucked into the foot of the bluff on the south end of downtown, is close to everything and beautifully landscaped and maintained.
The second-floor rooms in the century-old building facing Highway 42 are cheapest but also most exposed to weekend noise from nearby bars. But there are also rooms in five other buildings, including the cottage-like 14, which has a wrap-around deck.
Julie's Park Café & Motel in Fish Creek. This friendly motel has an excellent location on the road to Peninsula State Park, across from a wood-fired pizzeria and bicycle rental and next to a frozen-custard shop.
It also has its own very good restaurant with interior murals and outdoor deck, and it accepts pets at a daily rate of $15.
Main Street Motel in Fish Creek. Each room in this quiet two-story motel, downtown but between two churches and a park, is lovingly decorated by theme — Hydrangea, Rooster, Lighthouse.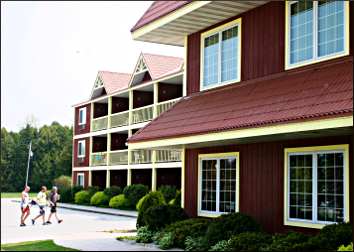 By-the-Bay Motel in Fish Creek. This two-story motel is across the road from the town beach. Rooms 12 and 13 have private balconies as well as water views.
Lull-Abi Motel in Egg Harbor. This two-story motel on Highway 42 is a short walk from downtown and has a large and pretty back yard that includes grills and a gazebo with hot tub.
Several second-floor rooms have private balconies and water views. There are also suites and a two-bedroom apartment with full kitchen.
Ephraim Motel in Ephraim. This quiet, well-kept two-story motel on the hill between Ephraim and Sister Bay has an outdoor pool, grills and a playground on its roomy grounds.
Cedar Court Inn in Fish Creek. This quiet inn, between the busy main street and the waterfront, has rooms in a one-story motel and fancier rooms with gas fireplaces and whirlpools in the adjoining two-story white-frame inn.
In back, it has a sunny lawn and nice pool. It also rents two cottages.
Sister Bay Inn near Sister Bay. The former Voyager Inn, on the highway half a mile from the junction of 42 and 57, has a very pretty back yard and a lot of amenities, including an outdoor hot tub and pool and guest kitchen in a common room with wood-burning fireplace.
Pay a little extra for a room in the two-story back building, which includes private balconies.
Liberty Park Lodge in Sister Bay. This two-story motel on the north end of Sister Bay, built in 1898 as a rooming house, has a Victorian gazebo, wrap-around porches and old-time feel. Rooms are modern, with gas fireplaces, whirlpools and jewel-tone decor.
In the common area, there's a wood-burning fireplace and pool and pingpong tables. Get the second-story water-view rooms if you don't like people walking by your window.
Hillside Inn in Ellison Bay. This 1969 motel, on the south side of town, is across from the town park, which has tennis courts, playground and a small beach.
Parkside Inn in Ellison Bay. This two-story motel is across from the town park and has a shaded front yard.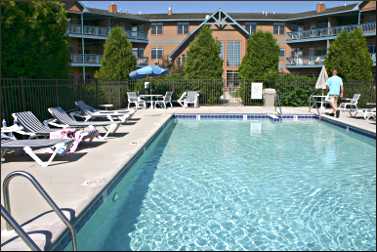 Motels on the water
Shoreline Resort in Gills Rock. At the end of the peninsula, this two-story motel has rooms with private balconies right on the water, and there's a good restaurant next door. There's also a lovely new condo building, but those rooms don't have direct water views.
Egg Harbor Lodge in Egg Harbor. This three-story motel is on a hillside, not on the water, but all the rooms have private balconies or patios with excellent views of the bay.
There's an outdoor pool and tennis courts, too. It's north of town but walking distance from shops.
Mid-size inns and resorts
Village Green Lodge in Ephraim. This quiet two-story inn, half a block from the waterfront, has a nice outdoor pool and WiFi. Owner Sue Sherman is renowned for her hot breakfasts, which are served buffet-style. Some rooms overlook the pool, and others the woods.
Bay Breeze Resort in Ephraim. This two-story resort just south of downtown is across the road from the town beach and also has its own small beach with log swing.
Rooms face an outdoor hot tub and pool. Some rooms have whirlpools and gas fireplaces, and there are also two rental homes.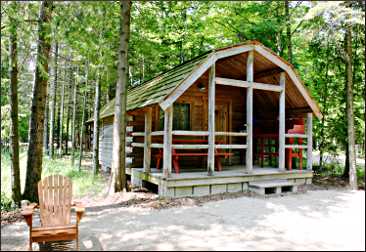 Scandinavian Lodge in Sister Bay. This attractive three-story condo resort on Highway 57 is a half-mile from downtown, but it has a lot of amenities for the price. They include indoor-outdoor pools, sauna, tennis courts, a playground and rooms with gas fireplaces and whirlpools. Guests have use of mountain bikes.
Classic lake resorts
Gordon Lodge near Baileys Harbor.
This stylish full-service resort, once the estate of a Sturgeon Bay physician, occupies a point on Lake Michigan's North Bay, halfway between Baileys Harbor and Ephraim/Sister Bay.
If you like the "Mad Men" look, you'll love the elegant retro decor of the newly refurbished 1961 lodge rooms, each with private patio facing the lake. On the bay side, atop lichen-covered rock, 1940s cottages have wood-burning fireplaces and a similar retro style. They're reserved for adults.
Cottages with a more modern decor are on the lake side. There's a sand beach, plus outdoor pool and hot tub. Kayaks and bicycles are available for guests.
A hot breakfast is served in the equally stylish new Gordon House. On the top story of the 1930s stone boathouse, a restaurant with water views is open to the public.
Rowleys Bay Resort near Ellison Bay.
This resort, formerly called the Wagon Trail, is on a protected bay on Lake Michigan and also the mouth of the Mink River, an estuary prized by kayakers and bird-watchers.
Get a water-view balcony room in the lodge, which includes an indoor pool and game room. It also rents cottages and homes. From the resort, Door County Adventure Center offers kayak tours.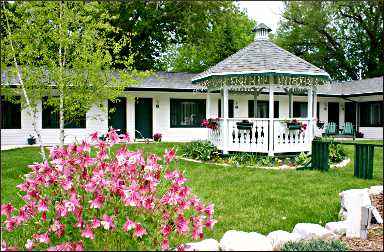 The resort has a restaurant with water views and is famous for its Grandma's Swedish Bakery. It holds traditional boils on Monday and Saturday nights, and guests also can eat from the restaurant's regular buffet.
Alpine Resort in Egg Harbor. This resort just south of Egg Harbor, down the road from the town beach, was founded by Swiss-born brothers in 1921 and is run by the second, third and fourth generations of Bertschingers.
In July and August, the sprawling lodge holds nightly entertainment reminiscent of Catskills resorts as shown in the movie "Dirty Dancing." Its Hof restaurant is open to the public.
The Alpine is for social people who enjoy a vintage atmosphere. Lodge rooms are old-fashioned, and there are also guesthouses and rows of cottages named after states. It has a 36-hole golf course nearby.
Cottage resorts
Most small resorts rent by the week in the peak season.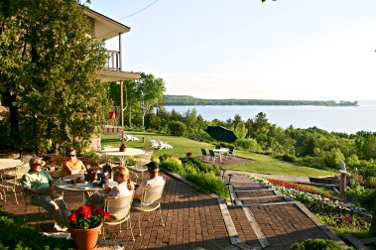 Robin's Nest Cottages in Fish Creek. This small resort just north of downtown backs onto the creek and state park. The grounds are beautifully maintained, with a playground and volleyball and badminton nets.
The seven cabins, all with small decks, must be rented together.
Bailey's Sunset Motel & Cottages in Baileys Harbor. This inn occupies seven acres on Highway 57, a mile north of Baileys Harbor. It allows pets for an additional $10 per day and has a playground and large back yard.
The one-bedroom cabin is especially nice, with small flat-screen TV and DVD player and electric fireplace. There's also a motel that includes an economical small room. Wood is included for fire pits.
Cottage resorts on the water
Edgewater Cottages in Fish Creek. These seven white-frame cottages also are on the waterfront, along a lawn that runs to the water. Numbers 5 and 1 have windows facing the lake.
Travel Wisconsin recommends even more cottages.
B&B inns
B&Bs don't offer as many pricing tiers as motels and resorts, so generally, they're not as good a deal on weekdays or the shoulder seasons of late spring and late fall. In peak season, however, rates are competitive.
In the off season, check websites for specials, such as a third night free or dinner with a stay of two nights.
The inns below have especially fine locations, but many others are available.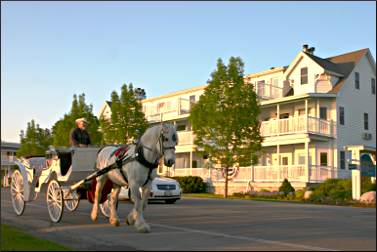 Blacksmith Inn in Baileys Harbor.
This classy inn on the water, near Ridges Sanctuary, has 15 rooms in two buildings, each with whirlpool, fireplace and balcony with harbor views.
It has its own beach, and use of kayaks and bicycles is included. It also rents a house across the street.
White Gull Inn in Fish Creek. This luxury B&B, an inn since 1896, is on the quiet side of downtown, across from cedar forest and half a block from the bay.
It also rents two cottages, two houses and rooms in two other houses. It holds traditional fish boils on Wednesdays and Fridays through Sundays from May through October.
Thorp House Inn and Cottages in Fish Creek. This B&B on the quiet hillside above Fish Creek's main drag, built in 1902 by the town founder, is a classic Victorian. Five rooms, three with fireplaces and/or whirlpools, are filled with antiques.
It has a very pleasant front porch with wicker furniture. It also rents two cottages on its grounds and apartments in a modern beach house.
Church Hill Inn in Sister Bay.
This English-themed B&B, on the hillside above downtown and next to a shopping area, offers very attractive rooms, many with fireplaces and whirlpools. There's an outdoor pool and courtyard.
Microwaves and fridges are in the common area. Rooms have private balconies, although views are of the highway, rooflines or suburban-style homes. The inn often offers especially good deals in the shoulder seasons.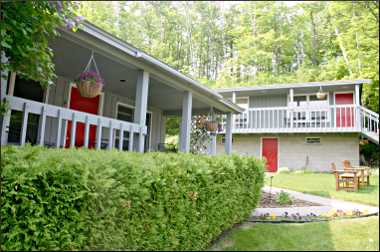 Campgrounds
Wagon Trail Campground near Rowleys Bay. This campground, a short walk from Rowleys Bay Resort on Lake Michigan, has beautiful campsites ringed with tall cedars, plus six yurts, four pretty camper cabins and 10 extra-wooded tent sites.
There are two bathhouses, and nature-loving owners Cheri Ault and Dick Bartlett make sure guests know about the quiet policy. There's also a store, playground and playing field.
State parks: The four state parks also have camping. Newport State Park, Wisconsin's only wilderness park, has some rustic sites that are walk-in but gorgeous: Backpack Sites 14 and 16, on Lake Michigan and a stone's throw from Europe Lake.
For more conventional camping, try Peninsula State Park, where sites are the state's most coveted, or Potawatomi State Park in Sturgeon Bay.
Rock Island State Park has campsites on lovely beaches, but access requires two ferry crossings. For more, see Wisconsin's Icelandic outpost.
As at all Wisconsin state-park sites, sites can be reserved up to 11 months in advance.
Cottages
The Door County tourism site lists cottages and houses. Rent Door County also lists cottages, as do Airbnb, VRBO, HomeAway and other listing services.
Last updated on February 3, 2022