Now they're cooking
On weekend getaways, amateur chefs can test their mettle in the kitchen.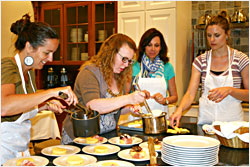 If you think you're a pretty good cook, just take a class at a cooking school and see how fast you change your mind.
When I showed up at L'ecole de la Maison at the Osthoff Resort, 18 detailed recipes were awaiting our group of eight students.
Everything had to be made from scratch: sheets of pasta and two sauces for the seafood rotolo, rolled cheese crisps for the salad, ladyfingers for the tiramisu. The ciabatta bread, too.
Who cooks like this? Restaurant chefs, like our hard-working teacher, Scott Baker. We were agog with admiration.
"I'm never going to complain about expensive restaurants again," one student said. "It's so time-consuming."
We tried to work fast, but we kept bumping up against unfamiliar terms and techniques.
I didn't know how to make a parsley chiffonade, or that you're supposed to wash each layer of a leek.
It took me ages to carve the membrane off blood-orange segments. I forgot to put chopped onion into the osso buco broth, and it turned out that I'd been using my beloved garlic press all wrong.
Drain the ricotta, sweat the leeks, blanch the pasta — it was like a ballet, an endless succession of small steps, and Baker was our Baryshnikov, graceful and focused but never hurried.
Four hours later, having grated piles of Parmesan and mounds of onions, leeks, shallots and garlic, we sat down to an insanely rich five-course Italian meal.
Making it was intense, but a lot of fun.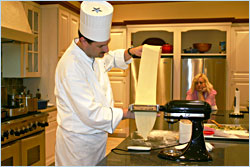 "I loved to cook until I had kids," said another student. "Then I had to cook, and it took all of the happiness out of it."
At the Osthoff in Elkhart Lake, Wis., classes are participation (and how!), as opposed to demonstration.
"I've been to a lot of demonstrations, and I think I'll retain everything, but I don't," Baker said. "You don't learn as much."
But many people prefer demonstration classes, which involve more entertainment than elbow grease.
"The most relaxing thing is to watch some other chef work really hard while you sit and watch with a glass of wine," says chef Stephen Larson, a longtime chef in Minnesota bluff country.
Larson, with his assistant/wife, "the beautiful and talented Lisa" Flicker, offers cooking classes that are part magic show, part chemistry lab and part comedy routine.
"We instill the confidence that our guests can go home and do it themselves," Larson says.
"Demonstration is a lot more user-friendly, especially for the guys. We're seeing more retired guys, and in general, the wife has to drag the guy to class. So we say, 'No, you don't have to do anything.' "
In participation classes, students prepare the dishes and the chefs circulate among them, offering help with techniques.
In our class at the Osthoff, Baker made the pasta, though one student tried (and failed) to feed it through the roller properly, and he let us roll it for boiling (the same student rolled cheesecloth into it, but another student caught her before it was too late).
In shorter classes, students break into groups and may get to prepare only one of the meal's dishes, but in longer classes, like our 4½-hour Northern Italian Trattoria class, students can have a hand in all of them.
For many people, cooking classes are entertainment, one more fun thing to do on a weekend getaway.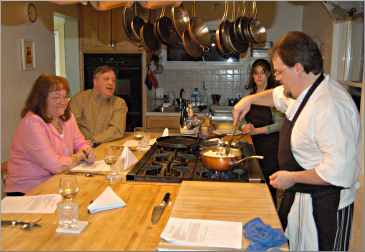 At the sprawling Osthoff Resort in Elkhart Lake, guests can learn to make cream puffs in the morning, then get a massage or facial at the resort's spa.
Some B&Bs offer occasional classes, and many kitchen store and restaurant offer them.
There are lots of ways to have fun on a weekend getaway. But when you take a cooking class, you know you'll eat well, too.
Trip Tips: Cooking-class getaways
If you can't afford to take a cooking class at a resort, plan your own getaway centered around a class at one of the many schools and restaurants in the region. Below are some of the schools in fun tourist areas.
If you're thinking about taking a class, get on the school's mailing list so you get first crack at them; many weekend classes fill quickly. Schools also offer private classes to groups, with a minimum of four to 10.
Wisconsin
L'ecole de la Maison in Elkhart Lake. It's based at the luxurious Osthoff Resort in this eastern Wisconsin town and offers an extensive year-round schedule of classes at its in-house cooking school.
Osthoff Resort provided our class. For more about the area, see Thrills and hills in Elkhart Lake.
Lake Geneva School of Cooking in Lake Geneva . In a historic parsonage near the lake, chef John Bogan leads hands-on, three- to four-hour classes that include a four-course meal.
For more about the area, see Gawking in Lake Geneva.
Braise Culinary School in Milwaukee . The school at Braise Restaurant, in the Harbor View neighborhood south of downtown, offers frequent classes that include introductions to butchering, sauces and brewing.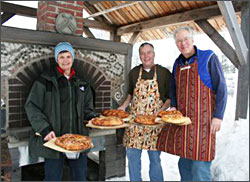 In summer, chef David Swanson's Braise on the Go traveling culinary school combines farm, garden and foraging tours with cooking demonstrations using freshly harvested ingredients.
Glorioso's Appetito in Milwaukee : Glorioso's Italian Market operates this cooking school across Brady Street, with various instructors teaching classes in Italian cooking, $25-$75.
For more, see our Milwaukee stories.
Savory Spoon in Ellison Bay. This Door County cooking school offers evening theme classes from June through October. They're generally five courses and in both hands-on and demonstration styles.
For more, see our Door County stories.
Little French Bakery in North Freedom . In this village just west of Baraboo, chef Susan Holding teaches all-day classes on eclairs, tarts and French breads. Classes include breakfast and lunch.
On Baraboo's town square, the cookware shop Bekah Kate's also offers classes.
For more about the area, see Baraboo's gilt complex.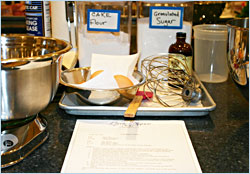 The Palate in Stockholm. This gourmet shop and cooking school on Lake Pepin offers occasional three-hour classes taught by Harbor View Cafe chef Judy Krohn.
For more about the area, see Destination: Stockholm.
Minnesota
North House Folk School in Grand Marais . This homespun school on the harbor always has several cooking classes in its schedule.
Topics include handmade pasta, artisan bread, charcuterie, Scandinavian foods, chocolate truffles, cheese-making and sausage-making.
For more, see Four seasons of Grand Marais.
Western Michigan
School of Cooking at Fustini's Oils and Vinegars in Traverse City , Petoskey and Holland . This shop offers two-hour demonstration classes, and 2½-hour interactive classes.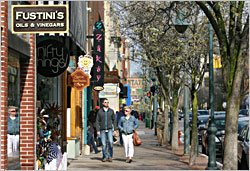 Northern Illinois
Chopping Block in Chicago : This cooking shop teaches many classes at its Merchandise Mart and Lincoln Square locations.
Social Table in Chicago : In the Lincoln Park neighborhood, this cooking school teaches dinner party-style classes.
Cook au Vin in Chicago : On the far west end of Lincoln Park, this school specializes in French fusion and offers four-hour, hands-on baking and cooking classes.
Chocolate Academy in Chicago : This school is part of a global network operated by the Swiss-based Barry Callebaut, the world's largest chocolate manufacturer.
It caters mainly to professionals but also offers regular three-day "Discovering Chocolate" classes for beginners and three-day "Chocolate Beyond the Basics" classes for intermediates.
Both classes are hands-on. The school is along the Chicago River on the Near North Side.
For more about food tours, see Into the belly of Chicago.
Last updated on January 19, 2022