Nights at the museum
Sleep with the fishes, wolves and dinosaurs at family slumber parties.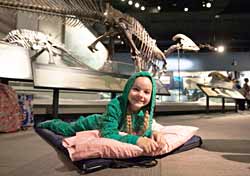 Sleep with sharks. Howl with wolves. Get chummy with a mummy . . . in the dark.
At top museums, that results in sweet dreams, not nightmares.
After everyone else goes home, many museums, aquariums, nature centers and even a submarine turn over their galleries to children and their adults.
Armed with flashlights, they get to explore the exhibits, do experiments, have a snack, listen to a bedtime story and then get into their sleeping bags, right next to their favorite creature or historical character.
It's a memorable-and inexpensive-getaway.
Here are some of the best-known museums that offer sleepovers. A few offer overnights to groups any time, but others have set dates, mostly in winter and spring. They sell out fast, so reserve as soon as possible.
Chicago
Shedd Aquarium. At this aquarium overlooking Lake Michigan, children 5 and older can be Asleep With the Fishes.
The evening includes a scavenger hunt, aquatic show, dive presentation and exploration of the galleries, oceanarium and reefs. Cost is $85, including dinner and breakfast.
For more, see Chicago with kids.
Field Museum. The home of Sue the T. rex offers Dozin' With the Dinos overnights for children ages 6-12 and their adults.
Sleepovers include such activities as dissecting owl pellets, a 3D movie about Sue, a flashlight tour of the Hall of Dinosaurs and bedtime stories outside the Maori Meeting House. Cost is $68, including a snack and breakfast.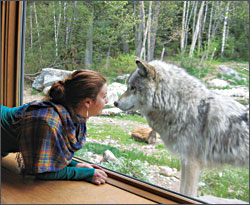 Museum of Science and Industry. Sleep next to a 727 or giant heart in the Science Snoozeum overnights for children ages 6-12.
Cost of $65 includes an Omnimax film, scavenger hunt, science toy-making, breakfast and parking.
Peggy Notebaert Nature Museum: This museum in Lincoln Park offers Bunking With the Butterflies, $60 with a snack and continental breakfast.
Adler Planetarium. The Astro-Overnight program is turning into Adler After Dark.
Minnesota
Sea Life Minnesota aquarium in Bloomington. This attraction at the Mall of America offers Sleep Under the Sea for children age 5 and older.
Cost starts at $85 and includes a night hike, behind-the-scenes tour, T-shirt and continental breakfast. Group minimum is 15, but smaller groups can combine to meet it.
For more about the mall, see Shopping at the Megamall.
Great Lakes Aquarium in Duluth. This aquarium on the harbor waterfront offers overnights to groups.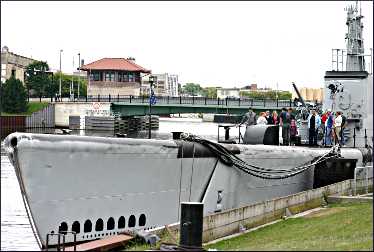 The minimum cost is $700, including breakfast. Guests go on scavenger hunts and get behind-the-scenes tours.
For more about Duluth with children, see Duluth rocks!
International Wolf Center in Ely. In the Wolf Family Rendezvous, people can learn about the pack dynamics of wolves by spending a night camping in front of the wolf-viewing window of the center's auditorium.
Cost is $75, $50 for youths 6-12, and includes a pizza dinner and continental breakfast.
For Wolves After Dark, the minimum age is 12 and cost is $70.
For more about the area, see Dreaming of Ely.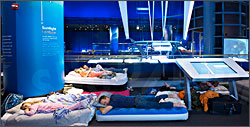 Wisconsin
Milwaukee Public Museum in Milwaukee. If you've got kids between the ages of 6 and 12, you can spend the night in the Milwaukee Public Museum.
Themed overnights often are linked to special exhibits, which include "Mummies"  and "Dinosaurs." They're very popular, so reserve early.
Cost is $55 per person includes a planetarium show, discovery hunts and flashlight explorations, evening snack and breakfast.
For more about going to Milwaukee with kids, see Playtime in Milwaukee.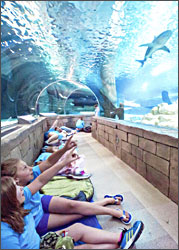 USS Cobia submarine in Manitowoc. During the day, this retired World War II submarine is an exhibit at the Wisconsin Maritime Museum.
But on some weekends, it becomes a motel during Family Overnights.
The cost is $44, including a guided tour that includes some areas that usually are off-limits and museum admission the next day.
For more about the area, see Two trails from Two Rivers.
Iowa
Science Center of Iowa in Des Moines. This center offers Overnight Adventures for groups that include an IMAX film, live science projects and admission the next day.
There are also a few Overnight Adventures that individual families can join.
Cost is $36 for kids 6 and older and $18 for adults, including a snack and hot breakfast.
Last updated on January 24, 2022