Grazing in southwest Wisconsin
Where the Badger state began, Old World flavors remain.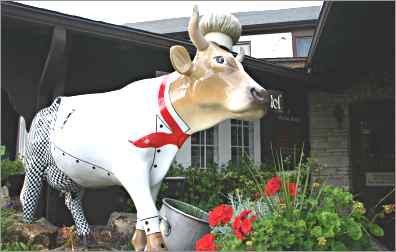 In a state where people flaunt foam cheese wedges on their heads, you don't expect the cuisine to be timid.
The cheese, brats and beer for which Wisconsin is known are as robust as the Cheeseheads themselves, who invented the hamburger and the sundae but are best known for Old World flavors.
One of the best places to find them is in the southwest corner, where the state began.
Mineral Point was a boom town when Milwaukee was just a few shacks; the first brewery was built there, and the new state acquired its nickname from the first lead miners, who dug shallow dwellings dubbed badger holes.
Miners from Cornwall brought recipes for saffron buns and figgyhobbin, and their pasties became a meat-and-potatoes staple.
Germans brought their favorite hops and yeast, and the Swiss brought a love of cheese, though the emigrants who settled around New Glarus were weavers and had to learn to raise dairy cattle.
Their descendants still make cheese today, and it's not Velveeta.
The local brewmaster, trained in Germany, concocts ales and stouts with the verve of an alchemist.
The sausagemaker stuffs his Swiss-style wurst by hand, as his father did, and the baker fills shelves with almond nuthorns and Linzer bars.
You can't get these flavors just anywhere.
First stop: Cheese in Mauston
That's why three friends and I set out on a tasting pilgrimage. Call it the butcher, baker and candlemaker tour; we were determined to do some holiday shopping as well as make pigs of ourselves in dairyland.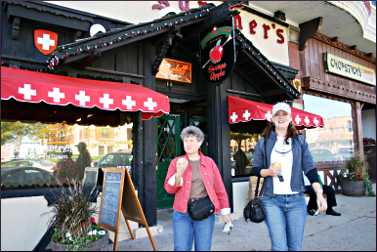 We started tasting as soon as we turned south off the interstate, at Carr Valley Cheese's Wisconsin Pride store in Mauston. From the cheese case, we sampled 8-year-old cheddar, Tom Swiss, Marisa and the nutty, olive-oil-cured Gran Canaria.
The aged, sharp cheddar seemed to melt in our mouths, and we all bought bricks to take home.
"I always thought cheddar was cheddar, but it's not," Karen said.
Mineral Point: Cornish pasties
From Mauston, we drove through rolling hills to the Wisconsin River Valley and Spring Green, once the home of Frank Lloyd Wright and now a magnet for artists. From there, it's not far to Mineral Point, also an artistic hub.
The arty tone was set in the 1930s, when Mineral Point native Robert Neal and Edgar Hellum began to restore the limestone cottages the Cornish miners had built.
To finance their project, the partners began serving tea, saffron cake and clotted cream to curious visitors, later adding Cornish pasties — ground meat, potatoes, rutabagas and onions enclosed in a flaky crust.
Today, their collection of stone cottages is a state historical site, and the pasty (rhymes with nasty) is standard on the menus of local cafes.
The pasties from the Red Rooster are best known, but we preferred the ones from the Mineral Spirits Saloon, which were smooth and plump and had a little zing from hot-pepper relish; pasties are notoriously bland.
We also tried figgyhobbin, a raisin pastry with caramel and whipped cream, and a lemony English tea biscuit. They were good, though dense by modern standards.
We found more Cornish delicacies at the Mineral Point Collection gift shop, including Lyle's Black Treacle and Spotted Dick sponge pudding.
We shopped in the galleries and studios that line High Street; at Johnston Gallery, I bought candlesticks, as well as a set of art-glass coasters. Then, we drove a half-hour east to the Swiss town of New Glarus.
New Glarus: Sausage and schnitzel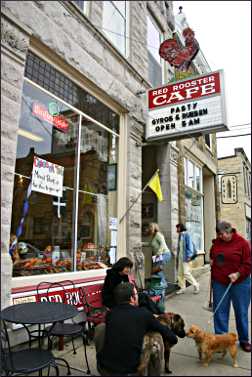 The first settlers were sent to New Glarus in 1845 from the crowded canton of Glarus, and once, the town was almost entirely Swiss.
It's becoming a bedroom community for Madison, but townspeople have made sure it still looks Swiss, putting half-timbered facades on buildings and filling window boxes with geraniums.
Townsfolk keep in touch with the old country, from which emigrants continue to trickle in; one of them was Willy Ruef, who arrived not long before he started to work at a New Glarus meat market in 1960.
He took it over in 1965, and Ruef's still churns out jerkylike landjaeger and mild veal kalberwurst by the thousands.
We bought rolls of pungent summer sausage, then went next door to the New Glarus Bakery, where we bought anise springerle cookies, raspberry Linzer bars, crisp bretzeli and marzipan nut-horns.
Then, we went into the Glarner Stube, where we drank glasses of Fat Squirrel and Spotted Cow from New Glarus Brewing while we waited for a table.
Giant cowbells hung from the plank ceiling, and half of a copper cheese kettle formed a hood over the cash register.
For dinner, we went wholly Swiss/German, ordering Wiener schnitzel, meatballs, veal geschnetzeltes in a wine mushroom sauce and pastetli, slices of veal, pork and chicken in a pastry shell.
A pizza-sized platter of roesti — hash browns with onions and aged cheese — came with our food, and it proved addictive, foiling our plans to follow up with chocolate fondue at Chalet Landhaus.
Monroe: Limburger and onions
The next day, we visited Monroe, another Swiss stronghold that's in the heart of cheese country. The mail-order firm Swiss Colony was founded here in 1926, and North America's last Limburger factory operates in the countryside along with many artisan cheese co-ops.
On the town square, where shops surround a magnificent 1891 Romanesque courthouse, we went into folksy Baumgartner's Tavern.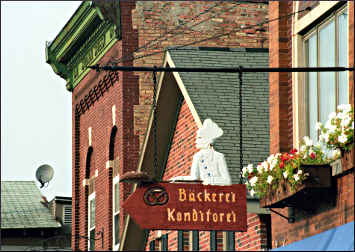 For lunch, we had chili dogs and glasses of bock and Oktoberfest from neighboring Minhas Brewery, which was founded in 1845 and is the second-oldest continually operating brewery in the nation.
With a little urging, my friends also helped me eat a Limburger-and-onion sandwich. The rich, aromatic cheese always has been the butt of jokes, and my crew was no exception.
"I wonder why they don't have an 'I ate the Limburger sandwich' T-shirt," Cathy said.
Back to New Glarus: Cheers!
Our last stop was back in New Glarus, where we managed to get in a tasting and quick tour at New Glarus Brewing. Founded in 1993 by Dan Carey and his wife, Deb, a Milwaukee native, the brewery has racked up one award after another.
Dan Carey is famous for his adventurous beers, especially his Unplugged limited editions. Luckily for us, we got to taste his Enigma a week before it came out.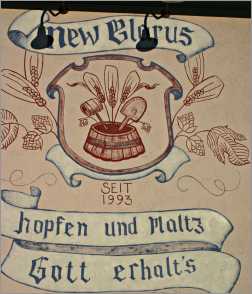 We detected the wheat and cherry, but plant manager Jean Hengstl had to point out a third flavor — a smoky sourness born of seven months in an oak barrel used for bourbon. Strange, but we loved it.
"Every Unplugged, people want it," she said. "Once people find out, they come and buy cases. It's like a vision he sees — he listens to what people say, he takes it all in, and suddenly he's got a recipe. It's an art."
Like Carey, we believe life is too short to drink cheap beer. But the brewery doesn't distribute outside Wisconsin, so we jammed as many six-packs and flasks of Belgian Red and Raspberry Tart as we could into the little space we had left.
"This really feels as if we're going to be Santa Claus when we get home," Cathy said.
Still, it wasn't enough. At home, my German-born husband was wild about the landjaeger. My niece said she'd never tasted a bratwurst anywhere as good as the apple brats from Ruef's.
The 8-year-old cheddar melted in our mouths and was gone.
We'd like more, of course. But since we don't want to look like Santa Claus, a little distance may be a good thing.
Trip tips: Tasting in southwest Wisconsin
When to go: There's a festive atmosphere during the holiday season. Shops and restaurants stay open all year, though a few, such as Ruef's Meat Market, are closed Sunday.
For a tour of breweries in the area, see True brew.
For more about shops, see Power shopping in Wisconsin.
What to bring : A cooler to carry fresh sausage, cheese and cream-filled pastries.
Shopping and eating: In Mauston, the Wisconsin Pride/Carr Valley Cheese store is at 1042 E. State St.
In Mineral Point, try Hook's Cheese at its factory at 320 Commerce St., open till 2 p.m. weekdays. Many cafes serve pasties; it's best to split one.
For more about the town, see Beauty in Mineral Point.
In New Glarus, stock up at Ruef's Meat Market downtown. At the New Glarus Bakery, sample before buying in bulk. The Maple Leaf is a good place to pick up imported chocolate and also has good Amish cashew crunch.
New Glarus Brewing offers self-guided tours and tastings. For dinner, the Glarner Stube, New Glarus Hotel and Chalet Landhaus are all good places to sample Swiss cuisine.
For more about New Glarus, see Swiss at heart.
In Monroe, Baumgartner's is on Courthouse Square.
For more about the Monroe area, see Cheese country.
Last updated on January 19, 2022