Lake Michigan's greatest hits
A nine-day Circle Tour itinerary takes in the highlights of this ultra-scenic drive.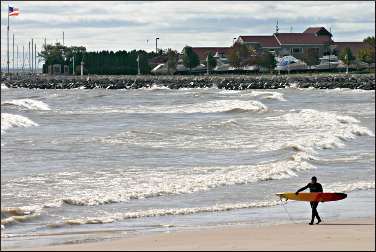 Smack in the middle of the Upper Midwest, Lake Michigan is irresistible in summer.
It's America's freshwater Riviera, and everyone competes for a little piece of that beautiful sand: beach bums, lighthouse buffs, campers on a budget.
A road trip around its shores is one of the world's most scenic drives, a thousand miles of lakeshore lined by state, county and national parks — and two big cities.
But it's tricky to plan a Circle Tour of Lake Michigan. What to see, what to do, where to stay? If you wait till the last minute, you may not find a place.
Here's a nine-day, eight-night Circle Tour of Lake Michigan that takes in the highlights.
Start planning as far in advance as possible — six months if you're planning to camp over weekends in Michigan beach parks, 11 months in Wisconsin parks.
For more, see Camping around Lake Michigan.
Plan up to a year in advance if you want to stay anywhere on holiday or festival weekends in a beach town or in one of the many state-park cabins.
For more, see Michigan's great lake cabins.
For an overview of what you'll see, go to Circling Lake Michigan.
For half a Circle Tour, with a short cut by ferry, see Lake Michigan with kids.
For details, see Planning a Circle Tour of Lake Michigan, which lists the biggest festivals.
The shoreline is 1,640 miles long, but it's about 1,100 miles by car, or less if you want to skip one of the four largest peninsulas — the Door in Wisconsin, the Garden in the Upper Peninsula and the Mission and Leelanau in Lower Michigan.
Since you have to start somewhere, we start in Green Bay.
Green Bay to the Straits of Mackinac, 255 miles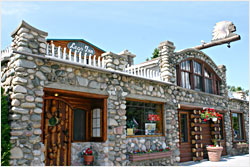 Get an early start if you want to see the best attractions along this stretch, mostly along U.S. 2 through the Upper Peninsula.
Less than an hour from Green Bay, you'll come to the Fire Museum in Peshtigo, where more than 1,000 people died in an 1871 forest fire that largely was overlooked because the Great Chicago Fire happened the same day.
Half an hour east of the Wisconsin-Michigan border, take a break on the lovely beach at J.W. Wells State Park. In Escanaba, see the 1868 Sand Point Lighthouse.
At this point, it's possible to head north on U.S. 41 for a detour to Marquette or Pictured Rocks National Lakeshore, stops on the Lake Superior Circle Tour.
Continuing east on U.S. 2, two unusual sites are worth a short detour. On the Garden Peninsula, the intact but abandoned Fayette Historic Townsite was a boom town in the 1880s, when its giant furnaces smelted ore into iron, then shipped it to the big cities.
As soon as you're back on U.S. 2, it'll be time to turn off for Kitch-iti-kipi Spring, where you'll get onto a raft and propel yourself across the spring to watch water bubbling from deep within the earth, like an underground volcano.
On the Straits of Mackinac, either spend the night in St. Ignace, take the ferry to Mackinac Island or cross the Mackinac Bridge to spend the night in Mackinaw City.
It's expensive to stay on the island, but it's worth it if you get up early to enjoy the quiet before day-trippers arrive.
This fabled island really is spectacular. Get away from its fudge-infested main street as soon as possible to tour Fort Mackinac and bluffs lined by magnificent Golden Age "cottages."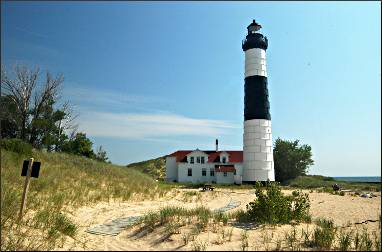 Bicycles are the best way to see this car-free island. Bring or rent one to circle it on the eight-mile Lake Shore Road and cross its rounded hump — the Ojibwe called it Michilimackinac, land of the great turtle, for the way its interior rises from the lake.
You'll see famous Arch Rock, the Sugar Loaf, the ruins of Fort Holmes, nature trails and carpets of wildflowers.
Mackinaw City to Traverse City, 106 miles
Many people give short shrift to Mackinaw City, but that's where you'll find one of the lake's biggest family attractions: Colonial Michilimackinac, a fur-trade post staffed by interpreters who portray the year 1775, when the British controlled it.
If you also plan to go to Fort Mackinac on Mackinac Island, buy a Triple Choice Ticket and visit Colonial Michilimackinac and also Old Mackinac Point Lighthouse or Historic Mill Creek Discovery Park, which includes a 425-foot zip line and 50-foot-high forest canopy bridge.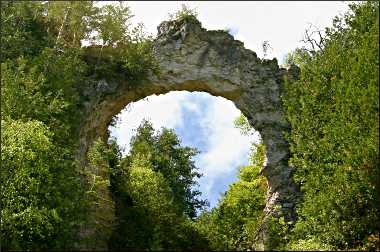 From Mackinaw City, drive west to Cross Village and have a meal at the Legs Inn, whose fieldstone façade is lined with white stove legs. Founded by a Polish immigrant in 1921, it combines Old World traditions with a quirky outsider-art aesthetic.
From Cross Village, the Tunnel of Trees follows the Lake Michigan shoreline to the old-money enclave of Harbor Springs and the resort town of Petoskey.
In pleasant Charlevoix, take a stroll along the canal that connects Lake Michigan to big Lake Charlevoix and see the stone "mushroom houses" designed and built by local resident Earl Young. You can even rent one if you want.
Traverse City to Empire via the Leelanau Peninsula , 85 miles
Traverse City has an enviable spot at the foot of Grand Traverse Bay and two long peninsulas. Swim from its beaches, bicycle the TART Trail, shop and eat in its appealing downtown or take a cruise on the tall ship Manitou.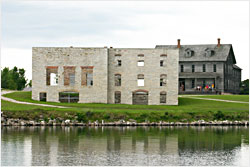 If you love lighthouses (and wineries), travel to the tip of the Old Mission Peninsula to see the Old Mission Point Lighthouse or up the Leelanau Peninsula to Grand Traverse Lighthouse. You can stay there as a volunteer keeper, and also at other lighthouses around the lake.
Then continue on to Sleeping Bear Dunes National Lakeshore, the one required stop on the Lake Michigan Circle Tour.
Empire to Holland, 184 miles
Get up early to play in the giant sandbox of Sleeping Bear Dunes. Do the Dune Climb, swim from the beaches, hike the Empire Bluff trail and tube down the Platte River.
Continue down the lake to Ludington State Park, where you can swim from the beach, tube down the Sable River and walk or bike to the 1867 Big Sable Point Lighthouse, which you can climb.
Just south of Ludington, you can go on a motorized dune ride over the Silver Lake Sand Dunes. Then continue to the Dutch town of Holland and its beloved Big Red lighthouse on the beach. For a great beer, check out New Holland Brewing.
Holland to New Buffalo, 82 miles
Spend part of the morning on the expansive beach of Holland State Park.
Now you're in serious tourist land, and the next stretch is thick with fun little beach towns, each a worthy destination in itself.
In Saugatuck, browse the shops, and if you have time, visit Oval Beach via hand-cranked chain ferry across the Kalamazoo River.
In South Haven, take a ride on the Friends Good Will, a replica of an 1810 square-topsail sloop that's berthed at the Michigan Maritime Museum.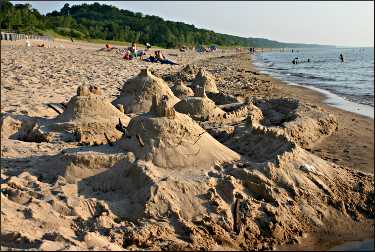 In St. Joseph, ride the carousel and swim from Silver Beach. Near Sawyer, walk the dunes of Warren Dunes State Park.
Then follow the old Red Arrow Highway to New Buffalo and its festive beach.
Each of these beach towns between Muskegon and South Haven has its own craft brewery, as do the towns between Benton Harbor and New Buffalo.
New Buffalo to Racine, 145 miles
New Buffalo is the last beach town before Indiana and Indiana Dunes National Park, whose scattered, non-contiguous parts will puzzle many visitors.
West Beach, the closest to Chicago, is the easiest national-park beach to get into. It's lovely, though flanked by steel mills.
You won't want to spend any time in Gary. And you won't have time to fight your way through the Chicago suburbs to the city's lakefront, which is lined by gorgeous beaches.
So save Chicago for another trip and keep on driving to the Wisconsin border, where you'll reconnect with Lake Michigan at Kenosha. There's a beautiful sand beach and a whole bevy of lighthouses here, along the harbor and up on the hill above downtown.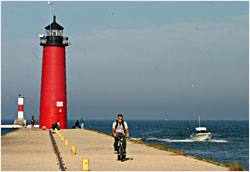 Continue to Racine, which also has a lovely beach. A bike trail connects North Beach to the Racine Zoo and downtown.
Racine to Two Rivers, 120 miles
In Racine, take a free tour of the Frank Lloyd Wright-designed SC Johnson complex.
On the north end of town, stop to see the classic 1880 Wind Point Lighthouse, one of the tallest on the Great Lakes. If you're there on the first Sunday of the month from June through October, you can tour it.
Milwaukee is a destination in itself, but you'll have time to cruise along its beautiful lakefront. If you're there by noon, you'll get to see the "wings" of the Milwaukee Art Museum close and open.
Milwaukee, of course, is a great place to drink beer and tour a brewery.
A bit farther up the coast, Port Washington has a marina and a lighthouse on the hill.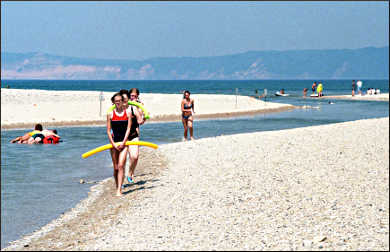 Sheboygan has a lovely beach and the remains of a shipwreck at Deland Park. Just up the hill, its John Michael Kohler Arts Center has a blockbuster collection of  outsider art, and admission is free.
In Manitowoc, stop at the Wisconsin Maritime Museum to tour the U.S.S. Cobia submarine. If you plan ahead, you can even stay there overnight — yes, in the submarine.
The paved Mariners Trail follows the lakeshore and connects Manitowoc to Two Rivers, birthplace of the ice-cream sundae.
Two Rivers to Green Bay via Door County, 179 miles
Just north of Two Rivers, stop at Point Beach State Forest — or better yet, ride your bike there on the lovely Rawley Point Trail.
In Sturgeon Bay, the door to the Door Peninsula, stop to see the town's three lighthouses.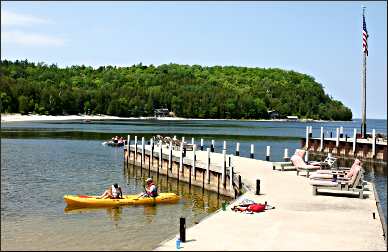 The Door Peninsula is worth a long weekend, at least. But if you only have time for drive-by sightseeing, you can see the highlights and take a stroll or two in a lakefront park.
Head up the peninsula on the Lake Michigan side, stopping at Cave Point County Park just south of Jacksonport. At Baileys Harbor, walk the boardwalk and trails of Ridges Sanctuary, home of rare wildflowers and two old range lights.
If have time, continue around Rowleys Bay to Newport State Park and the curving white-sand beach at Europe Bay.
Otherwise, turn around at Sister Bay and head down the Green Bay side, stopping to look around Peninsula State Park and the charming towns of Ephraim, Fish Creek and Egg Harbor.
Then you're back in Green Bay. If you didn't get there before, or if your kids need a break from driving, visit Bay Beach Amusement Park and ride the Zippin Pippin, a replica of Elvis' favorite roller coast in Memphis.
Last updated on January 20, 2022