Lake Michigan with kids
Following the sandy shores of this great lake, families find many places to play.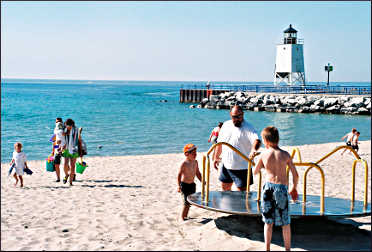 Not many parents would think that a long road trip would be a perfect vacation to take with young children.
But the shores of Lake Michigan is one big sandbox, and on a drive along its shores, you'll hit one big playground after another.
On the east side, Sleeping Bear Dunes National Lakeshore is spectacular, a Disneyland of sand. But the lake also is lined with lighthouses, fudge shops, fur-trade forts and endless beaches.
And at the end — for us, anyway — there was a trip on a cruise ship, because we took the short cut back on the S.S. Badger.
For the full tour, see Circling Lake Michigan and Lake Michigan's greatest hits.
One June, I set out to see Lake Michigan with my daughter Madeleine and my son Peter. We reached the big lake in Green Bay and headed straight for one of Wisconsin's favorite family attractions.
At old-fashioned Bay Beach Amusement Park, we paid 50 cents apiece to ride the Rambler, the Yo-Yo, the Ferris wheel and the train that runs along the bay shore, lined with tall rushes that glowed in the early-evening sun.
Now, the park includes the Zippin Pippin roller coast, which charges a whole $1.
The beach house with cupola and waving flag, the beehives of blue cotton candy and the 1970s prices were portents of our tour through Michigan's down-home Upper Peninsula, which culturally is much closer to Green Bay than to Lansing or Detroit.
From Green Bay, we headed north to Peshtigo . In 1871, the logging town of 1,700 was consumed by a cyclonic firestorm that approached at 300 mph; warned only by a mounting roar, townspeople had time only to grab their Bibles and run.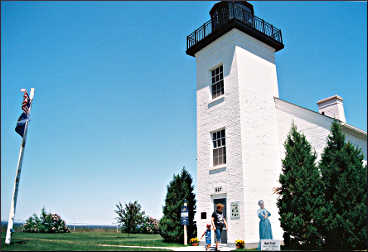 "It's said that the next day, people found so many Bible pages floating in the air, they thought it was the end of the world," said the curator/guide at the Peshtigo Fire Museum.
More than 1,000 people died, a number that still stands as the nation's largest loss of life due to fire. But no one paid much attention because of another fire on the same day: The Great Chicago Fire of 1871.
We crossed into Michigan at Menominee , where we stopped for our first pasty, a beef-and-vegetable miner's lunch that's still found across the blue-collar Upper Peninsula.
Hugging the lakeshore on Michigan 35, we could see the dunes of Door County across Green Bay, and shifting bands of color in the shallow waters offshore: celadon, slate-blue, burgundy.
In Escanaba , we drove past big Ludington Park to the 1868 Sand Point Lighthouse, where a cardboard cutout of Mary Terry stood by the door. Terry, keeper of the light for its first 18 years, lost her life in an 1886 fire whose causes still are being debated.
Muscular Escanaba still ships taconite, which lies in piles around the harbor, but its extra-wide main street and abundance of brownstone storefronts speak of the port's richer days.
In Manistique , we walked along a two-mile boardwalk and out to the 1915 breakwater light. From Manistique, U.S. 2 winds inland to Naubinway, where it rejoins Lake Michigan and winds down to St. Ignace.
From St. Ignace, we got on a ferry and sailed for Mackinac Island. Camera shutters started clicking as we approached the sprawling Grand Hotel on the bluff.
Billowing lilacs lined sidewalks, and baskets of geranium and ivy cascaded from lampposts. As we walked up to the Disneyesque main street, a smiling bride and groom clopped by in a horse-drawn carriage.
"This smells like the State Fair," my son Peter said, sniffing a mixture of caramel corn, suntan lotion and manure.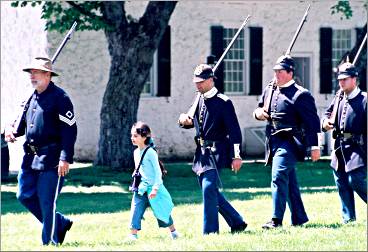 "We've seen seven fudge shops so far — oh look, eight," Madeleine said. Then she, too, inhaled. "Oh, that's almost cruel — they're blowing the smell out at us."
Mackinac Island is a tourist trap, no question. But on a sunny, breezy day when the lilacs are blooming, it's also astoundingly lovely.
For a while, we sat on a pebble beach and watched the ferries come and go. We walked out to Arch Rock along a path lined with yellow moccasins and pussytoes.
We strolled past frilly Victorian inns and two of its historic churches, both with weddings in progress.
We climbed up to Fort Mackinac, an 18th-century fur-trade depot whose soldiers eventually were put to work taking care of tourists, and had lunch on the terrace of the Tea Room, 150 feet above the harbor.
The next day we crossed the Straits of Mackinac on the 5-mile-long Mackinac Bridge , suspended 15 stories above the water.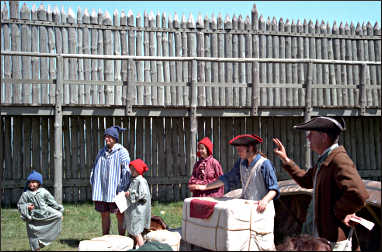 In Mackinaw City, we spent the day watching demonstrations and reenactments at Colonial Michilimackinac , a palisade fort built by the French in 1715 and today restored and staffed by interpreters who portray the year 1775, when it was controlled by the British.
From Mackinaw City, we followed the lake down to Harbor Springs , where we drove through the old-money enclave of the Wequetonsing Association, founded in 1880, and into the gleaming downtown of galleries and cafes, ending up on the sugar sand of Zorn Park Beach.
"Everything's perfect," Madeleine noted.
"Everyone's rich," Peter replied.
We'd left the U.P. far behind and entered the orbit of affluent Detroit and Chicago. From Harbor Springs we drove on to Petoskey , with its Historic Gaslight District and faux-Victorian development just west of town, the Village on Bay Harbor.
In pleasant Charlevoix , which straddles the channel between Lake Michigan and Lake Charlevoix, we took a break to eat frozen custard and stroll downtown, and to wade on the Michigan Avenue beach, a tucked-away pocket of sand across from a cement factory.
We negotiated the busy strip through Traverse City , the first of the great Lake Michigan beach towns, and headed straight west for Empire and Sleeping Bear Dunes National Lakeshore.
There, we took a few days to play in the sand, along a dramatic coastline the Ojibwe likened to a reclining bear, across from two islands that represent her cubs.
We canoed down the Platte River, then got into its warm, crystal-clear water to swim the rest of the way into icy Lake Michigan.
We scrambled up the Dune Climb, an inland Sahara with a panorama of Glen Lake.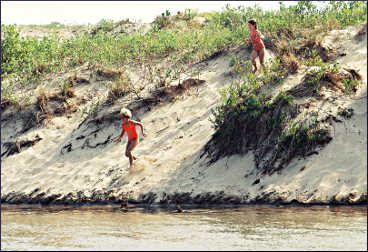 We walked along the top of the "450," a dune that descends into the lake from Pierce Stocking Scenic Drive, and swam from the sandbar that separates warm North Bar Lake from cold Lake Michigan.
One day, we drove up the Leelanau Peninsula , a name invented by Henry Schoolcraft, the Indian agent/scholar who also came with the name Itasca for the Mississippi headwaters.
Considered the little finger of the lower Michigan "mitten," it's a tourist backwater compared with the Traverse City area but still has its share of fudge shops and boutiques.
In Leland , we wandered through Fishtown, a collection of weathered gray fishing shanties that now house gift and candy shops.
From there, ferries take backcountry campers to North Manitou Island and day-trippers to South Manitou Island, which has an 1871 lighthouse, a grove of giant cedars, the visible wreck of the Francisco Morazan and ranger talks that cover island history.
In Northport , we stopped for root-beer floats and to swim at the municipal beach. At the tip of the peninsula, in Leelanau State Park, we visited the 1858 Grand Traverse Light.
Our favorite spot along the lakeshore was Empire , a former logging village named for a schooner that became icebound there in 1865. You could buy pasties, and it seemed the whole town congregated at the municipal beach, where we watched a spectacular sunset.
For now, this part of Michigan is the province of the middle class. As we drove south, we noticed many small resorts on Crystal Lake and Bear Lake.
In the port of Manistee , we walked through the handsome Victorian downtown, all of it on the National Register of Historic Places.
Then we were in Ludington , and it was time to board the S.S. Badger car ferry, a coal-driven behemoth that's been traversing the lake since 1953.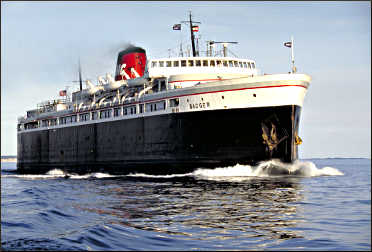 Less than half the size of a Great Lakes ore boat, it's still massive, and we watched in fascination as the gigantic anchor rattled up on oversized chains and the Badger slipped almost noiselessly out of the Ludington harbor.
At first, we made like cruise-ship passengers, basking on deck chairs in the warm morning sun, but the air grew frigid as we sailed into the middle of the lake, and we fled inside.
There, we joined the lounging masses, watching movies and playing a game of "Who Wants to Be a Badger Billionaire."
Then we saw the candy-striped smokestacks of Manitowoc. Our Lake Michigan tour was over, but we hated to say goodbye.
Trip Tips: Circle Tour of Lake Michigan with kids
Adjust time zone : If you're doing the tour clockwise, you'll have to set your watch ahead about half an hour after crossing the Michigan border at Menominee.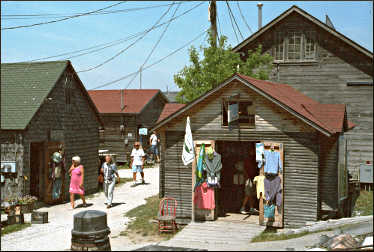 When to go : Mid-June and late August are good times to go; the tourist areas are crowded in July and the first half of August.
Allow at least a week, more if you want to add a tour of Door County or a side trip to Sault Ste. Marie (only an hour from St. Ignace).
Planning a trip : For more, see Circling Lake Michigan, Planning a Circle Tour of Lake Michigan and Lake Michigan's greatest hits.
Ferries: Car ferry times may influence the decision to drive clockwise or counterclockwise: From Ludington, the S.S. Badger car ferry leaves at 9 a.m. (you'll be asked to arrive earlier), and from Manitowoc, it leaves at 2 p.m.
Manitowoc and its neighbor, Two Rivers, are well worth a stop. See Two trails from Two Rivers.
To make a longer tour, start in Milwaukee or Muskegon and take the Lake Express High-Speed Ferry across the lake. Crossings take 2½ hours.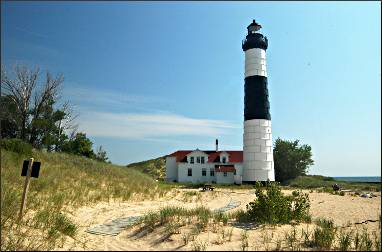 Beaches : The entire lakeshore is lined with great sand beaches; see America's freshwater Riviera.
Green Bay : Bay Beach Amusement Park is open daily from Memorial Day weekend through August, then weekends only through September (get off I-43 at Webster Avenue and follow the signs).
Peshtigo : The Fire Museum is open daily in summer and fall.
Mackinac Island : Ferries leave from St. Ignace and Mackinaw City.
Mackinaw City : This town has lots for kids, including Colonial Michilimackinac, a re-created fur post that offers nonstop reenactments and demonstrations, and the Historic Mill Creek Discovery Park, which has a forest canopy bridge, zip line and climbing wall.
Traverse City: There are a lot of great beaches in and around this town, and a splash pad at Clinch Park, the beach closest to downtown.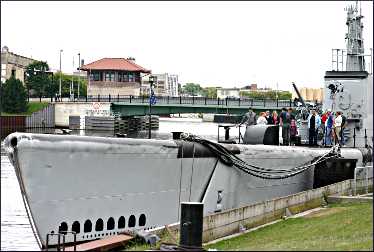 Sleeping Bear Dunes National Lakeshore : The visitors center is in Empire; check for daily naturalist programs, which include dune walks, photography excursions and shipwreck-rescue reenactments.
Ludington: The state park here is one of Michigan's most popular, and there's lots for kids to do: swim, bicycle, tube on the Sable River and visit the Big Sable Point Lighthouse.
For attractions on the lower half of the lake, between Ludington and Manitowoc, see Circling Lake Michigan.
Manitowoc: Don't miss the Wisconsin Maritime Museum and a tour of the U.S.S. Cobia submarine. Families can even stay overnight there a few times each summer.
Accommodations : If you can plan ahead — as much as a year — Michigan state parks offer accommodations in cabins and lodges. The price is right, and many are in prime spots on the beach.
For more, see Michigan's great lake cabins.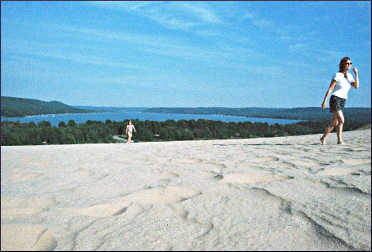 Just east of Lake Charlevoix in Boyne Falls , Boyne Mountain Resort includes Avalanche Bay indoor water park. The resort and its sister resort, Boyne Highlands near Harbor Springs , both have zip lines.
Traverse City has many large resorts, including Great Wolf Lodge, which includes an indoor water park, and Grand Traverse Resort and Spa on Grand Traverse Bay. The area also has traditional cabin resorts.
At the mouth of the Crystal River on Lake Michigan's Sleeping Bear Bay near Glen Arbor , the Homestead Resort is a large complex of hotels, inns, cottages and condos, plus three restaurants and a deli. There's a spa and schools for golf, fly-fishing and photography.
Between Ludington and Muskegon , Double JJ Resort has horseback-riding and an indoor water park.
In Green Bay , the Tundra Lodge Resort has a small indoor water park.
In Sheboygan, the Victorian-style Blue Harbor Resort also has an indoor water park and is right on Lake Michigan.
Camping : Beautiful state and national parks line Lake Michigan, making camping a good option. Reserve six months in advance, if possible.
Between Mackinaw City and the Indiana border, 18 Michigan state parks line the sandy shores of Lake Michigan, and 15 of them have campgrounds.
There are also campgrounds in four state parks on the U.P., seven in Wisconsin and one apiece in Illinois and Indiana.
For more, see Camping around Lake Michigan.
Last updated on March 3, 2020