America's freshwater Riviera
On Lake Michigan's gorgeous beaches, everyone can find a spot in the sun.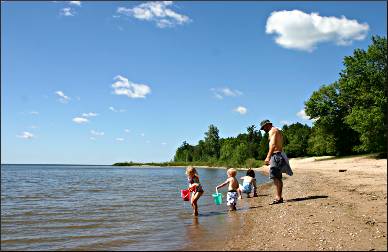 It's funny that some people in the Upper Midwest spend their summer vacations on the beaches of Cancun or Cape Cod, because the best beaches in the world are in their own back yard.
Lake Michigan is America's freshwater Riviera, a nearly unending strand of sand that looks like Florida without the high-rise condos. It's clean, blue and pleasantly cool, with water temperatures in the 60s, and in most places it looks just like the ocean.
Add in candy-striped lighthouses and even more ice-cream stands, and you've got the makings of a great beach holiday — a cheap one, too, if you're on a budget.
One June, we drove from one spectacular beach to another. The entire east side of Lake Michigan seems to be a beach; they're at 18 Michigan state parks, dozens of city and county beaches and Sleeping Bear Dunes National Lakeshore.
There's also a national lakeshore in Indiana, a beach park in Illinois and unsung but beautiful city beaches in southern Wisconsin as well as sand-lined state parks farther north.
We can't name a "best" beach, because the best is whichever one you're at on a hot summer day, and there were way too many for us to check out, anyway. But here are a few we hated to leave.
For trip tips, see Circling Lake Michigan, Lake Michigan's greatest hits, Lake Michigan with kids and Planning a Circle Tour of Lake Michigan.
For tips on camping, see Camping around Lake Michigan.
For details on cabins in Michigan state parks, see Michigan's great lake cabins.
Michigan's Upper Peninsula
We started at J.W. Wells State Park, between Menominee and Escanaba. It's just 25 miles from the Wisconsin border, so we're guessing it's popular with cheeseheads.
This would be the place to go if you don't like crowds. On a gorgeous Saturday morning in late June, less than a dozen people were on the well-kept beach, which is shallow and perfect for children.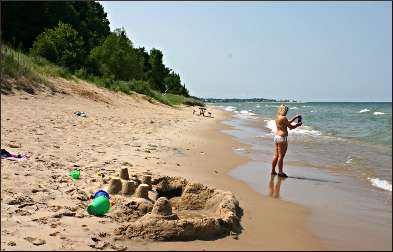 Just east of the park, we saw O.B. Fuller Park and a sign for camping, picnicking and swimming. There were also lots of mom-and-pop resorts and motels, all with vacancies, plus many of the soft-serve ice-cream stands that have been pushed out by franchises elsewhere.
U.S. 2 hugs the lake from Menominee to Rapid River and around Manistique, and there are plenty of beach pull-outs. It struck us that the west part of the Upper Peninsula would make a great last-minute beach trip — it's so far from the big cities, it probably never fills up.
Michigan's Lower Peninsula
The first thing we noticed in Traverse City is that everyone swims. Old people, young people, at all times of the day. No wonder, because this summer-resort hub has more than its share of beautiful sand beaches.
On the East Arm of Grand Traverse Bay, Traverse City State Park shares a beach with four hotel and condo resorts.
On the West Arm, the marina is flanked by West End Beach and Clinch Park Beach, where there's a concession building that rents bikes and kayaks for use on the Boardman River, which connects Boardman Lake to Lake Michigan.
We know this town gets crazy busy in the summer, but in late June, it had a mellow beach-town vibe.
We hoped to swim at the tip of the Old Mission Peninsula, while visiting Old Mission Point Lighthouse, but the rock-studded shoreline was shoe-sucking muck.
It was the same on the other side of the bay, at the tip of the Leelanau Peninsula in Leelanau State Park, home of the 1852 Grand Traverse Lighthouse.
But Leland and Northport have great little beaches , and we also saw one at Suttons Bay, a boutique town closer to Traverse City.
Traveling down the back of Michigan's "mitten," we came to Sleeping Bear Dunes National Lakeshore, which has lots of beaches. For more, see Grand sand.
We liked the one in the town of Empire best. It has basketball and volleyball courts, an old-fashioned playground and a picturesque little lighthouse, a memorial to a local fisherman who always wanted a light to guide him home.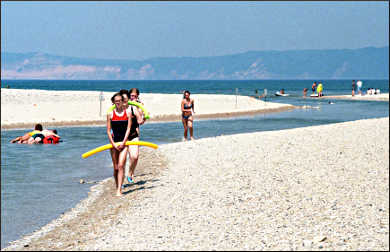 For kids, there's a beach with warmer water on South Bar Lake, just across the parking lot, with a dock that children like to run down and jump off.
Just north of Manistee, we came to Orchard Beach State Park. At the turn of the century, this blufftop, from which stairs lead to the beach, had a theater, boardwalk and pavilion, connected to town by streetcar. In 1921, the state bought it and put in a 166-site campground.
Now, campers get their own uncrowded beach, though they have to climb the stairs to use a bathroom or get a drink. It's a gorgeous beach; on the morning after a storm, the lake was kicking up a few whitecaps, and the beach looked more like the Caribbean than Michigan.
Some serious beach towns
You'll find the crowds at Ludington State Park just north of Ludington. You could spend a week here without stepping out of the park, and no doubt many people do.
We watched families tubing down the Sable River, riding bikes on trails, swimming in Hamlin Lake and walking through the dunes to the Big Sable Point Lighthouse. That night, a Dixieland jazz band played in the amphitheater.
We picnicked along the river, rode bikes to the lighthouse, chatted with the volunteer keeper and a friendly campground host and looked inside the concession/gift shop, which sells rafts and tubes.
The road from Ludington is lined with dunes, and according to our park map, there's a state-park beach on Lake Michigan. But there was so much else to do, we completely forgot to check it out.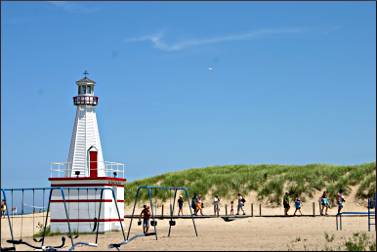 We skipped Mears, Silver Lake and Duck Lake state parks but drove through Muskegon. Flat, wide Pere Marquette Park looks like a beach in California, and houses across the street have sand in their yards.
It was the end of the day when we arrived at Holland State Park in Holland, but people still were heading toward the beach along Ottawa Beach Road, the only access.
The park is a favorite spot to watch the sunset, which turns the harbor lighthouse flame-red, and to walk along the breakwall and boardwalk.
The next morning, we watched bicyclists laden with beach towels streaming into the park, whose parking lot fills by 10 a.m. on holiday weekends. The beach is not as shallow as some of the others, so I got in a good swim.
I didn't get to try even one of the 24 flavors of soft-serve from the pavilion cafe, because we had to move on to Saugatuck. We had lunch and checked out the shops but not Oval Beach, which you can reach from downtown via a hand-cranked chain ferry across the Kalamazoo River.
Farther on, in South Haven, there was an e-coli alert at South Beach, so we kept going. Too bad — we know it's a favorite getaway for many people.
When we got to Warren Dunes State Park, on the Red Arrow Highway near Sawyer, it was 86 degrees and I was dying for a swim. We stayed until the sun went down, swimming and walking along the beach; like everyone else there, we were reluctant to leave.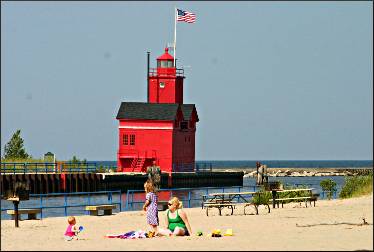 Now that we were close to Chicago, we figured the beaches would become unbearably crowded and the towns unaffordably chic. But we really liked the relaxed beach atmosphere in New Buffalo, the closest town to the Indiana border.
People were streaming across a causeway from the little downtown, where a few boutiques mixed with a pharmacy, a dollar store and the ubiquitous fudge shop. We joined them and spent an hour on the beach.
We saw train tracks through town and stopped at the nearby Harbor Grand Hotel & Suites, where a friendly desk clerk handed us a schedule for Amtrak's Wolverine and Blue Water Service. The train leaves Chicago's Union Station three times a day and arrives in New Buffalo two and a quarter hours later.
Now there's a painless weekend getaway.
On to Indiana
And then we weren't in Michigan any more. Indiana made us nervous; according to our maps, we should have been in Indiana Dunes National Park, but we couldn't find it.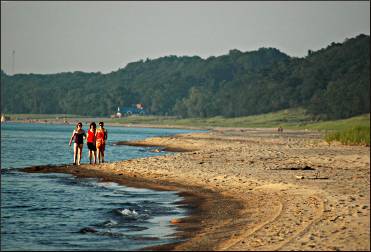 Finally, after driving along a narrow unmarked road crowded by weeds, we found a beach, from which we were turned away because the parking lot was full.
We kept driving and, half an hour later, finally made it to the inland national-park visitors center, where an eager-to-please young ranger explained that the closest beach to Chicago, West Beach, actually was easiest to get into because there's a fee to get into it.
Before leaving the center, we watched a movie about the national park — created as a national lakeshore in 1966 on the same day U.S. Steel, which had bought 1,200 acres of the dunes, got public funds for the Port of Indiana. Hmmm.
Then we kept driving west, past the U.S. Steel mill in Burns Harbor to West Beach.
The park was lovely, with golden dunes reflected in wetland ponds lined with lily pads. We walked the Secession Trail through the dunes, and then I cooled off in the water, though it was the first place where we'd seen algae and silt.
The beach was beautiful, too, though flanked by steel mills, and we could see the skyscrapers of Chicago in the distance. Lifeguards kept watch on swimmers and, while we were there, tracked down two 12-year-olds who had wandered off.
Swimming may not have been such a great idea, though.
When I got home, I read about multiple discharges containing toxic chemicals, which have shut down beaches and closed public water intakes.
Illinois
Chicago has 15 miles of beaches along its 29 miles of shoreline. The Ohio Street Beach is a stone's throw from Navy Pier, and Oak Street Beach adjoins the Gold Coast.
There's a party atmosphere more like a beach resort than a huge metropolis, with restaurants blaring '50s music, sand volleyball pick-up games and cafes set up on the sand.
There are lifeguards, too, keeping long hours. A fun and easy way to visit the beaches is by bicycle.
There's a different atmosphere at Illinois' only state beach park — call it neglect and decay. Illinois Beach State Park has six miles of sand from Waukegan to the Wisconsin border, but concession buildings and bathhouses were rundown and parking lots overgrown.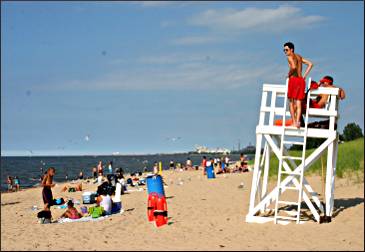 The beach itself is perfectly nice, and the park, which includes campsites, was filled with a gorgeous array of wildflowers, many more than we'd seen anywhere else. Too bad, Illinois.
Wisconsin
Just across the border, Kenosha has a beautiful sand beach. Simmons Island Beach is bordered by a long concrete pier, and at the end sits the red 1901 Pierhead Light.
A shorter breakwater light, white with a green stripe, is on the other end of the harbor entrance. Up on the hill is the 1866 Southport Lighthouse, built of Cream City brick.
Racine has North Beach, a broad expanse of lovely white sand with a wooden castle playground called Kids Cove.
Concerts are held downtown at the marina, where there's a red 1910 breakwater light. Nearby, Pershing Park has a fountain with two dozen jets that kids like to run through on hot days.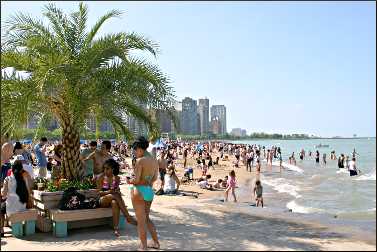 Milwaukee also has beautiful beaches, including the gleaming white sand of Bradford Beach, which has lifeguards, a bathhouse, concession buildings and volleyball courts.
Between Port Washington and Sheboygan, Harrington Beach State Park has a mile of beach and a new campground.
Just south of Sheboygan, Kohler-Andrae State Park has a long beach lined by dunes. It also has an accessible beach trail and two beach wheelchairs.
In Sheboygan, Deland Park has a large, lovely white-sand beach with playgrounds, restrooms and the salvaged wreck of the Lottie Cooper. It's also a favorite of surfers, who show up on on windy days and after gales.
Point Beach State Forest, north of Two Rivers on Lake Michigan, has a lovely white-sand beach and a classic lighthouse. There's a nature lodge/concession center, too.
For details, see Two trails from Two Rivers.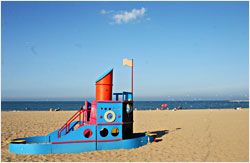 In Door County, Peninsula State Park on Green Bay is almost like a resort, with bicycle trails, a professional theater and a golf course as well as beaches.
Newport State Park, Wisconsin's only wilderness park, includes Europe Bay, a beautiful, quiet crescent of sand lined by wildflowers.
In Baileys Harbor, the beach at Ridges Road County Park is breezy, cool and a favorite of kiteboarders.
At the tip of the peninsula, the east side of Rock Island State Park is lined with beaches, mostly enjoyed by campers. Access requires two ferry crossings.
For more, see Wisconsin's Icelandic outpost.
Trip Tips: Beaches of Lake Michigan
What to know: Most Lake Michigan beaches tend to be shallow, which makes the water a lovely blue. The gradual drop-offs make them good for children, but few beaches have lifeguards, so keep an eye on them.
Look for red flags and signs warning of dangerous currents. Waves are shorter than the ocean and, when mixed with wind, can create rip currents.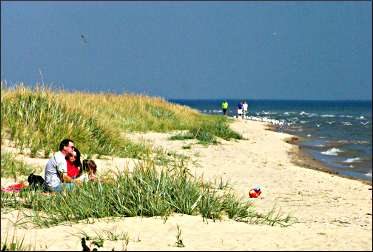 Temperatures vary from the low 60s early in the season to the upper 60s; the surface can be warmer. At state parks (except Illinois), you'll need a vehicle permit, and some town beaches charge for parking. Or, you can bicycle or walk in.
When to go: The first three weeks of June are less crowded, and days are long. Late August is less crowded, and September is a very good time to visit.
Where to stay: Reserve up to a year in advance for the best places.
For camping, see Camping around Lake Michigan.
For cabins in Michigan state parks, see Michigan's great lake cabins.
Planning: For more about travel around Lake Michigan, see Circling Lake Michigan, Planning a Circle Tour of Lake Michigan and Lake Michigan with kids.
Last updated on February 1, 2022