Wallowing in wildflowers
In 12 tried-and-true spots, you'll find a profusion of blooms.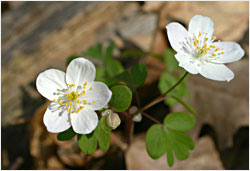 When delicate spring wildflowers appear, it means winter finally is over.
No wonder we love them so much. But they're ephemeral — here today, gone tomorrow.
So if you want a good dose of them, head for a place where you know they'll be.
One well-known hot spot is Nerstrand Big Woods State Park in southern Minnesota. The first time I went, I saw trout lilies, spring beauties, violets, hepatica, bloodroot and rue anemone before I was even out of the picnic area.
They're not uncommon, but they won't grow just anywhere. They like Nerstrand because its maple-basswood forest, Minnesota's largest remnant of what early settlers called the Big Woods, give them a good habitat.
One of its flowers, the dwarf trout lily, is especially persnickety. This endangered plant, which barely reproduces, is found only in three counties in Minnesota.
At Nerstrand, the frail little flower grows, perversely, right at the end of the boardwalk on the well-trod path to Hidden Falls. That's where we saw eight of them, next to a clump of cut-leafed toothwort.
For displays of flashier flowers, Nerstrand is the emporium of state parks. In many spots, clouds of false rue anemone had given the forest floor a carpet of white.
Brassy marsh marigolds popped out of the muck along a stream, and the pale-yellow petals of large-flowered bellwort swung in the breeze, like the fronds of a hula skirt.
Tiny as they are, these blooms fuel the imagination. When my son was young, he called Dutchman's breeches "shark's teeth," which is exactly what they look like. He called early meadow rue "French bedrooms," because they look like the fat tassels that hang from a canopy bed.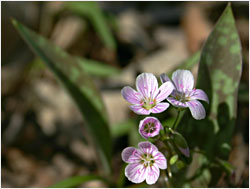 To me, the bloom of the wild ginger, demurely tucked under fan-shaped leaves, looked like an escapee from "Little Shop of Horrors," with three tentacles unfurling from a fuchsia-rimmed cup.
And the common trout lily, growing here and there throughout the park, seemed to have moods. On some, all six white petals were flung up, as if clapping hands; on others, just one or two were up, as if scratching an ear; and on others, the petals hung dejectedly.
Amazing qualities have been ascribed to these flowers. Indian women are said to have used trillium as a love potion, dropping it into the food of a coveted man.
Europeans considered lousewort a virtuous flower, and thought that serpents caught in a bed of it would lash themselves to death. Many plants were used for medicinal purposes, and some still are.
But most people like wildflowers because they're pretty.
We got tips on dwarf trout lilies and Jack-in-the-pulpit from Sandra and Gary Holmberg, who had been camping in the park, hoping to catch waves of migrating warblers.
"We're birders, but when there are so many wildflowers, you can't help but get interested in them," Sandra Holmberg said. "And at least wildflowers are lower to the ground, so you don't need to be looking up. You don't do things like break your leg, which I did in this park last year."
After the early-spring ephemerals disappear, other flowers take their place.
Wild blue phlox, swamp buttercup, Jack-in-the-pulpit and yellow violet are part of the second wave, soon joined by May apple, trillium, wild geranium, columbine, Solomon's seal and lady's slipper.
It's not hard to find spring wildflowers; look in any park, wildlife refuge or nature preserve.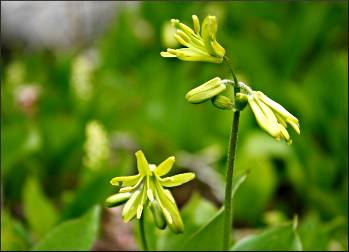 It's not so much where you look as when you look — the first half of May for the first wave and the second half for the second wave.
Here are my favorite wildflower hot spots.
For a photo guide to 49 spring wildflowers, see our Facebook album.
For a guide to wildflowers by type, see Where to find spring wildflowers.
Minnesota
Nerstrand-Big Woods State Park near Northfield. At the park office, pick up a wildflower checklist and look through the photos in its loose-leaf wildflower  guide.
Whitewater State Park near St. Charles. This park has nearly every bloom and naturalists to help identify them. Its annual wildflower walks are very popular, so reserve a place early.
Carley State Park near Plainview. Near Whitewater, this small park has masses of false rue anemone and Virginia bluebells and holds a Bluebell Festival on the second Saturday of May.
Eloise Butler Wildflower Garden in Minneapolis. In Wirth Park, off Interstate 394 at Theodore Wirth Parkway and Glenwood Avenue, it's thick with blooms in spring, and naturalists leads regular walks.
Minnesota's North Shore. This stretch of Lake Superior has so many wildflowers because it has so many habitats — boreal forest, bluff tops, bogs and rocky outcroppings, such as Artists' Point in Grand Marais. Typically, the peak is late May to early June.
Minnesota-Wisconsin
From Lake Pepin to the Iowa border, parks and preserves in the Mississippi River Valley have a big variety of woodland wildflowers as well as prairie flowers that bloom on sun-drenched hillside goat prairies.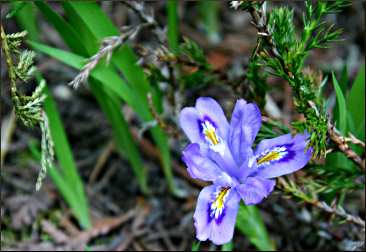 Wisconsin
Ridges Sanctuary in Baileys Harbor. This magic place on Lake Michigan in Door County is the home of many rare orchids and bog plants, such as gaywings, goldthread and buckbean. Go during Festival of Nature on Memorial Day weekend.
Perrot State Park in Trempealeau. On the climb to  Brady's Bluff, you'll see the gamut of shade-loving ephemerals and then the region's best display of jeweled shooting stars.
Iowa
Backbone State Park near Strawberry Point. Walk around the lake in this lovely park and you'll find masses of flowers tucked into rocky nooks and on wooded glades.
Illinois
Starved Rock State Park near Utica. The moist canyon floors of this Illinois River park are filled with bluebells and a sampling of other spring flowers, such as prairie trillium and Jack in the pulpit. On blufftop trails, you'll find ephemerals and clumps of jeweled shooting stars.
Michigan
Mackinac Island. This wooded island in the straits between Lake Michigan and Lake Huron is famous for lilacs, but earlier in the season it also has nice displays of Dutchman's breeches, Canadian anemone, dwarf lake iris, trillium and, in the first half of June, yellow lady's slippers.
Grand Traverse Commons Natural Area, Traverse City. The woods of northern Michigan are THE place to go if you want to see thousands of large-leafed trilliums.
But you also can see hillsides covered with them right in Traverse City, in the park behind the Village at Grand Traverse Commons retail development. A bit earlier in the season, you can see many yellow trout lilies.
Last updated on April 6, 2020