Wildflowers of the North Shore
On the shores of Lake Superior, delicate blooms mark the return of warmth.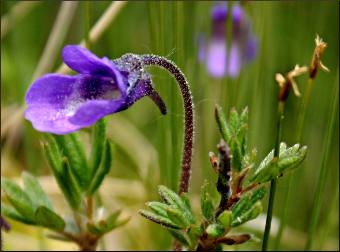 In spring, not that many people go to the North Shore to see the flowers.
They're small, and the rest of the scenery is big and distracting — roaring waterfalls, jagged cliffs and that mesmerizing inland sea that fills the horizon.
If you do look down, you'll find wildflowers huddled in cracks on lava flows, tucked along hiking trails and in boggy patches along streams. They're dainty, but many are fairly unusual — butterwort as well as bluebells, rock clematis along with columbine.
They stick around for a while, too, because the air from Lake Superior keeps them as cool as a florist's case.
Often, they don't appear until nearly June. But one year when I went up the third weekend of May, they were blooming everywhere.
The North Shore still was 30 degrees cooler than the Twin Cities but warm for the shores of Lake Superior at 55 degrees. And conditions were sunny and dry, so they'd arrived early.
I was walking around the rocky breakwall in Grand Marais when I ran into Glen and Donna Hambleton, who looked as if they'd just seen a much-loved friend.
They'd come to visit their favorite patch of butterwort, a tiny purple flower that looks like a shorter but more elegant harebell, the most common flower found on Lake Superior's volcanic outcroppings.
"We come to see them every year," Donna said. "They're an arctic plant and very rare."
The couple said they also make regular visits to see the spring flowers on the Superior Hiking Trail spur to White Sky Rock, east of Lutsen Mountain, and at Sugarloaf Cove nature preserve near Schroeder, where they volunteer.
Climbing around on the breakwall rock, I found the butterwort in a protected nook, waving in the breeze near purple-veined white violets. Nearby, I spotted a few frail Arctic primroses.
In every season, this finger of rock on the harbor is full of the random beauty of nature. Bright-orange lichen grew in splats of white lichen, like a sunny-side up egg. At the tips of a squat spruce tree, buds as round and bright-red as strawberries sprouted.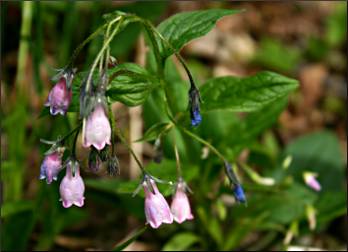 There are whole masses of butterwort — like a pitcher plant, it's carnivorous, catching insects on its sticky leaves — along the shore in Cascade River State Park at Butterwort Cliffs Scientific and Natural Area. Unfortunately, it's closed from May 1 through Aug. 15 to protect a herring gull nesting colony.
But inland, around the mouth of the Cascade River, I found all kinds of spring wildflowers. There were fiddlehead ferns, some stretched up and some with their heads still tightly coiled like a shepherd's crook.
Big patches of northern bluebells grew in sunnier spots, in pastel shades of pink and blue — they become blue as they mature. These also are known as lungwort and are cousins of Virginia bluebells, the larger and more bell-shaped flowers found along streams farther south.
On the trail that climbs the river gorge, I found a goldthread, a plant named not for its sparkly, sequin-like stamens but for its long golden root.
There was a bluebead lily, whose flung-out petals are pale yellow; its name comes from the bright-blue berry it produces in late summer.
And there were the white, bottle-brush flowers of the Canada mayflower, also called false lily of the valley, and lots of bunchberry. This low plant is seen all around Lake Superior.
It produces four fat white sepals in spring and red berries in late summer, which look spectacular if a plant is growing next to the bluebead lily.
Most people think of hiking the two-mile Oberg trail in fall, when its many overlooks provide views of the mountain's inland maple forest, but in spring it's lined with all of the spring ephemerals that came and went so fast farther south.
The first thing I saw as I climbed up the trail was a large pink flower hanging off the side of a rock outcropping. It was floppier than the familiar garden clematis but obviously a relative; checking my wildflower book, I saw it was a rock clematis.
Along the hillside trail, I found spring beauty and yellow violets and more bluebells. And there were nodding trillium, daintier and much more shy than the large-leafed trillium, which spread their giant white petals to the sun.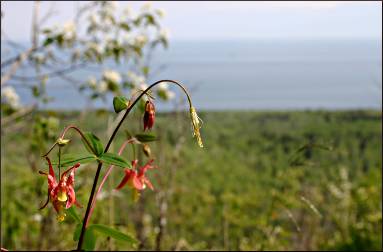 I saw a pointy white starflower, longleafed bluet and, near one of the many overlooks, a gracefully arched red-and-yellow columbine that framed itself beautifully against the Lake Superior horizon.
Farther down the shoreline near Schroeder, I stopped at Sugarloaf Cove to walk the one-mile nature trail.
It was as delightful as always, but the most interesting flowers were right along the parking lot and near the nature center — strawberry, with its distinctive notched leaves; pussytoes; and pink tenpoint phlox.
Like so much on the North Shore, this phlox is smaller and crouches lower than the ubiquitous wild blue phlox, and its five notched petals give it its name.
In the nature center, a chalkboard phrenology listed the other flowers seen, including sarsaparilla, juneberry and nodding trillium.
My last stop was Split Rock State Park, where I didn't see much except for marsh marigolds growing along a shaded stream. But they were one of the most perfect clumps I'd seen, pert and intensely yellow, reflecting the sun.
That spring was unusual in that the early warmth telescoped the progression of spring wildflowers; in most places, spring beauty and marsh marigolds are part of the first wave, and columbine and trillium part of the second.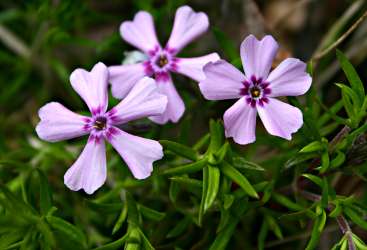 On the North Shore, the rocky nooks, shaded lowlands and moist gorge walls create growing conditions that don't follow the rules. For wildflower stalkers, that means that every visit includes surprises.
Trip Tips: Wildflowers of Minnesota's North Shore
When to go: Usually, spring wildflowers peak in early June. However, some  will pop up earlier in spots that are warm and sunny.
How to identify them: Treat yourself to a copy of the excellent "Wildflowers of the Boundary Waters" by Betty Vos Hemstad ($22.95, Minnesota Historical Society Press).
It includes gorgeous, full-color photographs that show the plant close-up, as you'll see it on the ground and in various stages of development. The text is engaging, too.
Where to look: Any of your favorite hikes will have some. For the most popular, see Hiking the North Shore.
Grand Marais: The breakwall harbors arctic-alpine plants. And it's always fun to walk around Artists' Point.
Cascade River State Park: This park between Grand Marais and Lutsen has many flowers in the low-lying ground around its mouth and along the trail that rises with the river gorge.
White Sky Rock: A short spur leads there from Lake Agnes on the popular 6.4-mile stretch of the Superior Hiking Trail between Lutsen Mountain and the Caribou Trail (County Road 4).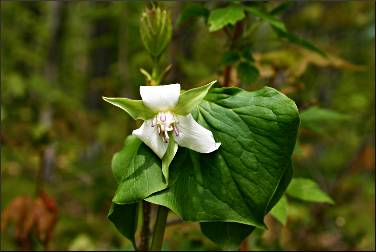 Oberg Mountain: This two-mile hike just south of Lutsen probably is the most popular on the shore. Take Forest Road 336, or Onion River Road, two miles to a parking area.
Cross the road to the trail; after a short distance, turn onto the 1.8-mile Oberg loop, which winds around the summit.
Sugarloaf Cove: This spot, once used by a logging company to assemble log rafts, has gone back to nature and now is one of the loveliest spots on the North Shore. It's six miles west (south) of Schroeder, at Mile Marker 73.
A one-mile interpretive trail winds through a red-pine plantation and alder thicket to a U-shaped cobblestone cove that faces nor'easters head-on and is a good place to watch waves.
In the log nature center, interpretive staff give Saturday programs and also coax the plunder away from light-fingered visitors, so other people can see it, too.
More information: For more photos, see the spring-wildflower gallery on our Facebook page.
For more about travel to the area, see our North Shore stories, especially North Shore by the mile.
For more about other places in the region, see Where to find spring wildflowers.
Last updated on June 13, 2019