Where to find spring wildflowers
Some can be seen everywhere; others are more elusive.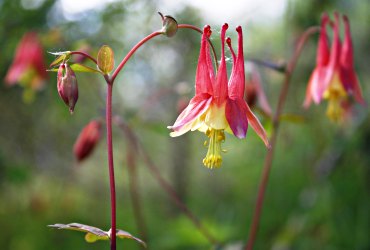 In spring, we're all delighted by the arrival of the first spring wildflowers. Here are just a few of the best places to look for them.
State parks are obvious choices, with carpets of flowers just off hiking trails. For more unusual flowers as well as more solitude, visit one of Minnesota's scientific and natural areas (SNAs) or Wisconsin's state natural areas.
For more, see At SNAs, step off the beaten path.
Nature Conservancy preserves also feature many interesting plants. Wildlife refuges, nature preserves and environmental learning centers are good places to look.
The Minnesota Wildflowers field guide describes all of the wildflowers, most of which bloom in the entire region, and many readers post comments listing the place and time of year they have seen a flower blooming.
For more, see our Facebook album of 50 spring wildflowers.
Spring ephemerals
In Minneapolis, off Interstate 394 at Theodore Wirth Parkway and Glenwood Avenue, the Eloise Butler Wildflower Garden is thick with blooms in spring, and naturalists leads regular walks.
Near Northfield, Minn., the hiking trails of Nerstrand-Big Woods State Park are perennial favorites; there's a loose-leaf wildflower guide in the park office to help novices get started.
Near Rochester and north of St. Charles, Minn., Whitewater State Park has all the blooms and naturalists to help identify them. Its annual wildflower walks are very popular, so reserve a place early.
Not far away, south of Plainview, small Carley State Park has masses of false rue anemone and Virginia bluebells and normally holds a Bluebell Festival on the second Saturday of May.
The west bank of the Zumbro River, south of Zumbro Falls, also has many bluebells and other ephemerals. The Zumbro Falls Woods SNA has a bigger variety, including the jeweled shooting star.
On the Wisconsin side of Lake Pepin, the first four miles of shady County Road AA south of Maiden Rock (also Rustic Road 51) has an amazing variety of flowers in May.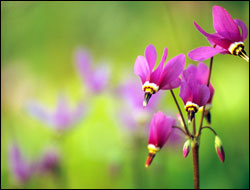 Many of its fellow routes have big displays of wildflowers; see Wisconsin's Rustic Roads.
Farther down the Mississippi, near Trempealeau, Wis., Brady's Bluff in Perrot State Park is carpeted with jeweled shooting stars, and its shady base harbors a large variety of ephemerals.
For more, see Road trip: Wildflowers of the Mississippi Valley.
In Devil's Lake State Park near Baraboo, Wis.,  there's a whole field of jeweled and white shooting stars on the Balanced Rock Trail. In nearby Mirror Lake State Park, there are lady's slippers on the Pulpit Rock Trail into Fern Dell Gorge state natural area.
Just north of the Illinois border, just north of Genoa City, Wis., a wide range of ephemerals blooms in the Turner Tract of Hackmatack National Wildlife Refuge.
In northeast Iowa, Backbone State Park near Strawberry Point has a large variety of ephemerals on the wooded and rock-lined trails around its lake. For more, see A cabin in Iowa.
Near Utica in northern Illinois, the moist canyon floors of Starved Rock State Park are filled with bluebells and a sampling of other spring flowers, such as prairie trillium and Jack in the pulpit.
On the Bluff Trail, there's an excellent display of jeweled shooting stars. For more, see Marvels of Starved Rock.
Late-spring wildflowers
State parks along the St. Croix and Mississippi rivers are a good place to look for columbines, May apples, large-flowered trillium and wild geranium. Try Interstate in Minnesota, Perrot and Wyalusing in Wisconsin and Pikes Peak in Iowa.
To see a lot of trilliums, check Apple River County Park just north of Amery, Wis., off U.S. 8 along Rustic Road 28.
Minnesota's North Shore has many flowers that thrive in the boreal forest, such as blue beadlily, bunchberry, Canada mayflower and northern bluebell.
For more, see Wildflowers of the North Shore.
In Baileys Harbor in Door County, gaywings, goldthread and buckbean grow at Ridges Sanctuary, along with many rare orchids.
The sanctuary offers guided walks as well as the Festival of Nature over Memorial Day weekend.
For more, see Spring in Door County.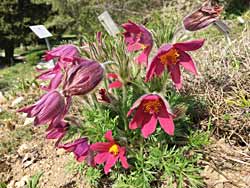 Prairie wildflowers
The pasqueflower is first to appear and can be found on sunny hillsides in April, especially on south-facing bluffs throughout the Mississippi River Valley. River Terrace Prairie SNA, a scientific and natural area along the Cannon River near Cannon Falls, Minn., has so many pasqueflowers that it's hard to walk among them.
In May, the sun-drenched goat prairies of southeast Minnesota and sandy spots along the Wisconsin River have a lovely selection of wildflowers.
Look for pussytoes, hoary puccoon, Indian paintbrush, prairie smoke, blue-eyed grass, wood betony and jeweled and white shooting star at Mound Prairie SNA, a goat prairie along Minnesota 16 between Hokah and Houston in southeast Minnesota.
Other good spots are in nearby Great River Bluffs State Park near Winona and the International Crane Foundation near Baraboo, Wis.
At Blue Mounds State Park near Luverne in southwest Minnesota, the yellow flowers of prickly pear cactus appear in June.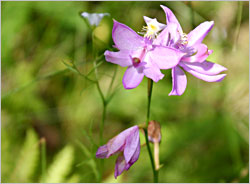 Bog plants
Buckbean, bog rosemary and pitcher plants are found along the boardwalks that cross the swales of Ridges Sanctuary in Baileys Harbor, Wis., on the Door Peninsula.
In northern Minnesota, along the bog at Lake Bemidji State Park, visitors also find wild calla, wild iris and the insect-eating sundew; in June, there are nearly 40 varieties of flowering plants.
In Itasca State Park, bog plants grow along the Dr. Roberts Nature Trail and in Iron Springs Bog SNA, which has a conifer swamp where many unusual plants grow, including ladies-tresses orchids.
Itasca Wilderness Sanctuary SNA, in the park, has an amazing selection of woodland and bog flowers that includes ladies-tresses as well as four types of bog orchid, striped and spotted coralroot and yellow and showy lady's-slipper.
In northwest Minnesota, bog plants are found along the boardwalks at Hayes Lake State Park near Roseau, Minn., and Big Bog Recreation Area near Waskish .
For more, see 10 great bog walks.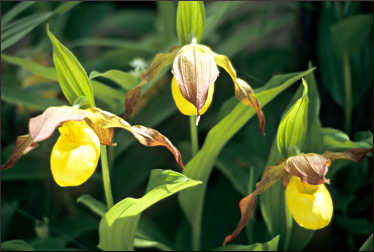 Orchids
Such orchids as the yellow lady's-slipper and showy lady's-slipper can be found in many boglike habitats in the north woods.
Ridges Sanctuary has 25 species of orchids, including the striped coralroot and ram's head and pink moccasin lady's-slipper.
In Lake Bemidji State Park, the stemless lady's-slipper, dragon's mouth orchid and grass pink can be found.
From the end of May, thick clumps of yellow lady's-slipper can be found in forests around Lake Michigan, including Mackinac Island and spots in Door County, including Potawatomi State Park near Sturgeon Bay and the Clearing near Ellison Bay.
Jay Cooke State Park near Duluth in northern Minnesota has a nice display, and naturalists offer wildflower walks.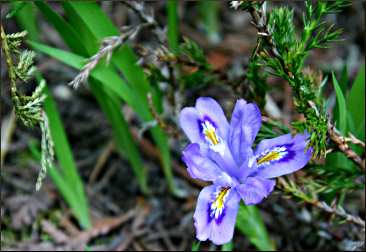 In northwest Minnesota, the Wildflower Route between Greenbush and Baudette, on Waters of the Dancing Sky Scenic Byway, displays many showy and yellow lady's-slipper, as well as the rare ram's head and calypso orchids.
When looking at orchids, be careful not to trample their roots, which can inhibit flowering for years.
Uncommon species
The dwarf trout lily is found only in Minnesota and only in three counties: Goodhue, Rice and Steele. Look for it at Nerstrand-Big Woods State Park near Northfield and River Bend Nature Center in Faribault.
In Door County, Wis., there are thousands of dwarf lake iris at Ridges Sanctuary in Baileys Harbor and a few at nearby Whitefish Dunes State Park. Arctic primrose and cancer root also grow in Ridges Sanctuary.
The small, white lady's-slipper can be found at the Nature Conservancy's Schaefer Prairie, less than an hour west of the Twin Cities near Glencoe, as well as Ordway Prairie, near Glenwood.
State natural areas protect many rare species. They're small areas that are operated by state DNRs, often in partnership with the Nature Conservancy, but are intentionally low-profile, with no services.
For more about them, see At SNAs, step off the beaten path.
Last updated on May 9, 2021