Ski out the door
From cozy north-woods lodges, guests glide into a world of white.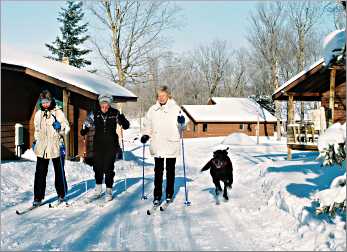 In a blizzard, nothing is better than holing up with an expert cook, a bottomless cookie jar, a steam room, a big hot tub and one of the best ski-trail groomers in the Midwest.
One January, the stars aligned in the heavens and I found myself in the best possible place to be during a blizzard: Maplelag.
This ski resort in northwest Minnesota is renowned for many things — all-you-can-eat meals, personable owners, hundreds of stained-glass windows and signs from defunct train depots — but it's most famous for its ability to conjure a bit of snow into world-class ski tracks when the rest of Minnesota is bare.
On this weekend, however, no alchemy was necessary. As my husband and I drove west, snow began to fly, and by the time we nosed the car into Maplelag's drive, a foot had fallen.
Another foot was on the way, making trail-grooming wizard Jay Richards the happiest man in the Great Northwest.
"This is the kind of snow you dream about," said Richards, an avid skier and the son of Maplelag founders Jim and Mary Richards.
There was nothing to do but ski, eat, read, play ping-pong, sit in the steaming hot tub and sleep — in short, everything we wanted to do.
As soon as we stowed our bags in the Norwegian Log Cabin, we set out on the Sukkerbusk Trail to Twin Lakes, stopping only when we realized dusk was falling with the flakes.
Then we came back for a meal of marinated flank steak, potatoes, green beans and blueberry pie with whipped cream.
During the night, Jim Richards drove to the Amtrak depot in Detroit Lakes to pick up three women from Chicago, and after that, they became our dinner companions, regaling us with tales of their various adventure trips with girlfriends, daughters and, occasionally, husbands.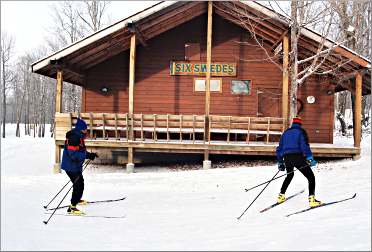 For years, they'd been making the 12-hour train trip to Maplelag from the Chicago area.
"Our husbands ask if we can't find someplace closer," said Carol Schumacher of Palatine, Ill. "Every year we consider not coming, but then we think, no, we have to come."
It was their winter break, and, like us, they found nothing more relaxing than a day of skiing and eating, with a midafternoon break for peach tea and a snickerdoodle, then an aprés-ski soak in the steam room or hot tub.
Jay and Jim Richards kept the Pisten Bully going on the resort's 64 kilometers of trails, and we followed them, stopping once so Jay could snap our picture amid the snow-flocked boughs.
Then we had to leave. Feeling a little blue after we got home, we checked the resort's website and found Jay had posted our photo and 24 others of the big snowfall.
"I thought I would make a photo album because I will always remember this day in my head," he wrote. "It will be nice to have the visual when it is 90 degrees in the middle of July and I will be sitting in the cab of the Pisten Bully dreaming about this day."
For skiers, Maplelag is as good as it gets. But not everyone can afford a vacation there, and luckily, there are many other lodges and housekeeping cabins where guests can ski right from their door.
If you want to save money on meals, bring a crock pot and a pot roast, and you'll be greeted by tantalizing aromas after a long day of skiing.
Below are some of the best resorts for skiing out the door.
Minnesota
Maplelag Resort, Callaway: This resort near Detroit Lakes is one of a kind. Sitting on a slight rise where hardwood forest meets prairie, it's the first spot to catch snow from the Rockies, and its proprietors keep trails impeccably groomed even in marginal conditions.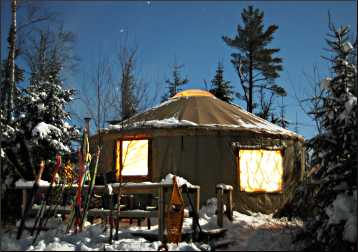 Note: The lodge burned to the ground in October 2022. Only the trails are available for use in 2023.
There's a variety of accommodations, from rustic pioneer cabins to Great Northern cabooses. Meals are served family-style in the dining room.
Guests bring their own sleeping bags, pillows and towels, though they can be rented. Ski equipment in all sizes can be rented, as well as snowshoes and kick sleds for hauling small children.
For more, see Happy days at Maplelag.
Poplar Creek guesthouse and yurts on the Gunflint Trail: In the middle of the Gunflint Trail, near the Trail Center, Ted and Barbara Young offer accommodations along the 29-kilometer Banadad Trail, from which guests can ski or snowshoe into the Boundary Waters Canoe Area Wilderness.
Their Poplar Creek Guesthouse is very attractive and has two B&B rooms, one with two beds and one with a double whirlpool. The B&B rooms share a common area with a gas fireplace and kitchenette.
The Tall Pine Yurt, a round canvas hut with a kitchen and wood stove, sleeps four. A sauna is nearby. The Croft Yurt is on the Banadad Ski Trail and is available in winter as an overnight ski-touring stop.
For more, see From yurt to B&B on the Gunflint.
Gunflint Trail resorts: In far northeastern Minnesota, lodges share 200 kilometers of groomed trails and snow that's the most reliable in Minnesota. On the Central Gunflint Trail, Bearskin Lodge has very nice traditional cabins and lodge suites. There's a large Hot Tub Hus.
From Bearskin, skiers can glide over for hot chocolate and cookies at Golden Eagle Lodge, which has a mixture of older and new cabins, some with whirlpools, and a 1945 lodge. A naturalist leads excursions and activities. 800-346-2203. Both resorts have nice lighted loops.
In the Upper Gunflint, Heston's, Gunflint Pines, Cross River Lodge, Gunflint Lodge and Big Bear Lodge are among other good places to stay.
For more, see Snow heaven on the Gunflint Trail.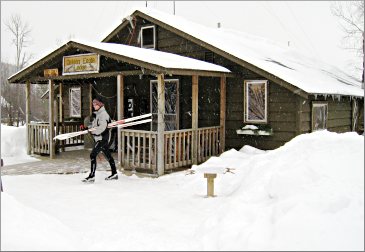 Cascade Lodge between Lutsen and Grand Marais: This 1939 lodge alongside the Cascade River maintains the western section of the 51-kilometer Cascade-Deer Yard Lake system with a Pisten Bully; Cascade River State Park is responsible for the eastern half.
Guests can stay in the lodge, the motel or in cabins. There's also a restaurant and pub, often with live music on Saturdays.
Four-Season Suites at Itasca State Park north of Park Rapids: From these two-room suites near Douglas Lodge, it's easy to reach 13 miles of groomed trails and unlimited snowshoeing.
Each suite has a kitchenette, cable TV and WiFi. For more, see Itasca in winter.
Giants Ridge Lodge and Villas, Biwabik: This alpine-ski resort on Minnesota's Iron Range also has 60 kilometers of well-groomed cross-country trails, and skiers can use the lifts to get to the top of trails for long, gradual downhill glides.
The all-suite Lodge at Giants Ridge is at the cross-country trailhead; guests can stash their skis in the waxing room at ground level.
Villas are across the road and have kitchens and fireplaces. For more, see A Giant advantage.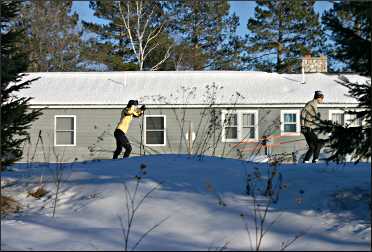 Upper Peninsula of Michigan
Active Backwoods Retreat, Ironwood: This area has the most reliable snow in the region by far, and skiing usually continues into April.
On the southern outskirts of town, along the Montreal River, ABR has 60 kilometers of beautifully groomed skating and striding trails and a 4-kilometer snowshoeing loop on more than 600 acres.
ABR doesn't have a lodge, but it does have houses along the trail. The Hilltop House has three bedrooms, two baths, a Jacuzzi and fireplace and sleeps up to 14. The three-bedroom River House has a fireplace and electric sauna and sleeps 10.
Three rustic cabins are right on the trails, accessible only by ski or snowshoe. Two sleep six, and one sleeps eight. Guests can use a wood-fired sauna with hot shower.
On the north side of town, near the Big Powderhorn alpine hill, volunteers maintain the Wolverine Nordic Trails, 25 kilometers of trails groomed for skating and classic skiing.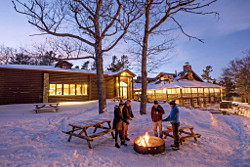 For more, see Ironwood the reliable.
Keweenaw Mountain Lodge in Copper Harbor: This Keweenaw Peninsula lodge in the hills above Copper Harbor was built by the WPA during the 1930s. It has handsome log cabins with big fireplaces but no kitchens; there's a restaurant in the lodge.
It grooms 8.4 km of its own cross-country ski trails with one of ABR's old Ginzu groomers, rents skin skis and lends snowshoes to guests for use on its snowshoe trails. Mount Bohemia is nearby for black-diamond skiing.
For more, see Copper Harbor refuge.
Wisconsin
Afterglow Lake Resort near Phelps: This cabin resort in northeast Wisconsin, not far from the Michigan border, has 11 miles of well-maintained trails that are groomed six times a week.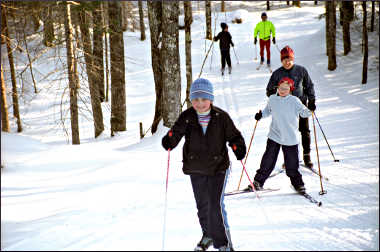 Snow is reliable, and it's a good place for families, with downhill tubing (the owner tows people back up the hill by snowmobile) and lighted ice skating. There's a game room, whirlpool and sauna.
Housekeeping cottages have wood-burning fireplaces and two to five bedrooms apiece. Sheets and towels are not provided. Call 715-545-2560.
For more, see Snow asylum.
High Point Village near Ogema: This resort in north-central Wisconsin, across Bass Lake from the state's high point, is just off Timm's Hill National Trail, part of a 50-kilometer network of ski trails.
It rents five attractive chalet cabins with loft and full kitchen. There's a coffee shop on the premises that sells pastries, soup and panini.
Palmquist Farm near Brantwood: This resort in north-central Wisconsin is a good place for beginners and children: Its 10 miles of trails, groomed for striding and skating, are gentle, with bypasses cut around the man-made hills.
There's also an ice-skating pond and sledding hill, snowshoeing and sleigh rides behind two Belgian draft mares.
A wood-fired Finnish sauna has a reading room. Lodging is in cabins, a new inn and the farmhouse, where everyone gathers for meals.
Last updated on December 8, 2021