Baileys Harbor in Door County
On the Lake Michigan side of the famous peninsula, this town draws nature-lovers.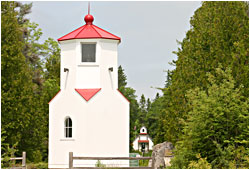 Every May, wildflower aficionados find their way to Baileys Harbor.
They walk past two 1870 range lights on a boardwalk lined by endangered dwarf lake iris.  On  strips of wetland called swales, they look for bogbean and goldthread. In June, they search for 25 species of orchids.
The land that Ridges Sanctuary occupies almost became a trailer park. Now, it's habitat for more species of plants than any other place in Wisconsin.
The preserve is why many people visit Baileys Harbor. But even more come to photograph its lighthouses, kiteboard off its breezy beach and bicycle on its roads.
The town is the biggest on the Lake Michigan side of Door County, and arguably is the most outdoorsy destination on the peninsula.
It's also the most — how should we say this? — "normal"-looking town on the Door Peninsula. It isn't tourist-cute; there are dive bars among the delis and ice-cream shops.
Some tourists don't notice that Door County is made up of a series of towns. It  can be hard to tell, especially on the Green Bay side of the peninsula, because of the non-stop stream of ice-cream parlors, wineries and gift shops.
All of the towns also have lovely beaches and parks. But each town has a different personality, and each has attractions that set it apart from the others.
So . . . what makes Baileys Harbor special?
The nature sanctuary
At Ridges Sanctuary, trails follow 30 sand ridges separated by wetland strips called swales. Just inland from Lake Michigan, they're cooled by lake breezes that give it the characteristics of boreal forest, normally found much farther north.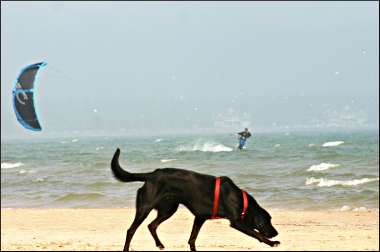 The threatened dwarf lake iris grows here by the thousands, along with Arctic primrose, cancer root and many rare orchids, including ram's head lady's slipper.
In 1937, locals saved the land from use as a trailer park. With the help of Chicago landscape architect Jens Jensen, who built the nearby folk school The Clearing, they turned it into a nature preserve.
Over Memorial Day weekend, Ridges offers dozens of field trips during Festival of Nature. For more, see Spring in Door County.
The beach
Across Ridges Road from the sanctuary is a county park with a wide, sandy beach that's breezy and usually 10 to 20 degrees cooler than the rest of the county.
It's a favorite spot for kiteboarders and windsurfers.
There's another beach south of town, Anclam Beach Park, with a playground.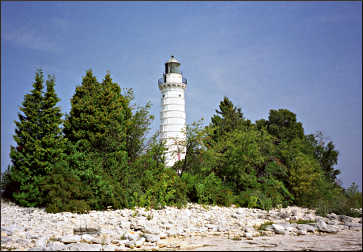 The lighthouses
North of town, the shining white Cana Island Light is one of Lake Michigan's prettiest.
Visitors pick their way over a rock causeway, sometimes through water, to get to the 1870 lighthouse, which is open daily from May through October. The tour costs $12, $10 for children 5-17.
At Ridges Sanctuary, the two range lights have one red and one white light; sailors lined them up to get "on range" while entering the harbor.
There's a fourth beacon at the tip of the point across from the harbor. An old "bird cage" lighthouse, it was built in 1852 and closed after the range lights were built.
You can see it from a kayak, canoe, pontoon or powerboat rented from Lakeshore Adventures.
The inland lake
This shallow inland lake is the largest in Door County. The southern end is developed with resorts and cottages, and the northern part is mostly wetlands and includes the Kangaroo Lake State Natural Area and two small preserves.
The natural areas
There are 28 state natural areas in Door County, and six of them are around Baileys Harbor, including Kangaroo Lake, Ridges Sanctuary and Meridien Park.
Toft Point is perhaps the best known. The former home of Emma Toft, "Wisconsin's First Lady of Conservation," it's down Ridges Road from Ridges Sanctuary.
Toft and her family operated a summer resort on the land, and she refused to sell to developers. The 686-acre point is gorgeous, with a trail leading through forest and more than two miles of shoreline.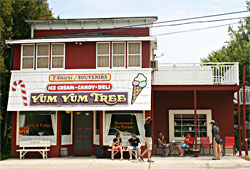 The brewery
Door County is better known for its wineries, but it also has two breweries. In Baileys Harbor, Door County Brewing Co. names its beers after local characters, locations and events: Polka King Porter, Little Sister Witbier and Goat Parade Stout.
Its taproom is just west of town on County Road F, and on weekends it hosts bands. In June, it sponsors the Door County Beer Festival at Town Hall Park.
The Shakespeare plays
In the gardens of Björklunden, the northern campus of Lawrence University in Appleton, the Door Shakespeare troupe presents two plays in repertory from late June to late August.
The campus, on the lakeshore just south of town, also offers weeklong summer seminars on such topics as literature, politics and philosophy. Students can stay at the lodge or pay a commuter rate, which includes lunches and Sunday dinner.
Also on the grounds of Bjorklünden, which is Swedish for "birch grove by the lake," there's wooden Boynton Chapel, modeled after a medieval stave church in Lillehammer, Norway.
Inside, there are 41 hand-painted frescoes and carved furniture.
Trip Tips: Baileys Harbor in Door County
Getting there: It's 22 miles from Sturgeon Bay.
Annual events: Memorial Day weekend, Festival of Nature at Ridges Sanctuary. June, Door County Beer Festival. July 4, Fourth of July Celebration.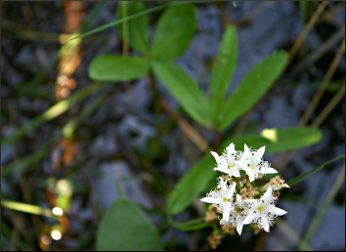 Free concerts: They're 5-7 p.m. Fridays from late June through August, on the Town Hall lawn.
Ridges Sanctuary: The trails are open year-round, $5 for adults. The nature center is open from May through October. The naturalist holds workshops and leads hikes, by snowshoe in winter.
Cruises: On a former Chicago water taxi, Shoreline Cruises offers a one-hour harbor cruise, a two-hour lighthouse cruise and a sunset cruise.
Door Shakespeare. In summer, this troupe stages two plays in repertory in the gardens of Björklunden, the northern campus of Lawrence University in Appleton, Wis. It's just south of town, off Wisconsin 57.
Bjorklunden Seminars. This 425-acre estate on the shore of Lake Michigan is owned by Lawrence University and offers weeklong seminars in many subjects.
Summer seminars begin in June and include such topics as literature, politics and philosophy; at the end of August, topics become lighter, with seminars on film, water-color, fiction writing, bridge, drawing and nature.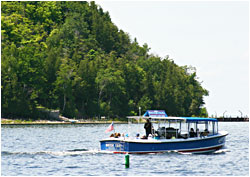 Students can stay at the lodge. People who want to save money by camping nearby can pay a commuter rate, which includes lunches and Sunday dinner.
Bicycling: County Road Q is a quiet road north of town, and it's a seven-mile ride to Cana Island Lighthouse. Keep going, and you'll end up in Ephraim.
Golfing: On the south end of town, Maxwelton Braes Golf Course is an 18-hole championship course. It also offers lodgings in its 1930 Tudor-style lodge.
Zip lining: Near Ridges Sanctuary, Lakeshore Adventures operates an adventure course with three canopy zip lines and dual racing lines.
Accommodations: The Blacksmith Inn is right on the harbor, walking distance from Ridges Sanctuary. It has 15 rooms in two buildings, each with whirlpool, fireplace and balcony with harbor views.
It has its own beach, and use of kayaks and bicycles is included. It also rents a house across the street.
Places to stay on Kangaroo Lake include East Shorewood Cottages and Sunset Shores Resort.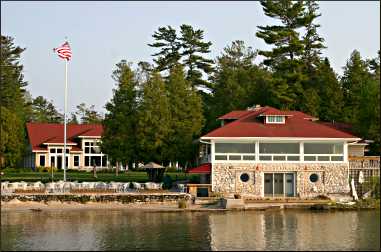 Gordon Lodge, once the estate of a Sturgeon Bay physician, occupies a point on Lake Michigan's North Bay, halfway between Baileys Harbor and Ephraim/Sister Bay.
If you like the "Mad Men" look, you'll love the elegant retro decor of the newly refurbished 1961 lodge rooms, each with private patio facing the lake. On the bay side, atop lichen-covered rock, 1940s cottages have wood-burning fireplaces and a similar retro style. They're reserved for adults.
Cottages with a more modern decor are on the lake side. There's a sand beach, plus outdoor pool and hot tub. Kayaks and bicycles are available for guests.
A hot breakfast is served in the equally stylish Gordon House. On the top story of the 1930s stone boathouse, a restaurant with water views is open to the public.
Bailey's Sunset Motel & Cottages. This inn occupies seven acres on Highway 57, a mile north of Baileys Harbor. It allows pets and has a playground and large back yard.
The one-bedroom cabin is especially nice, with small flat-screen TV and DVD player and electric fireplace. There's also a motel that includes an economical small room. Wood is included for fire pits.
Information: Baileys Harbor tourism.
For more about the area, see Door County 101.
For more about other towns, see Egg Harbor, Fish Creek and Sister Bay stories.
Last updated on January 26, 2022