Fish Creek in Door County
In this historic resort town, crowds come for the shops and the scenery.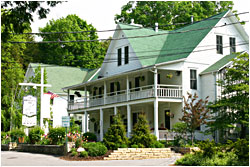 Few tourist towns are more blessed than Fish Creek.
It's known as Door County's shopping town, and if people think that's too much of a good thing — well, they're in the minority, judging by throngs on the streets.
It's also the gateway to the wildly popular Peninsula State Park. This big park is more like a resort, with a beach, boat rentals, playgrounds, tennis court and golf course, plus a theater, lighthouse, bike trails and one of the state's best-known hiking trails.
The town itself is both historic and adorable. A photograph of it, taken from the park's Shore Road, illustrated a 1969 story in National Geographic that is credited with kick-starting the modern era of tourism on the peninsula.
Loggers and fishermen were the first settlers in Fish Creek, as they were on the rest of the peninsula. But by the turn of the century, it had become a resort town, and much of it now is a historic district.
Some tourists don't notice that Door County is made up of a series of towns. It can be hard to tell, especially on the Green Bay side of the peninsula, because of the non-stop stream of ice-cream parlors, wineries, gift shops, bistros and inns.
All of the towns also have lovely beaches and parks. But each town has a different personality, and each has attractions that set it apart from the others.
So . . . what makes Fish Creek special?
The park
Peninsula State Park occupies the helmet-shaped point that separates Fish Creek from Ephraim, and it has two bays of its own. Nicolet Beach occupies the most protected one and often is cited as one of Wisconsin's best beaches.
From the 10-mile Sunset Bike Route, you can stop to tour the 1868 Eagle Bluff Lighthouse, Nicolet Beach and the nature center.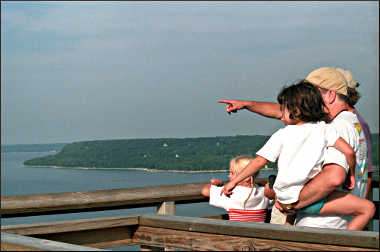 The trail is finely crushed limestone, and you can ride onto it from Fish Creek, along Shore Road. There are bike rentals near the park entrance and also at the park concession at Nicolet Beach.
From the two-mile Eagle Trail loop, you can scale Eagle Tower for a view of Eagle Harbor and Ephraim. It's a beautiful walk, past springs and limestone outcroppings.
Needless to say, campsites are coveted in this park, which is the state's most popular camping destination. For weekends, reserve exactly 11 months in advance.
The theaters
If you're not from Wisconsin, you can learn a whole about its culture and lingo by watching the plays at Northern Sky Theater.
The professional troupe performs in an amphitheater in Peninsula State Park and is best known for its hilarious plays about lovable Wisconsin doofuses: "Guys on Ice," "Packers Fans From Outer Space," "Lumberjacks in Love."
South of Fish Creek, on the shores of Green Bay, the Peninsula Players is the nation's oldest professional resident summer theater.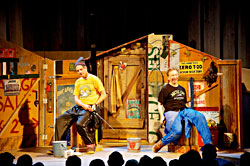 It put on its first plays in 1935 in the back yard of a Fish Creek motel and now performs in an open-sided pavilion on the edge of a twinkle-lit cedar forest.
The auditorium
For a town of 1,000, Fish Creek attracts a lot of big-name performers — Ziggy Marley, Ladysmith Black Mambazo, the Indigo Girls — thanks to the Door Community Auditorium.
It's also the home of the classical Peninsula Music Festival for three weeks in August, and in September and October, it hosts Northern Sky Theater plays.
The drive-in
In a wooded setting on the hill between Fish Creek and Ephraim, the Skyway Drive-In is a throwback to a simpler time.
It's been showing double features of first-run movies since 1950. There's a snack bar, too, serving foot-long hot dogs, pizza and popcorn with real butter.
The art school
On a 10-acre campus in Fish Creek, the Peninsula School of Art offers workshops year-round, in ceramics, jewelry-making, paper-making, photography and especially painting.
Its Guenzel Gallery and gardens are open Monday through Saturday. The school also offers lectures and free Family Art Days.
For more casual artists, the Hands On Art Studio offers studio space and art materials, no reservations needed. Make your own jewelry, glaze a bowl, fuse some glass or weld metal into anything you want.
The historic district
In 1896, German immigrant Dr. Herman Welcker had been in Milwaukee only a few years when he fell in love with Fish Creek. He moved his wife and daughter there and built the Henriette Hotel, then cottages.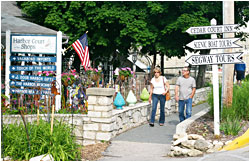 In 1907, he moved the Lumberman's Hotel across frozen Green Bay from Marinette and named it Welcker's Casino, for the basement gaming tables he provided for men.
The Henriette eventually became the White Gull Inn, and Welcker's Casino is the Whistling Swan.
The shops of nearby Founder's Square also are part of the district. It includes the original cabin of town founder Asa Thorp, who also ran a summer resort.
The French toast
Few B&Bs have gotten more mileage out of an award than the White Gull Inn, whose cherry-stuffed French toast was proclaimed Best Breakfast in America by the show "Good Morning America."
Breakfast is open to the public as well as guests, so you get to try it, too.
The winter festival
In early February, things get so wild at Fish Creek's Winterfest that people start throwing things — toilet seats, bicycles, pie tins.
There's also an ugly-sweater contest, snowshoe dancing and, more conventionally, ice carving and a candlelight ski.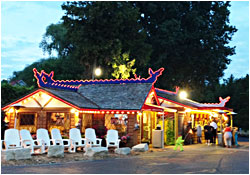 Trip Tips: Fish Creek in Door County
Getting there: It's seven miles from Egg Harbor and next door to Ephraim.
2023 events: Feb. 3-5, Winterfest. May 6, Door County Half Marathon in Peninsula State Park. June 3-4, Open House at Peninsula State Park. Mid-June to mid-August, Concerts in the Park. July 23-29, Plein Air Festival. August, Peninsula Music Festival. October, Jack O' Lantern Days.
Free concerts: Concerts are held on the lawn of Noble Square at 2:30 p.m. Tuesdays from mid-June to mid-August.
Accommodations: Fish Creek has a great selection of lodgings, from fancy B&Bs to mom-and-pop motels and cabin resorts.
In the historic district, the 1896 White Gull Inn is across from cedar forest and half a block from the bay. It also rents two cottages, two houses and rooms in two other houses. The Whistling Swan, originally built in 1887, is down the street, next to shops.
The two-story Main Street Motel isn't historic, but it's quiet and between two churches and a park.
On a quiet hillside, the Thorp House Inn and Cottages was built in 1902 by the town founder.
Edgewater Cottages includes seven white-frame cottages along a lawn that runs to the water.
The two story By-the-Bay Motel is across the road from the town beach. The quiet Cedar Court Inn is between the busy main street and the waterfront and has an outdoor pool.
Just north of town, Robins Nest Cottages back onto Fish Creek and the state park. All seven cottages must be rented together.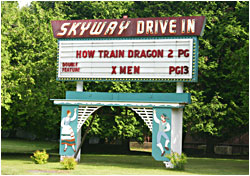 Julie's Park Café & Motel is on the road to Peninsula State Park and accepts pets.
For details, see Where to stay in Door County.
Dining: In the historic district, Pelletier's and White Gull Inn offer fish boils.
On the north edge of town, near the entrance to Peninsula State Park, Wild Tomato serves wood-fired pizza.
In a lovely location next to the real Fish Creek, Not Licked Yet Frozen Custard also serves sandwiches and has a playground.
Farther down the road, the English Inn features armored knights and burning torches.
At the intersection of county roads A and F, the traditional Greenwood Supper Club features prime rib and whitefish.
Information: Fish Creek tourism, 800-577-1880.
For more about the area, see Door County 101.
For more about other towns, see Egg Harbor, Sister Bay and Baileys Harbor stories.
Last updated on January 24, 2022