Egg Harbor in Door County
On the famed Wisconsin peninsula, it's the first and perhaps prettiest town.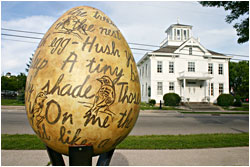 For most tourists, Egg Harbor is the "first" village on the Door Peninsula.
After crossing the Sturgeon Bay Ship Canal, they drive 17 miles past orchards and fields before they get another glimpse of water.
There are several stories about how Egg Harbor got its name. Some say it was because nests full of duck or seagull eggs lined the harbor. But many locals prefer the fun story.
In the version told by Door County Trolley guide Ed Schriener-Schmitt, a Green Bay woman named Elizabeth Baird hired two boats in 1825 to bring her and her eggs to market on Mackinac Island.
When they pulled into the harbor to rest, the captain and owner of the boats, infuriated that his hired captain had pulled ahead to reach the shore first, began pelting him with eggs. The other captain pelted him back.
The rest is history.
Some tourists don't notice that Door County is made up of a series of towns. It can be hard to tell, especially on the Green Bay side of the peninsula, because of the non-stop stream of ice-cream stands, wineries, gift shops, bistros and inns.
But each town has a different personality, and each has attractions that set it apart from the others.
So . . . what makes Egg Harbor special?
The eggs
In 2014, artists created 50 giant decorated eggs to celebrate the village's 50th anniversary. They used beads, glass, metals, clay, boiled wool . . . you name it. One egg was cracked open to show a baby turtle; another was a bird cage.
They were displayed and then auctioned to raise funds for public art, but some permanent eggs then were commissioned and installed, and the popular EGGstravaganza periodically returns, with eggs on display during summer and then auctioned off.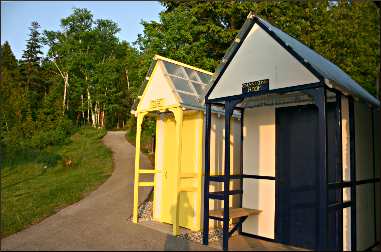 A brewery and a distillery
There are lots of wineries on the peninsula, but Egg Harbor had its first brewery. On balmy summer evenings, the patio of Shipwrecked Brew Pub is the place to be, across from the village park and right in the middle of the action.
Not far away, Hatch Distilling serves craft spirits and cocktails in its tasting room.
The treats
Every Door County village has boatloads of treat stops to tempt the tourists.
But in Egg Harbor, they're concentrated in the village center, within a block or two of each other. You can browse on foot, stopping to admiring the carefully tended perennial gardens in front of shops.
There's everything that makes life sweet: chocolate and coffee at the Chocolate Chicken; gelato and popcorn at Double Delites; cheese and craft beer at Schoolhouse Artisan Cheese; pastries at Pink Bakery; bread and soup at MacReady Artisan Bread.
You can eat your finds in lovely little Harbor View Park, on one of several picnic tables overlooking the marina.
The beach
It's one of the best on the peninsula, with 1,600 feet of sand beach and a playground, just south of downtown.
Door County Adventure Center offers kayak and paddleboard rentals and lessons there, plus daily sunset kayak tours.
The free music
Nearly every village offers a weekly free concert in summer, but Egg Harbor has two, and sometimes three or four.
Bring chairs. Regular concerts are at 5 p.m. Thursdays at Harbor View Park and 7 p.m. Sundays at the Peg Egan Performing Arts Center on Church Street (at Orchards Golf Course in case of rain).
The staff at Birch Creek Music Performance Center often offers family concerts on Saturdays afternoons. And sometimes, folk musicians play on the lawn in front of MacReady Bread Company.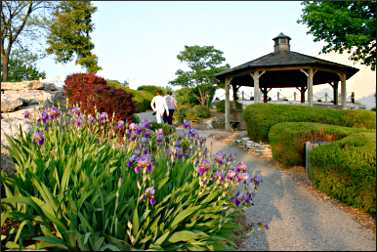 The grocery store
Just before you hit downtown, you'll see Main Street Market on the right. It's one of only two supermarkets on the peninsula, the other being the Piggly Wiggly in Sister Bay.
For campers and people on a budget, access to a supermarket is a big plus.
The old-fashioned resort
Just down the road from Beach Park, Alpine Resort is the last of its kind.
Founded by Swiss-born brothers in 1921, it's run by the second, third and fourth generations of Bertschingers. In July and August, the sprawling lodge holds nightly entertainment reminiscent of Catskills resorts as shown in the movie "Dirty Dancing."
It's worth a visit, and its Hof restaurant is open to the public. Lodge rooms are old-fashioned, and there are also guesthouses and rows of cottages named after states.
The cave
Yes, a cave. Horseshoe Bay Cave, 2½ miles south of downtown, is the second-longest cave in Wisconsin and a noted sanctuary for four species of bats. Door County Parks offers guided tours two or three days a year.
Trip Tips: Egg Harbor, Wisconsin
Getting there: It's 60 miles from Green Bay. From Egg Harbor, it's seven miles to the next town, Fish Creek.
For more, see Arts in Door County, Outdoors in Door County and Fall in Door County.
Annual events: Jan. 1, New Year's parade. Fourth of July, Independence Day Celebration. October, Pumpkin Patch Festival. Weekend after Thanksgiving, Holly Days.
Shopping: At the Main Street Shops, you'll find European imports, pottery, art and many other gifts.
Nightlife: Birch Creek Music Performance Center, three miles east of Egg Harbor on County Road E, offers concerts from mid-June to mid-August.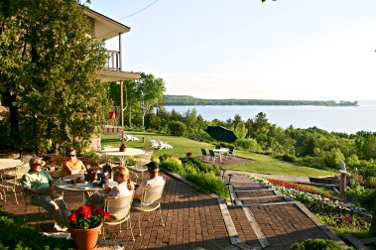 Peninsula Players, four miles north of town, stages plays in a covered pavilion on the shores of Green Bay.
Woodwalk Gallery hosts a series of classical-music concerts in summer.
Galleries: Five miles south of Egg Harbor on County Road G, Woodwalk Gallery showcases four dozen artists in an 1890s barn.
Three miles north of town, Edgewood Orchard Galleries was founded in a stone fruit barn in 1969.
Accommodations: Egg Harbor has many large condo resorts with all the amenities. They include Landmark Resort on the bluffs south of town, The Shallows Resort on Horseshoe Bay and Newport Resort a bit inland.
Just north of downtown, the three-story Egg Harbor Lodge is on a hillside with excellent views of the bay, and The Ashbrooke is an adult-only hotel.
There are also budget choices, including the two-story Lull-Abi Motel on Highway 42, just north of downtown. It has a large and pretty back yard that includes grills and a gazebo with hot tub.
Camping: Sites include Egg Harbor Campground & RV Resort, right off Wisconsin 42 north of town, and Rustic Timbers (formerly Door County Camping Retreat) southeast of town.
Dining: Downtown, Casey's BBQ & Smokehouse is a great place for a casual meal.
Trolley tours: Door County Trolley operates from the north edge of Egg Harbor, on Wisconsin 42.
Information: Egg Harbor tourism, 920-868-3717.
For more about the area, see Door County 101.
For more about other towns, see Fish Creek, Sister Bay and Baileys Harbor stories.
Last updated on January 31, 2022