Door County 101
Want to check out this popular peninsula? Here's everything you need to plan a visit.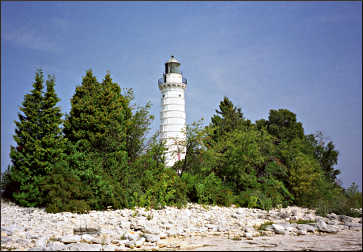 Around the Upper Midwest, Door County is the tourist destination that other tourist destinations envy.
Everything a tourist loves, it's got: Lighthouses and sand dunes. Wineries and boutiques. Bicycle paths and beaches.
There's a little bit of New England in the white-frame buildings of Ephraim, where tourists click photos of Wilson's, a century-old ice-cream parlor.
There's a little bit of Europe in Sister Bay, where goats graze on the sod roof of Al Johnson's Swedish Restaurant. There's not much that isn't picturesque.
Of course, things can get a little hectic, a little crowded. Door County has been discovered.
Here's what you need to know about visiting Wisconsin's favorite peninsula.
Getting there
Door County starts just north of Algoma, but the Sturgeon Bay Ship Canal creates the Door Peninsula.
Sturgeon Bay is 45 miles from the city of Green Bay, 150 miles from Milwaukee, 240 miles from Chicago and 320 miles from Minneapolis.
The first town on the Green Bay side, Egg Harbor, is 17 miles from Sturgeon Bay. Fish Creek is seven miles from Egg Harbor and adjacent to Ephraim, which blends into Sister Bay.
Sister Bay is six miles from Ellison Bay, and it's another six miles to Northport and the ferry to Washington Island.
Baileys Harbor is the biggest town on the Lake Michigan side. It's 10 miles over from Egg Harbor.
When to go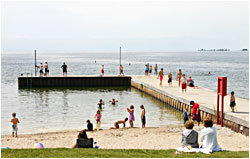 The whole month of July, the first three weeks of August and weekends in October are very busy. Reserve far in advance.
May and the first three weeks of June are a great time to see wildflowers and get good deals on hotels. In late May and early June, see the rare wildflowers at Ridges Sanctuary near Baileys Harbor and at the 28 state natural areas in Door County.
For more, see Spring in Door County.
Hotel rates start to go down in mid-August, and weekdays in September and October are very pleasant. Locals say September is the best month.
For more, see Fall in Door County.
Where to stay
There are hundreds of hotels, motels, condos and inns, and a few cabins and cottages. The county website can help you choose.
For our list of some good values, see Where to stay in Door County.
There's also camping in four state parks and private campgrounds.
Sites at Peninsula State Park are the most coveted in Wisconsin. It's almost like a resort; the park includes beaches, bicycle trails, a professional theater and a golf course, and it's adjacent to the shopping and restaurants in Fish Creek and Ephraim. Reserve the minute the window opens, 11 months in advance.
Newport State Park is Wisconsin's only wilderness park. It has beautiful walk-in sites that are on Lake Michigan and stone's throw from Europe Lake.
In Sturgeon Bay, Potawatomi State Park has a campground on the bay and also an accessible cabin for people with disabilities. The park is the eastern trailhead of the Ice Age National Scenic Trail.
Rock Island State Park has 40 campsites on lovely beaches, 10 miles of hiking trails, a lighthouse and a unique stone "boathouse." Access requires two ferry crossings.
For more, see Wisconsin's Icelandic outpost.
Which town?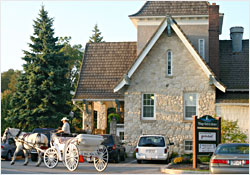 Sturgeon Bay is a fun place to stay in itself, but it's not the best base to see the rest of the peninsula: From there, it's 17 miles on the Green Bay side to the next town, Egg Harbor, and 41 miles to the last town, Gills Rock.
For many people, Egg Harbor is the "first" village. You'll see bistros and boutiques as you drive through, but it's also got a lovely little hillside park that overlooks the marina and is perfect for a picnic.
Its town beach, with changing rooms and a playground, could be the nicest on the peninsula.
All of the villages are on harbors and have marinas and waterfront parks. From Egg Harbor, it's seven miles to Fish Creek, which has even more shops on its south end.
Peninsula State Park separates Fish Creek from Ephraim. This town has a New England feel, with a row of white-frame hotels that face the harbor, a favorite spot to stroll and watch the sunset.
The hill between Ephraim and Sister Bay is lined with tourist businesses. Sister Bay has the peninsula's longest public beach and waterfront park and a Piggly Wiggly supermarket and shops on the hill above the harbor.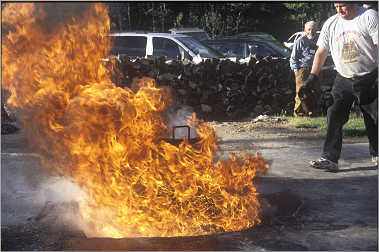 Its waterfront park is across from Al Johnson's Restaurant, famous for the goats grazing on its sod roof.
Sister Bay is  a good base if you like the more outdoorsy north end of the peninsula. From there, it's nine miles south to Baileys Harbor on Lake Michigan, the cooler side.
Kiteboarders like Baileys Harbor's wide sand beach. It's across the road from the old range lights on the grounds of Ridges Sanctuary, a wonderful place to hike and look for wildflowers. The trip to nearby Cana Island lighthouse is a popular bicycle ride.
Back on the Green Bay side of the peninsula, it's six miles to Ellison Bay from Sister Bay.
From this quiet village, home of the The Clearing folk school, it's five miles to Gills Rock, where you can catch the Island Clipper to Washington Island, and another two miles to the car ferry at Northport.
From Ellison Bay, Newport State Park and Europe Bay beach are five miles east on Lake Michigan, and Rowleys Bay and the Mink River Estuary, a favorite kayak destination, are five miles southeast.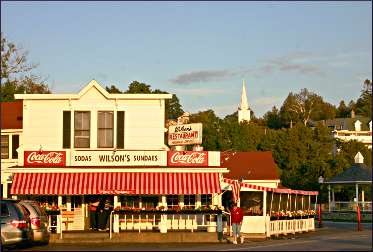 Where to eat
Door County has many fine restaurants, pizzerias, delis and barbecue joints.
But at some point, every tourist has to go to a fish boil. These outdoor meals are are the Door version of a lutefisk feed, a humble peasant repast that, through the years, has acquired a folkloric cachet.
One of the best places to have one is at Rowleys Bay Resort, where the boilmaster adds theater and history to the pot, along with potatoes, onions and fish. Dessert usually is cherry pie, another Door tradition.
The Viking Grill in Ellison Bay and Pelletier's and White Gull Inn in Fish Creek also are good places to go for fish boils.
Other tourist favorites: Many people like to get a cone from Wilson's, the 1906 ice-cream parlor in Ephraim. If you have children, get frozen custard from Not Licked Yet in Fish Creek, which has a small playground along the creek.
In Sister Bay, eat Swedish pancakes at Al Johnson's, though there's always a line. And be sure to stop at one of the many farm markets to stock up on freshly made doughnuts, cherry cider coolers and berry pie.
What to do
For nightlife , see a play at the Northern Sky Theater (formerly American Folklore Theatre), known for its original comedies about lovable Wisconsin doofuses. It performs in an amphitheater in Peninsula State Park.
On the shores of Green Bay near Fish Creek, the Peninsula Players perform comedies as well as more serious plays, and Door Shakespeare stages plays in the gardens of Björklunden, near Baileys Harbor.
Between Fish Creek and Ephraim, catch a first-run movie at the Skyway Drive-In.
There are classical and jazz concerts at Birch Creek Music Performance Center near Egg Harbor and at various venues during the Midsummer's Music Festival. In Fish Creek, the Door Community Auditorium pulls in nationally known performers year-round.
Egg Harbor, Fish Creek, Ephraim and Sister Bay offer free concerts in city parks.
For more, see Arts in Door County.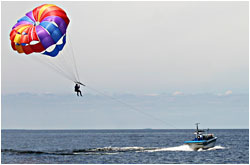 With its many quiet country roads, Door County is a great place to bicycle, and there are hiking trails in state parks and 28 state natural areas.
Outfitters offer kayaking tours, and the larger towns have a city beach for swimming.
There are a dozen scenic places togolf, including the historic course that overlooks Eagle Harbor in Peninsula State Park.
For more, see Outdoors in Door County.
Along Door County's 300 miles of shoreline, three lighthouses can be toured all summer, and four others are easily seen. And three can be reached only during Door County Maritime Museum's annual lighthouse festivals in June and October.
For more, see Lighthouses of Door County.
From the many marinas, you can choose any kind of cruise — power boats, pontoon, sailboat — or fishing charter.
Two of the best cruises are from Sister Bay, on the 65-foot schooner Edith M. Becker and Shoreline Charters' water taxi. Captains on both provide running commentary on the scenery and history of the area.
For more, see At sea in Door County.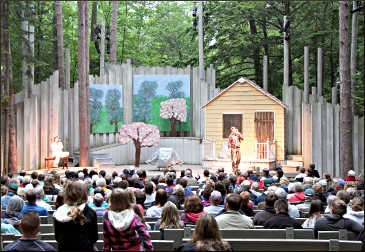 Many people like to go on tasting tours of the eight wineries along the Door County Wine Trail.
And for tours, hop on one of the bright-red trolleys of Door County Trolley, based just north of Egg Harbor.
Big festivals
There's a notable event every weekend of the year, plus concerts, workshops, marathons and bicycle tours. And many of the towns hold Fourth of July celebrations.
Here are some of the largest festivals .
Spring
Memorial Day weekend, Festival of Nature at Ridges Sanctuary in Baileys Harbor and Maifest in Jacksonport.
Summer
June, Roofing of the Goats Parade in Sister Bay, Fyr Bal Festival in Ephraim and Door County Beer Festival in Baileys Harbor.
July, Door County Folk Festival in Baileys Harbor, Ephraim and Sister Bay.
August, Door County Festival of Fine Arts in Sister Bay and Washington Island Fair.
Labor Day weekend, Marina Fest in Sister Bay.
Fall
October, Pumpkin Patch Festival in Egg Harbor, Fall Fest in Sister Bay and Jack O' Lantern Days in Fish Creek.
Winter
Weekend after Thanksgiving, Holly Days in Egg Harbor. Jan. 1, New Year's parade in Egg Harbor. First weekend of February, Winter Festival in Fish Creek.
Last updated on May 12, 2021