A week at the lake
There are many places to vacation in the 21st century, but few can beat a classic lakes resort.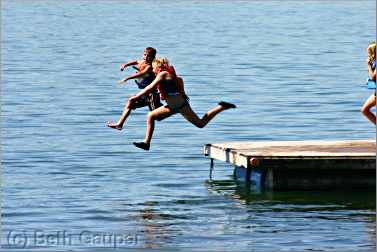 Up north, there's a lake cabin with my name on it.
I don't own it, and I never will. But for a week in August, it's mine.
Only a generation ago, most middle-class folks in this area could think of nothing better than renting a little housekeeping cabin on a lake.
"In the glory years, gosh, it seemed every Minnesotan vacationed at a Minnesota resort," said Dave Siegel of the Minnesota Resort and Campground Association.
Now, there's so much competition for a family's vacation time — Cancun and Orlando, recreational vehicles, the new lake cabins wealthy families build for themselves.
And high-school sports leave only a few weeks between summer baseball and the football season.
"We always say, 'If only we had 20 million cabins for the last week of July and first two weeks of August,' " says Kim Bowen, proprietor of Crow Wing Crest Lodge near Akeley and a member of the Congress of Minnesota Resorts.
The demand for lakeshore property has made it more profitable for resort owners to sell to developers than run a business, and in the past 30 years, the number of resorts in Minnesota has shrunk from 1,300 to 750.
But that's still a lot of lake resorts. And little has changed about the classic formula of sun, sand and water.
Every year, without fail
My grown daughter and son have been going to Crow Wing Crest since they were infants. When they were children, they would have rioted if I'd told them they couldn't go.
For years, my son's e-mail address was CWCtheplacetobe, and he keeps in touch with his resort friends throughout the year. Once, three generations of another resort family came to watch him play football when his team had a game in a suburb near their home.
Watching the transformation of strangers into steadfast friends is Kim Bowen's favorite part of running a resort. She holds bingo night and a kids' scavenger hunt early in the week, so guests can get to know each other right off the bat.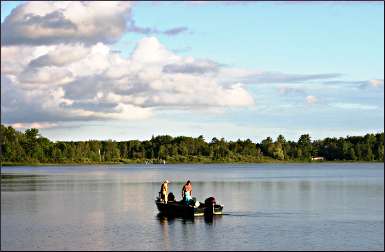 "By Tuesday, they're all running around together, and by Wednesday, the kids are all mixed up, and everyone's watching everyone else's kids.
"By Thursday, they're best friends, and by Friday, there are tears and people don't want to leave," Bowen says.
I've vacationed at a lot of places, and I still think a week at a lake resort is the best vacation of all. It's the most relaxing, anyway. There's nothing like the beginning of a lake week, when time seems to slow to a crawl.
"You get there, and there's nothing to do . . . but enjoy," says my sister Lynn, who flies in from Orlando.
We wake to loon calls and take a cup of coffee down to the lake, where we sit in swinging chairs and watch fishermen putter with their gear and canoeists push off for a morning paddle.
The young people sleep until noon, so I might walk down the road to gather wildflowers from the ditches. Then, I'll recruit a sister or a niece for a ride on the Heartland State Trail, perhaps to Walker for breakfast or to Dorset for a root-beer float.
Or I might spend the whole afternoon on the beach; I bring a book, but I always end up chatting with other guests or watching children taking flying leaps off the raft.
In the evening, most everyone ends up at the 1898 log lodge, putting together jigsaw puzzles, playing cards or foosball, watching the sunset from the deck.
Some nights, we fire up the old sauna and swelter until we have to rush into the lake. Then, we float on our backs in the cool water, trying to spot a shooting star.
The days go by and then time seems to speed up, like grains tumbling down an hourglass. It's bittersweet, but eventually, we have to leave our cabin for another family to use, until the next summer.
A close call for Crow Wing
Over the years, co-owner Terry Heller became a family friend, and we always looked forward to seeing him. Then, in 2001, he had to sell the resort — to developers, he figured.
"I didn't want to take anyone's vacation away, but we knew that's probably what was going to happen," he said.
It would have been an ignominious end to the resort, which began life as a logging camp and includes several virgin white pines, including a 300-year-old called Luna.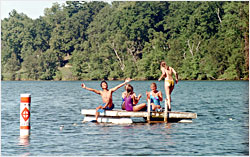 After the Akeley sawmill burned in 1916, the site served briefly as a chicken farm before becoming Aunt Polly's Girls' Camp, where etiquette was taught to children from around the nation in the 1920s and '30s.
It sat vacant during World War II, but in 1946, it became a family fishing resort.
The first day Crow Wing Crest was listed, a couple from Newton, Iowa, drove up and bought it.
Heller thought he was selling to a developer, Krupp Rental Properties of Newton, Iowa, but was pleasantly surprised when the Krupps' daughter Kim and her husband, Big John, continued to run the business as a family resort.
John Bowen had spent childhood summers at resorts in northwest Wisconsin, and he and Kim had shopped for a resort for three years, limited by their desire for one that didn't rely on a bar to make a profit.
When a Park Rapids real-estate agent tipped them off to the impending Crow Wing sale, they sprang into action and made an offer.
"There was a developer who was interested, and they were livid they didn't get a crack at it," says Kim Bowen, who at one time received at least one call or letter a week from developers hoping she'll sell.
For now, she won't: "It makes me sick even to think about it," she says.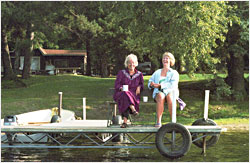 A week at the lake for everyone
Now, my family and about 250 others still have our summer week at the lake.
We're grateful. The Bowens have retained the resort's peaceful atmosphere and signature phrase — "If you are looking for a resort for heavy drinking and all-night partying, do not choose us" — and added various wellness pursuits, such as John's introduction to reflexology and Kim's aromatherapy class.
Outdoors, little kids fish, ride the carousel, play in the log playhouse and use the kayaks and paddleboats.
Bigger folks play volleyball, basketball, bocce ball and horseshoes; one family brings a bean-bag game, and another a homemade game it calls "cowboy golf."
A family from Iowa brings two hand-made canoes and a sailboat. A four-family group brings three powerboats and spends most of their time water-skiing and tubing.
"We want to be on the water all the time," said Michelle Boelter of Winona, Minn., who switched to the smaller 11th Crow Wing Lake after nine years at resorts on big, windy Leech Lake.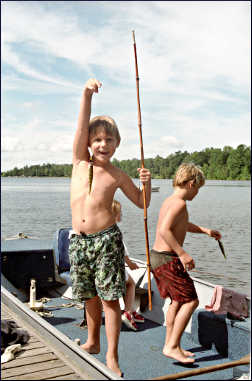 Michelle Rademacher of Blaine, Minn., wanted to be on the beach most of the time, with a good book.
"My husband doesn't fish, we don't own a boat, we're not big-toy people," she says. "You don't rush around, you just relax."
She found Crow Wing Crest after the resort her family went to closed. Like so many people, she gravitated back to lake resorts after spending childhood summers at them.
"When I was little, we went to a lake resort near Osakis, Minn., and I have great memories of that," Rademacher said. "My husband didn't have that, but he's a convert."
There's a resort for everyone — with as much tranquility as anyone could want, or as much action and activity.
It may not be the most glamorous vacation in the world, but for many people, it's the best.
Finding a resort of your own
If you want to make a resort part of your family's traditions, and you want to know how to find one, see One in 1,000.
Reserve up to a year in advance. At most smaller resorts, guests reserve their cabin for the following year before they leave.
So the best time to reserve a cabin is the Monday after the week you want to go the following year.
If you'd like to bring your extended family, see Planning a family reunion.
If you need more than one cabin, try to reserve at least two years in advance.
Last updated on June 13, 2019