Serenity at Naniboujou
On Minnesota's North Shore, a Jazz Age lodge still inspires reverence.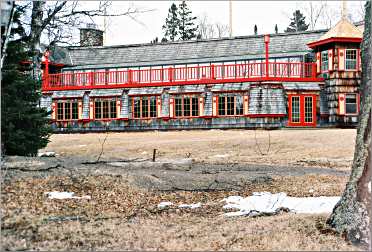 During the heady days of the Roaring Twenties, a group of Duluth businessmen conceived a plan.
They would buy 3,300 acres of land along Lake Superior and on both sides of the Arrowhead River, encompassing beach, waterfalls and rocky gorges. They'd buy another 8,000 acres inland, where caribou still roamed and lakes were thick with fish and fowl.
They'd build a clubhouse, with tennis courts and golf course and swimming pool. And they'd name the whole thing for Naniboujou, the powerful but benevolent Ojibwe spirit who claimed this northern wilderness as his own.
"If Naniboujou is your guide," they wrote in the prospectus, "it is a smooth path through majestic groves, between rocky walls, over mossy ledges, through clumps of spruce that moose have nibbled . . . and to mysteries known only to those who belong."
There would be every comfort, and yet "simplicity and the charms of outdoor life must prevail."
It was a grand plan, with sketches of a grand complex that looked much like an English boys' school.
"Your club sounds too good to resist and I will recommend it to a few sensible friends as soon as I find out how to pronounce it," wrote New York humorist and author Ring Lardner, who became a member of the board of governors.
Boxer Jack Dempsey signed on, and baseball great Babe Ruth. Ground was broken in July 1928, and the main clubhouse opened to great fanfare in July 1929. Then came the October stock-market crash, followed by the Great Depression, and the grand plan fell to ruins.
The land around the boiling rapids of the Arrowhead, now the Brule, became Judge C.R. Magney State Park. Naniboujou's lodge was sold and run as a resort, advertising "No Hay Fever" and $1.50 dinners. For a while, it sat empty.
In 1963, Luther and Susie Wallace of Denver bought the property. They considered the Christian God its patron spirit, not the Ojibwe's Naniboujou, but they too were careful stewards.
"This place lends itself to a Christian atmosphere, and I'd like to preserve that," Luther Wallace said in an August 1977 interview. "We don't attract the type of folk turned on by plastic environments."
A month later, the Luthers' two grown sons drowned in the rain-swollen Brule, and the property passed to a campus Christian association and then, in 1980, to Nancy and Tim Ramey.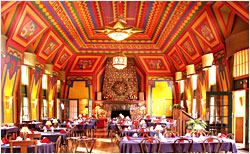 Under the Rameys, the lodge has acquired a modest elegance and a reputation for good food that has earned it many repeat guests. But they, too, have had to struggle with tragedy — in 1998, a brick chimney collapsed on Tim Ramey, a volunteer firefighter, as he was leaving the site of a house fire in Hovland.
He is paralyzed from the chest down but still runs the lodge with Nancy and help from their seven children.
"It's been a real test, but he doesn't quit," Nancy Ramey says. "The lodge has been a blessing."
Today, this Jazz Age landmark is suffused by serenity. Light glows from paper sconces in the Great Hall, whose vivid Cree designs on walls and ceiling make it the most striking interior space in the state.
A fire crackles in the 200-ton fireplace, on which fieldstones form a sunburst pattern. Soft music plays as soft-spoken young people carry plates of food to tables.
There are no tennis courts or greens outside the still-handsome lodge, with its weathered cypress shakes and paned windows edged in red and cream. There are two red Adirondack chairs, facing the expanse of lake, and that's all.
"There's not a lot of action," Nancy Ramey says. "People can come and enjoy this creation, the natural world, and be near the lake. They can listen to the birds. They can be still, and listen to their own hearts and think."
In winter, the pace is especially slow, and the lodge is open to guests only on weekend packages, with all meals included.
My friend Jean and I drove up one February, following a lake whose pewter-gray expanses blended with the lighter horizon and wan shoreline.
"Winter is really nice, when you look at it," Jean said. "It's like the colors in the back of the crayon box that you hardly ever use."
Ten miles north of Grand Marais, we stopped for one of my favorite hikes, along the narrow gorge of the Kadunce River.
Walking on the river itself, we clutched a 5-foot pole until Jean went through the snow and we discovered the water was only a few inches thick.
Then we allowed ourselves to really look around, at the formations on the gorge walls and at the snow-crusted surface, an elfish landscape of dainty chandeliers and icy tea lights strung under thick slabs of snow. Below, rushing waters drummed and thumped.
"Listen — it's like bongos," Jean said.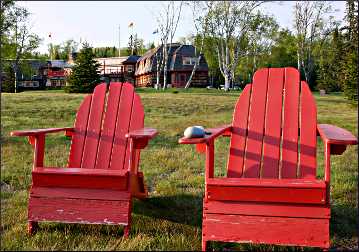 There was a gentler murmur in the Great Hall of Naniboujou, where servers were bringing out plates of mixed greens, spinach lasagna and Danish cream with blackberries. In our beds that night, we could hear the unseen lake pounding outside our windows.
After breakfast the next morning — egg scramble, roasted potatoes, warm blueberry muffins and fresh pineapple with raspberries — we picked up our box lunches and drove to Grand Marais and 26 miles up the Gunflint Trail to Bearskin Lodge.
The lodge and parking lot were crawling with skiers, all in search of decent snow, but once we got onto the Central Gunflint's 70-kilometer network of groomed trails, we barely passed anyone.
We returned to Naniboujou for dinner, then went back to Grand Marais to listen to a folk group sing bluegrass and Irish ballads at the Gunflint Tavern.
Back at the lodge, we settled into the solarium and read the lodge scrapbook as other guests played cards and board games.
In winter, many guests are content to stay in the cozy embrace of the lodge and rarely venture beyond nearby trails.
The next morning, we chatted with Michael and Margaret Ayers, who had flown up from Fithian, Ill., for the weekend and were reserving for the next year. They also come up each summer with their two young children, they said.
"It's so quiet, very peaceful and relaxing," Michael Ayers said. "There's no Internet access, no phones, no TV. We could go anywhere with all the frequent-flier miles and perks we have, but we'd rather come here."
Before we left, we walked across the highway to the state park and up the Brule, climbing to the base of Lower Falls, covered by great heaps of glazed snow. Farther up, at the Devil's Kettle, water throbbed darkly under long ice draperies topped by minarets of snow.
This wild stretch, where half of the Brule cascades 50 feet into a pool and half vanishes into a pothole, was to be the showpiece of the private Naniboujou, whose prospectus described "the brawling and babbling of the stream."
The original sketches adorn the lodge's walls, and Ramey doesn't deny the glamour of Naniboujou's early history. But, she says, that was then.
"Those men had a dream, and that dream died," Ramey says. "I guess I feel there's a new dream. It's been resurrected, and I think it's even better."
In principle, however, she and the founders are not so far apart.
"The main business at Naniboujou is living," they wrote. "To breathe the air and eat and sleep and be glad."
Trip Tips: Naniboujou Lodge in northeast Minnesota
Getting there: It's five hours north of the Twin Cities. For similar lodgings, see Classic Minnesota lodges.
Accommodations: Naniboujou Lodge closes after the third weekend of October and reopens in February.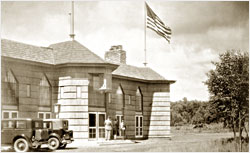 Then it's open only weekends through mid-March. Cost depends on which room is chosen (the least expensive rooms may be too small and thin-walled for some).
During the holidays, the Great Hall is decorated, and two of the dinners are five-course affairs accompanied by Christmas carolers.
The lodge opens for summer in mid-May. Reserve at 218-387-2688. For fall weekends, reserve as far in advance as possible.
Hiking: There are three good places to hike between Grand Marais and Naniboujou: along the canyon of the Devil Track River, five miles north of Grand Marais off County Highway 58; along the Kadunce, 10 miles north; and along the Brule in Judge C.R. Magney State Park, right across the highway.
For more, see Hiking the North Shore.
Skiing: Pincushion Mountain above Grand Marais has 25 kilometers of trails tracked and groomed for striding and skating, with a public warming house and a 1.8-kilometer trail that's lighted most nights. A Minnesota Ski Pass is required.
On the Central Gunflint Trail, half an hour from Grand Marais, Bearskin and Golden Eagle lodges groom 70 kilometers of trails, 36 of them for skating, and three of them lighted.
For more, see Skiing the North Shore.
Nightlife: In Grand Marais, the Gunflint Tavern offers live music on many weekend nights. The Grand Marais Playhouse stages plays in the Arrowhead Center for the Arts, where the North Shore Music Association schedules occasional concerts. The North House Folk School hosts occasional dances and events.
For more, see Four seasons of Grand Marais.
Last updated on November 22, 2020