Classic Minnesota lodges
The passage of time burnishes the appeal of historic lake resorts.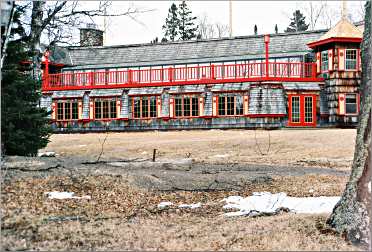 Ever since there's been a Minnesota, people have wanted to see its abundant waters.
The first curious tourists came up the Mississippi in the 1820s with the first steamboats, to see St. Anthony Falls and nearby tepees and to dine on buffalo, elk and sturgeon.
By the 1850s, city folk in the East already were pining for the unspoiled wilderness. One of them, Israel Garrard, was on a hunting trip from his home near Cincinnati when he saw a point on Lake Pepin, a widening in the Mississippi, and settled there.
In 1865, he opened the Lake Side Hotel, and Frontenac became Minnesota's first resort.
The next resorts opened in agricultural western Minnesota — Alexandria and Detroit, now Detroit Lakes. Rail tycoons and local developers worked together, and the same trains that shipped out grain in the 1880s brought in tourists.
It wasn't until the late 1890s that resorts came to the north woods. Loggers had left rail lines and hotels, and fishermen streamed onto the lakes from denuded shores.
Near Mille Lacs, on Bay Lake, Joe and Josie Ruttger opened a fishing resort in 1898, and made their first expansion in 1901.
In the new Itasca State Park, logging still was going on when Douglas Lodge was built in 1905, "a jewel standing in mud."
Along with log cabins and the 1910 Club House, it's still owned and operated by the state of Minnesota (for more, see Lodgings in Minnesota state parks ).
These and other resorts flourished. By then, Minnesota already had latched onto the Lake Wobegon concept of tourism: According to state brochures, its air was purer, its lakes bluer and its fish all above average.
Tourists bought it and came from all over — windswept North Dakota, the dry prairies of Kansas and Oklahoma, the humid South.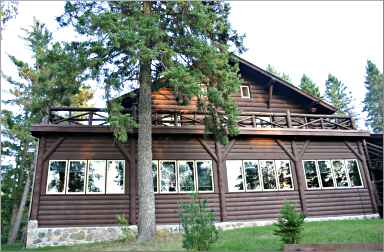 After World War I, resorts sprouted everywhere, from 200 in 1917 to nearly 1,300 by 1930. In their new automobiles, on newly built roads, families could go everywhere — and they did.
These were the golden days for resorts. During the 1920s, log-cabin architecture became popular, and the look — massive beams, fieldstone fireplaces, boulder foundations — became synonymous with the north woods.
The classic, leisurely "at the lake" vacation was born.
The lake tradition is alive and well today, but the traditional resort is harder to find (for help, see The resort of your dreams and One in 1,000).
Rising expectations have forced larger resorts to bustle like cruise ships.
Rising lakeshore values have caused many smaller resorts to be torn down, sometimes to provide space for just one oversized "cabin."
Times have changed. There are still a few resorts, however, that maintain an air of old-fashioned gentility, from the days when Texas oil millionaires brought their maids and butlers.
Others still cater to people who just want to sit and look at the lake. Others have magnificent façades barely noticed by guests hurrying to make a tee time.
But each has a history, and none can be duplicated.
Trip Tips: Classic Minnesota lodges
Douglas Lodge in Itasca State Park. This lodge, built in 1905, is saturated with the history of Itasca State Park, Minnesota's oldest and most-loved park.
From its steps, guests can set off for nature hikes, boat trips or bicycle treks through the state's largest stand of virgin white pine or to the headwaters of the Mississippi, at the other end of Lake Itasca.
Its four rooms and three suites are quite attractive; the lodge includes a restaurant. Reservations can be made 120 days in advance at 866-857-2757.
For more, see The people's park.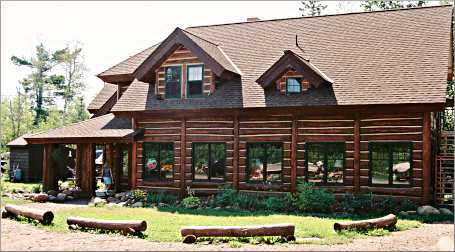 Clearwater Lodge on the Gunflint Trail. Midway up the Gunflint Trail, this lodge was built of whole logs in 1926 by outdoorsman Charlie Boostrum, and his diamond-willow furniture and bark-covered chairs still are in use.
Log cabins line the shore of Clearwater Lake, from which guests, outfitted by the lodge, can explore the Boundary Waters Canoe Area Wilderness.
For more, see Adventure on the Gunflint Trail.
Burntside Lodge outside Ely. It started as a hunting camp after the turn of the century and became a resort in 1913, making it the oldest resort in the Ely area.
The resort's log lodge and cabins are painted burnt-orange, which provides a striking contrast with the bright blue of lovely, 12-mile-long Burntside Lake and the 125 pine-covered islands.
Its charmingly old-fashioned restaurant is open to the public.
For more, see Dreaming of Ely.
Lutsen Resort in Lutsen, Minn. This North Shore resort was the oldest family-run resort in the state until the Nelson family sold it in the 1980s.
It began life as a hunting and fishing camp on land homesteaded by Swedish immigrant Charles Axel Nelson in 1885.
Its 1952 timber lodge is cozy and inviting, with its big stone hearth, polished leather chairs and picture windows overlooking the lake.
There are 32 small rooms upstairs and modern cabins and townhomes nearby. 800-218-8589.
For more, see Loving Lutsen.
Golden Eagle Lodge on the Gunflint Trail. This resort on the central Gunflint has a rustic 1945 lodge with walls lined with old logging-camp tools, and a mixture of older and new cabins, some with whirlpools.
It's very nice in summer but fabulous in winter, when skiers can go out on a well-groomed trail system that connects it to nearby Bearskin Lodge.
For more, see The best days of winter.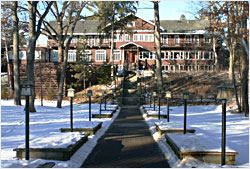 Grand View Lodge in Nisswa, Minn. This was one of the first big log lodges when it was built in 1919.
Its varnished log walls, stone hearth and mounted stag heads are impressive, though the action today is on the golf courses, the Glacial Waters Spa and at the pool and water-slide complex, connected to the lodge by a cobblestone path lined by flower boxes and Arts-and-Crafts lampposts.
The resort offers every amenity and accommodations in 12 lodge rooms, 65 cottages and cabins, townhomes and clubhouse suites around Gull Lake.
For more, see The buzz on Brainerd. For more on its golf courses, see Golfing the Brainerd Lakes.
Kettle Falls Hotel in Voyageurs National Park. This became the often-raucous social center for loggers, fishermen and dam builders after it was built in 1910.
Now part of Voyageurs National Park and owned by the National Park Service, the white-frame hotel has been restored to look as it did in its heyday.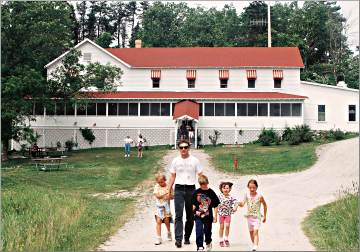 There are red-and-white striped awnings, bearskin pelts on the lobby wall and a bar with a sloping funhouse floor and color prints of "the girls," gauzy nudes from the 1930s or '40s.
It's popular with boaters, who pull up for a walleye sandwich or a drink on the old-fashioned screened veranda.
It's open from May to September. Lodgers stay in old-fashioned hotel rooms or newer villas.
For more, see Land of big water.
Naniboujou Lodge near Grand Marais, Minn. This lodge, 15 miles northeast of Grand Marais on the shore of Lake Superior, is one of a kind.
Opened in 1929 as an exclusive private club — Babe Ruth and Jack Dempsey were among its charter members — it foundered after the stock-market crash just a few months later.
But it's still gorgeous, with its weathered cypress shakes and red and cream window frames. Inside, a fine restaurant occupies the Great Hall, brilliantly painted with geometric Cree designs.
Quiet is the word here — there's a solarium for board games and reading, and phones and televisions are absent in the simple but attractive rooms.
For more, see Serenity at Naniboujou.
Ruttger's Bay Lake Lodge near Mille Lacs. This resort was founded as a fishing camp in 1898 by a young German man who had come to America to escape service in Bismarck's armies.
Joe and Josie Ruttger's great-grandson Chris now runs the full-service resort, the state's oldest resort still operated by the same family.
The original 1901 cottage has been absorbed into the main lodge, which includes the 1922 log dining room; a hallway gallery is lined with historic photos.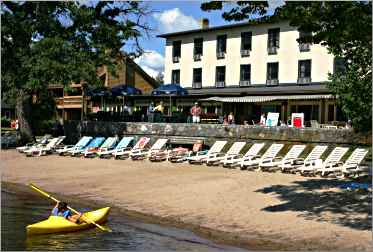 There's a nine-hole golf course and an 18-hole championship course.
Ruttger's Birchmont Lodge in Bemidji. This resort, spread along the west shore of Lake Bemidji, still has a feel of old-fashioned gentility.
Its 1921 white-frame lodge holds the dining room and, with the beach and indoor pool complex, is the center of activity.
The Ruttger family bought the 1915 resort in 1936 and ran it until they sold it in 2018.
For more, see Bemidji's behemoths and Last call for lake breaks.
The Fawcett House in Breezy Point: Built in 1925, this was the summer home of Minneapolis magazine publisher Billy Fawcett and housed the famous, including Clark Gable and Carole Lombard.
The log mansion now is part of Breezy Point Resort near Pine River. The 10-bedroom, eight-bath mansion includes a spiral staircase, a loft and fieldstone fireplace, as well as — some say — Fawcett's ghost.
Last updated on February 20, 2020