A feast of festivals
At small-town shindigs, get your fill of strawberries and sauerkraut, kolacky and sweet corn.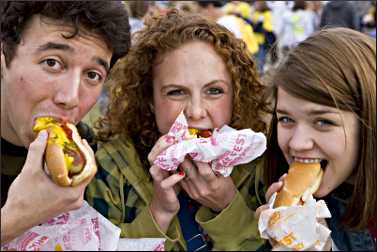 As soon as rhubarb leaves unfurl and morels pop out of the ground, towns across the region begin their salutes to the local specialty.
It starts with Norwegian lefse on Syttende Mai and continues to Finnish pasties, German pretzels, Czech kolacky, Danish pancakes and American pie.
There will be music and parades and all kinds of goofy contests — rhubarb-stalk throwing in Lanesboro, a rutabaga shot put in Calumet — but mostly, there will be a lot to eat.
If you've ever said, "I could eat a hundred of those!" you'll get your chance this summer. Here are some of the premier places to pig out in 2022.
For ethnic festivals, see Celebrating roots.
For regular festivals, see Great summer festivals and Great fall festivals.
For beer festivals, see Best brew fests.
April 22-24, Maple Syrup Festival in Vermontville, Mich. It's the 80th year for this festival southeast of Grand Rapids, famous for maple-syrup cotton candy. There are games, music, an arts and crafts show and a grand parade at 2 p.m. Saturday.
April 23, Wisconsin Grilled Cheese Championship in Dodgeville, Wis. Pros and amateurs compete in nine categories, and there are food trucks and a beer and wine garden for onlookers.
May 6-8, Mushroom Festival in Mesick, Mich. This town near Cadillac is morel central, with mushroom contests as well as a carnival, flea market, games and a noon Saturday parade.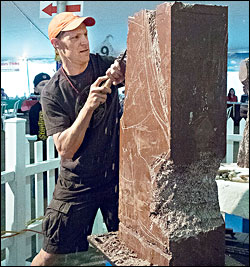 May 12-15, National Morel Mushroom Festival in Boyne City, Mich. This town near Lake Michigan offers a guided mushroom hunt, a mushroom competition with prizes, a morel seminar, cooking demonstrations and The Taste of Morels put on by local restaurants.
May 14, Morel Mushroom Festival in Muscoda, Wis. This town along the Wisconsin River sells the mushrooms and holds fireworks, a flea market and a parade.
May 20-22, Chocolate Fest in Long Grove, Ill. Home of the Long Grove Confectionery, this town in the northern suburbs of Chicago offers chocolate carving, a chocolate scavenger hunt, lawn games, a carnival and music on two stages.
May 27-29, World's Largest Brat Fest, Madison, Wis. It's a music festival featuring the world's largest touring grill (a Johnsonville semi that can cook 750 brats at a time) and the Oscar Meyer Wienermobile.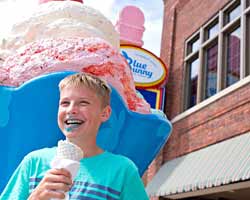 There are also carnival rides and a Cut the Mustard high-school band competition. Admission is free. Outside the Alliant Energy Center.
June 3-5, Milk Days in Harvard, Ill. The festival in this small town just south of Lake Geneva, Wis., is the longest running in the state, celebrating its 76th year. There are milk-drinking contests, milking demonstrations, cow-chip lotto, bed races, hot-air balloon launches and a parade at 1 p.m. Saturday.
June 3-5, Great Wisconsin Cheese Festival in Little Chute. This Fox Cities festival includes cheese-curd eating, cheese-carving and cheesecake contests and a Saturday cheese parade.
June 3-4, Rhubarb Festival in Aledo, Ill. South of the Quad Cities, the Rhubarb Capital of Illinois makes more than 3,000 rhubarb pies and gives away free rhubarb seeds. There are also trolley tours, music, crafts and recipe and big-leaf contests.
June 4, Rhubarb Festival in Lanesboro, Minn. In this southeast Minnesota hamlet, there's a Rhubarb Olympics, featuring the Rhubarb Stalk Throw and Green Eggs and Rhubarb, and a Rhubarb Rant Speakers Corner for opinionated folks. The Rhubarb Sisters entertain.
June 4, Asparagus Festival in Empire, Mich. On the edge of Sleeping Bear Dunes National Lakeshore, this festival features asparagus fortune-telling, cook-off and parade.
June 10-12, National Asparagus Festival in Hart and Shelby, Mich. These towns south of Ludington host an arts fair, motorcycle run, food show and Saturday parade.
June 10-12, Strawberry Days in Strawberry Point, Iowa. This town in northeast Iowa is all about strawberries and has a 15-foot-high fiberglass berry to prove it.
Festivities on Saturday include the longest strawberry shortcake, eating contests and a parade.
June 15-18, Ice Cream Days in Le Mars, Iowa. This town in northwest Iowa, the home of Blue Bunny ice cream, calls itself the Ice Cream Capital of the World and celebrates with an arts show, a parade at 9 a.m. Saturday and, of course, an ice-cream social.
June 18, Strawberry Fest in Waupaca, Wis. The festival in this lakes town west of Appleton features a shortcake-eating contest and strawberry trivia plus duck race, kids' activities and an arts fair.
June 18, Wurst Festival in Amana, Iowa. Celebrate sausage along with beer, music, yard games and a dachshund derby.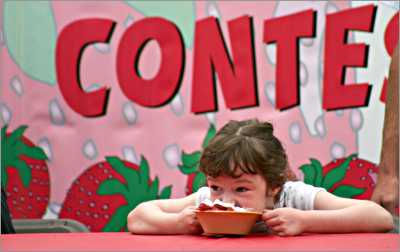 June 24-25, Cheese Curd Festival in Ellsworth, Wis. In this western Wisconsin town, there's a cheese-curd eating contest, beard and pie contests, kids' games and a Sunday parade.
June 24-26, Sauerkraut Days in Henderson, Minn. This town in the Minnesota River Valley is only an hour or so southwest of the Twin Cities. There's a kiddie parade,  tractor-ride parade and grand parade, plus  fire-department water fights and a kraut-eating contest.
June 25, Rhubarb Fest in Duluth, Minn. This street festival benefits programs for the homeless and includes a rhubarb bake sale and cafe, largest-leaf and -stalk contests, children's games and a stage show.
June 25-26, Strawberry Festival in Cedarburg, Wis. The festival in this idyllic town of 11,000, half an hour north of Milwaukee, draws a throng of 40,000 people to historic Washington Avenue.
Don't miss the freshly grilled strawberry brats, strawberry tarts and the strawberry wine from Cedar Creek Winery. There are sundae- and pie-eating and berry bob contests, a pet fashion show and a fine arts and crafts fair.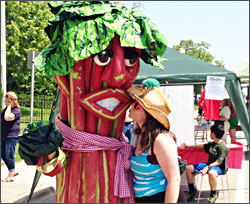 For more, see Jolly Cedarburg.
June 30-July 3, Poutine Feast in Sault Ste. Marie, Ont. More than 50 varieties of poutine — French fries and cheese curds topped with gravy — will be served at this festival on the Canadian side of the Soo Locks.
July 2-9, National Cherry Festival in Traverse City, Mich. This town on Lake Michigan calls itself the Cherry Capital of the World and attracts half a million people to events that include many pie-eating and pit-spitting contests and the Cherry Royale Parade.
July 8-10, Wild Rice Festival in Deer River, Minn. Amid Chippewa National Forest north of Grand Rapids, this town celebrates the Ojibwe staple with a powwow, parade, kiddie tractor pull and fireworks.
July 13-17, Raspberry Festival in Hopkins, Minn. This west-Minneapolis suburb calls itself America's Raspberry Capital. There's a parade at 1 p.m. the last day.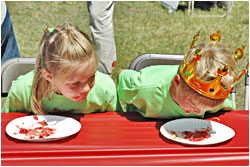 July 15-17, Colby Cheese Days in Colby, Wis. In this town west of Wausau, there will be free cheese, tractor pulls, a cheese-curd throwing contest and a parade at noon Sunday.
July 22-24, Kolacky Days in Montgomery, Minn. This southern Minnesota town, settled by Czech immigrants, calls itself the Kolacky Capital of the World.
That's quite a claim, but the town will try to live up to it by producing thousands of the fruit-filled pastries for its annual festivities, which includes a Tour de Bun Bike Classic, a Bun Run and performances by Czech dancers.
The Grand Day Parade is Sunday, and of course, there's a kolacky-eating contest. It's just south of New Prague.
July 23-24, Blueberry Festival in Iron River, Wis. There are blueberry pie-eating contests and a Sunday parade in this town between Duluth and Ashland.
July 28-31, Sweet Corn Days in Elkader, Iowa. In addition to free sweet corn, there will be Friday fireworks, a doughnut-hole eating contest and a Saturday parade.
July 29-31, Pierogi Fest in Whiting, Ind. This suburb of Chicago exalts the plump Eastern European dumplings, filled with cheese, mashed potatoes or sauerkraut, with pierogi eating and tossing contests, a Mr. Pierogi songfest and a Polka Parade at 7 p.m. Friday.
July 29, Blueberry Festival in Marquette, Mich. Eat blueberry pizza and drink blueberry beer while listening to live music and watching dancers.
Aug. 5, Pie Day in Braham, Minn. In the 1930s, this tiny town north of Cambridge became a pie stop for Twin Cities folks driving to cabins up north. It was named Homemade Pie Capital of Minnesota by Gov. Rudy Perpich in 1990, the year it started its now-famous Pie Day.
There's a medallion hunt, performances of the Pie-Alluia Chorus, a pie auction and pie-eating and -baking contests.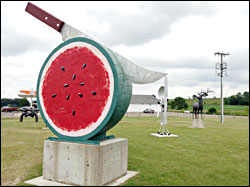 Aug. 5-6, Brat Days in Sheboygan, Wis. This festival in the home of the brat features every kind of sausage plus music, a carnival and big parade.
Aug. 5-7, Glad-Peach Festival in Coloma, Mich. This small town in the southwest Michigan fruit belt, also famous for its gladiolus flowers, celebrates with a peach-pit spit, peach dunk and parade, as well as live music and fireworks.
Aug. 6, National Mustard Day in Middleton, Wis. The National Mustard Museum serves up free hotdogs and mustard samples, plus music, games and entertainment.
Aug. 6, Chokecherry Festival in Pequot Lakes, Minn. This Brainerd-area lakes town on the Paul Bunyan State Trail offers pancakes with chokecherry syrup and chokecherry culinary and pit-spitting contests, plus a water-balloon fight and blindfolded tractor-driving challenge.
Aug. 11-14, National Blueberry Festival in South Haven, Mich. Eat until you're blue in the face during the festival in this Lake Michigan beach town. The big parade is at 1:30 p.m. Saturday.
Aug. 11-14, Sweet Corn Festival in Mendota, Ill. The festival in this town between Rochelle and La Salle features 50 tons of free buttered corn, plus music, a flea market and a parade.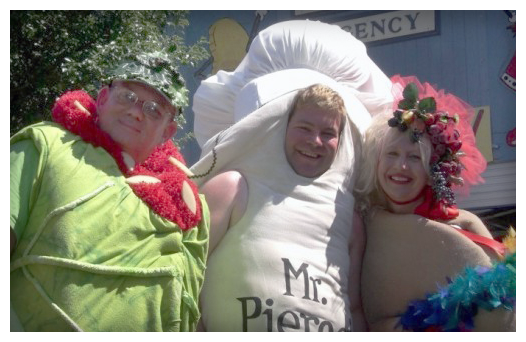 Aug. 13, Burger Fest in Seymour, Wis. The Wisconsin Legislature has declared this friendly little town west of Green Bay the Original Home of the Hamburger, based on a local 15-year-old who put ground-beef patties in a bun, called them hamburgers and sold them at the Seymour Fair in 1885.
The festival features a hamburger-press strength contest, a ketchup slide competition, a burger-eating contest and the World's Largest Hamburger Parade at 11 a.m. There's also a hot-air balloon rally.
Aug. 13, Minnesota Garlic Festival in Hutchinson, Minn. There will be old-fashioned picnic games, kite-flying, music and demonstrations by celebrity chefs.
Aug. 18-20, Sauerkraut Days in Lisbon, Iowa. The festival in this town east of Cedar Rapids includes a carnival, car show, parade and lots of brats on which to load sauerkraut.
Aug. 19-21, Pepper Festival in North Hudson, Wis. This town on the St. Croix River celebrates its Italian heritage with spaghetti- and pepper-eating contests, a pepper-cooking contest, a carnival and Saturday parade.
Aug. 19-21, Wild Blueberry Festival in Paradise, Mich. This town on the east end of the Upper Peninsula is best known as the home of the Whitefish Point Shipwreck Museum, but in August it puts on its "blue clothes" and celebrates the berry harvest.
Aug. 20-21, Midwest Garlic Fest in Elizabeth, Ill. Garlic breath is welcome at this festival of food, drink and music near Galena.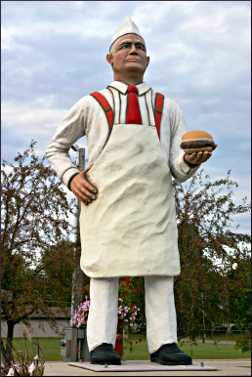 Aug. 17-21, Corn on the Cob Days in Plainview, Minn. This town, amid bluff country south of Lake Pepin, celebrates the local product with a huge free corn feed and parade. Eight to 10 tons of corn cobs are picked, transported by forklift and steam-cooked in their husks at 212 degrees for about 45 minutes.
The public gets to dig in from 11 a.m. to 3 p.m. Sunday, or until the corn is gone. The parade is at 1:30 p.m. Sunday.
Aug. 17-21, Sweet Corn Festival in Sun Prairie, Wis. A Thursday parade kicks off this festival just north of Madison, during which more than 70 tons of sweet corn are served.
Aug. 20, Pasty Fest in Calumet, Mich. The humble miner's lunch — meat and rutabagas in a pocket of pie crust — has inspired this Keweenaw Peninsula festival, which includes such events as a PastyWalk, PastyParade, PastyPoetry contest and, of course, a PastyCook-Off.
Toivo the walking and talking pasty will appear, and there will be games, such as a PastyPull, Rutabaga Shotput, Onion Pass and Egg Toss.
Aug. 20, Coffee Break Festival in Stoughton, Wis. This Norwegian town south of Madison claims its tobacco sorters started the coffee break tradition, and festival-goers get lots of free hot coffee. There's also a crafts show, car and bike show, music and a bean-spit contest.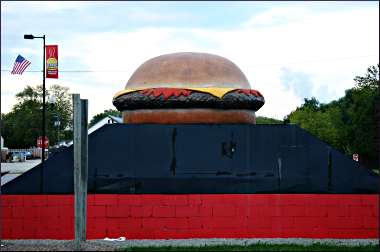 Aug. 20, Watermelon Day in Vining, Minn. This tiny town in western Minnesota is known for its collection of unusual scrap-metal sculptures and, in August, for free watermelon. There's a craft fair, petting zoo and parade.
For more, see Otter trail country.
Aug. 26-27, Potato Days in Barnesville, Minn. This goofy festival in central Minnesota features mashed-potato wrestling, sculpting and eating plus potato car races, a peeling contest and a Saturday parade.
Aug. 26-28, Mackinac Island Fudge Festival, Mackinac Island, Mich. There are 17 fudge shops on this little island, so they need plenty of people to eat it. Besides fudge, there will be hiking and biking tours, music, dance and extreme kite flying.
Five Golden Tickets, good for vacations on the island, are placed in boxes of fudge for sale.
Sept. 8-10, Potato Bowl USA in East Grand Forks, Minn., and Grand Forks, N.D. The Red River Valley fest features a baked-potato bar, potato-sack races, the world's largest French fry feed, a fry-eating contest, a potato-pancake breakfast, Friday fireworks and a 10 a.m. Saturday parade, followed by a football game.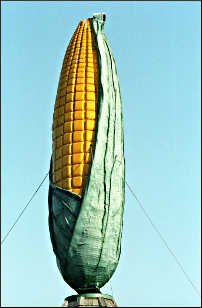 Sept. 10, Watermelon Festival in Pardeeville, Wis. The festival in this town just east of Portage features spitting, speed-eating and carving contests, plus games and an art and farmers market.
Sept., 10, Fondue Festival in Fond du Lac, Wis. This town at the foot of Lake Winnebago offers giant chocolate and cheese fondues as well as music on three stages, a free bicycle tour and kids games.
Sept. 14-17, Pumpkin Festival in Morton, Ill. This town near Peoria, home of the Libby's pumpkin-packing plant, calls itself the Pumpkin Capital of the World and serves pumpkin ice cream, pancakes and fudge at its festival, which features a 10:30 a.m. Saturday parade.
Sept. 18, Bloody Mary Fest in Highwood, Ill. Professional and amateur mixologists compete at this benefit, which includes entertainment, food and a gourmet market.
Sept. 23-24, Bacon Bash in River Falls, Wis. In this western Wisconsin college town, there are pig races, a pig-calling contest, an amateur bacon cook-off and many bacon dishes, including ice cream.
Sept. 23-25, Cranberry Festival in Warrens, Wis. The bogs in central Wisconsin are scarlet red for this big festival, which features a Sunday parade.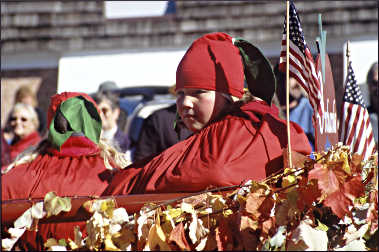 Sept. 23-25, Apple Festival in Gays Mills, Wis. Southwest Wisconsin is beautiful in fall, and the many orchards are a good excuse to visit. This festival features a parade at 1:30 p.m. Sunday.
Sept. 24, Beef-A-Rama in Minocqua, Wis. There's a Rump Roast Run, beef-eating contest and Parade of Beef.
Sept. 24, Pancake Day in Centerville, Iowa. This town in south-central Iowa, near Rathbun Lake, serves free and gourmet pancakes all morning, and there's also carnival rides, music and a big parade.
Oct. 1, Apple Affair in Galesville, Wis. Up in the Mississippi River bluffs, above Trempealeau, this bucolic village holds a festival featuring a 10-foot apple pie, a hunt for a Silver Apple, a race of floating wooden apples and a bicycle tour with a 20-mile route through apple orchards and hillier 35- and 60-mile routes.
Oct. 7-9, Apple Fest in Bayfield, Wis. This huge event brings 60,000 people into this tiny village across from the Apostle Islands. There's music, an apple-peeling contest, a Venetian boat parade and a big parade on Sunday.
For more, see Big apples.
Oct. 9, Iron Range Pasty Festival in Mountain Iron, Minn. This festival selling a miner's lunch staple includes music, a scavenger hunt and rutabaga bowling.
Last updated on January 13, 2022