Best brew fests
Quaff craft beer to your heart's content at these sampling parties.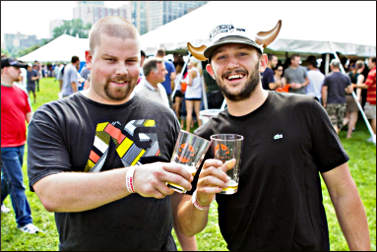 At last, Americans are realizing that life is too short to drink cheap beer.
The tasteless factory lagers of our youth look awfully pathetic next to the beers now being turned out by craft brewers: sweet cream stouts, lip-smacking India pale ales, chocolatey porters, Belgian wheats flavored by coriander and orange.
In fact, it's getting hard to keep up with all the new brews, some of them wildly creative. That's where brew festivals come in.
"You'd be amazed at how many people have been introduced to good-tasting beer at these festivals," said Bonita Rowland of Rowland's Brewing Co. in Chilton, Wis., which has been hosting the Wisconsin Micro-Brewers Fest for more than 25 years.
Most festivals sell out, sometimes almost immediately. VIP tickets, which offer perks, are limited and usually sell out first.
The largest festival, Great Taste of the Midwest in Madison, is in August, and tickets sell out as soon as they go on sale, the first Sunday of May.
Two brewery festivals also sell out: Capital's Bockfest in late February and Schell's Bock Fest in early March.
So if you want to go to a beer festival, plan ahead.
If you want to really wallow in beer, keep your calendar open for April and May. That's when Beer Weeks are held in Milwaukee, Madison, and Illinois.
The Traverse City Craft Beer Week is in November.
For tips about going to a beer festival, see Quaffing with a crowd.
For a beer-lover's tour of Milwaukee, see Mad about brew.
For a beer-lover's tour of southern Wisconsin, see Road trip: Breweries of southern Wisconsin.
For more about touring Twin Cities breweries, see True brew in the Twin Cities.
Here are some of the best beer festivals in 2023.
Nearly all offer food and music in addition to beer. Tickets typically are $40-$60, more if bought at the door.
Designated drivers get in at a reduced rate, sometimes as little as $5 or even free. Be sure to bring a photo I.D.
Jan. 14, Craft Beer Expo in Mankato, Minn. This festival features seminars, food, live music and tastings from more than 40 craft breweries.
Jan. 21, Beer and Cheese Fest in Madison. Wisconsin's best beer and cheese makers supply the treats for an afternoon at Alliant Energy Center. Sample from more than 120 breweries.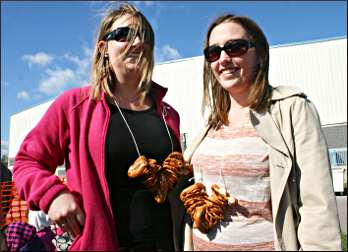 Jan. 21, [Cider North] in Duluth. This first-time festival at DECC on the harbor features Duluth's two cideries and another 10 from across the state.
Feb. 4, Brewfest in Fond du Lac, Wis . Try more than 200 Wisconsin microbrews at the County Fairgrounds Expo Center.
Feb. 25, Shelf Ice Brew Fest in Michigan City, Ind. The outdoor festival in the Uptown Arts District of this Lake Michigan town includes hundreds of beers and professional ice carving.
Feb. 25, Dubuque on Ice Brewfest in Dubuque, Iowa. This festival is at the Grand River Center and features 30 breweries, 10 wineries, food sampling and music.
Feb. 25, Winter Beer Dabbler in St. Paul. This fest in the Coliseum at the State Fairgrounds includes beers from more than 180 breweries and entertainment.
Feb. 25, Michigan Winter Brew Festival in Grand Rapids, Mich. This Michigan Brewers Guild event is held outdoors at Comstock Park with nearly 1,000 beers from more than 100 breweries.
Feb. 25, Naperville Ale Fest-Winter Edition in Naperville, Ill. The festival in this western Chicago suburb, outdoors in Frontier Park, includes more than 150 beers from 60 American breweries. There's also food and live music.
March 4, Brewsology Brew Fest in Chicago. This festival in the Museum of Science and Industry features beer from more than 60 breweries.
March 11, Hops & Props in Oshkosh, Wis. This fundraiser at the EAA Airventure Museum includes beer from more than 85 breweries, music and food from local restaurants.
March 25, Roar Off the Shore Brewfest in Luxemburg, Wis. Try regional beers from more than 30 breweries and five wineries in this town near Lake Michigan.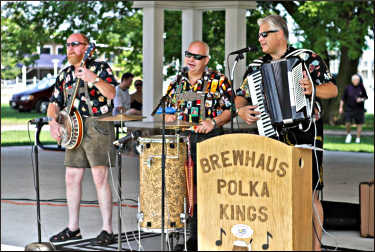 April 1, Gitchee Gumee Brewfest in Superior, Wis. The Jaycees host this fest at Wessman Arena at UW-Superior, with tastings from breweries and brewpubs.
April 1, Minnesota Craft Beer Festival in Minneapolis. Sample more than 500 beers from more than 100 breweries at the Minneapolis Convention Center.
April 22, Between the Bluffs Beer, Wine and Cheese Festival in La Crosse, Wis. Sample more than 200 beers and 45 wines. There's also a Taster's Eve on Friday and a Bacon Bloody Brunch Sunday.
May 13, Spring Beer Festival in Traverse City, Mich. This fest in Turtle Creek Stadium features beer from hundreds of Michigan breweries.
May 21, Wisconsin Micro-Brewers Beer Fest in Chilton, Wis. This fest on the east side of Lake Winnebago offers more than 180 beers from 30 Wisconsin craft brewers, plus Chilton's own Rowland's Brewery beers. It's at the Calumet County Fairgrounds.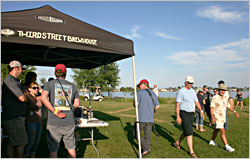 June 9-10, Up North Beerfest in Eagle River, Wis. A tasting of specialty beers is Friday night, with samplings from more than 20 up-north breweries on Saturday.
June 10, St. Paul Summer Beer Fest in St. Paul. This festival in the International Bazaar area of the State Fairgrounds features craft beer from more than 70 breweries plus music, food and a silent auction benefiting the YMCA of St. Paul.
June 17, Door County Beer Festival in Baileys Harbor, Wis. This festival includes more than 120 beers, music, a home-brewing contest and seminars on beer, cheese and food.
July 8, Naperville Ale Fest in Naperville, Ill. The festival at the historic Naper Settlement includes more than 200 craft beers. There's also food and live music.
July 29, Milwaukee Brewfest in Milwaukee. This fest at Old Coast Guard Pavilion at McKinley Park on the lakefront features more than 250 craft beers, with a German Row and a Cider Row. There will also be music, food and arts.
July 29, All Pints North Summer Brew Fest in Duluth. This festival in Bayfront Park, hosted by the Minnesota Craft Brewer's Guild, will have beers from more than 120 breweries to sample.
August, Wheaton Brew Fest in Wheaton, Ill. The downtown festival in this west Chicago suburb features more than 100 craft beers plus food and music.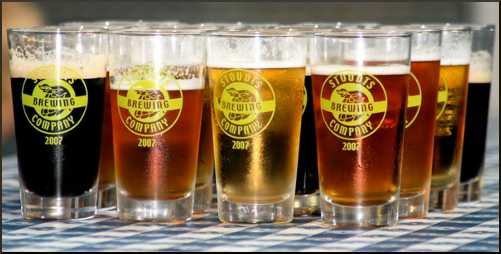 Aug. 12, Great Taste of the Midwest in Madison. Sample beers from more than 190 brewers at the largest festival in Wisconsin and the second-longest running craft beer festival in North America.
Tickets sell out quickly; in early May, you'll need to send in a mail order or show up in person at one of various vendors in Madison. It's in Olin-Turville Park.
Aug. 19, Micro Brew Review in Oak Park, Ill. This zero-waste festival in downtown Oak Park features 200 beers from more than 80 breweries and food pairings from local restaurants.
It's produced by Seven Generations Ahead and the Illinois Craft Brewers Guild.
August, Summer Beer Dabbler in St. Paul. Try more than 450 beers from 140 breweries at CHS Field in Lowertown. There will also be food trucks and live music.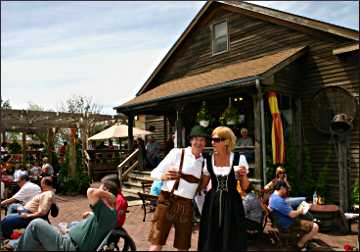 August, World of Beer Festival in Glendale, Wis. This event at the Bavarian Bierhaus includes special tappings, talks and more than 350 U.S. and international beers, meads and ciders. Tickets are limited and go on sale in mid-February.
Sept. 9, U.P. Fall Beer Festival in Marquette, Mich. The Michigan Brewers Guild hosts this fest in Mattson Lower Harbor Park on Lake Superior, featuring 250 beers from 35 Michigan craft breweries.
September, Thirsty Troll Brew Fest in Mount Horeb, Wis. Try 100 craft beers from 25 breweries in the Upper Midwest. It's held in Grundahl Park.
September, Great Lakes Brewfest in Kenosha, Wis. Sample more than 300 craft beers, ciders and meads from 100 breweries at Celebration Place at Harbor Park.
October, Chicago Beer Festival in Chicago. Sample beer from more than 60 breweries at the Field Museum.
Oct. 14, Wisconsin Dells on Tap in the Wisconsin Dells. It features beer from more than 50 craft brewers.
October, Autumn Brew Review in Minneapolis. Sample beer from more than 100 breweries at this Minnesota Craft Brewers Guild festival next to Boom Island Park in northeast Minneapolis.
Last updated on February 7, 2022