Road trip: Bluff-country byways
Minnesota's southeast corner yields a cornucopia of treats and scenery.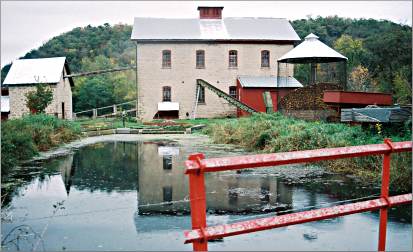 At harvest time, Minnesota's bluff country overflows with beauty.
Fat pumpkins await buyers at farmers' markets. Golden clumps of wildflowers line bicycle trails. From buggies, the Amish sell homemade baskets, bumbleberry jam and apple butter.
There's an abundance of everything, including tourists.
The ridges and valleys of southeast Minnesota are a natural destination for travelers, and the picturesque stretch of Minnesota 16 along the Root River is a national scenic byway.
You see all kinds of things in bluff country. Wild turkeys weave across bicycle trails and rattlesnakes sunbathe on the asphalt. Alert motorists may spot a goat farm painted purple or a potbellied troll with blue fingernails.
Tucked into a bowl surrounded by limestone bluffs, Lanesboro is the bicycling hub. Harmony is surrounded by Amish farms and is at one end of a bicycle trail that follows Camp Creek down into Preston, home of two apple orchards.
To the east, Spring Grove is an enclave of Norwegians. Farther on, not far from the Mississippi, grindstones still turn at an 1876 grist mill.
In between, the forks and branches of the Root River and its tributaries create glades and dales known only to trout fishermen and morel-mushroom hunters.
In the fall, this area begs for a road trip, and that's what I did one October. Lanesboro was holding its fall festival, and at the Sons of Norway Hall, I filled up a box at the Old-Fashioned Cookie Walk.
From two Amish families at the weekly farmers' market in Sylvan Park, I bought the season's first cashew crunch.
From Lanesboro, Minnesota 16 continues toward Harmony past Inspiration Point, a good place for a picnic. But this time, I went straight south on County Road 21, an even lovelier road that follows the rolling spine of a ridge past Amish farms.
In Canton, an Amish woman had parked her buggy in front of a gift shop, and I bought blackberry jam and a pair of potholders, plus more cashew crunch. Her sister had made the addictive toffee, said the soft-spoken vendor: "I like it, too. You can't leave it alone."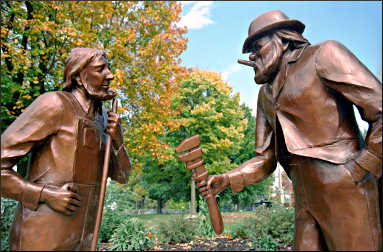 Into the land of Norwegians
Heading east, I came to Spring Grove, the first Norwegian settlement in Minnesota. It's the home of Spring Grove soda, bottled since 1895 and still made with cane sugar; its labels bear the slogan "Mange Tusen Takk!" Norwegian for "Thanks a million."
Spring Grove is serious about its heritage; in the town park, there's a heroic bronze Viking, dedicated to ancestors "who started here with so little that we might have everything," and two smaller bronze figures, one holding a wrench and one a pitchfork.
They're Ola and Per, who appeared in a nationally beloved comic strip written by Spring Grove native Peter Rosendahl between 1918 and 1942 for the Decorah Posten newspaper; the pair's bumbling misadventures illustrated the bumpy path undertaken by Norwegian immigrants.
Across the park are three even goofier figures, Tovar the Terrible, a 12-foot Viking; a troll with a "Belly by Budweiser" banner draped across its bulbous brown stomach; and a Norwegian farmer.
Spring Grove still is 90 percent Norwegian, though it "used to be 99.9 percent," said Howard Burtness, who caught me looking at the figures.
He said his own family emigrated to Spring Grove from Norway in 1848, and he himself returns every year from his winter home in San Bernardino, Calif.
"I'm drawn to it, like the swallows of San Capistrano," he said of the town. "It's sheer instinct. I like to rub elbows with members of my common gene pool."
From the park, I walked over to an antiques store, where I found an old Nativity set hand-painted in Italy, and to HIS Business, which carries beautifully crafted goods made by local artisans — mohair sweaters and mittens, solid cherry and walnut tables and chests.
And of course I stopped at the IGA for sodas — creamy orange, black cherry, root beer, strawberry, grape, cream and my favorite, lemon sour.
Relic of the past
West of Caledonia, at Beaver Creek Valley State Park, I crossed a suspension bridge to hike along a paved path. At the edge of the park, on Beaver Creek, I stopped at Schech's Mill, so quaint it looks like a re-creation. But it's the 1876 original, now the state's oldest water-powered mill still in use.
I followed twisting Badger Creek into Houston, the eastern trailhead of the Root River State Trail and the home of the Houston Nature Center, sprinkled with recycled-bicycle sculptures.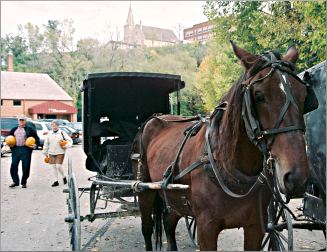 The town is relishing its heightened profile on the popular trail, and it has reason to be proud: The eight up-and-down miles into Houston, which sits at the brink of coulee country, are the most fun to ride on the whole trail.
Downtown, the International Owl Center presents programs with its resident owls.
Minnesota 16 winds back to Lanesboro past Rushford, a market town, and Whalan, famous for its pie shop. Lanesboro has been spiffing up Parkway Avenue, which now includes the Commonweal Theatre's new building.
When I was in Lanesboro, I missed the play, but I did make a ritual visit to the Lanesboro Arts Center, which shows the work of regional artists. Many artists have migrated to the picturesque ridges and valleys between Lanesboro and Decorah.
Some of the finest wood furniture can be found in Harmony at Harmony Amish Furniture, founded by Jake and Reuben Hershberger, who grew up among the 14 children of the local Amish bishop.
On that trip, I ordered two solid-cherry Mission-style end tables from Mary Hershberger, whose softly rounded syllables belied her uncovered blond curls and purple Columbia ski jacket.
"A lot of people pick up on my accent and ask if I'm Amish," she said, smiling patiently. "I used to be."
My last stop was a mile east of Harmony, where the late Ada Austin raised angora goats and lavished a gallon of purple paint on her farm each year.
"On my 50th birthday, someone gave me the book, 'When I Am an Old Woman I Shall Wear Purple,' and it became my old-lady bible," she told customers.
The farm shop where Austin sold mohair clothing and gifts has closed, but her daughters still sell items online.
Like so much of bluff country, Austin and her purple farm broke the mold.
That's why the area is so fun to explore: You never know what you'll see there.
Trip Tips: Minnesota's bluff country
Getting there: It's two hours south of the Twin Cities.
For more about Lanesboro, see The belle of bluff country.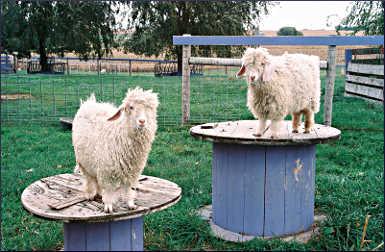 Bicycling: The 42-mile Root River State Trail and 18-mile Harmony-Preston Valley State Trail, which connects to the Root five miles west of Lanesboro, are very scenic.
Besides the big hill five miles west of Houston, the only long hills go up to Harmony and Fountain; many bicyclists like to take shuttles and glide down from there.
For shuttles or rental, call Root River Outfitters, 507-467-3400.
For more, see Bicycling in bluff country.
Nightlife: The Commonweal Theatre stages plays in repertory through Christmas.
Accommodations: See Lodgings in Lanesboro. There are many good B&Bs, inns and cabins, but rooms for fall  weekends may be hard to find.
Other larger inns include Country Trails Inn and Suites in Preston, 888-378-2896, and Country Lodge Inn in Harmony, 800-870-1710.
Dining: The Old Village Hall in Lanesboro always is good, 507-467-2962.
In downtown Preston, Trout City Brewing serves its own beers and also sandwiches. It has a patio and often hosts live music.
Amish tours: Try Amish Tours of Harmony, 800-752-6474, or Bluffscape Amish Tours in Lanesboro, 507-467-3070.
For more, see Amish country.
Information: Lanesboro tourism, 800-944-2670.
Last updated on February 10, 2022